An American middle-distance runner, Athing Mu is famous for winning the gold medal in the 800 meters at the 2021 Tokyo Olympics and broke the American record with a 1.55.21 performance in the final on 3 August 2021, which is the fastest time an American has ever finished the race and the fifth-best time in Olympic history. Also, American Raevyn Rogers took bronze with a time of 1.56.81 and Great Britain's Keely Hodgkinson took the silver medal with a time of 1.55.88. She becomes the first American woman to win gold in the event since the Mexico City Games in 1968. She qualified for the 2020 Tokyo Olympics in the 800 meters where she placed first at the US Olympic trial on 24 June with a time of 1.56.07 meters, Which was the 2nd fastest result in American history.
In 2021, Athing Mu ran indoor 50.52 in the women's 400 meters which were 0.3 seconds faster than Sanya Richards ratified by World Athletic and set the world under-20 record in the women's indoor 800 meters with a time 1.58.40. She was a part of the 2021 NCAA Championships in Eugene, Oregon where she winning the 400m with the time 49.57. She also anchored the Texas A&M Women's 4x400m relay in 3.22.34, another a new Collegiate record. She broke the American women's record at the 600-meter event at the 2019 USA Indoor Track and Field Championships with a time of 1.23.57 On 24 February 2019. She also broke the women's world record of 1.23.44 held by Olga Kotlyrova and 1.23.59 held by Alysia Montano.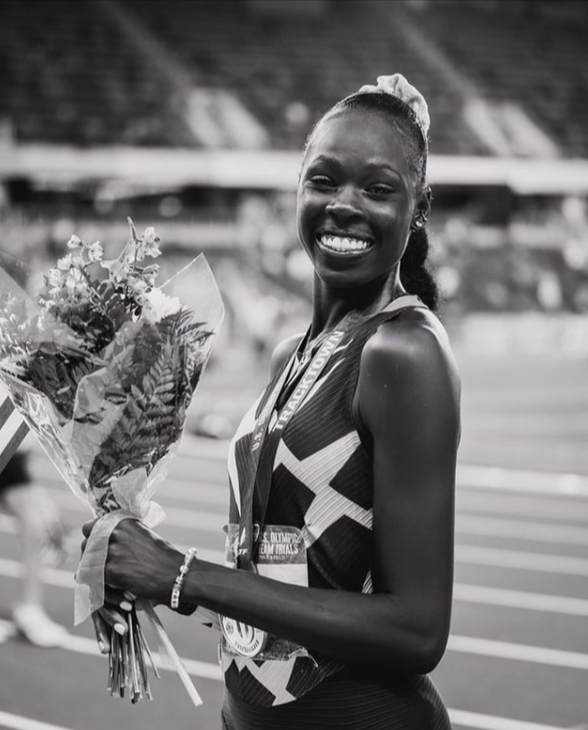 Athing Mu Parents, Nationality & Ethnicity
Athing Mu stepped into this world for the very first time in Trenton, New Jersey, the United States holding American nationality. She was born on 8 June 2002 with African-American ethnicity as her family is of South Sudanese heritage. Her star sign is Gemini as per her birth date. Similarly, her religious belief is in the Christian religion. Black is her race and she has celebrated her 19 birthday in June of 2021.
Talking About Athing Mu's parents, she has been kept secret and not been disclosed yet. She has six siblings. She attended Texas A&M University.

Personal Life
At the age of 19, Athing Mu is currently single and focusing on her professional career. There is not much information available about her relationship status. Furthermore, her sexual orientation is straight.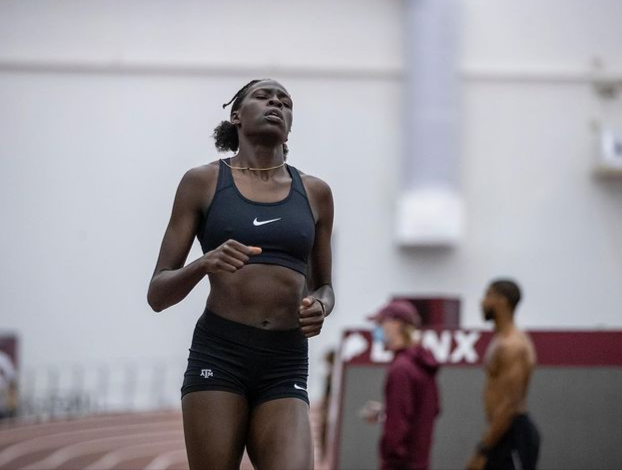 Athing Mu Net Worth
As so 2021, Athing Mu has an estimated net worth of around 1.5 million whereas her major sources of income come from contracts, endorsements, & sponsors. Recently, she signed an endorsement deal with Nike and will be represented by agent Wes Felix. As a report, she will be earning a base salary of $500000 to $750000 per year, with bonuses for medals and records.

Athing Mu Height & Weight
The versatile lady, Athing Mu stands at the height of 5 feet 10 inches (1.78 m) with an athletic body build. She has a well-maintained bodyweight of 56 Kg. She has a black hair color and her eyes color is black.

Awards, Achievements & Record
Personal Bests
On 12 June 2021, Eugene, OR, United States- 400 meters in 49.57
On 3 August 2021, Tokyo, Japan- 800 meters in 1.55.21
On 6 February 2021, College Station, TX, United States- 400 meters indoor in 50.52
On 24 February 2021, New York, NY, United States- 600 meters indoor in 1.23.57
On 27 February 2021, Fayetteville, AR, United States- 800 meters indoor in 1.58.40

International Competitions
2018- Youth Olympic Game in Buenos Aires, Argentina- 800 meters in 2.05.23 with ranked #2nd
2019- Pan American U20 Championships in San Jose, Costa Rica- 800 meters in 2.05.50 with ranked #1st
2019- Pan American Games in Lima, Peru- 800 meters in 2.07.30 with ranked #11th
2019- The Match Europe v USA in Minsk, Belarus- 800 meters in 2.06.68 with ranked #7th
2019- The Match Europe v USA in Minsk, Belarus- 400 meters in 54.34 with ranked #8th
2020- Olympic Games in Tokyo, Japan- 800 meters in 1.55.21 with ranked #1st