About Cynthia A. Johnson
Cynthia A. Johnson is an American politician. She is a Democratic member of the Michigan House of Representatives. She represents Michigan's District 5 and is serving her first term. She advocates for social justice, education, and cleaning up the city of Detroit.
Cynthia A. Johnson was born on 19 August 1958. Her birth place is in Detroit, Michigan in the United States. She holds an American nationality. She belongs to the African-American ethnicity. She has 3 younger siblings. Her hometown is Detroit.
Regarding her educational background, she attended Frank Cody High School. After graduating from high school in 1976, she attended Wayne County Community College, where she earned an associate degree. She then attended Walsh College. She graduated with a bachelor's degree in business administration. She was certified as a paralegal by the American Institute for Paralegal Studies.
Her eye color is hazel and her hair color is brown. She has an average body build. Her sexual orientation is straight.
She has over 3k followers on Twitter. She has over 1.5k followers on Instagram.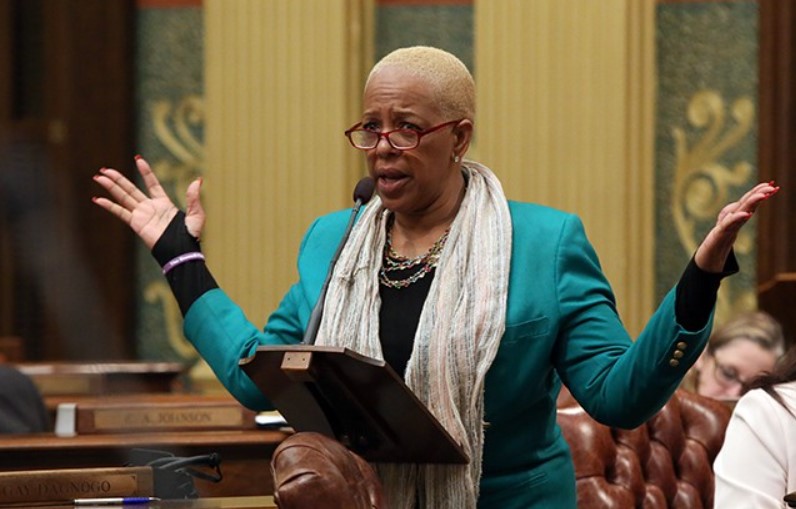 Source: @metronews
Cynthia A. Johnson Career
After graduation, Cynthia A. Johnson started working as a corrections officer for the Michigan Department of Corrections. She worked there for three years.
She then worked as a Probation/Parole agent for the State of Michigan from 1999 to 2012.
hosted the radio show, Standup Now with Cynthia A. Johnson since 2013.
She unsuccessfully ran for office in the Michigan House of Representatives 5 times.
She was finally elected on 6 November 2018 after she defeated Dorothy Patterson and Cliff Woodards II in the general election.
She assumed office on 1 January 2019.
She served on committees: the Families, Children, and Senior committee, the Agriculture Committee, and the minority Chair of House Oversight.
She currently serves as Chaplain of the Michigan Legislative Black Caucus.
She appeared on a House Oversight Committee panel on 2 December 2020.
The panel heard testimony from Rudy Giuliani in regard to alleged voter fraud in the 2020 presidential election.
She argued against the claims of fraud.
She then received threat voicemails after the hearing.
She responded to the treats via a video, where she warned the Trump supporters. The Michigan Republican Party chairwoman Laura Cox found this video to be threatening to members of the Republican party.
Because of Johnson's video, she was removed from all three committees by Michigan House Speaker Lee Chatfield on 9 December 2020.
Her term ends on 31 December 2020.
She ran for re-election to the Michigan House of Representatives. She won the general election on 3 November 2020.
She is a trustee at Metro Detroit Senior Citizens Community Council since 2010.
She is an At-Large Member of the 10th Precinct Community Council since 2010.
She is also a member of The Westsiders since 2012.
Cynthia A. Johnson Husband
Cynthia A. Johnson is currently single. She was previously married to Walalce F. Hoskins Jr. The couple got married in around 1975.
Cynthia A. Johnson Net Worth
Cynthia A. Johnson makes her living serving as a government official. She is paid a handsome salary for her position as the member of the Michigan House of Representatives. Her net worth will be updated soon.