Eric Bruneau, Canadian born actor is one of the most sought-after, well-rounded actors of his generation, shining on stage, on the big screen and the small screen. He is the richest and successful actor. He has been listed as one of the famous people in the entertainment industry and listed along with people born on April 21, 1983, one of the precious listed in Actor List.
What is Eric Bruneau famous for?
Where is Eric Bruneau From?
Canadian born Actor was born in Siant-Jean-Sur-Richelieu in Quebec, Canada. Bruneau is one of the most sought-after, well-rounded actors of his generation, shining on stage, on the big screen and the small screen. He is of White Ethnicity. His nationality is Canadian.
Eric Bruneau's zodiac sign is Taurus.
There is no information provided about his family, his family's occupation and about his religion. We will update as soon as we got.
Eric Bruneau Movies and TV Shows
Bruneau began studying acting in 2000, training at Theatre at Cégep de Saint-Hyacinthe, a Canadian theater school. He pursued his theatrical training at the National Theater School of Canada, where he studied from 2002 to 2006. He was still in his 3rd year at the National Theatre School in Montreal when André Forcier invited him to play the lead in Les États-Unis d'Albert. He needed special dispensation to miss classes, but caught up in the summer break before returning for his 4th year to begin to study film. During his third year at the National School, Bruneau was one of the actors in a traveling children's show. One of the other actors was the son of a director who had accompanied his son on the tour and noticed Bruneau's talent. Several months later, the director, André Forcier, had Bruneau audition for the lead in the movie "The United States of Albert" (2004). Impressed with his reading, Forcier cast Bruneau in the title role.
Bruneau continued to pursue his acting career, appearing in television and film as well as in a number of stage productions including runs of Peter Shaffer's "Equus" and Molière's "The Miser." In 2014 Bruneau was cast in the lead role of "The Kingdom of Beauty," a film by celebrated Québécois filmmaker Denys Arcand.
Éric Bruneau graduated from the National Theater School of Canada in 2006. Since then, we have seen him on TV in popular series such as "Annie and her men" (2007-2008), "Bon Voyage" (2006), "Eden Museum" in 2010, "Adam and Eve" in 2012, "You Love me" in 2012. He is also part of the recurring cast of all four seasons of the Mensonges, three seasons of Blue Moon and Trop, and two seasons of Coroner. His performances on TV have earned him several nominations at the Gemini Award for Best Leading Male Role for Drama All the Truth in 2011, Artist Prize nomination for Male Role Quebec TV Series for All the Truth in 2011 & 2012 and the Gala Artis.
He has played numerous means in different years starting from "Thomas and Julia" in 2004,"The United States of Albert" in 2004, "Feet in the Void" in 2008, "Coteau rouge" in 2010, "Laurence Anyways" in 2011 and many more. Along with the acting in cinemas, he has done also TV Series which make him for more fame."Bon Voyage" in 2006, "Roxy" in 2008, "The Whole Truth" from 2009-2014, "Blue Moon" in 2016, and "Coroner" TV series.
Awards and Nominations
Due to his popularity and his acting skill, he was nominated for several categories in different years. He was nominated in Gemini Award nomination for Best Male role for the Drama "All the Truth" in 2011 and Artis Prize nomination for Male role in Quebec TV Series for "All the Truth" in 2011 and 2012.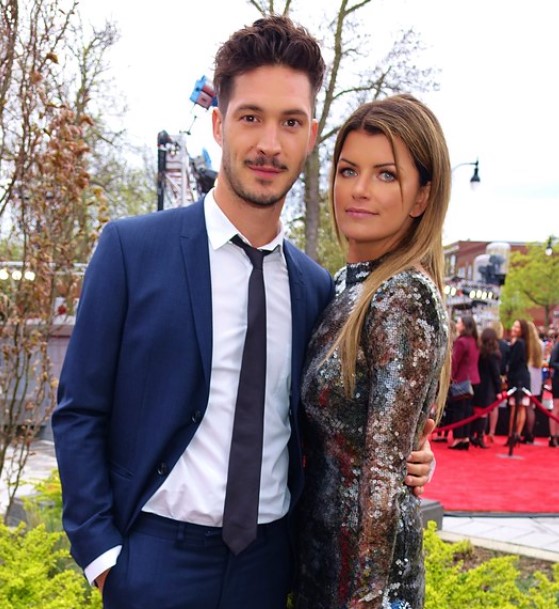 Source: @flickriver
Who is Eric Bruneau Dating?
In 2014, Bruneau has confirmed his relationship with the Canadian writer and actress Kim Levesque Lizotte. They broke up in September 2015 and reformed in March 2016 and announces that she is pregnant with their first child on February 14, 2018, through a photo posted on the social network Instagram.
When the world rang in 2019 a couple of weeks ago, we wouldn't be surprised if actor Éric Bruneau was a little reluctant to let 2018 go–it was a momentous year for him. In June, Bruneau and his partner Kim Lévesque-Lizotte welcomed their first child, a baby girl.
How tall is Eric Bruneau?
Eric Bruneau has an Athletic body thus maintaining his acting career. There is no information about his weight and height. His Eye color is Dark Brown and Hair color is Black.
What is the Net Worth of Eric Bruneau?
His primary income source is from his acting career and mostly from being a success. According to TrendCelebsNow.com Eric Bruneau has an estimated net worth of USD 5 million.