Georgina Hope Hancock famed as Gina Rinehart is an Australian mining magnate and heiress who is the Chairman of Hancock Prospecting, a privately-owned mineral exploration and extraction company founded by her father, Lang Hancock. Moreover, she is one of Australia's richest people; with Forbes estimating her net worth in 2019 at US$14.8 billion as published in the list of Australia's 50 richest people. As Lang Hancock's only child, Rinehart inherited a 76.6% share in the company upon his death in 1992 and succeeded him as executive chairman. The company's remaining shares were transferred to a trust for her four children. She led the VIP arrivals at Magic Millions on the Gold Coast on Saturday (11th Jan 2020). She wore a blue kaftan over a white skirt, accessorized with a white round-rimmed hat. Earlier this week, Gina fired back at Celeste Barber after the comedian, who has raised $50 million for the bushfire appeal, demanded to know 'where the hell are you and all your money?'
Famous For
Beng Australian mining magnate and heiress.
Being the Chairman of Hancock Prospecting, a privately-owned mineral exploration and extraction company founded by her father, Lang Hancock.
What is the birthplace of Gina Rinehart?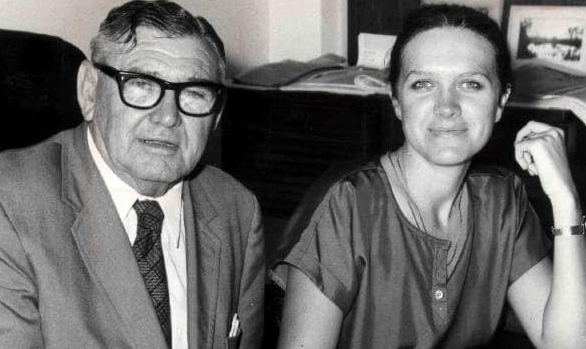 Source: @heraldsun.com.au
Gina Rinehart was born on 9th February 1954 in Perth, Australia. She is the only child of Hope Margaret Nicholas and Lang Hancock. Until age four, Rinehart lived with her parents at Nunyerry, 60 kilometers (37 mi) north of Wittenoom. Talking about her nationality, she is Australian. Her ethnicity is White. As of 2019, she celebrated her 65th birthday. She attended St. Hilda's School. She studied at the University of Sydney, dropping out to work with her father at Hancock Prospecting. She is Christian by religion.
How was the Career of Gina Rinehart?
Gina became Chairman of Hancock Prospecting Pty Limited (HPPL) and the HPPL Group of companies after her father's death.
She then focused on developing Hancock Prospecting's undeveloped deposits, raising capital through joint venture partnerships and turning the leases into revenue-producing mines.
Rinehart, via Hancock Prospecting, shares 50 percent of the profits generated by the Hope Downs mine, which is operated by Rio Tinto and produces 30 million tonnes of iron ore annually.
Another joint venture with Mineral Resources Limited at Nicholas Downs, northwest of Newman, is producing 500 million tonnes of ferruginous manganese.
The Alpha Coal and Kevin's Corner projects in Central Queensland, both with production due to commence in 2013, are expected to produce 30 million tonnes of coal each.
The Roy Hill iron ore project, south of Port Hedland, in the Pilbara is expected to begin production in 2013 with a yield of 55 million tonnes a year.
She took a 10 percent stake in Ten Network Holdings; James Packer had acquired an 18 percent stake in the same company shortly before in 2010.
She then acquired a substantial stake in Fairfax Media.
She increased her stake in Fairfax to over 12 percent and became the largest shareholder of the company in February 2012.
In June 2012, she increased her stake further to 18.67 percent and was believed to be seeking three board seats and involvement in editorial decisions in Fairfax's newspaper division.
In 2015, Rinehart was listed as the 37th most powerful woman in the world by Forbes; a decline from her 2014 and 2013 rankings as the 27th and the 16th most powerful woman, respectively.
After that, she acquired Fossil Downs Station after it was placed on the market for the first time in 133 years. The 4,000-square-kilometre (1,544 sq mi) property was stocked with 15,000 head of cattle and the sale price was not disclosed, but estimated to be between A$25 to 30 million.
She also acquired a 50% stake in Liveringa and Nerrima Stations in 2014 for A$40 million in 2014.
She also planned to open the huge Roy Hill mine just eight months after she secured A$7.9 billion in funding in October 2015.
In October 2016 it was announced that Hancock Prospecting had struck a deal to invest in AIM-listed UK-based mining company Sirius Minerals to help bring to fruition their North Yorkshire Polyhalite Project.
How was the Political Career of Gina Rinehart?
Talking about her political career, she was an active supporter of the Westralian Secession Movement, which her father had founded to work for the secession of Western Australia from the rest of the country in the 1970s.
She also had some involvement with the Workers Party (later renamed the Progress Party), a libertarian organization founded by businessman John Singleton.
She opposed the Rudd government's Mineral Resource Rent Tax and Carbon Pollution Reduction Scheme as part of a group of mining magnates that included Andrew Forrest.
Moreover, she founded the lobby group ANDEV, ("Australians for Northern Development and Economic Vision") and has sponsored the trips of prominent climate change denier Christopher Monckton to Australia.
She has been actively promoting the cause of development of Australia's north and has spoken, written articles and published a book on this topic.
In a video posted to the Sydney Mining Club's YouTube channel on 23rd August 2012, she expressed concern for Australia's economic competitiveness noting how "Indeed if we competed in the Olympic Games as sluggishly as we compete economically, there would be an outcry."
Hope Margaret Hancock Trust
Lang Hancock established the Hope Margaret Hancock Trust, nominating Rinehart as trustee, with his four grandchildren named as beneficiaries in 1988.
She was appointed to run the trust until the youngest of her four children, Ginia Rinehart, turned 25 in 2011.
The Trust owns 23.6% of the shares in Hancock Prospecting, and as of June 2015 was believed to be valued at about A$5 billion.
Her daughter, Hope Rinehart Welker, commenced a commercial activity in the New South Wales Supreme Court for reasons understood to be related to the conduct of the trustee in 2011.
In March 2012, when the suppression order was lifted, it was revealed that Rinehart had delayed the vesting date of the trust, which had prompted the court action by her three older children.
She stood down as trustee during the hearing in October 2013.
What is the Net Worth of Gina Rinehart?
Gina Rinehart is a very successful woman and she has reached the height in her career. She is one of Australia's richest people; with Forbes estimating her net worth in 2019 at US$14.8 billion as published in the list of Australia's 50 richest people and The Australian Financial Review estimating her net worth in 2019 at A$13.81 billion as a publisher in the Financial Review Rich List. Forbes considers Rinehart one of the world's richest women. She also became a billionaire in 2006. Due to Australia's mining boom in the early 21st century, her wealth increased significantly since 2010, and she diversified investments into media, taking holdings in Ten Network Holdings and Fairfax Media. According to BRW, she became Australia's richest woman in 2010, and Australia's richest person in 2011, and the first woman to lead the list. In 2007, she first appeared on Forbes Asia Australia's 40 Richest, with an estimated wealth of US$1 billion. By 2011 had more than trebled to US$9 billion, doubled again in 2012 to US$18 billion and a slight reduction in 2013 to US$17 billion and a slight increase in 2014 to US$17.6 billion. In 2016 Forbes assessed her net worth at US$8.5 billion, placing her second on the list. At present, she is satisfied with whatever she is earnings. Her major source of earning is from her business career.
Who is the Husband of Gina Rinehart?
Gina Rinehart is a married woman. She met Englishman Greg Milton while both were working in Wittenoom. It was in 1973. At this time Milton changed his surname to Hayward. Their children John Langley and Bianca Hope were born in 1976 and 1979 respectively. The couple separated in 1979 and divorced in 1981.
After that, she married corporate lawyer Frank Rinehart in 1983 in Las Vegas. They had two children, Hope and Ginia, born in 1986 and 1987 respectively. Frank Rinehart died in 1990. In the year 2013 Bianca married her partner Sasha Serebryakov, and Rinehart did not attend the wedding. Her other daughter, Hope, married Ryan Welker, an American director of Mineral Resources (a Hancock partial subsidiary) and they live together in Sydney.
How tall is Gina Rinehart?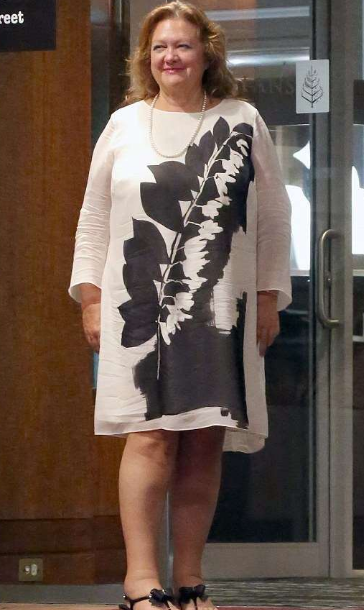 Source: @notednames.com
Gina is a very beautiful woman with a tall height of 1.74 m with a balanced bodyweight of 88 Kg. Her other body measurements such as breast size, waist size and more will be added once we get information about it. Her eye color is green and her hair color is brown. Overall, she has got a healthy body with a charming smile attracting a lot of people towards her.