About Jai Hindley
Jai Hindley, a highly accomplished Australian professional cyclist, currently represents the prestigious UCI WorldTeam Bora–Hansgrohe. Commencing his cycling journey in 2013, Hindley turned professional in 2015 and embarked on his cycling career with the team "Attaque Team Gusto" in 2016. His breakthrough moment arrived when he joined Team Sunweb for the 2018 season, making his debut at the Volta ao Algarve. However, it was his resounding victory at the 2022 Giro d'Italia, the 105th edition, on May 29th, that thrust him into the international spotlight. Further solidifying his status as an elite cyclist, on July 5th, 2023, Hindley emerged triumphant in Stage 5 of the Tour de France, securing a remarkable 32-second lead. His exceptional performance granted him the esteemed Yellow Jersey and positioned him at the forefront of the General Classification as he prepared to embark on Stage 6.
Jai Hindley Early Life & Family
Jai Hindley, born on May 5th, 1996, hails from Perth, Western Australia, Australia. He proudly holds Australian nationality and identifies with the Australian-white ethnicity. As a Taurus, his star sign aligns with his determined nature. Jai follows the Christian faith and was brought up in a middle-class family. His father, Gordon Hindley, was a cyclist himself, and he introduced Jai to the world of cycling at a young age, assuming the roles of both trainer and coach. Robyn Hindley, Jai's mother, provided love and support throughout his upbringing alongside his siblings. As of 2023, Jai celebrated his 27th birthday, marking another milestone in his life. For his education, he attended a private school in his hometown of Perth, where he laid the groundwork for his budding cycling career after completing high school.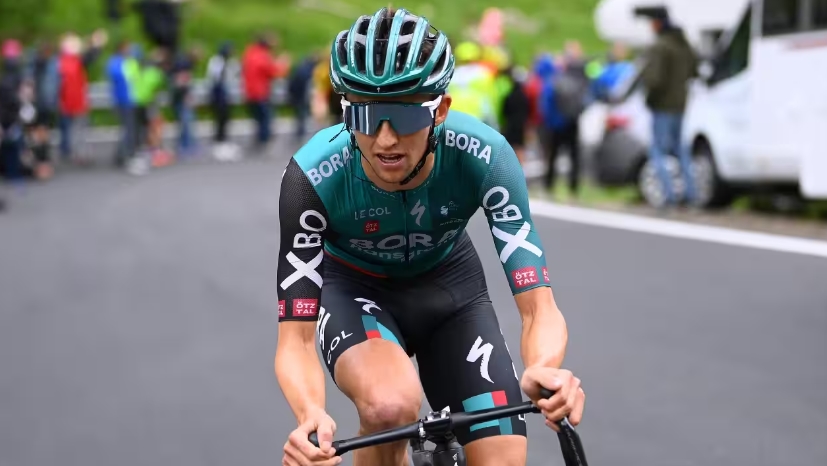 Jai Hindley Cycling Career
Jai Hindley, who joined Team Sunweb in 2018, showcased his talents early on, making his debut at the Volta ao Algarve that same year.
His potential was recognized as he was selected to participate in the Vuelta a España in August 2018 and the Giro d'Italia in May 2019.
The 2020 season proved to be a breakthrough for Hindley as he triumphed in the Herald Sun Tour, claiming two stage wins and the general classification.
In the Giro d'Italia, he climbed to third place overall after a strong performance in Stage 15, and further demonstrated his capabilities by conquering the challenging "Queen stage" with a victory on Stage 18.
Hindley's outstanding performance propelled him to second place overall and secured him the lead in the young riders classification.
He continued to impress on the mountainous Stage 20, finishing second to Tao Geoghegan Hart but capturing the same overall time, subsequently overtaking the lead position.
The Giro's final stage, a time trial, saw Hindley finish 39 seconds behind Geoghegan Hart, ultimately securing him an impressive second place overall in the race.
After withdrawing from the 2021 Giro d'Italia before the start of stage 14, where he was placed 25th and more than 17 minutes behind the leader, Jai Hindley made a move to the Bora–Hansgrohe team for the 2022 season.
He showcased his potential early on with a top 5 finish in the 2022 Tirreno–Adriatico, and just two months later, he achieved a monumental victory by winning his first Grand Tour, the Giro d'Italia.
Throughout the race, he displayed impressive form, securing a stage win on the demanding mountain stage 9.
He consistently maintained a strong position, sitting in second place for the majority of the third week, trailing Richard Carapaz by a few seconds.
However, on the penultimate mountain stage, Hindley outperformed all of the general classification contenders, including Carapaz, and claimed the lead with a comfortable margin heading into the final individual time trial.
With determination and skill, Hindley crossed the finish line in the Maglia Rosa for the second time in his career, but this time as the champion of the Giro d'Italia.
His remarkable achievement not only made him the first Australian to win the Giro but also the second Australian to win a Grand Tour, following in the footsteps of Cadel Evans, who triumphed in the Tour de France.
On July 5, 2023, Hindley continued his winning streak by emerging victorious in Stage 5 of the Tour de France, clinching Yellow Jersey and taking the lead in the General Classification for the start of Stage 6.
Jai Hindley Major Results
2013:
Oceania Junior Road Championships: 2nd place in the road race, 10th place in the time trial
2014:
Oceania Junior Road Championships: 3rd place in the road race
National Junior Road Championships: 3rd place in the road race
2015:
Oceania Under-23 Road Championships: 10th place in the time trial
2016:
GP Capodarco: 1st place
An Post Rás: 2nd place overall, 1st place in the young rider classification
Taiwan KOM Challenge: 2nd place
Tour de l'Avenir: 5th place overall
Flèche Ardennaise: 6th place
2017:
Toscana-Terra di Ciclismo: 1st place overall, 1st place in the mountains classification, 1st place in Stage 1a (TTT)
Tour of Fuzhou: 1st place overall, 1st place in Stage 4
Herald Sun Tour: 2nd place overall, 1st place in the young rider classification
Trofeo Città di San Vendemiano: 2nd place
Oceania Road Championships: 3rd place in the road race
Giro Ciclistico d'Italia: 3rd place overall, 1st place in Stage 7
Rhône-Alpes Isère Tour: 4th place overall
Gran Premio Industrie del Marmo: 4th place
Tour Alsace: 9th place overall
Tour de l'Avenir: 10th place overall
Gran Premio Palio del Recioto: 10th place
2019:
Tour de Pologne: 2nd place overall
2020:
Herald Sun Tour: 1st place overall, 1st place in the mountains classification, 1st place in Stages 2 & 4
Giro d'Italia: 2nd place overall, 1st place in Stage 18, held the pink jersey after Stage 20, held the white jersey after Stages 18-20
2021:
Tour de Pologne: 7th place overall
2022:
Giro d'Italia: 1st place overall, 1st place in Stage 9, held the pink jersey
Tirreno-Adriatico: 5th place overall
Clásica Jaén Paraíso Interior: 6th place
Vuelta a Burgos: 7th place overall
Vuelta a España: 10th place overall
2023:
Tour de France: 1st place in Stage 5, held the yellow jersey after Stage 5
Critérium du Dauphiné: 4th place overall
Volta a Catalunya: 8th place overall
Jai Hindley Dating & Girlfriend
Jai Hindley is currently involved in a relationship with his enchanting girlfriend, Abby Chandler. Chandler has held a special place in Hindley's heart since their teenage years, and their bond has only grown stronger over time. Hindley's official Instagram account reveals that the couple has been together since 2012. Chandler admirably stands by her partner's side, offering unwavering support at every cycling event, where she never fails to grace the venue with her presence, providing enthusiastic cheers. During the 2022 Giro d'Italia, she joined Hindley, his parents, in celebrating his victorious moment, culminating in a captured display of their passionate affection through a heartfelt kiss, documented by the media and paparazzi. Their enduring love story, spanning decades, is rumored to soon reach the next milestone as they consider taking their relationship to the next level through marriage. Jai is straight when it comes to his sexual orientation.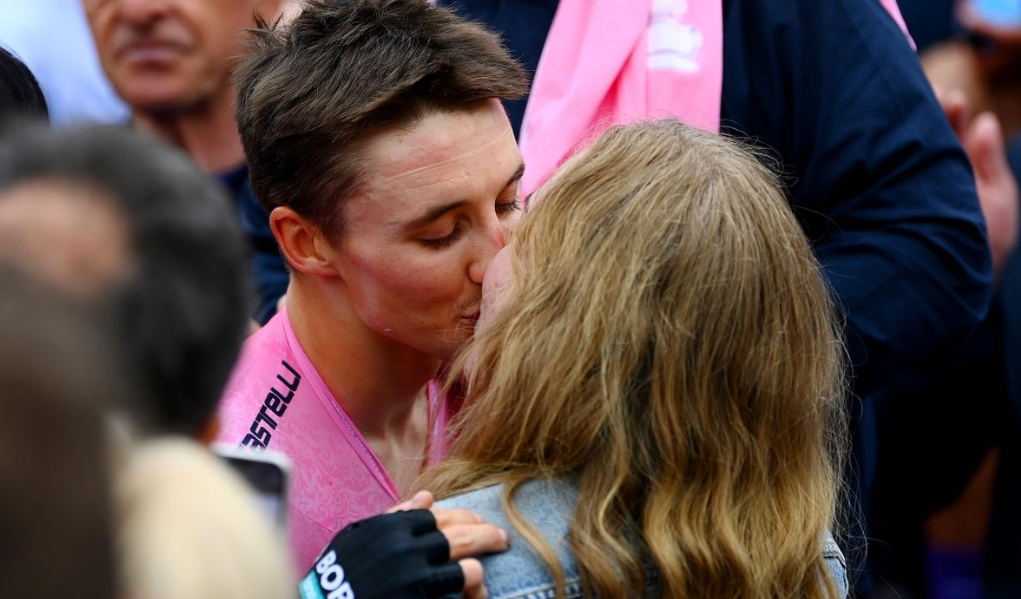 Jai Hindley Net Worth
Jai Hindley, the esteemed professional cyclist, currently possesses an estimated net worth of $1 million in 2023, a result of his prosperous career in the cycling world. His primary source of wealth stems from his remarkable achievements as a professional cyclist, competing in renowned cycling events worldwide. Notably, he secured an impressive cash prize of €1,500,000 by triumphantly winning the Giro d'Italia. Additionally, Hindley boosts his income through lucrative endorsement deals, further contributing to his financial success. With his substantial earnings, he leads a luxurious lifestyle, a testament to his dedication and triumphs in the cycling realm.
Jai Hindley Height & Weight
Jai Hindley, a handsome cyclist with a height of 1.75 meters and a body weight of 60 kilograms, possesses an impressive athletic build. Devoted to his profession, he diligently engages in workouts and fitness exercises to maintain his fitness and vitality. His short, light brown hairstyle complements his captivating appearance, while his warm, brown eyes add depth to his gaze. Jai currently boasts a robust and healthy physique, a testament to his commitment to a balanced lifestyle.