Jay Cutler is a former American football quarterback who played in the National Football League for 12 seasons, primarily with the Chicago Bears. Cutler was ranked by many experts as the third-best quarterback prospect in the 2006 NFL Draft. The 11th overall pick of the 2006 NFL Draft, Jay Cutler is a retired quarterback who represented the Denver Broncos, Chicago Bears, and Miami Dolphins during his 12-year NFL career. The closest Cutler came to a championship was during the 2010-11 season when the Bears reached the NFC Championship Game only to lose to the Green Bay Packers 21-14. Scroll down to know more information regarding his biography, family details, wife, birthday, wiki, net worth, facts, career stats, and many more.
Famous For
Being one of the best American Football Quarterback player.
For playing for the NFL teams Denver Broncos, Chicago Bears, and Miami Dolphins during his 12-year NFL career.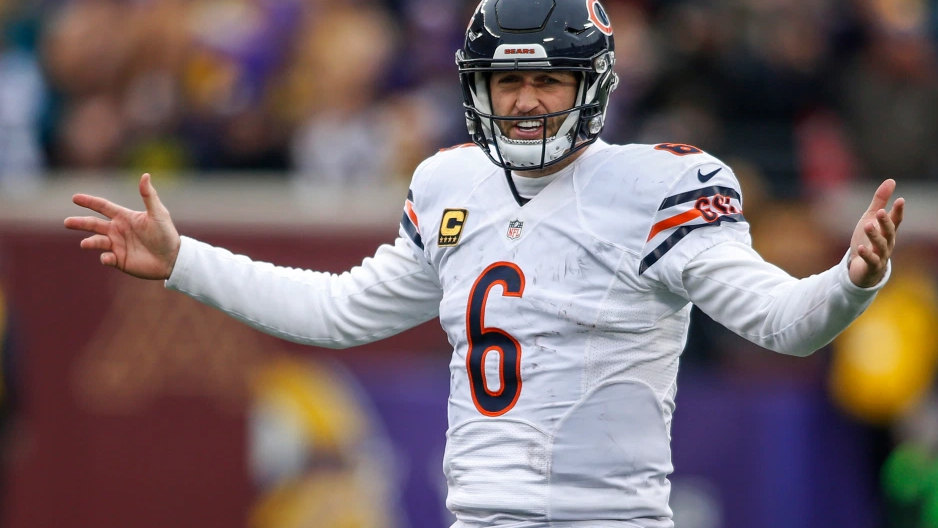 Source: @bearswire.usatoday.com
Early Life of Jay Cutler
Jay Cutler was born on April 29, 1983, in Santa Claus, Indiana, in the USA. His real name is Jay Christopher Cutler. She holds American Nationality and belongs to White ethnicity. His Zodiac sign is Taurus. His birthday falls on the 29th of April every year. His father's name is Jack Cutler who is a former police officer and owner of a cement company and his mother's name is Sandy Cutler. He has got two younger sisters named Jenna Cutler and Joy Cutler. He grew up along with his sisters in his hometown Santa Claus, Indiana. Cutler attended Heritage Hills High School in Lincoln City, Indiana. During his high school, he rose to fame by playing American football for his school's football team Heritage Hills. Cutler attended Vanderbilt University in Nashville, Tennessee, and graduated in 2005 with a bachelor's degree in human and organizational development. He is a follower of Christian.
Career of Jay Cutler
Jay Cutler began his football career by playing for his High school football team Heritage Hills High School in Lincoln City, Indiana.
Cutler was named a first-team All-State selection by the Associated Press as a senior.
In addition to playing football in high school, he was a first-team all-state selection in basketball and garnered honorable mention all-state accolades as a shortstop in baseball.
Then he left High school and joined Vanderbilt University in Nashville, Tennessee, and began to play for the Vanderbilt Commodores football team.
In 2002, Cutler set the school record for touchdowns and rushing yards by a freshman and rushed for more yards than any other Southeastern Conference quarterback that year.
In 2004, as a junior, Cutler completed 61.0 percent of his passes, setting a school record, while throwing for 1,844 yards with 10 touchdowns and a career-low five interceptions.
The 2005 season, Cutler's final year of play at Vanderbilt, was his most successful. As an 11-game starter, he completed 273 of 462 passes (59.1%) for 3,073 yards, 21 touchdowns, and nine interceptions.
He led the Commodores to victories over Wake Forest, Arkansas, Ole Miss, Richmond, and Tennessee.
Cutler ended his college football career by leading Vanderbilt past Tennessee 28–24.
Then in April 2006, he was chosen as a player in the 2006 NFL Draft. Cutler was ranked by many experts as the third-best quarterback prospect in the 2006 NFL Draft. He was selected by the Denver Broncos.
On July 27, 2006, Cutler agreed to terms on a six-year $48 million contract, which included $11 million in bonuses.
After a strong training camp in 2006, Cutler was promoted from third to second on the Broncos' quarterback depth chart ahead of Bradlee Van Pelt.
He passed for more yards than any other rookie in the preseason.
Cutler took his first NFL debut on December 3, and after some initial jitters completed his first touchdown to tight end, Stephen Alexander, in the second quarter.
Cutler's first win came in his third start on December 17, which was a 37–20 road victory over the Arizona Cardinals.
Cutler then led the Broncos to a Christmas Eve win over the Cincinnati Bengals, 24–23, in his fourth start on the season.
The 2007 NFL season marked Cutler's first full season as the starting quarterback of the Denver Broncos.
In the first game of the season against the Buffalo Bills, Cutler led Denver to a comeback win. But they were eliminated by 23-3 loss to San Diego Chargers.
Cutler started the 2008 season of NFL with a 41-14 Monday Night Football victory over Oakland.
His team was really doing good from the beginning of the season till the end but But this time also his team lost the game to San Diego Chargers 52–21, failing to reach the playoffs for the third straight season.
In 2009 he was traded with the Broncos' 2009 fifth-round draft pick to the Chicago Bears for a quarterback.
On October 20, Cutler and the Bears came to terms on a two-year contract extension worth $30 million, running through 2013.
Cutler was the subject of most of the praise and criticism during the Chicago Bears' mercurial season in the 2009 NFL league due to his poor performance and a career-worst passer rating of 76.8. At the beginning of the 2010 NFL season, Cutler led the Bears to a 3–0 start, throwing six touchdowns and only two interceptions.
He was heavily injured during the match with Green Bay Packers.
Overall, in his shortened 2011 season, Cutler had 2,319 passing yards, 13 touchdowns, and seven interceptions but missed the playoffs.
Cutler finished the 2012 season with two solid performances in easy wins over the Cardinals and Lions. Despite a 10–6 record, the Bears missed the playoffs.
In the 2013 season of NFL, Despite Cutler's 15-of-24 passing for 226 yards, two touchdowns, and one interception for a 103.8 passer rating, the Bears lost 33–28 on a last-minute Hail Mary, missing the playoffs with an 8–8 record.
Cutler ended the season completing 224 of 355 passes for 2,621 yards, 19 touchdowns, 12 interceptions, and a career-high 89.2 passer rating.
In the Bears' 2014 NFL season finale against the Vikings, Cutler completed 23 of 36 passes for 172 yards and a 63 passer rating in the loss.
In 2015 NFL league, Despite his receiving unit being plagued by injuries, Cutler had one of his best seasons as he ended 2015 with 3,629 passing yards, 21 touchdowns, 11 interceptions, and career highs in passer rating (92.3) and completion percentage (64.4).
In his five games in 2016, Cutler recorded 1,059 passing yards, four touchdowns, five interceptions, and a 78.1 passer rating.
On March 9, 2017, Cutler was released by the Bears through a $2 million buyout clause, after the guaranteed years in his seven-year contract had run out.
In May 2017, Cutler announced his retirement from professional football and was hired by Fox Sports to be a commentator.
However, he returned to play for Miami Dolphins after their quarterback Ryan Tannehill suffered a season-ending injury.
On August 7, Cutler signed a one-year, $10 million contract with the Dolphins. In week 2 of the 2017 NFL league, the Dolphins won their first game against the Los Angeles Chargers, 19–17.
In the Week 11 game, Cutler suffered a concussion, which caused him to miss the team's next game.
After the 2017 season, he retired a second time.
Currently, as of 2020, he appears on the reality TV show "Very Cavallari" which showcases the daily ordeals of his wife Kristin Cavallari.
Record Set by Jay Cutler
While at Vanderbilt, Cutler was a three-year captain and four-year starter, setting school career records for total offense (9,953 yards), touchdown passes (59), passing yards (8,697), pass completions (710), pass attempts (1,242), and combined touchdowns (76).
In his 2006 debut match, Cutler threw a memorable 71-yard touchdown to fellow-rookie Brandon Marshall to tie the game 20–20. It was one of the longest touchdowns passes for a debut in NFL history
and was also the second-longest pass play between two rookies in Broncos history.
On December 10, in a road loss against the San Diego Chargers by his team Denver Broncos, Cutler connected with tight end Tony Scheffler for two touchdowns in a span of 48 seconds, which is tied for fastest, in league history that two rookies produced a pair of scoring passes.
Achievement and Awards
The talented and Genius Football player of NFL League has won the following Awards and Achievements throughout his Football Career:-
The Sporting News third-team freshman All-American (2002)
SEC Offensive Player of the Year (2005)
AFC passing yards leader (2008)
AFC Offensive Player of the Month (September 2008)
FedEx Air Player of the Week – Week 16 (2009)
Personal Life of Jay Cutler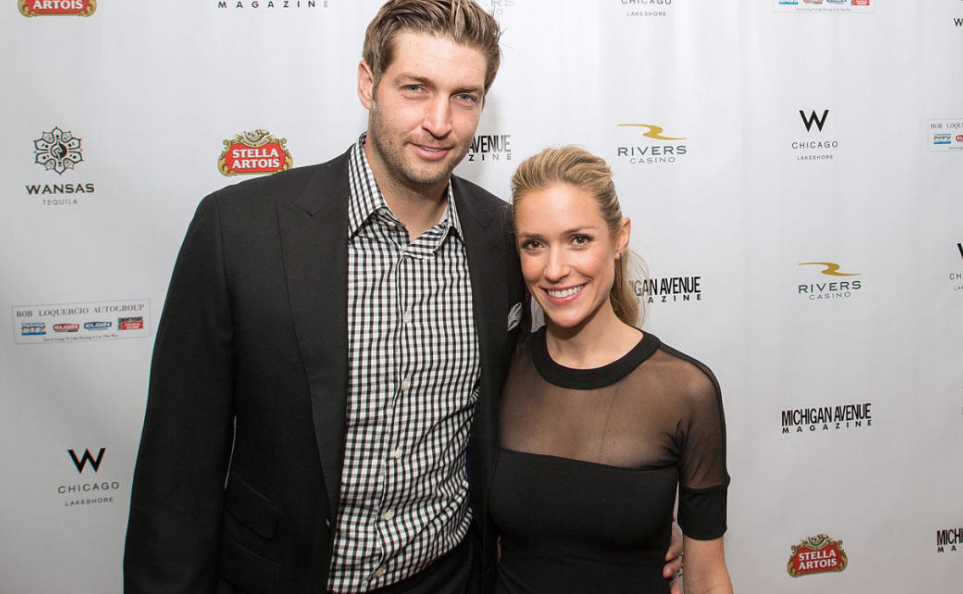 Source: @cbssports.com
Jay Cutler is a married man. His former wife's name is Kristin Cavallari, a reality television star. Before getting married Jay and Kristin began dating from 2010. They were engaged in April 2011 and married on June 7, 2013, in Nashville, Tennessee. The couples have two sons and one daughter: Camden Jack (born August 8, 2012), Jaxon Wyatt (born May 7, 2014), and Saylor James (born November 23, 2015). After their 7 years of the marriage relationship, the couples got separated in April 2020. His sexual orientation is straight.
Net Worth of Jay Cutler
Jay Cutler is probably one of the Richest American Footballer up to date. He has accumulated a mass fortune from his decade long career in NFL league as a professional American Football player. In his 12 years of NFL career, he had total salary earnings of over US $122 million. His highest-earning was $20,506,780 including a base salary of $15.5 million, a restructure bonus of $5 million, and incentives worth $6,780 in 2015. His last contract earning was with the Miami Dolphins in 2016 in which he had a one-year $10 million deal and then he got retired for the second time. As of April 2020, his net worth is estimated to be the US $60 million. In September 2019 Kristin Cavallari and Jay Cutler put their Nashville mansion on sale for $5.75 million. The couple had paid $5.3 million for the home in 2012. Cavallari and Cutler purchased a $4.23 million 10-acre estate in Franklin, Tennessee last year, and an additional 35-acre neighboring parcel of land for $1.2 million.
Body Measurement of Jay Cutler
Jay Cutler is a good looking man with a well-maintained and Athletic-build body physique. He has an incredible height of 6 ft 3 inches and weighs 105 kg. His hair color is Light Brown and eye color is Blue. His other body measurements such as dress size, shoe size, chest size, and more have not been revealed yet. Overall, he has got a healthy body.