About Joaquin Buckley
Joaquin Buckley is an American Mixed Martial Artist who has competed in the welterweight division of the MMA promotion Bellator MMA. At present, his current weight class is a middleweight. He currently has a professional record of 8 wins and 2 losses. He has taken part in various championship but he rose to fame after participating in UFC Fight Night 174: Lewis vs. Oleynik where he lost. He has won several events of LFA, Bellator, Shamrock. Previously, he fought against Logan Storley on April 13, 2018, which he lost by a unanimous decision. He is nicknamed 'New Mansa' when he is fighting on the ring. He believes despite the failure or the hardships with determination and patience anything can be achieved. His jump spinning back kick stoppage win against Impa Kasanganay may not just be the knockout of the year, but the greatest KO of all-time. He is ranked #53 as Current Best MMA Middleweight in worldwide. Recently, he fought on 10th August 2020 where he delivers a huge blow to opponent Impa Kasanganay. UFC middleweight Joaquin Buckley delivered what many described as the most spectacular knockout in the promotion's history during his fight against Impa Kasanganay on Saturday night. In the second round of what had been an evenly fought contest, Kasanganay caught Buckley's foot during an attempted kick to the body. Buckley used Kasanganay's grip as leverage and delivered a 360-degree spinning kick to the jaw that knocked out his opponent.
Joaquin Buckley performed "the most unbelievable KO in UFC history" which stunned Dana White, Daniel Cormier, Israel Adesanya, and Justin Gaethje on Fight Island. He scored one of the most impressive knockouts in UFC history as he floored Impa Kasanganay with a spinning heel kick. The organization returned to Abu Dhabi AKA "Fight Island" in the hope of entertaining fans and Buckley has delivered a KO many believed to be one of the best ever. President Dana White was later heard telling Buckley many people urged him to hand him "all the bonuses". "Everybody's saying 'just give him $200,000 tonight. Give him every bonus!' Nobody's ever seen anything like that. [UFC matchmaker] Sean Shelby texted me and said, 'Write him a check right now for 50 grand and go give it to him before he gets out of the octagon'". He was locked in a back and forth contest and found his ankle locked and with his back to Kasanganay. Using the incredible technique and tae-kwon-do skills, "New Mansa" unleashed a stunning spinning kick which spans Kasanganay's eyes round in his head. He said: "The boss just told me that he wants to give me all of the bonuses, so I'm welcome to it, I want all of it. To be honest with you, it's surreal; a cloud came over my head when he was talking to me, so I couldn't hear anything, but once that money came in, once he talked about that, then it cleared up a little bit. But i's awesome, it's surreal that Dana White came over and talked to me.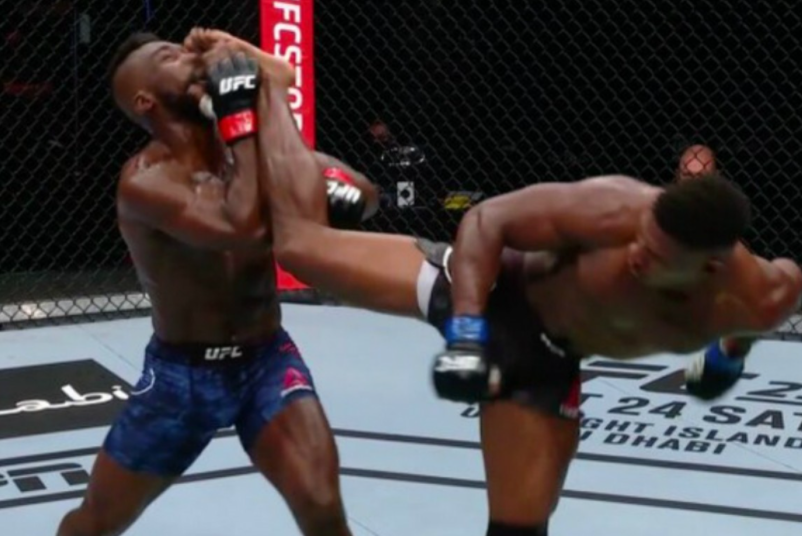 Source: @scmp
Joaquin Buckley is famous for being an MMA fighter. He is best known for winning the fight against Impa Kasanganay which is regarded as the greatest KO of all-time.

Joaquin Buckley was born on 27th April 1994 in St. Louis, Missouri, the USA. He holds an American nationality and his ethnicity is African-American. His race is black. As of 2020, he celebrated his 26th birthday. There are no details about his parents, education, siblings, family, childhood. Taurus is his zodiac sign and his religion is Christian.
Joaquin Buckley is a very handsome man with a charming personality and a glowing face. He stands tall at the height of 5 ft 10 in and his balanced weight consists of 185 lbs. His body build is athletic and he has a muscular body built. His highest reach is 185 cm. his other body details such as biceps size, waist size, chest size and more is still to get revealed yet.
Joaquin Buckley's Girlfriend, Sarah Reger
Joaquin Buckley is not married yet and he is still to get married. Digging his Instagram account, he is currently dating his beautiful girlfriend, Sarah Reger. the duo is also blessed with two children/kids. He promised his kid to never ever see the father lose in one of his posts where the post stated "You Will Never See Your Father Lose, We Coming for Anybody Who Want It". He is enjoying his present life happily without any disturbances. His sexual orientation is straight and he is not gay.
Joaquin Buckley's Kid with Sarah Reger
Joaquin Buckley's Net Worth 2020
Joaquin Buckley is a professional fighter who has made a huge amount of money from his fighting career. As per sources, his career earnings are $50,000 USD till now. Whereas the net worth of Joaquin is believed to have between $100,000-$1 Million as of 2020. His exact salary is also still to get unfold yet as it has not been revealed by him either by any sources yet. His major source of earning comes from a fighting career and he is satisfied with his earnings.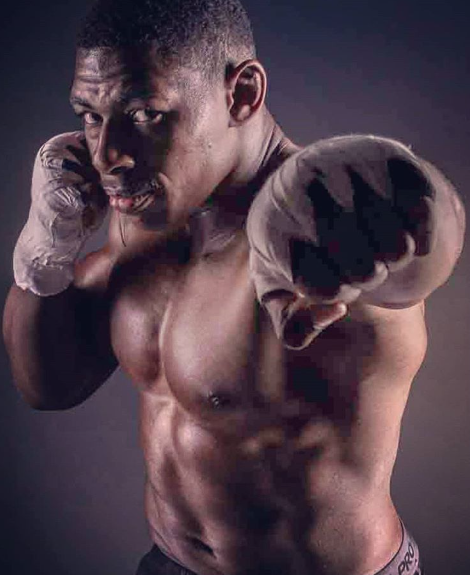 Source: @instagram.com/newmansa94/