About Johnny Manziel
Johnathan Paul Manziel shortly named Johnny Manziel is a former American footballer whose playing position was Quarterback. With the Cleveland Browns, he played for two seasons. What's more, he was also a member of the Hamilton Tiger-Cats and Montreal Alouettes in the Canadian Football League (CFL) in the year 2018 and of the Memphis Express of the Alliance of American Football (AAF) in the year 2019. Additionally, he also became the very first freshman to win the Heisman Trophy, Manning Award, and the Davey O'Brien National Quarterback Award. He was drafted by the Browns as the 22nd overall pick of the 2014 NFL Draft and was released after the end of the 2015 season. Due to controversies, he was not signed by another team and he stayed away from football for two years until Tiger-Cats in the year 2018 and later released in the year 2019. After his release, he signed with the Express during the AAF's inaugural season, which was cut short when the AAF suspended operations two weeks later. He later announced his retirement, stating: "I think football is a little bit behind me…Football for me is not at the forefront of my mind." He did not completely rule out coming out of retirement, praising incoming co-owner Dwayne Johnson and stating "Listen, anything 'The Rock' touches is gonna be gold as always."
Recently in the news, Johnny admitted he had come to grips with something about his short time with the Cleveland Browns while reflecting on his short NFL career. "Looking back on it now, I would say I absolutely, 100% lost their respect. Why wouldn't you? If I was one of them looking back at what I was doing, and your decisions that you make off the field impact if I put food on mine, yeah I'd feel some type of way, a hundred percent," he said in an episode of the YNK Podcast. "I would say we wasted a draft pick to go get this guy who doesn't give a f**k. And that's my only thing in life that I haven't been able to look back and like fully have closure on. ... It's probably one of the only things that I haven't looked back on and been able to be like super, super OK with what happened." Manziel played 14 games with the Browns and had failed stints in the Canadian Football League and the Alliance of American Football.

Johnny Manziel is famous for being a former professional football quarterback. He is best known for breaking numerous NCAA Division I FBS and SEC records, which included becoming the first freshman and fifth player in NCAA history to pass for 3,000 yards and rush for 1,000 yards in a season.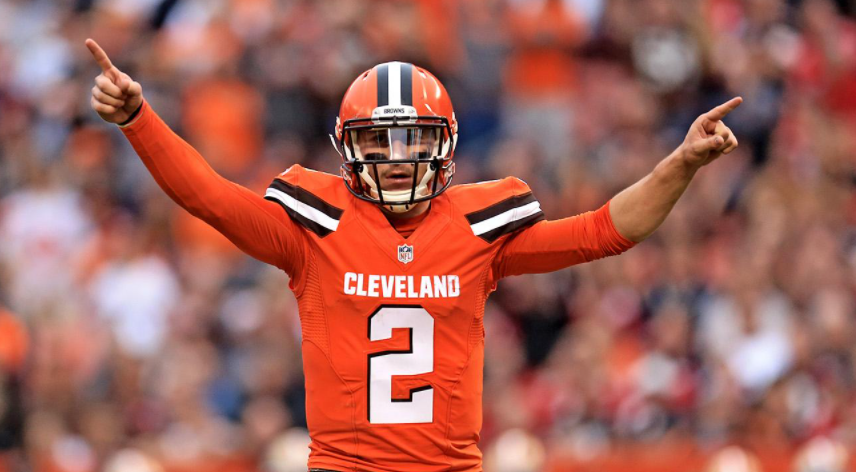 Source: @people
On 6th December 1992, Johnny Manziel was born with the birth name/full name of Johnathan Paul Manziel. His place of birth is in Tyler, Texas (hometown). He holds an American nationality and his ethnic background is American-White. His race is White. As of 2019, he celebrated his 27th birthday. He was born to his parents; father, Paul Manziel, and mother, Michelle Manziel. He also has a sibling, a sister named Meri Manziel. His great-great grandfather's name is Joseph Manziel who immigrated to the United States, in 1907, from Lebanon and settled in Louisiana. He is of Italian descent on his maternal side. As per his education, he attended Tivy High School in Kerrville, Texas where he played football and baseball. Upon his high school graduation, he decided to join Texas A&M University and perform under coach Kevin Sumlin in the period from 2011 until 2013. He grew up playing a variety of sports, including football, basketball, baseball, and golf. His religion is Christian and Sagittarius is his Zodiac sign.
With an athletic body build, Johnny Manziel stands tall at the height of 6 ft 0 in or 1.83 m. His balanced weight consists of 95 Kg or 210 lb. His hair color and eye color is dark brown. He has large hands and he has a tattoo on his chest and right arm. His shoe size is 15 US. He also stated that he had been diagnosed with bipolar disorder.
Johnny Manziel's Football Career
Regarding Johnny Manziel's high school career, he began playing football at Tivy High School and played for four years beginning with the freshman team in his very first year and then began his sophomore year.
He finished with 1,164 yards passing, 806 rushings, and 408 receiving for a combined 28 touchdowns. He completed his junior season with 2,903 passing yards, 1,544 rushing yards, 152 receiving yards, and 55 touchdowns. He was also voted All-San Antonio Area Offensive Player of the Year as well as District 27-4A MVP.
As per his senior season, he compiled 228-of-347 (65.7%) passing for 3,609 yards with 45 touchdowns and five interceptions. He completed 520-of-819 passes (63.5%) for 7,626 yards and 76 touchdowns, rushed 531 times for 4,045 yards and 77 touchdowns, and caught 30 passes for 582 yards and another five touchdowns during his three years as a starter.
He received an athletic scholarship to attend Texas A&M University, where he attended under coach Mike Sherman in the year 2011 and played for new coach Kevin Sumlin from 2012 to 2013.
He was redshirted during the 2011 season and made his game debut against Louisiana Tech on 30th August 2012.
Due to a knee injury, he left the game against Missouri Tigers on 24th November. Wearing a knee brace, he finished the game with 439 yards of total offense, including three passing and two rushing touchdowns.
After that, he began the 2013 season against No. 1 Alabama where he threw for a school-record of 464 yards and five touchdowns in the 49-42 loss.
He announced that he would forgo his junior season and enter the 2014 NFL Draft in January 2014. The Cleveland Browns drafted him at the 22nd overall pick.
He was fined $12,000 by the NFL for a hand gesture (flipping the bird) that he made in a preseason loss to the Washington Redskins. It was on 22nd August 2014.
He then entered the next game against the Buffalo Bills on 30th November 2014 where he went 5 of 8 for 63 yards, and scored his first NFL touchdown on a 10-yard rush in the fourth quarter.
He then made his first NFL start in the Browns' Week 15 game against the Cincinnati Bengals where he completed 10 of 18 passes for 80 yards and two interceptions for a 27.3 passer rating while being sacked three times.
He left the next game due to a hamstring injury against the Carolina Panthers on 21st Decemeber 2014. He finished the 2014 season by completing 18 of 35 passes for 176 yards and two interceptions, and rushed nine times for 29 yards and one touchdown.
In the 2015 season on 27th August, he was ruled out for the rest of the preseason with the pain in his right elbow. Later, he was brought back on 13th September to play against the New York Jets where he scored his very first career passsing touchdown with a 54-yard pass.
After then, he played for the team against St. Louis Rams, Arizona Cardinals, Pittsburgh Steelers, San Francisco 49ers, Baltimore Ravens.
Later, the Browns released him on 11th March 2016. On 31st March 2017, the Canadian Football League's Hamilton Tiger-Cats revealed that they had placed him on their negotiation list. But he did not initially sign with the team. After he was requested for a contract offer from the team on 2nd September. On 27th September, the CFL announced that he would not be allowed to sign with any CFL team for the 2017 season but would be able to sign with a team for the 2018 season if Manziel meets "certain conditions".
Later, the CFL approved him to play in the league on 28th December 2017. thus, the Tiger-Cats had until 7th January to offer him a contract. Later, the Tiger-Cats released a statement on 14th February stating that they had broken off negotiations with him.
He then agreed to play for The Spring League for the 2018 season.
He again agreed to a two-year contract on 19th May 2018 with Tiger-Cats and was traded for defensive lineman Jamaal Westerman. With the team, he played for eight games completing 106 of 165 pass attempts (64.2%) for 1,290 yards with five touchdowns and seven interceptions.
He then comes to an agreement to join the Alliance of American Football on 16th March 2019. He was assigned to the 1-5 Memphis Express and made his debut match against the Birmingham Iron on 24th March.
He completed three of five passes for 48 yards, along with running for 20 yards as the Express won 31-25.
He was removed from the game against the Orlando Apollos on March 20 due to suffering a concussion in an attempt to make a tackle after throwing an interception.
At the end of the 2019 season, the AAF suspended football operations. After that, he announced his retirement, stating: "I think football is a little bit behind me…Football for me is not at the forefront of my mind." He did not completely rule out coming out of retirement, praising incoming co-owner Dwayne Johnson and stating "Listen, anything 'The Rock' touches is gonna be gold as always."
Awards, Honors, and Achievements of Johnny Manziel
Heisman Trophy (2012)
Davey O'Brien Award (2012)
Manning Award (2012)
Associated Press Player of the Year (2012)
Sporting News Player of the Year (2012)
SEC Offensive Player of the Year (2012)
Consensus All-American (2012)
2× First-team All-SEC (2012, 2013)
Heisman Trophy finalist (2013)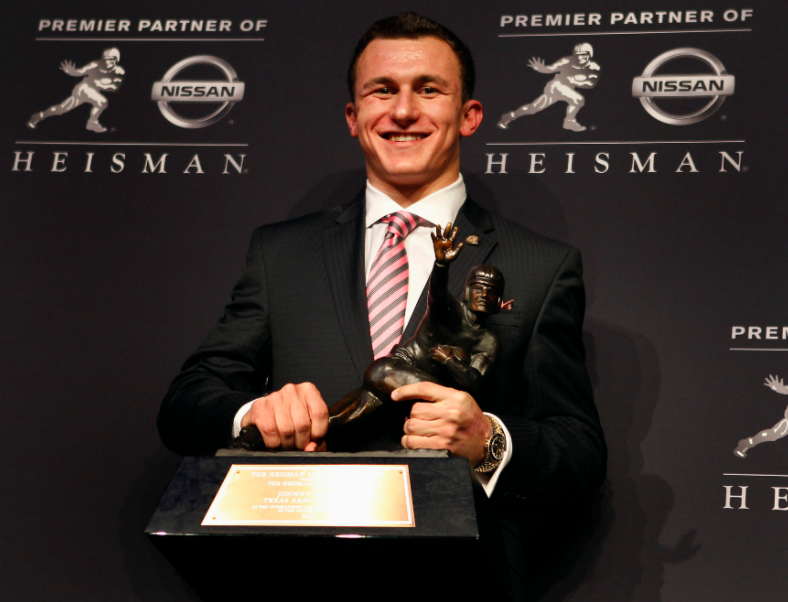 Source: @sportsworldreport
Johnny Manziel's Wife, Bre Tiesi
Johnny Manziel was a married man. He started dating his beautiful model, Bre Tiesi in late 2016. The couple then got engaged on 10th March 2017 and got married in March 2018 in a private ceremony. After a year, their married relationship come to end. As of today, he is assumed to be single as there are no rumors about his dating anyone. He is enjoying his single life happily without any disturbances. His sexual orientation is straight and he is not gay.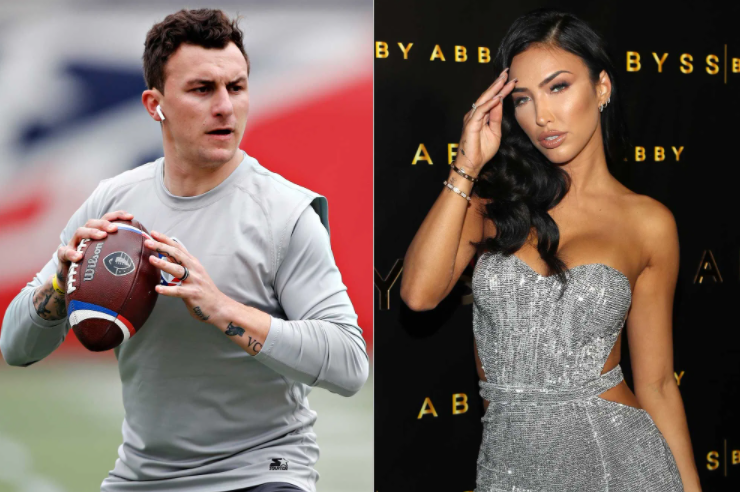 Source: @nypost
Previously, he has dated Sarah Savage in the year 2013, Lauren Hanley in the year 2014, Colleen Crowley from the year 2015 until 2016.
Johnny Manziel's Net Worth 2020
Johnny Manziel is a former professional footballer who has made a huge amount of money throughout his career. As of 2020, the net worth of Johnny Manziel is estimated to have $4 Million whereas his exact salary is still to get unfold yet but there is no doubt in the mind of his followers that he is making a considerable amount of salary from his football career and he is satisfied with his earnings as of today. His net worth slightly decreased after his retirement from his football career. His major source of wealth comes from his football career. He has performed in TV adverts for Snickers, McDonald's, etc. He has also appeared in print ads for Texas A&M Athletics in the year 2012.