Joshua Patrick Allen famed as Josh Allen is an American football quarterback for the Buffalo Bills of the National Football League (NFL). He played college football at Wyoming. He was drafted by the Bills in the first round (7th overall) of the 2018 NFL Draft, becoming the highest-drafted NFL player from the University of Wyoming and the highest-drafted quarterback in Bills' history. The Buffalo Bills 2019 NFL campaign came to an end on Saturday, as they blew a 16-0 lead and fell to the Houston Texans by a score of 22-19 in overtime in their Wild Card Round playoff matchup. In the loss, Allen completed 24 of his 46 passes for 264 yards, which didn't even begin to tell the story of how poorly the second-year quarterback played. He fumbled twice and lost one, almost turned the ball over when trying to lateral it (for some inexplicable reason) late in the fourth quarter and had a couple of his passes bounce off of the hands of Texans cornerback Bradley Roby, who probably should have come away with a pair of interceptions. Allen also caught a touchdown pass. His performance against Houston exemplified his season in a nutshell, which was a year full of a whole lot of, uh, interesting moments, whether they be good or bad. He threw for 3,089 yards, 20 touchdowns, and nine picks while completing 58.8 percent of his passes and posting a passer rating of 85.3. He also rushed for 510 yards and nine scores, averaging 4.7 yards per carrying.
Famous For
Playing for Buffalo Bills of NFL.
Being the first player to score an offensive touchdown on the Patriots in the 2019 season.
Who are the parents and siblings of Josh Allen?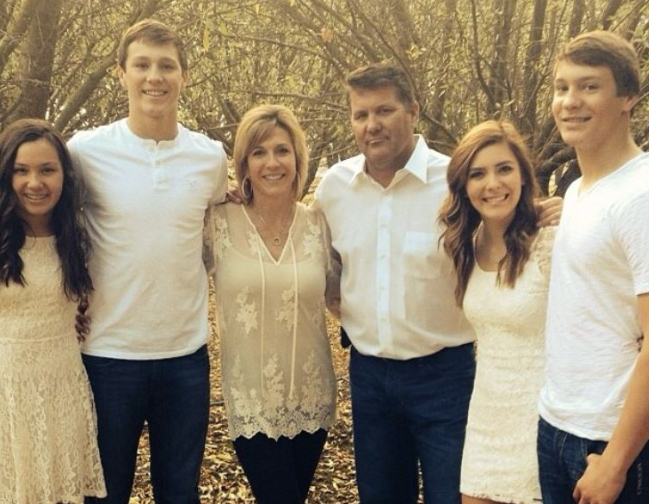 Source: @quickcelebfacts.com
With the birth name of Joshua Patrick Allen, Josh Allen was born on 21st May 1996, in Firebaugh, California to his parents, Joel Allen, and Lavonne Allen. As of 2019, he celebrated his 23rd birthday with his parents. He is American by nationality and he belongs to the White ethnicity. His star sign is Gemini and he is Christian by religion. He grew up along with his siblings, Makenna Allen, Jason Allen, and Nicola Allen. As per his education, he attended Firebaugh High School in Firebaugh, California where he played for his high school football team. After completing high school, Joshua Allen enrolled at the University of Wyoming and played for the University of Wyoming. Moreover, he has also attended Reedley College.
How was the Professional Career of Josh Allen?
Josh was drafted by the Buffalo Bills with the seventh overall pick in the NFL 2018 Draft and on July 25, he signed a four-year, fully guaranteed $21 million contract with the Bills.
He made his first regular-season appearance against the Baltimore Ravens and finished 6 for 15 for 74 passing yards in 2018.
He finished with 245 passing yards, his first passing touchdown, and two interceptions against Los Angeles Chargers and also rushed for 32 yards.
He passed for 196 yards and a touchdown, adding 39 yards on the ground with two rushing touchdowns leading his team to victory in Week 3.
In Week 5, he completed 10 of 19 passes for 82 passing yards and an interception.
He returned after missing four games due to an injury and played against the Jacksonville Jaguars and completed 8 of 19 passes for 160 yards and a touchdown, adding 99 yards on the ground on 13 rushes and a rushing touchdown leading his team to victory.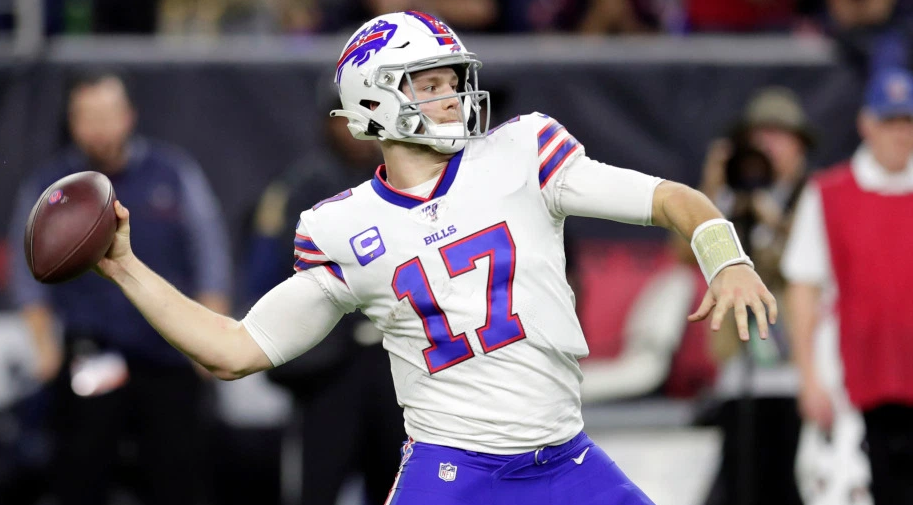 Source: @ftw.usatoday.com
He threw for 235 yards and two touchdowns and added 135 yards on the ground against Dolphins.
The team lost against New England Patriots in Week 26.
He then rebounded in the rematch against the Dolphins where he scored five total touchdowns, three passing and two rushings, along with 224 passing yards and 95 rushing yards.
The performance of him earned recognition as the AFC's Offensive Player of the Week.
The Buffalo Bills finished 6-10 on the season, 5-6 with Allen as the starting quarterback and became the first quarterback in Bills history to lead the team in both passing and rushing in a season.
He entered 2019 as the Bills' opening day starter, being named a team captain and he led the Bills to a comeback win over the New York Jets in week 1.
He finished the game with 254 passing yards on 24 completions, both career highs.
He struggled against a stout New England Patriots defense, throwing three interceptions, but became the first player to score an offensive touchdown on the Patriots in the 2019 season.
He completed 13 of 28 passes for 153 yards and also rushed for 26 yards and the aforementioned touchdown before suffering a helmet-to-helmet hit from Patriots cornerback Jonathan Jones, which forced him out of the eventual 16-10 Bills loss.
He was named AFC Offensive Player of the Week for his performance in Week 11.
In Week 15 against the Pittsburgh Steelers on Sunday Night Football, Allen threw for 139 yards, one touchdown, and one interception and rushed for 28 yards and a touchdown during the 17-10 win.
Overall, he finished his 2019 season with 92 rushing yards, 264 passing yards, and one total touchdown as the Bills lost 19-22 in overtime.
He was just the third player since 1975 with 25+ pass yards, 40+ rush yards, and 15+ receiving yards in a single game.
What is the net worth of Josh Allen?
The net worth of this famous footballer is believed to have $5 Million as of 2020. He reportedly signed a four-year, $21 million contract with Buffalo Bills in July 2018. He has an average salary of $5 million annually. His salary for the 2018 season was reported to be $3,851,461 while his total earnings that year were about $13,965,844. His base salary for 2019 is reported to be $570,000 while he will earn $1,442,865 in total including bonuses. He will earn $2,405,730 in 2020. Overall, he is satisfied with his earnings.
Who is Josh Allen dating?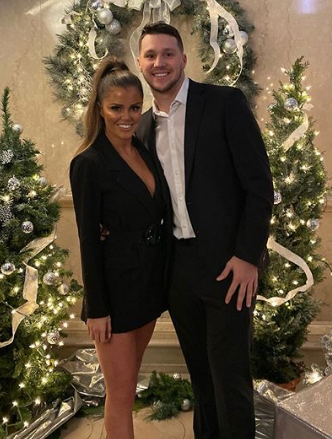 Source: @joshallenqb
Josh Allen is not married yet but he is currently dating his girlfriend, Brittany Williams. The couple has been dating each other since March 14, 2017, and has been together for more than 1 and a half years. She was a cheerleader for Fresno State. The couple knew each other since their childhood which Brittany revealed on one of her Instagram posts. "My 8-year-old crush turned out to be my boyfriend a few years later. I love you! #1yeardown #bae," she wrote on one of their photos. The couple seems to be enjoying their romantic life. As for now, their relationship is going strong and the duo is planning to get married soon.
How tall is Josh Allen?
Josh Allen is very handsome as well as a cool person. He has got a very charming smile attracting a lot of people towards him. With an athletic body build, he stands at the tall height of 6 feet 5 inches and he weighs around 108 kg. His other body measurements will be added once we get information about it. Overall, he has got a very healthy body with an attractive personality. He maintains his body a lot.