Matthew Todd Lauer famed as Matt Lauer is a former American television news anchor. Moreover, he was the co-host of NBC's Today show from 1997 to 2017, and a contributor for "Dateline NBC". With NBC, he hosted the annual Macy's Thanksgiving Day Parade from 1998 to 2017 and co-hosted the opening ceremonies of several Olympic Games. He was also previously a news anchor for "The Today Show" from 1994 to 1997. His contract was terminated by NBC in November 2017 after NBC reported receiving "a detailed complaint from a colleague about inappropriate sexual behavior in the workplace" and added that the network had "reason to believe this may not have been an isolated incident". Recently, Matt Lauer has accused Ronan Farrow of shoddy and biased journalism in his book Catch and Kill, which included a rape accusation against the former Today show host that Lauer claims is false. Farrow, a Pulitzer Prize-winning staff writer at the New Yorker, said Lauer "is just wrong". Lauer, similarly, said Farrow had not corroborated several specific accusations against him in the 2019 book, Catch and Kill. Scroll down to get more information about his full biography, birthday, wiki, facts, family details, net worth, wife, career timeline, now, and many more.
Famous For
Being served as the news anchor and host of the NBC morning TV show, The Today Show.
Being the co-host of the opening ceremonies for a number of Olympic Games.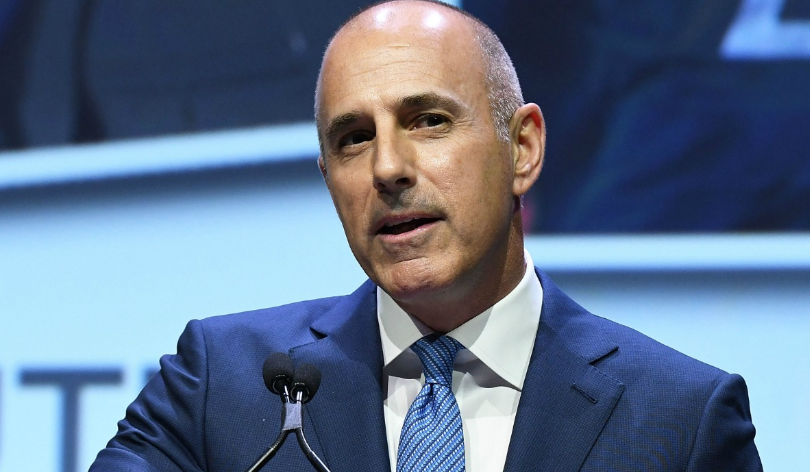 Source: @hollywoodreporter.com
Early Life of Matt Lauer
Matt Lauer was born 30th December 1957 with the birth name/real name of Matthew Todd Lauer. His birthplace/hometown is New York City in the United States. His nationality is American and his ethnicity is American-White. He was born to his parents; Jay Robert Lauer (father), a boutique owner, and Marilyn Lauer (mother), a bicycle-company executive. He also has a sibling; April Lauer Stone (Older Sister) (Human Resources Manager). His other family members include; Richard Kolmer (Stepfather), Matthew Jonas Laurer (Paternal Grandfather), Rebecca Sargoy (Paternal Grandmother), Arthur Gentry (Singer) (Maternal Grandfather), Marion Gentry (Maternal Grandmother). His father was of Romanian Jewish ancestry, as seen on the Today Show's Finding Our Roots. He said, "My dad was Jewish. My mom is not. So I was not raised anything. I do feel a desire now to find something spiritual. Getting married and wanting to have kids has something to do with that". As per his education, he attended Scripps College of Communication, School of Media Arts and Studies. At the age of 39, he completed his undergraduate degree from Ohio University. As of 2019, he celebrated his 62nd birthday. His race is White. His religion is Unknown and his horoscope sign is Capricorn.
Career of Matt Lauer
Matt dropped out the School of Media Arts and Studies to pursue his career on television.
After that, he was hired as a producer of the noon newscast for WOWK-TV in Huntington, West Virginia.
By 1980, he had become an on-air reporter for the station's 6 p.m. and 11 p.m. newscasts.
He then started to move around the East Coast, hosting a number of daily information and talk programs.
He was a co-host of PM Magazine in several cities, beginning in Richmond (1980-1981), then Providence (1981-1984), and then New York City (1984-1986).
After that, he and co-host Jill Rappaport worked on a new show for the station, Made in New York, which ran for fifteen weeks.
He joined Robin Leach in co-hosting ABC's short-lived daytime series "Fame, Fortune and Romance", a spin-off of the syndicated "Lifestyles of the Rich and Famous".
In September 1989, he returned to New York City, this time to WWOR-TV, where he hosted 9 Broadcast Plaza, a three-hour live interview program.
In the year 1990, he was hired by the Kushner-Locke Company to host a pilot called Day in Court, executive-produced by veteran producer David Sams, who helped to launch The Oprah Winfrey Show into national syndication.
He filmed a pilot for the World Wrestling Federation's bodybuilding spinoff, the World Bodybuilding Federation for USA Network known as "WBF BodyStars", though WWF owner/chairman Vince McMahon later decided to host the program himself.
In the year 1991 Lauer appeared as the co-host (along with Willow Bay) of Etc., Etc., a show on the Travel Channel.
He joined NBC in 1992 when he became co-anchor of the early weekday news show Today in New York on the network's New York flagship station WNBC.
He also filled the role of Live at Five co-anchor with Sue Simmons.
He then filled in as the newsreader on The Today Show for Margaret Larson when needed from 1992 to 1993.
Later, he stepped in for Scott Simon, Mike Schneider, Jack Ford, David Bloom, and Lester Holt as the co-host of Weekend Today, and for Ann Curry as the anchor of the former NBC News program "NBC News at Sunrise" from 1992 to 1997.
He had also filled in for Tom Brokaw on "NBC Nightly News".
From 1998 until 2009, Lauer embarked on what was generally an annual five-day, globe-spanning adventure called "Where in the World is Matt Lauer?" on the Today Show during TV Sweeps.
In 2009, NBC News announced the segment would no longer air in consideration of the stagnant, unstable U.S. economy.
He interviewed Prince William and Prince Harry and Hillary Clinton and Donald Trump on 19th June 2007.
Between 1998 and 2017, he co-hosted NBC's live coverage of Macy's Thanksgiving Day Parade.
While interviewing Charlie Sheen in November 2015, Sheen revealed that he was HIV-positive.
He has also co-hosted several Olympic Games. He co-hosted the opening ceremonies of the 2008 Summer Olympics, the 2010 Winter Olympics, the 2012 Summer Olympics, the 2014 Winter Olympics, and the 2016 Summer Olympics.
He has appeared in the American sitcom Will & Grace in the year 2006.
He has appeared in the 2009 film Land of the Lost and voiced for the 2009 animation sequel Curious George 2: Follow That Monkey!.
He has also appeared in TV movies Sharknado 2: The Second One and Sharknado 3: Oh Hell No!.
On September 8, 2016, he conducted separate 30-minute interviews with presidential candidates Hillary Clinton and Donald Trump. The New York Times reported that the reaction to Lauer's performance was "not kind".
On November 30, 2016, it was revealed that he had signed a new contract up to 2018.
Variety reported that his salary was $20 million a year.
On 6th January 2017, he celebrated his 20th anniversary on "The Today Show" with a look back at some of his most memorable moments on the show.
Sexual Misconduct Allegations of Matt Lauer
NBC terminated his contract on 29th November 2017, after he was alleged for sexual misconduct by an unidentified NBC female employee.
According to her, Lauer sexually harassed her during the 2014 Winter Olympics in Sochi in Russia.
She reported that he continued the harassment after they returned back to New York.
NBC fired him without any financial settlement.
He publicly apologized, "Some of what is being said about me is untrue or mischaracterized, but there is enough truth in these stories to make me feel embarrassed and ashamed."
A couple of weeks later, Today production assistant Addie Zinone made an additional accusation on Lauer.
She said he used his power to force her to have a sexual relationship with him, and she could not turn down Lauer because her career was in line.
In the year 2017, a former Today staffer told People magazine that "What people need to understand is that there is a flip side to Matt-the-serial-adulterer persona, and that's all the women he didn't hook up with--and they didn't fare so well."
Awards and Achievements of Matt Lauer
In the year 1999, Matt, along with the rest of the team of 'Macy's Thanksgiving Day Parade' won a 'Daytime Emmy' in the category 'Outstanding Special Class Program'
The entire team of 'Today', including Lauer, won a 'Daytime Emmy' in 2007 for 'Excellence in Morning Programming'.
In 2008, he was inducted into the 'Broadcasting & Cable Hall of Fame'.
Personal Life of Matt Lauer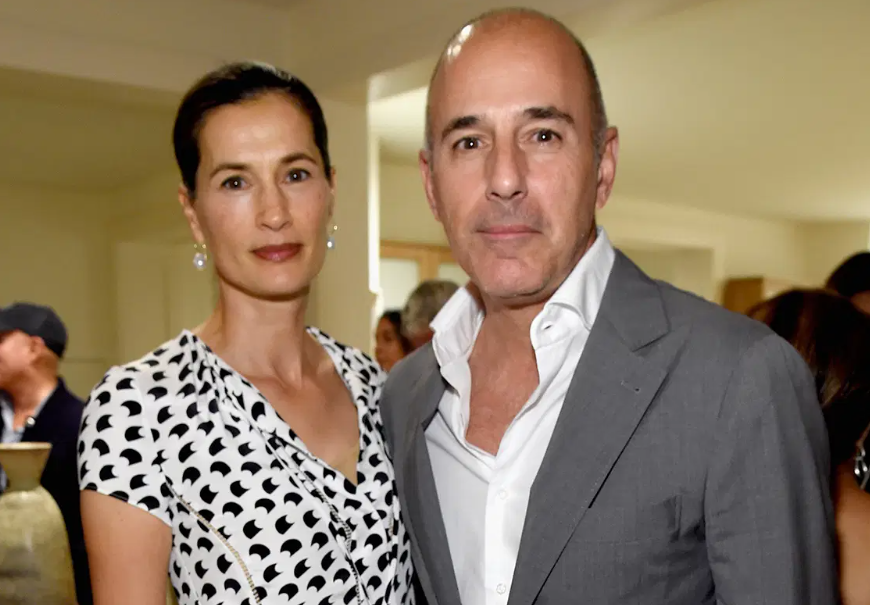 Source: @globalnews.ca
Matt Lauer is a married man. He was married firstly to his wife, Nancy Alspaugh who is a television producer. The duo married in the year 1982. After seven years of their marital life, they split in the year 1989. Later, he married Annette Roque, a Dutch model. They met on a blind date in the year 1997. Lauer proposed to Roque after five months of dating. They got married in October 1998 and have three children together namely; Jack, Romy, and Thijs. In 2006, while pregnant with Thijs, Roque filed for divorce due to (as papers she filed indicated) "mental abuse, extreme mental and emotional distress, humiliation, torment, and anxiety" by Lauer. Weeks later they reconciled. On 7th September 2019, the duo officially divorced, following nearly two years of separation in the wake of his 2017 sexual harassment allegations. As of now, he is living a single life without any disturbances. His sexual orientation is straight and he is not gay.
Net Worth of Matt Lauer
Matt Lauer is a former American television news anchor. With his television career, he has accumulated a huge amount of money. He earned over $100 million during his career at NBC. He was paid $25 million a year, according to his contract with NBC News in the year 2012. His new contract in 2016 reportedly earned him $20 million a year. As of 2020, the net worth of Matt Lauer is estimated at around $85 million whereas his net worth was $60 Million as of 2019. His major source of earning is from his television career. has done endorsements for the following brands: TV Guide Magazine (2017), Hampton Classic (2015), Team USA Gear (2016).
Body Measurements of Matt Lauer
Matt Lauer is a handsome person with an athletic body build. He has got a tall height of 5 ft 11 in or 180 cm and his balanced bodyweight consists of 76 Kg or 167.5 lbs. His chest size is 42 in, arms size is 14 in and waist size is 34 in. His shoe size and dress size are unknown. His eye color is brown and his hair color is black-white. Overall, he has got a healthy body as of now.