Michael Edward Palin famed as Michael Palin is an English comedian, actor, writer, and television presenter who was a member of the comedy group Monty Python. He has made a number of travel documentaries since 1980 and he wrote most of his comedic material with fellow Python member Terry Jones. They had worked on other shows such as The Ken Dodd Show, The Frost Report, and Do Not Adjust Your Set. Palin appeared in some of the most famous Python sketches, including "Argument Clinic", "Dead Parrot sketch", "The Lumberjack Song", "The Spanish Inquisition", "Bicycle Repair Man" and "The Fish-Slapping Dance". His journeys have taken him across the world, including the North and South Poles, the Sahara Desert, the Himalayas, Eastern Europe, Brazil, and in 2018, he visited North Korea; documenting his visit to the isolated country in a series broadcast on Channel 5. He has been awarded a CBE for services to television in the 2000 New Year Honours and he received a knighthood in the 2019 New Year Honours for services to travel, culture and geography. Overall, he is a very talented person.
Michael Palin remembers Monty Python pal Terry Jones with vomit tale at NTAs
Michael Palin paid a hilariously apt tribute to his late Monty Python pal Terry Jones as he won the National Television Awards special recognition gong. Terry, who was a founding member of Monty Python alongside Michael, passed away last week aged 77 after a battle with dementia. As Sir Michael appeared on stage to pick up his award at London's O2 Arena, which was to recognize his contribution to documentary film-making as well as comedy, he took a moment to remember his friend – and one of his most classic characters. 'I want to dedicate this award tonight to someone who taught me more about television than anyone else, my dear friend and erstwhile Python, Terry Jones,' he said.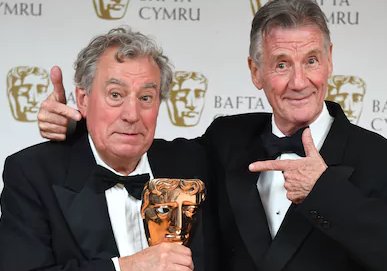 Source: @telegraph.co.uk
Who are the Parents of Michael Palin?
Michael Palin was born on 5th May 1943 in Broomhill, Sheffield, West Riding of Yorkshire, England as Michael Edward Palin. He holds an English nationality and his ethnicity is White. He is the second child of Mary Rachel Ovey and Edward Moreton Palin. His father was an engineer working for a steel firm. His grandfather, Lieutenant-Colonel Richard Lockhart Ovey, was High Sheriff of Oxfordshire. He started his education at Birkdale Preparatory School, Sheffield, and later attended Shrewsbury School. He was close to his sister Angela who was nine years older than him. As of 2019, he celebrated his 76th birthday.
How was Michael Palin's Career?
In the year 1965, Michael Palin became a presenter on a comedy pop show called "Now!" for Television Wales and the West after his graduation.
At the same time, Palin was contacted by Jones, who had left university a year earlier, for assistance in writing a theatrical documentary about sex through the ages.
Palin and Jones wrote comedy for various BBC programs, such as The Ken Dodd Show, The Billy Cotton Bandshow, and The Illustrated Weekly Hudd. They collaborated in writing lyrics for Barry Booth's album "Diversions".
They wrote for 'The Frost Report' along with other team members including Frank Muir, Barry Cryer, Marty Feldman, Ronnie Barker, Ronnie Corbett, Dick Vosburgh, Graham Chapman, John Cleese, and Eric Idle.
They worked as actors and writers on "Twice a Fortnight", and the children's comedy show "Do Not Adjust Your Set" and they also worked together for "The Complete and Utter History of Britain".
After that, he co-wrote sketches with Jones, and began the "Spanish Inquisition sketch".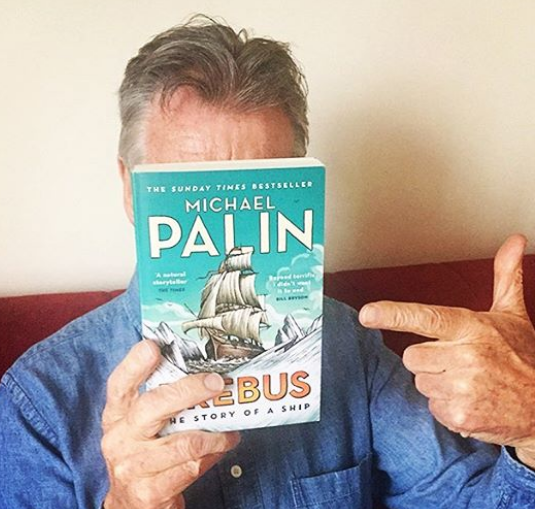 Source: @michael.palin
They composed songs including "The Lumberjack Song", "Every Sperm is Sacred" and "Spam".
Later, he starred as Dennis the Peasant in Terry Gilliam's 1977 film "Jabberwocky" and also appeared in "All You Need Is Cash" as Eric Manchester, the press agent for the Rutles.
He co-wrote "Time Bandits" with Terry Gilliam, and also acted in the film in 1980.
He wrote and starred in "The Missionary". Co-starring Maggie Smith, he plays the Reverend Charles Fortescue in 1984.
His first travel documentary was episode 4 of the 1980 BBC Television series Great Railway Journeys of the World, entitled "Confessions of a Trainspotter".
He traveled throughout the UK by train, from London to Kyle of Lochalsh, via Manchester, York, Newcastle upon Tyne, Edinburgh, and Inverness.
He played a small part in "The Wind in the Willows", a film directed by and starring Terry Jones and also appeared with John Cleese in his documentary, "The Human Face".
He appeared in the comedy film "A Fish Called Wanda", released in 1988.
He presented the first of BBC's travel series "Around the World in 80 Days" traveling closely on the path described in the famous Jules Verne story without using an aircraft in 1989.
His BBC travel shows include "Pole to Pole", "Full Circle with Michael Palin", "Michael Palin's Hemingway Adventure", "Sahara with Michael Palin", "Himalaya with Michael Palin", "Michael Palin's New Europe", and "Brazil with Michael Palin".
He worked as producer and actor in the film "American Friends" in 1991 and he traveled through Ireland for the series, titled "Derry to Kerry" in 1994.
In Monty Python, Palin played various roles such as the lumberjack of the Lumberjack Song, the Dead Parrot vendor, Cheese Shop proprietor, Postal Clerk, and inept characters such as Arthur Putey, and Mr. Anchovy.
He was awarded the Commander of the Order of the British Empire or the CBE in the 2000 Queen's Millennium Honors List for his services to television drama and travel documentaries.
He received the James Joyce Award of the Literary and Historical Society in Dublin in 2008 and he was made a BAFTA fellow, the highest honor that is conferred by the organization in 2013.
Who is the Wife of Michael Palin?
Michael Palin is a married person. In the year 1966, he married Helen Gibbins whom he first met seven years earlier when on a holiday in Southwold, Suffolk. The couple have three children and a grandchild. Daughter Rachel is a BBC TV director, whose work includes MasterChef: The Professionals. Son William is Director of Conservation at the Old Royal Naval College, Greenwich, London and oversaw the 2018-2019 restoration of the Painted Hall. As of today, the duo is living a happy life without any disturbances.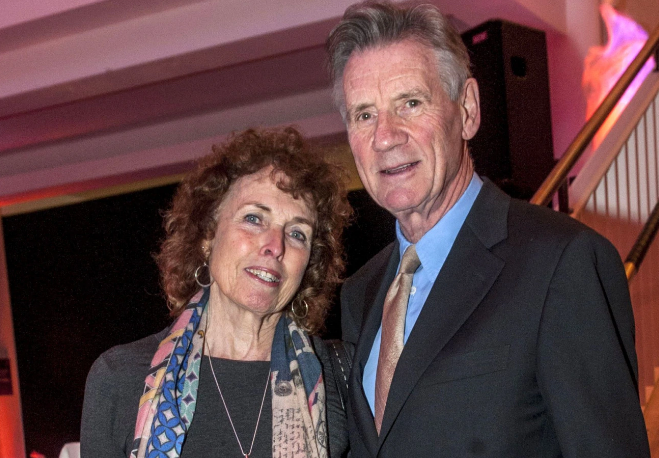 Source: @telegraph.co.uk
What is the Net Worth of Michael Palin?
The net worth of Michael Palin is believed to have $25 Million as of 2020. He is best recognized for his travel documentaries, as well as being a part of the Monty Python comedy group. His exact salary is under review but there is no doubt in the mind of his followers that he is earning a considerable amount of salary from his present work and he is satisfied with his earnings.
How tall is Michael Palin?
Being at the age of 76, Michael Palin has maintained his body a lot. He has a tall height of five feet ten inches matching with his body weight. As of now, his exact weight and other body measurements such as weight, biceps size and more have not been revealed yet but it will be added soon once we get information about it. His body build is slim. Overall, he has got a healthy body with a charming smile.