Mykayla Brooke Skinner Harmer, professionally known as MyKayla Skinner is a retired American artistic gymnast. She is famous for competing at the 2014 World Championships, at the 2016 Olympic, at the 2020 Olympic Games, at the 2019 U.S. National Championships, at the Fiesta Bowl in 2013, at 2014's Pan American Championships, FIG World Cup, & at the 2019 U.S. Classic. She is well recognized for "Funny Thing About Love", "Golden: The Journey of USA's Elite Gymnasts (2021), and Defying Gravity: The Untold Story of Women's Gymnastics (2020).
In 2012, MyKayla Skinner became a member of the U.S. senior national team where she finished 15th all-around at the U.S. Nationals and third on vault. Then, she placed third on vault and floor at the 2013 P&G Championship and finished sixth in the all-around. She was a member of the winning U.S. squad at the City of Jesolo Trophy where she placed fourth in the all-around with won the gold on vault as well as she placed first in the all-around competition with a score of 56.850 and placed first on vault scoring 15.037, seventh on balance beam scoring 13.475, first on floor scoring 14.750 at the Pan American Championships. At the 2014 World Championship, she grabbed a gold medal with a score of 15.775 on vault and 14.666 on the floor, a bronze medal with a score of 15.366. She competed at the 2015 AT&T American Cup where she placed second to Simone Biles with a score of 57.832. She was named to the Junior US national team in 2011, the senior national team in 2015, named as an alternative to the USA team for the 2015 World Artistic Gymnastics Championships, and also named as an alternative to the 2016 Olympic. She finished 10 in the all-around with won a silver medal on vault and a bronze medal on floor exercise at the 2016 U.S. National Championships.
Moreover, MyKayla Skinner enrolled and competed at the University of Utah in 2016 as a member of its NCAA women's gymnastics team and won NCAA Championships two times in 2017, 2018. In 2019, she placed seventh in the all-around at the NACC Championships and finishing fourth in their semifinal as well as she competed at the 2019 U.S. Classic with scored a 14.900 on vault, placed eleventh on the balance beam, and fourteenth on floor exercise. At the 2019 U.S. National Championship, she competed in all four events and was named to the world's team to travel to the 2019 World Championship. She has more than 250K followers on Instagram, 50K followers on Twitter where she joined in May 2015, and 106k subscribers on YouTube Channel with 11804703 views.
In 2021, Mykayla Skinner revealed that she withdrew from the 2021 Winter Cup due to insufficient training after recovering from COVID-19 and she competed at the U.S. Classic where she finished tenth in the all-around, first on vault in May. She featured on the Peacock docuseries Golden: The Journey of USA's Elite Gymnasts. She won silver on vault and placed ninth on uneven bars, tenth on floor exercise, sixteenth on the balance beam at the National Championships, and qualified to compete at the Olympic Trials. She was selected to represent the United States in the non-nominative spot at the Tokyo Olympics but she announced that she would retire from competitive gymnastics after the Olympics on 3 July 2021. She competed on all four apparatuses-vault, uneven bars, floor exercise, and balance beam during the qualifying round at the Olympic Games where she finishing in eleventh place in the all-around with a total score of 55.398 and fourth place on the vault but it was behind Biles and Jade Carey who scored first and second. She also revealed that she won't be part of the team events that will be phased out for 2024.
Early Life
On 9 December 199, MyKayla Skinner stepped into this world for the first time in Gilbert, Arizona, the United States with the real name of Mykayla Brooke Skinner Harmer. She holds an American nationality and belongs to the American-White ethnicity. Her religious belief is in the Christian religion and is also a member of the Church of Jesus Christ of Latter-day Saints. White is her race and her zodiac sign is Sagittarius as per her birth date. She has celebrated her 24 birthday as of 2020 which is her present age of 24. She will be cut her 24 birthday cake in December 2021.
MyKayla Skinner was born to Cris Skinner (Father), and Kym Skinner (Mother). She has three siblings named Chelsea, Katie, and Jeremy with two of them even being former gymnasts.
Regarding MyKayla Skinner's education, she has completed her school education at Higley High School in 2011, and then she was homeschooled starting in 2012. Later, she got enrolled at the University of Utah Program, a public research university, and studied communication/journalism.

Personal Life
Married woman, MyKayla Skinner got happily married to Jonas Harmer on 14th November 2019. Her husband is the sales team manager at Vivint Smart Home. The couple got engaged on 19th October 2019. Talking about her sexual orientation, she is straight.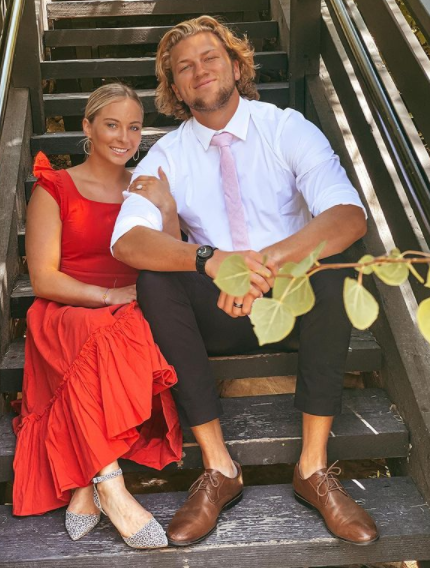 Net Worth
As of 2021, MyKayla Skinner has an estimated net worth of around $1 million whereas her major sources of income come from her gymnastic career. Her exact salary income has not been disclosed yet but possibly she earns almost $30000 salary income. She has promoted brands like Ivy City Co, and Ozoneleos. Her expected lifetime earnings are reported at $1252440. She is living a cool lifestyle at the present.

Body Measurement
The beautiful gymnast, MyKayla Skinner stands at the height of 5 feet (152 cm) with an athletic body builds. She has blue eyes color and her hair color is blonde. She has a perfect and balanced bodyweight of 52 Kg (114.5 Ibs). In 2021, she revealed on Instagram that she was hospitalized with pneumonia that resulted from COVID-19.

Competitive History
2010- U.S. National Championships
2011- WOGA Classic, U.S. National Championships

Senior elite
2012- City of Jesolo Trophy, US National Championships
2013- U.S Classic, U.S. National Championships
2014- City of Jesolo Trophy, U.S. Classic, U.S. National Championship, Pan American Championships, & World Championships
2015- American Cup, U.S. Classic, U.S. National Championships, & World Championships
2016- Glasgow World Cup, City of Jesolo Trophy, U.S. Classic, U.S. National Championships, U.S. Olympic Trials, Olympic Games
2019- U.S. Classic, U.S. National Championships, Worlds Team Selection Camp, World Championship
2020- International Gymnix
2021- U.S. Classic, U.S. National Championships, Olympic Trials, Olympic Games

NCAA
2017- PAC-12 Championships, NCAA Championships
2018- PAC-12 Championships, NCAA Championships
2019- PAC-12 Championships, NCAA Championships

Career Perfect 10.0
On 3 & 18 March 2017- Floor Exercise- Utah vs Stanford
On 22 March 2019- Floor Exercise- PAC-12 Championships