About Robbie Ray; Baseball Pitcher
''Robbie Ray'' is an American professional baseball pitcher for the ''Arizona Diamondbacks'' of ''Major League Baseball'' (MLB). Robbie is one of the successful Celebrities. In 2014, Ray made his MLB debut for the ''Detroit Tigers'', and was traded to the Diamondbacks before the 2015 season. He was an MLB All-Star in 2017. He had won 47 matches and lost 46 as of 2019. He had also won the "All-Star Award'' in 2017. Ray is in the ''Arizona Diamondbacks'' team. His primary off-speed pitches are a slider that averages about 85 miles per hour (137 km/h) (tops out at 87 miles per hour (140 km/h)) and a curveball he throws at about 84 miles per hour (135 km/h). In the recent news, he retired the first eight San Diego Padres batters of the game on Saturday night. He struck out six batters through three innings and touched 97 mph.
Famous For
Being a professional baseballer.
For winning ''All-Star Award''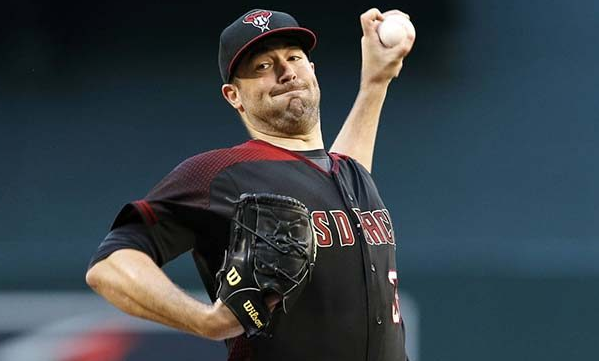 Source: @arizonasports
Early Life of Robbie Ray
Robbie Ray took birth on 1st October 1991. His full name or born name is ''Robert Glenn Ray''. Ray's birth nation is American while his ethnicity is American-White. He was born in Brentwood, Tennessee; his birthplace. He belongs to American nationality whereas his race is white. His zodiac sign is Libra. He celebrates his birthday on 1st October of every year and he had celebrated his 28th birthday as of 2019. He is the son of ''Robert Ray'' (father) whereas the mother's name is unknown. Robbie attended Brentwood High School in Brentwood, Tennessee. He committed to attend the University of Arkansas to play college baseball for the Arkansas Razorbacks.
Career of Robbie Ray
In the 12th round of the 2010 Major League Baseball draft, the ''Washington Nationals'' selected Robbie Ray and signed with the Nationals, receiving a $799,000 signing bonus.
In 2010, he pitched in one game for the ''Vermont Lake Monsters'' striking out two in one inning pitched.
Pitching for the ''Hagerstown Suns'' in 2011, Ray went 2-3 with a 3.13 earned run average with 95 strikeouts in 89 innings pitched.
In 2012, he struggled to pitch for the Potomac Nationals going 4-12 with a 6.56 ERA and returned to Potomac for the start of the 2013 season.
Robbie was promoted to the Double-A Harrisburg Senators after going 6-3 with a 3.11 ERA and 100 strikeouts in 84 innings.
He was traded to the Detroit Tigers, along with Ian Krol and Steve Lombardozzi Jr., for Doug Fister on 2nd December 2013.
Robbie started the 2014 season with the Triple-A Toledo Mud Hens, where the Tigers announced he would be called up to the Major League team following an April 26 injury to starter ''Anibal Sanchez''.
Earning his first big-league win in the Tigers' 11-4 victory over the ''Houston Astros'' he made his Major League debut on 6th May 2014.
On August 12, Ray was recalled to replace an injured Anibal Sanchez again where he pitched five innings, allowing four runs on six hits, while striking out five and walking two, in a 4-2 loss to the Pittsburgh ''Pirates''.
The Tigers traded Ray and Domingo Leyba to the Arizona Diamondbacks in a three-team trade on 5th December 2014, that brought Shane Greene to the Detroit Tigers, and Didi Gregorius to the New York Yankees.
Robbie started the 2015 season at their AAA affiliate, the Reno Aces where he made his debut in a Diamondbacks uniform on 6th May being called up to face the Colorado Rockies in the second game of a doubleheader.
Robbie Ray hit his first career home run on 7th June 2016, off of ''Chris Archer'' and he led the major leagues in allowing opposing batters the highest batting average on balls in play (.352).
On 2nd July he was named to his first career ''All-Star'' game.
Robbie struck out a career-high 14 batter while pitching 7 2/3 innings in a 13-0 victory against the ''Los Angeles Dodgers'' on 4th September.
He earned his 12th victory of the season, and this would propel the Diamondbacks to their 11th consecutive victory and finished the season with 15-5 with 218 strikeouts and a 2.89 ERA over 162 innings in 28 starts.
In 2017, Ray had the highest rate of bases on balls per 9 innings pitched in the majors (3.94), and led the majors in giving up the highest percentage of hard-hit balls (40.4%).
He began the 2018 season as the Diamondbacks #2 starter and Ray was placed on the disabled list on 30th April with an oblique injury.
Ray finished the season 6-2 with an ERA of 3.93 in 24 starts in ​123 innings, he struck out 165 batters and gave up 70 walks.
He pitched a career-high 33 starts in 2019 despite averaging less than 6 innings per start and was 12-8 with a 4.34 ERA in ​174 innings, tying his career-best innings pitched from 2016.
Robbie Ray retired the first eight San Diego Padres batters of the game on Saturday night and he struck out six batters through three innings and touched 97 mph, then he threw 39 pitches in the fourth inning.
He was pulled after 3.2 innings, striking out seven batters but giving up a three-run home run in the fourth and leaving with runners on the corners.
This offseason, Ray has said he felt better than ever after cutting dairy out of his diet and losing 15 pounds.
In a contract year, he felt the pressure to play this season, seeing the potential of a hefty payday for a hard-throwing southpaw.
He threw 96 miles per hour multiple times on Saturday, and the broadcast showed him hitting 97 miles per hour, something that has turned into a rarity for Ray.
After allowing his first hit of the game with two outs in the third, he walked Fernando Tatis Jr. on four pitches and struck out the next batter, Manny Machado, to get out of the inning.
Even with that strikeout, he had lost the ability to find his spot. Starting with Machado, five of the final eight batters Ray faced reached a full count.
Ray walked Tommy Pham to start the fourth inning after Ty France got a base hit to put runners on the corners with one out, Wil Myers hit a three-run home run and Ray gave up a double and walked another batter with a strikeout sandwiched in between.
After that ultimate walk, a seven-pitch at-bat, Robbie was taken out of the game for Stefan Crichton.
Award of Robbie Ray
Personal Life of Robbie Ray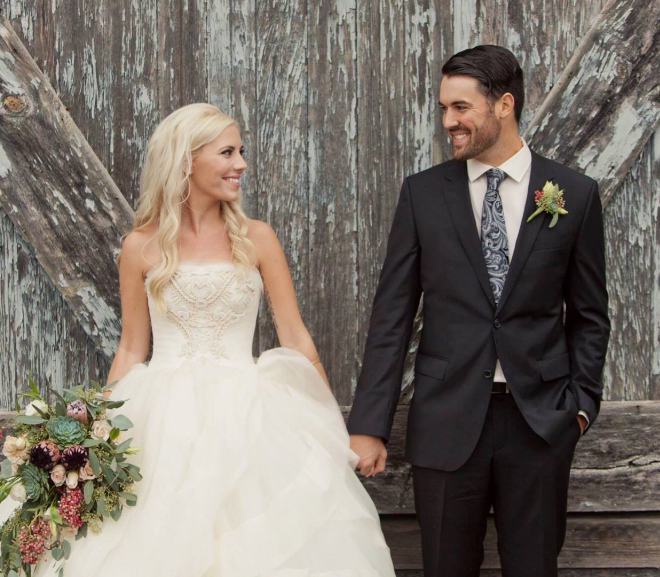 Source: @twitter
Regarding his personal life, Robbie Ray is a married man. He is married to Taylor Pasma in November 2014. The couple was dating each other for a very long time. They had their first child, a son named ''Asher'', in December 2015. They are enjoying their life happily. Talking about his sexual orientation, he is a straight guy.
Net Worth of Robbie Ray
Moving toward Robbie's net worth, it is estimated at around $1 million to $5 million as of 2019. But as of 2020, his net worth is in millions of dollars. He had also a handsome amount of annual salary. His crucial source of income is from a baseball career. Ray had earned the perfect amount of salary from his baseball career. He is satisfied with his earnings.
Body Measurement of Robbie Ray
The height of professional baseballer, Robbie Ray is 1.88m. He had gained around 88kg of weight. Ray had a handsome body with a charming smile. He had attracted many people through his body. Whereas his body build is athletic. He is healthy, fit and fine till now and hopes he will be in the future too.