About Ronan Keating
Ronan Keating is an Irish singer, songwriter, and television and radio presenter. He gained initial fame as a co-lead singer of the Irish pop group Boyzone in 1993, alongside Keith Duffy, Michael Graham, Shane Lynch, and Stephen Gately. In 1999, he embarked on a successful solo career, releasing eleven albums and selling over 20 million records worldwide. His single "When You Say Nothing At All" achieved global recognition after being featured in the film Notting Hill and reaching number one in multiple countries. Currently, Keating hosts a breakfast show on Magic Radio. He has also made notable appearances as a judge on All Together Now in 2018, The X Factor from 2010 to 2014, and as a coach on The Voice Australia in 2016. Keating actively participates in charity work and is a dedicated campaigner for the Marie Keating Foundation, which raises awareness for breast cancer in memory of his mother who passed away from the disease in 1998. Tragically, in July 2023, Keating's older brother, Ciaran, was killed in a car crash in County Mayo.
Ronan Keating Early Life & Family
Ronan Keating, born on 3rd March 1977 in Dublin, Ireland, bears the birth name Ronan Patrick John Keating. He is Irish by nationality and belongs to an Irish-white ethnic background. As of 2023, he has celebrated his 46th birthday and follows the Christian religion. Born under the zodiac sign of Pisces, he is the son of Gerry Keating, a lorry driver, and Marie, a mobile hairdresser. He has four siblings: one sister named Linda, and three brothers named Ciaran, Gerard, and Gary. Tragically, in 1998, his mother passed away at the age of 51 from breast cancer. In July 2023, Keating's older brother, Ciaran, was killed in a car crash in County Mayo. Additionally, he has a history of competing in track and field and achieved success, winning the All Ireland under-13 200 m title.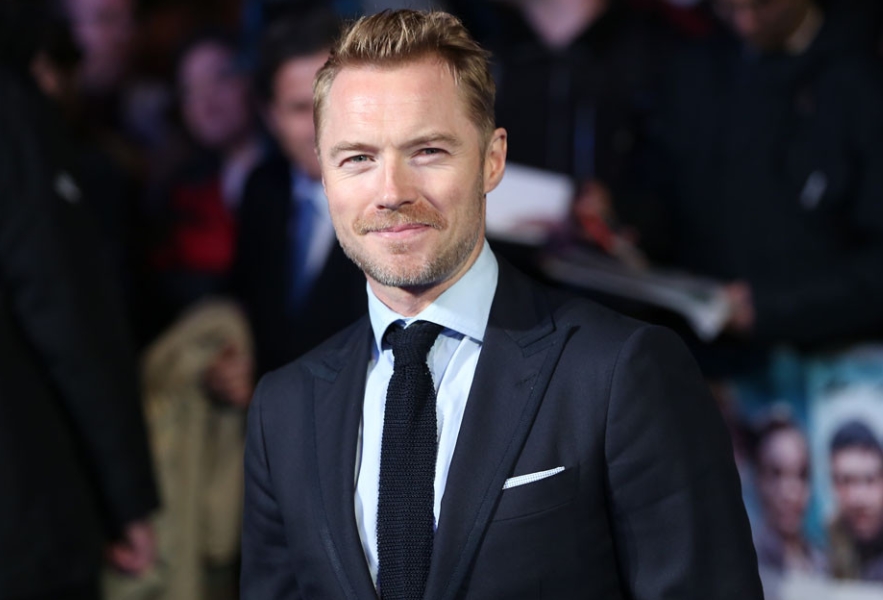 Ronan Keating Career
Music Career
In 1993, Ronan Keating joined Boyzone at the age of 16, becoming the youngest member.
The group, also comprising Keith Duffy, Richard Rock, Shane Lynch, Mark Walton, and Stephen Gately, was later joined by Michael Graham.
They signed with PolyGram in 1994 and released covers of songs like "Working My Way Back to You" and "Love Me for a Reason," which achieved chart success.
In 1998, Keating's mother passed away from breast cancer, leading to the establishment of the Marie Keating Foundation.
Boyzone disbanded in 2000, having released 17 singles and three studio albums, and later reunited to release more records since their reformation.
In 1999, while still a member of Boyzone, Ronan Keating recorded "When You Say Nothing at All" for the movie Notting Hill, which reached number one in the UK charts and marked the start of his successful solo career.
He released his debut solo album, "Ronan", in 2000, which also topped the UK Albums Chart and became one of the best-selling albums of the year in the UK.
Despite some negative reviews, the album sold over 750,000 copies and achieved four-times platinum certification by the British Phonographic Industry. It was also commercially successful in other European countries, charting in the top ten of eight countries.
Additionally, the album produced four UK and Irish top-ten singles, including "When You Say Nothing at All," "Life Is a Rollercoaster," "The Way You Make Me Feel," and "Lovin' Each Day."
His second album "Destination" was released in the year 2002.
Following his successful debut album, he continued his solo career and released four more studio albums: Destination (2002), Turn It On (2003), 10 Years of Hits (2004), and Bring You Home (2006). Impressively, all four albums reached number one on the UK Albums Chart.
During this time, he collaborated with renowned artists such as Elton John, Lulu, LeAnn Rimes, and the Bee Gees for these projects.
He co-wrote the hit single "The Long Goodbye" with Paul Brady in 2001, which became beloved among fans and a major hit for Brooks & Dunn in the United States. He received the "BMI European song-writing award" for this song.
Additionally, he achieved significant milestones, including being named Rear of the Year in 2003 and entering the Guinness Book of Records in October 2007 for having 30 consecutive top 10 singles in the UK chart, surpassing legendary artists like Elvis Presley.
Keating's accomplishments extended to winning the Ivor Novello and BMI songwriting awards, releasing an autobiography, serving as an ambassador for Christian Aid, and achieving sales of over 22 million albums worldwide.
In 2007, he launched two fragrances, with all proceeds supporting the Marie Keating Foundation.
His impressive career highlights include performing at the 2006 FIFA World Cup opening party in front of a massive audience of nearly 250,000 people at the Brandenburg Gate in Berlin, Germany, as well as featuring as a nude model for Cosmopolitan magazine's 10 Years of Naked Centrefolds.
On 9 May 2007, he achieved another milestone by becoming the first international number-one-selling foreign artist to hold a concert in Phnom Penh, Cambodia.
Additionally, Keating showcased his talent at various renowned venues, such as the Olympic Stadium Indoor Arena and Madison Garden in New York, where he performed duets with Elton John.
He also had the honor of singing for the Pope on two occasions and delivered a memorable performance for Prince Charles at the Prince's Trust 30th birthday celebration held at the Tower of London.
Keating's captivating vocals reached even the Swedish Royal family during Crown Princess Victoria's birthday celebrations and the opening ceremony of the 19th European Athletics Championships in Gothenburg.
On 5 November 2007, he announced that Boyzone would reunite for a special performance on the BBC's Children in Need fundraiser, showcasing a medley of their hits.
Following their successful appearance, the band embarked on a 29-date tour, captivating audiences in various cities, including London, Manchester, Glasgow, and Dublin.
They also released a greatest hits collection and two new singles in 2008, which collectively sold 700,000 copies.
Tragically, on 10 October 2009, Boyzone member Stephen Gately, a close friend of Keating, passed away from pulmonary edema.
In the same year, Keating co-wrote "Believe Again," performed by Niels Brinck, which represented Denmark in the Eurovision Song Contest.
Keating also continued his solo career, releasing albums like Songs for My Mother and Winter Songs, featuring a blend of traditional and modern festive classics.
Additionally, in 2010, the new Boyzone album Brother topped the charts in the UK and Ireland, selling 500,000 copies, while Keating released his seventh studio album, Duet, featuring the lead single "Believe Again" with guest vocals from Australian singer Paulini.
Ronan joined The X Factor as a judge for five seasons, mentoring the winning contestants Altiyan Childs in 2010 and Marlisa Punzalan in 2014.
He participated in Boyzone's Brother Tour in 2011, dedicated to their late member 'Steo,' and released the album "When Ronan Met Burt" with covers produced by Burt Bacharach.
He made his film debut in Australia in the movie "Goddess" and performed in front of large crowds in Dortmund, Germany.
Keating's successful tours in Australia and New Zealand drew massive audiences, and he also had special performances in Malta with Joseph Calleja and Gigi D'Alessio.
Ronan Keating's ninth studio album, "Fires," was released in September 2012, featuring original material co-written by Keating and Gregg Alexander and produced by Greg Wells.
He embarked on a promotional tour in various countries to promote the album, performing in front of thousands of fans.
In 2013, Keating went on a successful tour of the UK and Ireland, drawing an audience of 80,000 fans.
The album's single, also titled "Fires," was released worldwide and received a music video premiere on YouTube.
In the same year, Boyzone reunited to celebrate their 20th anniversary, releasing the album "BZ20" with new and re-recorded songs.
Keating also collaborated with Dannii Minogue on a duet of "Santa Claus Is Coming To Town" for a Christmas compilation.
Ronan took over Ricky Martin's position as a coach on The Voice Australia in December 2015, joining Jessie J, Delta Goodrem, and The Madden Brothers. However, he announced his departure from the show after one season in December 2016, and Kelly Rowland replaced him.
In February 2016, Keating released his tenth studio album, "Time of My Life," with the single "Let Me Love You."
In February 2020, he announced the release of his eleventh album, "Twenty Twenty," which came out in July 2020, featuring the single "One of A Kind."
In December 2020, he participated in charity recordings of the Band-Aid song "Do They Know It's Christmas?" and the charity Christmas number one contender "Don't Stop Me Eatin'."
In November 2021, he released "Songs from Home," a tribute to his Irish roots.
In December 2022, he appeared as a coach on the sixth series of The Voice Kids UK, and he also returned for the seventh series in July 2023.
Additionally, it was announced in June 2023 that Keating will be a coach on the upcoming thirteenth season of The Voice of Germany.
Acting Career
Ronan Keating had an unsuccessful audition for a role in "The Hobbit", a film adaptation of J. R. R. Tolkien's novel.
However, he ventured into the film industry and worked on projects like "Goddess", a 2013 romantic comedy co-starring Laura Michelle Kelly, directed by Mark Lamprell.
He also lent his singing voice to Postman Pat in the film "Postman Pat: The Movie".
Additionally, he made a cameo appearance in "Keith Lemon: The Film".
In 2014, he took on the role of 'Guy' in "Once" at the Phoenix Theatre in London's West End, receiving praise for his performance.
In 2017, he starred in the fourth season of the Australian drama "Love Child" and played Harold Le Druillenec in the film "Another Mother's Son", a true story set during the German occupation of the Channel Islands.
Ronan Keating Wife & Children
Ronan Keating has been married twice in his life. His current wife is Storm Uechtritz, whom he wed on 17th August 2015. The couple met in August 2010, and Storm works as a fashion designer. Together, they have two children. Their son, Cooper Archer Keating, was born on 26 April 2017, and their daughter, Coco Knox Keating, was born on 27 March 2020. In a heartwarming announcement on 10 March 2023, it was revealed that Ronan had become a grandfather for the first time at the age of 46, as his 23-year-old son Jack announced the birth of a baby girl on his Instagram account.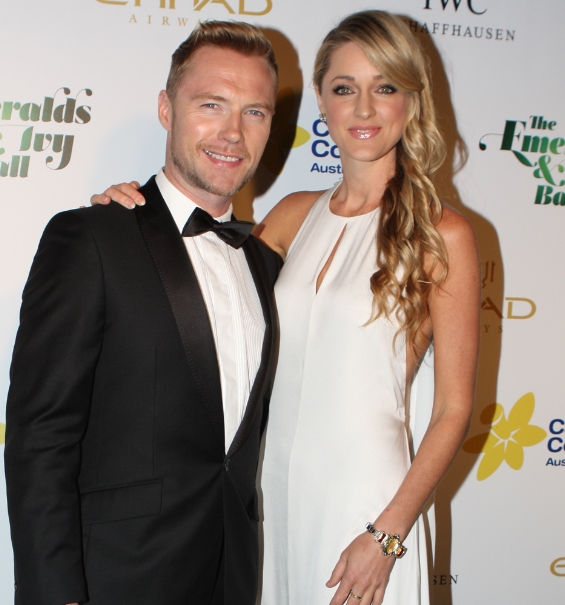 Prior to his marriage with Storm, Ronan was married to Yvonne Connolly in April 1998, and they share three children: Jack, born on 15th March 1998, Marie, born on 18th February 2001, and Ali, born on 7th September 2005. Unfortunately, their marriage came to an end due to Keating's affair with Boyzone backup dancer, Francine Cornell, leading to their divorce being finalized in March 2015.
In October 2005, Keating became a UN Goodwill Ambassador via the Food and Agricultural Organisation. He ran in the London Marathon in 2008, raising money for Cancer Research, and climbed Mount Kilimanjaro in 2009 for Comic Relief, alongside other celebrities. He received a Special Achievement Award from Cancer Research UK in 2009 for his charitable work, raising over £1.7 million. In September 2011, he swam the Irish Sea from Dublin to Holyhead, setting a new Guinness World Record and raising £1 million for cancer charities.
Ronan Keating Net Worth
Ronan Keating is a multi-talented artist, excelling as a recording artist, singer-songwriter, musician, and philanthropist. With a net worth estimated at $30 million as of 2023, he enjoys an annual income exceeding $3 million. His primary source of wealth stems from his successful music career. As a solo artist, Keating has sold over 20 million records globally, and when combined with his contributions as a member of Boyzone, the total surpasses an impressive 25 million records. Thanks to his success, he leads a lavish lifestyle befitting his accomplishments in the music industry.
Ronan Keating Height & Weight
Ronan Keating, the charming singer-songwriter, stands at a height of 5 ft 8 in or 173 cm and maintains an approximate body weight of 78 kg. His light brown hair and alluring dark brown eyes add to his charismatic appearance. Sporting an average body build, he takes pride in maintaining a healthy physique, which complements his musical talent and stage presence. Throughout his successful career, he has captivated audiences with his melodious voice and heartfelt lyrics. As a renowned musician, he has earned a dedicated fan base and achieved significant success in the music industry. With his charming personality and musical prowess, he continues to leave a lasting impact on the hearts of music lovers worldwide.