Tom Morello is an American guitarist, singer, songwriter, and political activist. He is famous for his roles in rock bands like Rage Against the Machine, Audioslave, and Prophets of Rage. He's toured with Bruce Springsteen and embarked on a solo career as the Nightwatchman. Morello's social impact extends through co-founding Street Sweeper Social Club and Axis of Justice, promoting social causes via radio. His unique guitar style, featuring feedback, unconventional picking, and effects, earned him a spot on Rolling Stone's "100 Greatest Guitarists" list, while his socialist views fuel his activism in music and public life.
Tom Morello Early Life & Family Background
Born on May 30, 1964, in Harlem, New York, Tom Morello is the son of Ngethe Njoroge and Mary Morello. He belongs to a mixed ethnicity as his mother hails from an American background with Italian and Irish roots, while his father is of Kenyan Kikuyu descent. His nationality is American, and he celebrated his 59th birthday in 2023.
Morello's educational journey took him through Libertyville High School. He actively participated in the school choir and was engaged in the speech and drama clubs. Graduating with honors in June 1982, he pursued a political science degree at Harvard University, ultimately earning his Bachelor of Arts in social studies in 1986.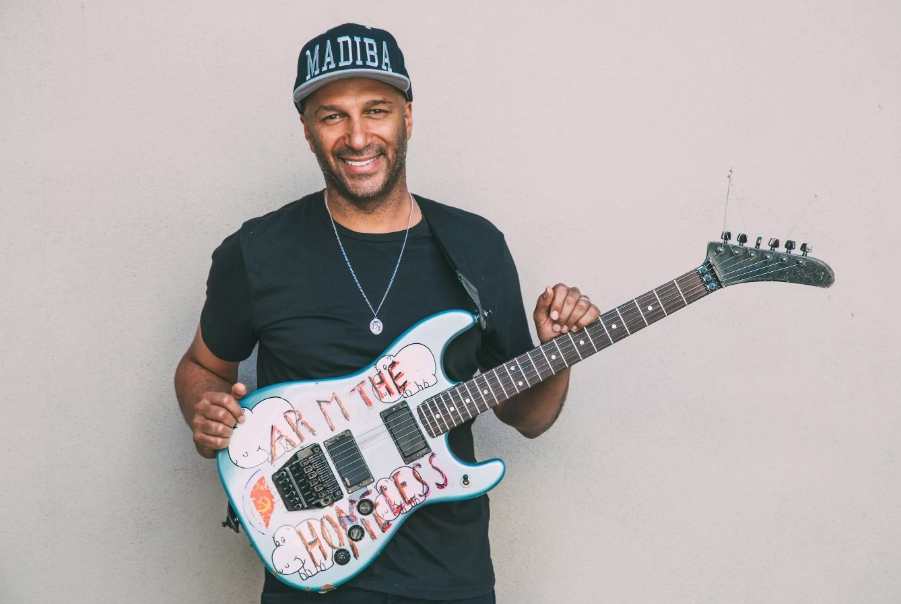 Tom Morello Music Career
At the age of 13, Tom Morello embarked on his musical journey by joining his first band, Nebula, as the lead singer, where they covered songs from iconic bands like Led Zeppelin, Steve Miller Band, and Bachman–Turner Overdrive.
In the mid-1980s, he shifted to guitar as a member of the band Lock Up. The turning point came when Morello and his bandmates formed Rage Against the Machine, signing a record deal with Epic Records in 1992.
That year, they released their self-titled debut album, marking the beginning of their mainstream success, with subsequent studio albums including "Evil Empire" in 1996, "The Battle of Los Angeles" in 1999, and "Renegades" in 2000.
Although Rage Against the Machine disbanded in October 2000, they released their fourth studio album, "Renegades," two months later.
The band made a triumphant return in 2007 at the Coachella Music Festival, and their planned 2020 tour was postponed due to the COVID-19 pandemic.
Following Zack de la Rocha's departure from Rage Against the Machine, Morello and his bandmates teamed up with former Soundgarden vocalist Chris Cornell to form Audioslave.
In 2007, Morello embarked on a solo career as the Nightwatchman, releasing his debut solo album, "One Man Revolution."
After Audioslave disbanded, Morello collaborated with Boots Riley of the Coup to create Street Sweeper.
He also made guest appearances with Bruce Springsteen and the E Street Band and formed Prophets of Rage in 2016, a supergroup featuring members from Rage Against the Machine, Public Enemy, and Cypress Hill.
With the announcement of Rage Against the Machine's 2020 reunion, Prophets of Rage disbanded.
In 2018, Morello released the solo album "The Atlas Underground," followed by "The Atlas Underground Fire" in 2021.
He continued to collaborate with various artists, notably joining Måneskin and Babymetal in 2023 for new music ventures.
Tom Morello Acting & Writing Work
Tom Morello has made notable appearances in several documentary films, including "Sounds Like a Revolution," "Iron Maiden: Flight 666," and "Chevolution."
He also had acting roles, portraying a terrorist in "Iron Man," an uncredited Son'a officer in "Star Trek: Insurrection," and making cameo appearances in "Star Trek: Voyager" and the film "Made."
Furthermore, he featured prominently in the 2012 documentary "Let Fury Have the Hour," discussing topics such as world citizenship, creative activism, and workers' rights.
In 2011, Tom Morello, a lifelong comic book enthusiast, announced the creation of a 12-issue comic book series for Dark Horse Comics called "Orchid."
This post-apocalyptic tale features a teenage prostitute who discovers her true identity beyond society's imposed role.
Each issue was accompanied by an exclusive new song by Morello, and the series, illustrated by Canadian artist Scott Hepburn, was compiled into three trade paperback volumes released in 2012 and 2013.
The release party was hosted by Dark Horse at Jetpack Comics in Rochester, New Hampshire, on October 12, 2011.
Additionally, Morello contributed a written introduction to the 2016 edition of "The Big Red Songbook," a collection of protest music.
In 2021, he began publishing a regular newsletter in The New York Times.
Tom Morello Net Worth In 2023
Tom Morello, a highly successful guitarist, has a net worth of $45 million as of 2023. His annual salary is over $3 million right now and his main source of wealth comes from the music industry. Notably, he gained fame as a member of the immensely successful rock bands Rage Against the Machine and Audioslave. Raised in Illinois, he still owns a home there but currently resides in Los Angeles's luxurious Laurel Canyon neighborhood. Morello's passion for cars is evident through his impressive collection, which includes a Mercedes Benz S class, Audi Q5, Range Rover, and numerous others, reflecting his lavish lifestyle.
Tom Morello Wife & Children
Tom Morello is happily married to his wife, Denise Morello, and together they have been blessed with two sons, Rhoads (born in 2007) and Roman (born in April 2011). Notably, Morello named his son Roman in tribute to the legendary quarterback Roman Gabriel. The Morello family enjoys a contented life devoid of disturbances, and Tom has openly identified as straight in terms of his sexuality.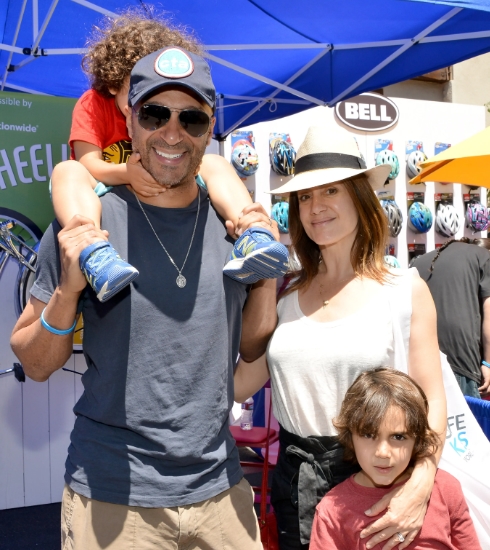 Tom Morello Eyes, Height & Weight
Tom Morello is a handsome man with an athletic body type. He stands at the perfect height of 5 feet 11 inches (1.80 m) tall and he has a body weight of around 76 kg (168 lbs). His striking features include lustrous black hair and expressive brown eyes that perfectly complement his overall charisma. He has got a healthy body at present.