About Trippie Redd
Trippie Redd born with the real name/birth name of Michael Lamar White IV is a famous rapper, singer, and songwriter from the USA. He released his debut EP titled "Awakening My InnerBeast" in August 2016. He is famous for the success of his mixtape "A Love Letter to You" which grabbed the 64th place on the US Billboard Top 200. The mixtape album which was released on 26th May 2017, consisted of 12 songs. He is best known for the popularity of his single "Love Scars", which was certified 'Gold' by the RIAA. Besides this, he is also famous for his controversial and outspoken nature which has become a regular affair on Instagram where he has more than 3 million followers. His debut studio album "Life's a Trip" (2018) and second album "!" (2019) both reached the top five of the Billboard 200, while his fourth mixtape A Love Letter to You 4 (2019) topped the chart. Trippie Redd took birth on 18th June 1999. As of 2020, he celebrated his 21st birthday. He celebrated his 21st birthday by dropping a new song "Dreamer". The track begins by sampling the classic viral video in which a young kid struggles repeatedly while trying to speak about dreams. He was born and raised amidst harsh conditions and grew up without a father. He was born to his parents; Michael Lamar White III (father) and Tonya White (mother). His father was in prison at the time of his birth, and he was raised by a single mother. His birthplace/hometown is in Canton, the USA. He also has two siblings; a younger brother nicknamed "Hippie Redd" and had an older brother who made music under the name "Dirty Redd". Dirty Redd was killed in a car accident in 2014, White talked to Rolling Stone about the time following the fatal accident. He grew up listening to contemporary rap music that his mother played in their house. He started taking music seriously in 2014 and recorded two songs (Sub-Zero and New Ferrari) at the age of 15. Following his high school graduation, he moved to Atlanta, where he met rapper Lil Wop and was event offered a deal with a record label. He was good in studies and obtained a GPA score of 4.0 in high school in Canton, Ohio. He is American by nationality and his ethnicity is Mixed. He has Irish and Native American ancestry. His race is White. His Zodiac sign is Gemini. He is nicknamed as Trippie Redd, Lil 14, Big 14, Slippy Reed, Big Daddy 14. He has a huge social media fan base with more than 3 million followers on Instagram, more than 500k followers on Twitter, and more than 2 million followers on Facebook. He has a red diamond and gold plated teeth. He has many tattoos on his body. The most prominent being the number "14" tattoo between his eyebrows. Scroll to get more information about his full biography, personal life, girlfriend, height, net worth, facts, age, birthday, wiki, family details, and more.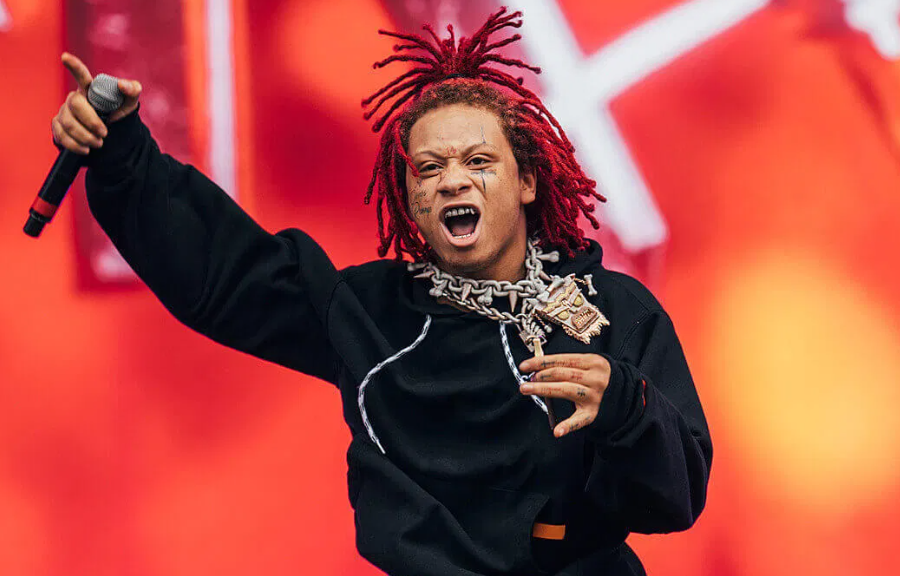 Source: @hypefresh.co
Trippie Redd's Singing Career (Beginning-Present)
Trippie Redd's career began by working together with Kodie Shane where they recorded three projects, "Awakening My Inner Beast", "Beast Mode" and "Rock the World Trippie".
He then signed to the label Strainge Entertainment (now known as Elliot Grainge Entertainment) and relocated to Los Angeles.
He released his debut mixtape, "A Love Letter to You", with the lead single "Love Scars", which received more than 8 million views on YouTube within several months in May 2017.
His mixtape gained more than 13 million views on SoundCloud.
He was included on XXXTentacion's album 17, on the song "Fuck Love", which peaked at number 28 on the Billboard Hot 100.
He released his second mixtape, "A Love Letter to You 2" in October 2017.
The album debuted at #34 on the Billboard 200.
On 6th December 2017, he released the single "Dark Knight Dummo", featuring Travis Scott which peaked at 72 on the Billboard Hot 100, making it White's first entry on the chart as a lead artist.
He then released the song "TR666" on his SoundCloud account, which features Swae Lee and was produced by Scott Storch on 25th December 2017.
The track was previewed on November 30.
He released "18" alongside Baauer, Kris Wu, Joji, and Rich Brian.
In July 2018, he announced his debut album would be titled "Life's a Trip" and be 26 tracks long; he later trimmed it to 16 tracks.
He also released the singles "Me Likey" and "How You Feel" on 22nd June 2018, and "Taking a Walk" on 7th August 2018.
"Life's a Trip" was released 10th August 2018, and debuted at number four on the Billboard 200 Album Chart, with the single "Taking a Walk" debuting at number 49 on the Billboard Hot 100 chart.
He removed Playboi Carti off the album.
On 9th August 2019, he released his second album, "!", which debuted at number three on the US Billboard 200 with 51,000 album-equivalent units.
He was even featured on English YouTuber, media personality, and rapper KSI's single "Wake Up Call", which was released in January 2020.
The song reached number 11 on the UK Singles Chart.
On 12th June 2020, he announced his upcoming album titled "Dreamer" will be released on 18th June 2020.
Regarding his legal issues, he was arrested in Cobb County, Georgia following an assault on rapper FDM Grady in late May 2018.
He was again arrested in Georgia on an assault charge for allegedly pistol-whipping a woman.
Trippie Redd BROKE UP with Coi Leray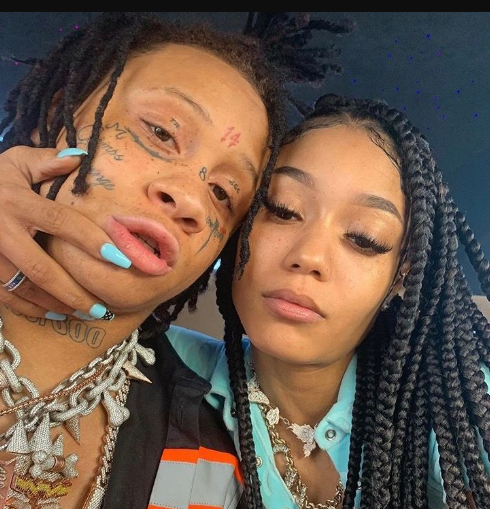 Source: @pinterest.com
Trippie Redd is not married yet and he is still to get married. He was in a relationship with Coi Leray. The duo began dating in the year 2019. She even performed alongside him on his 2019 Life's a Trip tour. His latest project, "A Love Letter to You 4", finds the Ohio native directly addressing his past relationship with rapper Coi Leray on the opening track, "Leray". The song, which is produced by Igor Mamet and Xeryus L. Gittens, kicks off with a spoken word intro about Trippie and Leray's relationship: It was love at first sight and misery after two months. Always feeling f***ed up either by love or no love. 'I thought you was married to the single life,' she said 'I wasn't necessarily looking for happiness, just less pain'. He continues by sharing his mixed feelings about the breakup: I don't write songs, I write life, I told you that And you were only f***** with my feelings because you didn't know your own I do miss who I thought you were And sometimes I'm miserable without you. In a May 2019 No Jumper interview conducted while the couple was still together, Leray boasted about their relationship. "We f***ed the stage up together," she said about their performance at Rolling Loud Miami. "We're a dynamic duo. That's my baby." As of now, he is living a single life and he is focusing on his career. His sexual orientation is straight and he is not gay.
Previously, he had a relationship with the beautiful Latina Instagram model Mulan Vuitton. Initially, in 2017, Trippie broke up with Mulan stating that she cheated on him but, in 2018, Trippie started showing interest in Mulan again, which Mulan objected in her live Instagram streaming. After that, he started dating musician Aylek (aka Angvish on Instagram) in 2017. During their relationship, Trippie shared many videos with Aylek and threatened those who directly posted messages on her Instagram account. This created an issue between the couple leading to their break up in 2018 and Trippie went back to Mulan.
Trippie Redd's Net Worth 2020
Trippie Redd is a famous and successful American rapper, singer, and songwriter. He has accumulated a huge amount of money from his singing career. The net worth of Trippie Redd is believed to have $20 Million. His major source of earning is from a singing career which includes record sales, concerts, sponsorship, tours, and more. As of now, he is living a cool lifestyle from his earnings.