About Yolanda Díaz
Yolanda Díaz is a Spanish politician and labor law specialist, currently holding the position of Second Deputy Prime Minister since 2021 and serving as Minister of Labour and Social Economy in the Government of Spain since 2020. She has been a member of the Congress of Deputies since 2016, previously serving as a Ferrol municipal councillor from 2003 to 2012 and a member of the Parliament of Galicia from 2012 to 2016. During her political career, she also served as the National Coordinator of Esquerda Unida (EU) from 2005 to 2017. Yolanda Díaz announced the launch of a new electoral platform named Sumar ("Unite") on May 18, 2022, with the aim of participating in the 2023 Spanish Her present political party is the Communist Party of Spain Sumar. She was a member of the United Left political party until 2019.
Yolanda Díaz Early Life & Family
Yolanda Díaz was born on May 6, 1971, in San Valentín, Fene, Spain, close to the ASTANO shipyard. Yolanda Díaz Pérez is her full name. She holds Spanish nationality and identifies as Spanish-White ethnicity. As of 2023, she celebrated her 52nd birthday, and her zodiac sign is Taurus. Hailing from a family with a legacy of renowned trade unionists in Galicia actively involved in anti-Francoist activism, she is the daughter of Suso Díaz and the late Carmela Pérez.
Díaz pursued her education at the University of Santiago de Compostela (USC), where she earned a licentiate degree in Law and went on to acquire three post-graduate degrees. Following her studies, she started her career as a paralegal at a law firm and eventually became a registered attorney, establishing her own law firm specializing in labor law.
Yolanda Díaz Political Career
At an early age, Yolanda Díaz joined the Communist Party of Spain (PCE) and ventured into institutional politics in 2003, securing a position on the Ferrol municipal council.
She later became the National Coordinator of Esquerda Unida (EU), the Galician Federation of United Left (IU) in 2005.
Díaz continued to advance in her political career and ran as a candidate for the Galician Left Alternative (AGE) coalition, formed by EU and Anova, in the October 2012 Galician regional election.
Her victory granted her a seat in the 9th Parliament of Galicia, where she skillfully represented the constituency of A Coruña.
In the 2015 general election, she contested as a candidate for En Marea, successfully securing a seat in the 11th session of the Spanish parliament.
Remarkably, she retained her position in the subsequent 2016, April 2019, and November 2019 general elections, running as a candidate for En Marea in the first and for En Común–Unidas Podemos and Galicia en Común in the latter.
During her political journey, she served as the EU Coordinator General until June 2017, when Eva Solla took over her role. Notably, in the summer of 2019, amidst the failure of coalition talks between PSOE and Unidas Podemos, Díaz expressed her support for a coalition government, diverging from some voices within IU.
Advocating the sole investiture of Pedro Sánchez while ensuring an agreement on a program for the government, she distanced herself from IU due to disagreements over the negotiation approach and ultimately left the party in October 2019, though she remained a member of the PCE.
Díaz assumed the role of Minister of Labour and Social Economy in the Sánchez II Government, taking her oath on January 13, 2020.
Pledging to prioritize the fight against precarious work, she made it her mission to repeal the 2012 labor market reform.
To support her efforts, Díaz appointed Joaquín Pérez Rey as the Secretary of State for Labour and Social Economy, effectively the second-in-command in the Ministry.
During her tenure, she played a pivotal role in negotiating the increase of the minimum wage to 950 euros per month and outlawing employee dismissal due to medical leave.
Additionally, she led the dispatch of labor inspections to the agricultural sector to monitor working conditions for rural workers.
Responding to the challenges posed by the COVID-19 pandemic, Díaz worked with unions and employers to implement a furlough scheme (ERTE) and its extensions, as well as introducing the 'Working From Home Law' (Ley del Teletrabajo).
Her dedication and accomplishments led to her appointment as the second Vice President of the government, succeeding Pablo Iglesias, who stepped down to run as a candidate for the regional elections in the Community of Madrid.
With Pedro Sánchez's endorsement, Díaz officially assumed the vice-presidency and later, in July 2021, was promoted from third to second Deputy Prime Minister.
In November, she declared her plan to establish a political platform for the upcoming Spanish general elections, initiating a "listening process" after the Christmas holidays, which the media widely referred to as a "broad front".
During the same period, she announced the impending abolition and replacement of labor reforms implemented under Mariano Rajoy by the end of 2022, which was eventually approved on February 3, 2022.
In addition, in November 2021, Díaz led a group of progressive female leaders, including Ada Colau, Mónica Oltra, Mónica García, and Fátima Hamed Hossain, in unveiling a new initiative called Otras Políticas, a clever wordplay meaning both "other female politicians" and "other policies".
Later, on May 18, 2022, she publicly revealed a new electoral platform called Sumar ("Unite"), aiming to participate in the 2023 Spanish elections.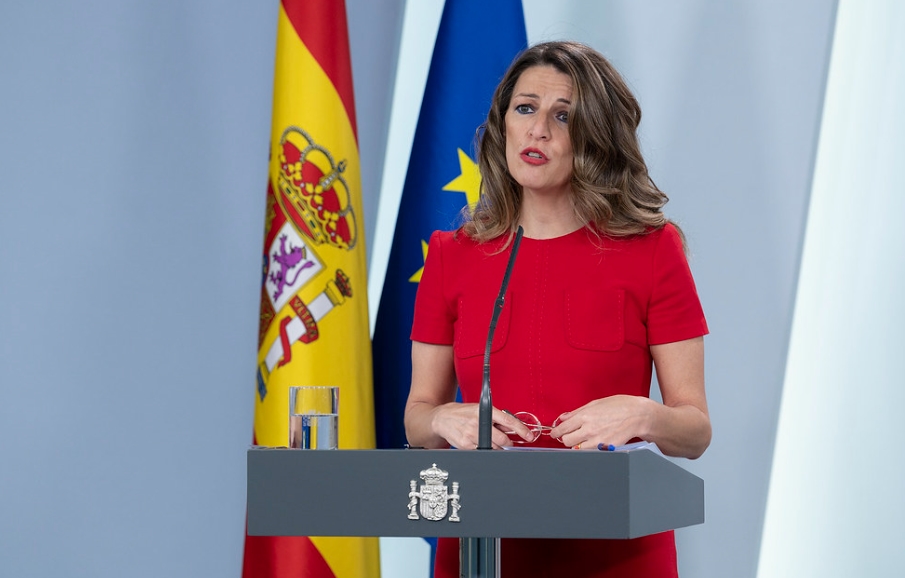 Yolanda Díaz Husband & Children
Yolanda Díaz is a married woman. In 2004, she married her husband, Delinean de Profession, and together, they have a wonderful nine-and-a-half-year-old daughter. The family resides in Madrid, and their daughter is happily enrolled in a local school. Despite her busy schedule, Yolanda Díaz and her husband have managed to create a harmonious and contented life together, enjoying their time as a loving family without any disturbances. She is straight when it comes to her sexuality.
Yolanda Díaz Net Worth
Yolanda Díaz is a highly skilled politician and lawyer, with a net worth below $1 million. Her annual income is in the thousands of dollars, primarily stemming from her successful professional career. Her main source of wealth comes from her political endeavors. Having joined the Communist Party of Spain (PCE) at a young age, she transitioned into institutional politics in 2003, serving as a member of the Ferrol municipal council. She is currently serving as Second Deputy Prime Minister since 2021, and Minister of Labour and Social Economy of the Government of Spain since 2020. Despite her achievements, Yolanda Díaz maintains a cool and down-to-earth lifestyle at present.