About Amy Coney Barrett
Amy Coney Barrett is an American attorney, jurist, and academic. She serves as a circuit judge on the US Court of Appeals for the Seventh Circuit. She was nominated to the Seventh Circuit by President Donald Trump in May 2017. She was nominated by Donald Trump to succeed Ruth Bader Ginsburg on the United States Supreme Court. She has been a professor of law at Notre Dame Law School.
Amy Coney Barrett was born on 28 January 1972. Her birth name is Amy Vivian Coney. Her birth place is in New Orleans, Louisiana in the United States. She holds an American nationality. She was born to a father, Michael Coney, and a mother, Linda Coney. Her father worked as an attorney for Shell Oil Company whereas her mother was a high school French teacher and homemaker. She has 6 younger siblings: 5 sisters and a brother. Her home town is Metairie, a suburb of New Orleans. Her religion is Christianity and she is a practicing Catholic.
Regarding her educational background, she attended St. Mary's Dominic High School. She was a student body vice-president in high school. She graduated from high school in 1990. After graduating from high school, she attended Rhodes College on a scholarship. She graduated with a Bachelor of Arts degree, majoring in English literature and minored in French in 1994. She graduated Magna cum Laude and was inducted into Phi Beta Kappa. She was also named an outstanding English department graduate. After receiving her bachelor's degree, she attended Notre Dame Law School, where she studied law on a full-tuition scholarship. She graduated first in her class with a Juris Doctor summa cum laude in 1997. She was also an executive editor of the Notre Dame Law Review.
She tested positive for COVID-19 in the summer of 2020.
Barrett stands at a height of 1.7 m i.e. 5 feet and 7 inches tall. She has a body weight of around 132 lbs i.e. 60kg. Her body measurements are 34-25-34 inches. Her eye color is Blue and her hair color is dark Blonde. Her sexual orientation is Straight.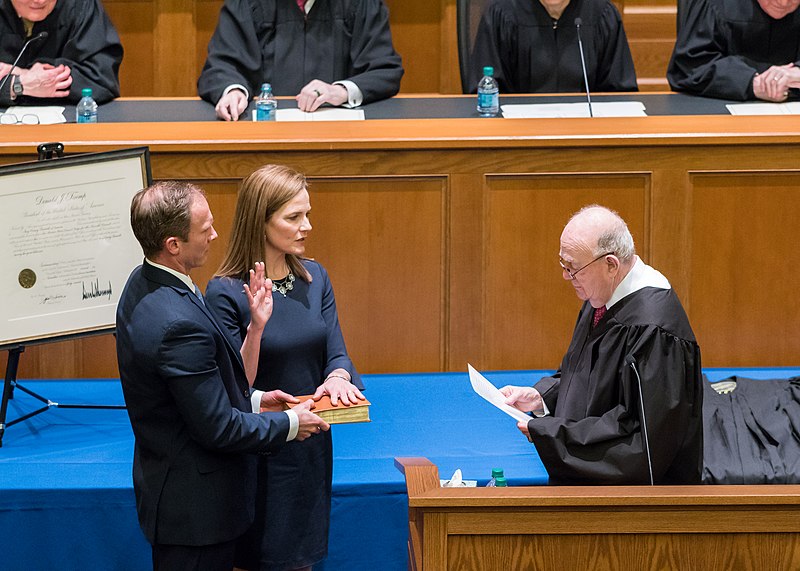 Source: @wikipedia
Amy Coney Barrett Career
Amy Coney Barrett spent two years as a judicial law clerk after graduating from Notre Dame.
She clerked for Judge Laurence Silberman of the US Court of Appeals for the DC Circuit and then for Justice Antonio Scalia of the US Supreme Court.
She then practiced law at a boutique law firm, Miller, Cassidy, Larroca & Lewin, based in Washington from 1999 to 2002.
She worked on Bush v. Gore, the lawsuit that grew out of the 2000 United States presidential election, providing research and briefing assistance for Baker Botts's representation of George W. Bush.
She served as a visiting associate professor and John M. Olin Fellow in Law at George Washington University Law School for a year.
She then returned to her alma mater in 2002 as a professor.
She taught federal courts, constitutional law, and statutory interpretation at Notre Dame.
She was a visiting professor at the University of Virginia School of Law in 2007.
She was named a Professor of Law in 2010.
She held the Diane and M.O. Miller Research Chair of Law from 2014 to 2017.
Her academic work has been published in the Columbia, Cornell, Virginia, Notre Dame, and Texas law reviews.
She received the "Distinguished Professor of the Year" award three times at Notre Dame.
She spoke on constitutional law at Blackstone Legal Fellowship from 2011 to 2016.
She also served on the Advisory Committee for the Federal Rules of Appellate Procedure from 2010 to 2016.
President Donald Trump nominated Barrett to the US Court of Appeals for the Seventh Circuit in May 2017 after Judge John Daniel Tinder took senior status.
The Senate confirmed her on October 31, 2017, making her the first and only woman to occupy an Indiana seat on the Seventh Circuit.
She was seen as the potential nominee for the Supreme Court.
President Donald Trump ultimately nominated her to the Supreme Court in September 2020.
Barrett has voted in both Republican and Democratic primaries.
Barrett was a member of the Federalist Society from 2005 to 2006 and from 2014 to 2017.
She is a member of the American Law Institute.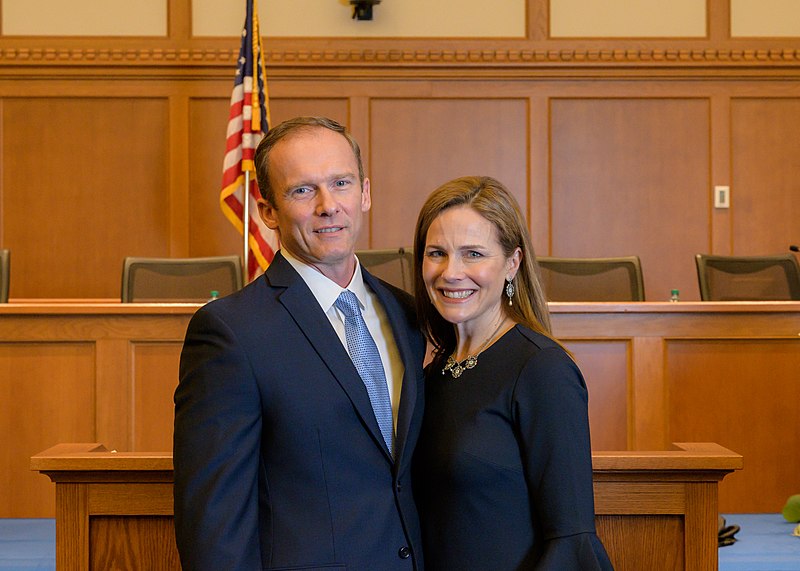 Source: @wikipedia
Amy Coney Barrett Husband
Amy Coney Barrett is a married woman. She is married to Jesse M. Barrett. Her husband is a fellow Notre Dame Law School graduate and a partner at SouthBank Legal - LaDue Curran & Kuehn LLC in Sout Bend, as well as a law professor at Notre Dame. Her husband previously worked as an Assistant U.S. Attorney for the Northern District of Indiana for 13 years. The couple got married in 1999. The couple has 7 children together. Two of their children are adopted from Haiti. Their children are Emma, Vivian, Tess, John Peter, Liam, Juliet, and Benjamin.
Barrett's youngest biological son, Benjamin has special needs after being born with Down Syndrome.
The family lives in South Bend, Indiana.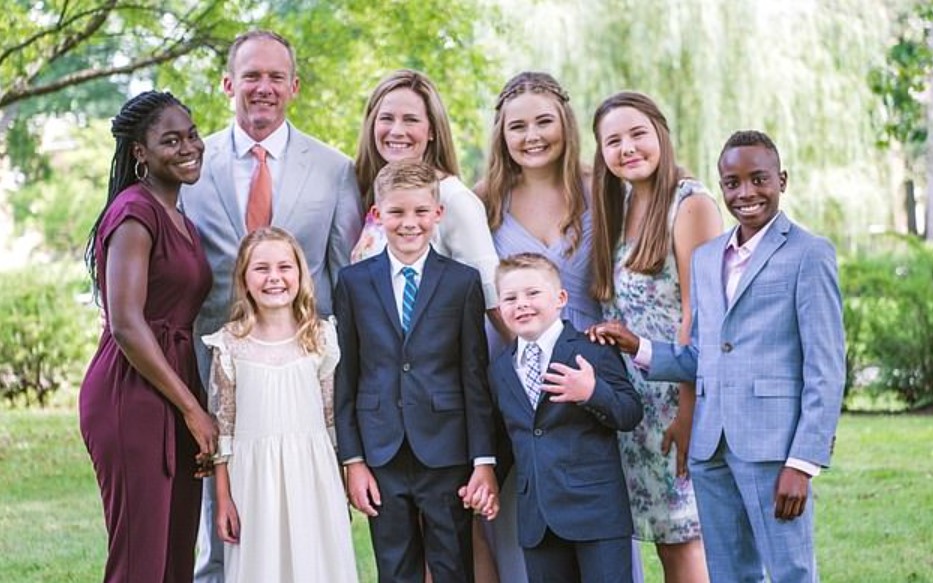 Source: @dailymail
Amy Coney Barrett Net Worth 2020
Amy Coney earns from her career as a lawyer. She served on the Seventh Circuit and was nominated to the Supreme Court by President Donald Trump in September 2020. She started her career as a law clerk and practiced law in several firms. She eventually started teaching law at her alma mater. Today, she receives a handsome salary for her service holding a top-level position in the Supreme Court. Her net worth is estimated at $5 million at present.