About Katie Nolan
An American sports television host, Katherine Beth Nolan is professionally known as Katie Nolan. She is best known for being the host of her talk-show, "Always Late with Katie Nolan", which started in September 2018. She was also recognized as the host of the weekly series on Fox Sports titled "Garbage Time with Katie Nola" (2015-2017) which earned her a Sports Emmy Award. She has also hosted TV shows such as "Sports Limerick of the Day" (2014) and "Highly Questionable" (2017-2018), as well as YouTube web series Guyism Speed Round (2011-2013). She made her first foray into hosting on the Yardbarker network hosting the series Guyism Speed Round. As recent news, Jason Whitlock's feud with Katie Nolan is filled with posturing and hot air. In 1997, at age 10, Nolan won the gold medal in rhythmic gymnastics at the Junior Olympics.
Everything You Should Know About Jason Whitlock
Famous For

Being an American sports television host.
For being the host of her talk-show, "Always Late with Katie Nolan".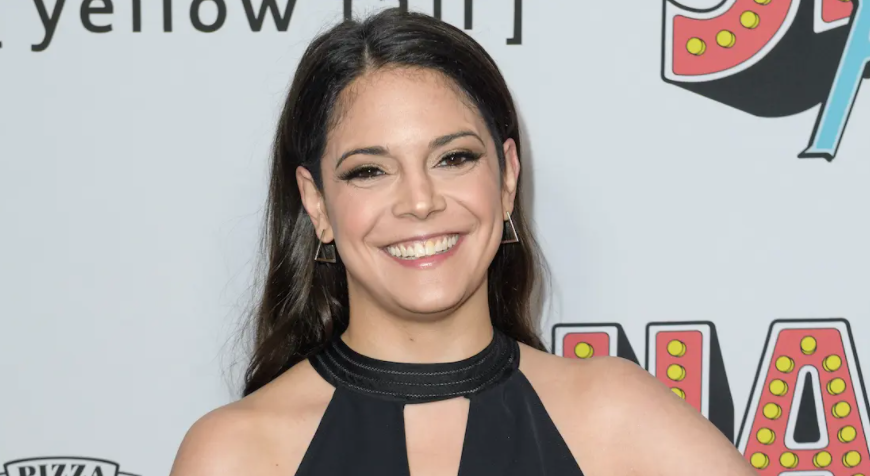 Source: @distractify
Early Life of Katie Nolan

On 28th January 1987, Katie was born with the real name or full name of Katherine Beth Nolan in Boston, Massachusetts. She belongs to American nationality whereas she is from American-white ethnicity. Subsequently, she is from Christianity religion. Aquarius is her star sign and white is her race. She celebrates her birthday on 28th January of every year and she had celebrated her 33rd birthday as of 2020. As a well known American sports television host, she has not shared much about her parents. Though, she has a brother named Kevin Nolan. Furthermore, she graduated from Framingham High School in 2005 and earned a Bachelor of Arts in Public Relations with a minor in Dance from Hofstra University in 2009.
Career of Katie Nolan

Katie Nolan commenced her sports television host career by starting a blog called "Bitches Can't Hang" in 2011, which focused on pop culture and news.
After that, she began working with "Guyism", part of the Fox Sports Yardbarker network, where she produced and hosted the YouTube series "Guyism Speed Round". She delivered a monologue of comedic and sarcastic one-liners in the style of "Saturday Night Live's Weekend Update" in her videos.
Then, she joined Fox Sports 1 "Crowd Goes Wild" as a digital correspondent in August 2013, as well as she has hosted the FoxSports.com web series "No Filter with Katie Nolan". A September 2014 video featuring commentary on the Ray Rice domestic violence incident was picked up by the "New York Times".
As well, she starred on a January 2015 episode of "The Nightly Show with Larry Wilmore" as a panelist.
She was formerly the host of the weekly Fox Sports 1 show Garbage Time with Katie Nolan, which premiered on 15th March 2015. And, "Deadspin" praised her 12th April 2015, piece, criticizing the blog posting called "How to land a husband at the Masters", which appeared on a fellow Fox reporter's blog.
After then, she started hosting "NFL Films Presents", airing on Fox Sports 1 in September 2016.
It was announced on 23rd February 2017 that, "Garbage Time" would either be retooled from its current format, or Fox Sports would find a new hosting vehicle for Nolan, but in September 2017, Nolan left Fox Sports after seven months without a show.
Similarly, ESPN announced the hiring of Nolan, who will appear across ESPN studio programming and have a digital presence on 4th October 2017, where she made her debut as a guest panelist on ESPN's "Highly Questionable" on 19th October 2017, as well as appeared on the sister radio show "The Dan Le Batard Show with Stugotz".
It was announced in early November 2017 that Nolan would be doing a podcast with ESPN beginning in January.
Subsequently, she started as one of the hosts of "SportsCenter" on Snapchat in November.
After that, she kicks off posting a weekly ESPN podcast, "Sports? with Katie Nolan" in 2018, and her ESPN+ series "Always Late with Katie Nolan" launched in September 2018. But the show moved to ESPN2 in 2019.
In addition, as a piece of fresh news, Jason Whitlock's feud with Katie Nolan is filled with posturing and hot air. But the largely one-sided spat between the two national figures illustrates the current state of sports media, and how two very online factions are competing for cultural supremacy.
The genesis of Whitlock's recent takedown the column on Nolan springs from a piece he wrote about Maria Taylor, the ESPN NBA anchor who was criticized last week by Fox Sports Radio host Doug Gottlieb for her All-NBA ballot.
Additionally, she teamed up with United Airlines for a new web-based series of videos titled "Big Metal Bird" in December 2015, which premiere episode debuted on 15th December 2015.
She has also starred in three episodes of the Comedy Central program "Drunk History" and narrated the story of Theodore Roosevelt's campaign on 18th October 2016 for rule changes in football because of the violence of the game in the early 1900s.
Likewise, she narrated the story of the feminist icon "Gloria Steinem" on 13th February 2018 as well as talked about the Black Sox Scandal involving the fixing of the 1919 World Series on 30th January 2019.
Furthermore, she is also the "Guinness World Record" holder for most donuts stacked in a tower while blindfolded (seven), doing so on the 7th November 2018 episode of "Always Late".
Personal Life of Katie Nolan

Reflecting on Katie Nolan's personal life, she is an unmarried girl. But regarding her dating life, she has announced that she is dating American stand-up comedian Dan Soder. The couple's relationship is exceptional till now and hopes it will remain in the future too. Of course, she's stunning, she's popular and irresistible, and so it's quite natural to have men follow her everywhere. She's as beautiful in her real life as she appears in her pictures. She had everything going alright for her with a blockbuster career and a loving family. In addition, talking about her sexual orientation, she is straight.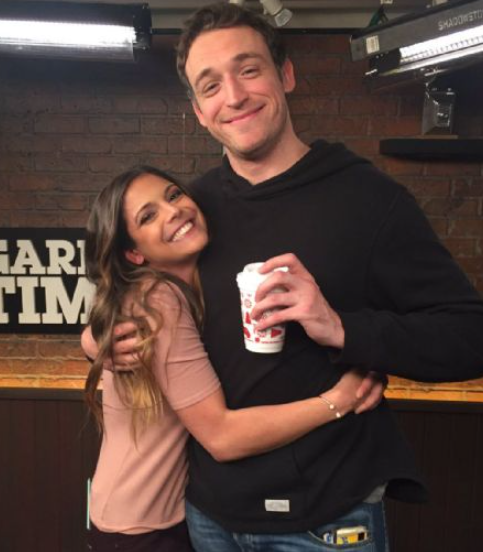 Source: @whosdatedwho
Net Worth of Katie Nolan

Katie is among those few individuals that have such a wide range of experience and remains true to whatever she embarks on to. She has reached great heights in her career already, and she still has a lot more to do. She has a long road ahead of her and she definitely holds all the potential to make it big in the industry. Moving towards her net worth, it is around $1.5 million dollars whereas she also earns a handsome amount of salary too, which is also around $600 thousand per year. With her hard work and the luck by her side, she can double the amount of wealth she has of today. She is sincere in her work. Furthermore, her main source of income is from a TV hosting career.
Body Measurement of Katie Nolan

Katie definitely has a pretty face and a magnetic personality which has cast a spell over her viewers over the years. She wears clothes that enhance her appeal more and mostly, she's spotted wearing outfits that show off her beautiful long legs. She stands at a perfect height of 5 ft 6 in or 167.5 cm whereas her weight is around 55 kg or 121 lbs. Talking about her hair color and eyes color they are dark brown. Regarding her body build type, it is average and body measurement is 39-26-37 inches (99-66-94 cm). She had the perfect body combined with good looks. She could carry off any look with great simplicity. Her sensible thoughts with a good sense of humor greatly attract her spectators to their TV screen.