Amy Robach is a well-known American television reporter. She is best known as co-anchor of 20/20 and a breaking news anchor on Good Morning America. She began her national television career with NBC News from August 2003 to May 2012, working as a national correspondent and co-hosting NBC's Today on Saturdays. She also anchored on MSNBC from 2007 to 2012. Robach then joined ABC News from May 2012 to January 2023, contributing to Good Morning America until March 2020, followed by hosting Pandemic: What You Need to Know, which later became GMA3: What You Need to Know, until December 2022. She co-anchored 20/20 with David Muir from May 2018 to January 2023. Her time at ABC News concluded due to the revelation of her extramarital affair with co-host T.J. Holmes.
Amy Robach Family Background
Amy Robach, born on February 6, 1973, hails from St. Joseph, Michigan, USA. Her early childhood years were spent in East Lansing, Michigan, followed by a move to St. Louis, Missouri, and eventually to Georgia. She holds American nationality and identifies as American-White. Celebrating her 50th birthday in 2023, Amy is the daughter of Joan Robach and her father, and she has a brother.
Amy pursued her education at Brookwood High School in Snellville, Georgia, and later attended the University of Georgia in Athens, where she graduated with high honors in Broadcast Journalism in 1995.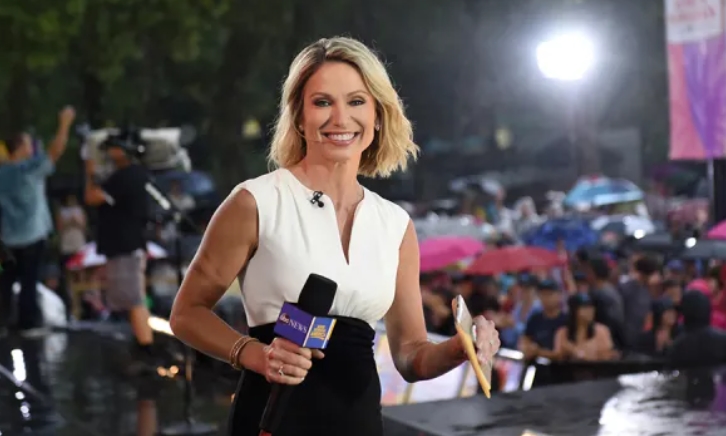 Amy Robach Career Highlights
Amy Robach started her career at WCBD-TV in 1995.
She joined ABC News in 2012, initially as a correspondent on Good Morning America, and later became the show's news anchor in 2014.
In 2018, she became the co-anchor of 20/20. In 2020, she hosted Pandemic: What You Need to Know, which later became GMA3: What You Need to Know.
However, she was removed from GMA3 in December 2022 due to an affair with her married co-anchor T. J. Holmes.
In November 2019, Project Veritas released a "hot mic" video where ABC anchor Robach revealed frustration over the network not airing her Jeffrey Epstein story in 2015.
She mentioned pressure from the palace due to Prince Andrew's involvement and difficulty obtaining corroborating evidence.
Robach later clarified her comments, and ABC News stated they never stopped investigating the story and would air a documentary and podcast on it.
On December 5, 2022, Robach and her GMA3 co-host T. J. Holmes were removed from the show due to their publicized romantic relationship.
On January 27, 2023, both were terminated by ABC News because of their relationship.
Amy Robach Husband
Amy Robach, a previously married woman, is assumed to be in a relationship. In November 2022, rumors circulated about Amy secretly dating her "GMA3: What You Need To Know" co-anchor T.J. Holmes, despite both being married to other individuals. Their alleged relationship gained attention as they were reportedly seen holding hands and spending time at each other's apartments. In December 2022, it became known that T.J. had filed for divorce from his wife, Marilee Fiebig. Later that month, Amy and T.J. were spotted sharing a kiss during a vacation in Miami, confirming their relationship. However, the public revelation led to both Amy and Holmes being removed from GMA3 on December 5, 2022, and subsequently released from ABC News on January 27, 2023.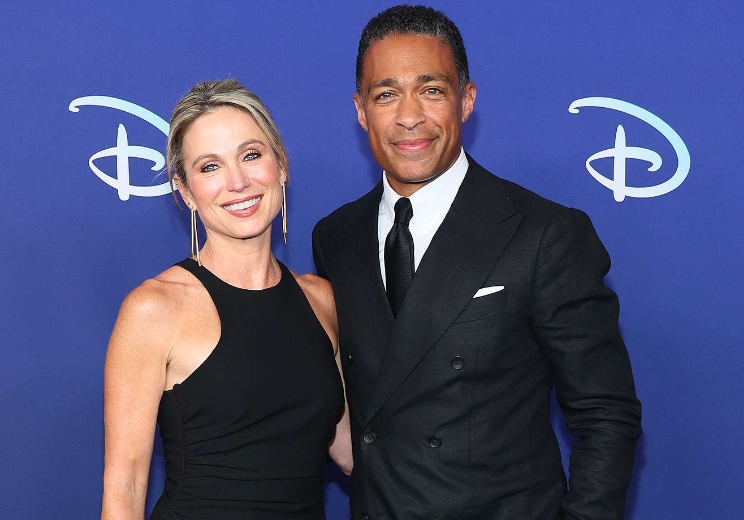 Amy Robach has experienced two marriages in her life. Her first marriage was to Tim McIntosh, a professional baseball player, in 1996 after several years of dating. They were together for nearly 12 years before filing for an uncontested divorce in 2008 and have two daughters together, Ava and Analise. In September 2009, Amy became engaged to actor Andrew Shue, known for his role in Melrose Place, after they first met at a book party in April 2008. They tied the knot on Amy's 37th birthday, February 6, 2010, at The Lighthouse at Chelsea Piers and have since shared a blended family, including Andrew's three sons: Nate, Aidan, and Wyatt. Unfortunately, their marriage faced challenges, leading to separation in August 2022 after it was revealed that Robach was having an affair with her GMA3 co-anchor T. J. Holmes, with the divorce being reportedly finalized in March 2023.
Amy Robach Salary
Amy Robach, a renowned TV reporter, boasts an impressive net worth estimated at $50 million in 2023, largely amassed through her successful career as an anchor on various shows within the entertainment industry. Currently commanding an annual salary exceeding $1 million, she further bolsters her wealth through her literary contributions in the form of books. This substantial income has afforded her a luxurious lifestyle befitting her remarkable career achievements.
Amy Robach Cancer
Amy Robach possesses a striking appearance characterized by her fair complexion and charismatic demeanor. Standing at a height of 5 feet 5 inches and weighing 54 kg, she maintains a slender figure with measurements of 34-25-34 inches, sporting a bra size of 8 (US), a dress size of 4 (US), and a shoe size of 8 (US). Complementing her elegance, she has blonde hair and captivating blue eyes.
On November 11, 2013, Robach courageously disclosed on Good Morning America that she had received a breast cancer diagnosis following a live mammogram on October 1, 2013. Subsequently, she underwent a bilateral mastectomy, temporarily stepping away from her broadcasting duties. During the surgery, a second malignant tumor was discovered in her other breast, and the cancer had spread to her lymph nodes, categorized as Stage IIB. Her treatment journey included eight rounds of chemotherapy, radiation therapy, and reconstructive surgery. A remarkable testament to her strength and resilience, as of March 2022, Amy Robach was declared cancer-free.