About Axl Rose
Axl Rose is an American musician, singer, songwriter, record producer and activist who is famous for being the lead vocalist of the hard rock band Guns N' Roses, and has also been the band's sole constant member since its inception in 1985. He has been named one of the greatest singers of all time by various media outlets, including Rolling Stone and NME. In March 1985, he, along with former band member Tracii Guns, formed the legendary band Guns N' Roses. The title name Guns N' Roses came from Axl's band Hollywood Rose and Tracii Guns's band L.A. Guns. Guns N Roses released their debut album "Appetite for Destruction" in 1987 which charted at #1 spot on the Billboard 200 listing in August 1988 and then again, in the following year, in February 1989 which made more than 5,00,000 copies were sold in the first year. Overall, the album has sold over 30 million copies worldwide to date, which made it the all-time best-selling debut album in the United States. The s*x sounds in Axl's debut album were real. With the launch of their second hit album "G N' R" Lies in 1988, he was accused of promoting antiblack and homophobic lines in his song One In a Million. He made his debut theatrical film appearance in 1988 as a musician at the funeral in "The Dead Pool" starring Clint Eastwood (Dirty Harry), Liam Neeson, and Patricia Clarkson. He made his first TV show appearance in the documentary "Arena" as himself in 1989. It was believed that Axl was suffering from an abnormal condition called psychosis. Due to his band Guns N' Roses, he has associated with legends such as Slash, Izzy Stradlin, Duff McKagan, and Steven Adler. In 1988, after 2 people were crushed to death at Guns N' Roses' performance at Monsters of Rock festival in Castle Donington, England, Rose began to be popularly known to stop concerts to address and instruct troublesome fans and security to be in control. In May 2018, Guns N' Roses staged the most anticipated live concert of all time, and surprisingly, it was their highest-grossing tour. He is also credited for being the lead singer of another band called the AC/DC. He has more than 1 million fans on his Twitter account.
Recent in the news, the former manager of Guns N' Roses, who managed the band from 1991 to 2008, Doug Goldstein has talked about Axl Rose and explained what he thought while making the song of one of the most frightening serial killers, Charles Manson. During a recent conversation Goldstein made on "Appetite for Distortion", he has revealed some of the lesser-known details about the lead singer of Guns N' Roses, Axl Rose. Goldstein has recalled the times when Rose decided to release a cover of Charles Manson's song "Look at Your Game, Girl". The ex-manager said that Axl Rose thought everybody thinks he is a freak like the horrible serial killer Charles Manson, who was a cult leader that formed Manson Family and linked to 9 murders, 1 attempted, and 2 raped throughout his life. Doug Goldstein added that he doesn't think Axl ever was out to glamorize what Charles Manson had done.

Axl Rose is famous for being the lead singer of the band Guns N' Roses. He is best-known to have a high pitched vocal ability and for his onstage criticism towards his fans.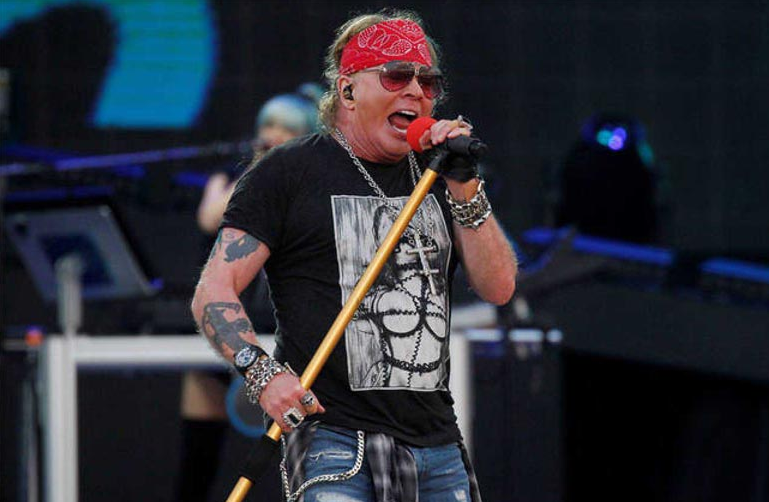 Source: @willismusic
On 6th February 1962, Axl Rose was born with the birth name/real name of William Bruce Rose Jr. His birthplace/hometown is in Lafayette, Indiana, United States. His nationality is American and he belongs to American-White ethnicity. His race is White. He was born to his parents; Bruce Rose (father) and Sharon Elizabeth (mother). When Axl was born, his mother was 16, and father Bruce was 20 years old. At the time of his birth, Axl's mother was still a high school student. At the age of 2, Axl was kidnapped and molested by his own father after his parents got divorced. Talking about his siblings, he has two named Amy Bailey (sister) and Stuart (step-brother). His birth was not something his teenage parents had planned off. His stepfather would also physically abuse him, his mother, his step-brother, and sexually abuse his step-sister. A couple of years after Axl's father left him and his mother in 1964, his mother married Stephen L. Bailey and his name was changed to William Bruce Bailey. Until the age of 17, he did not know who was his biological father. However, he never got the chance to meet him as his father was murdered by a criminal friend of his in 1984 in Marion, Illinois and his body was never recovered. After William had found out about his biological father, he decided to change his name to William Rose. His mother, Sharon E. Bailey died on May 28, 1996. In his early years, his parents would take him to a Pentecostal church. His religion is Christian. He began developing his vocal skills at a very young age at a church that his parents would visit every Sunday. There, it was where his first group started called the "Bailey Trio". As per his education, he had attended Jefferson High School but he stopped going to the school when he found out about his biological father. He is of paternal Scots-Irish and maternal German ancestry. As of 2020, he celebrated his 58th birthday. His Zodiac sign is Aquarius. At present, he is residing in Malibu, California, in the USA.
Axl Rose is a very handsome person at fifties as well. He has maintained his body a lot to keep himself fit and fine. His body build is average. He has got a tall height of 5 ft 9 in or 175 cm. His body weight consists of 78 Kg or 172 lbs. His hair color is dark brown and he often tends to dye his hair blonde. His eye color is blue. His chest size is 40 in, hips size is 38 in and waist size is 32 in. His shoe size is 9 US.
Axl Rose's Singing Career
Axl Rose began his career by joining Kevin's band Rapidfire.
In May 1983, they recorded a five-song demo and was released as an EP, Ready to Rumble, in 2014.
After that, he formed the band Hollywood Rose with his childhood friend Izzy Stradlin.
In January 1984, the band recorded a five-song demo featuring the tracks "Anything Goes", "Rocker", "Shadow of Your Love", and "Reckless Life", which was released in 2004 as The Roots of Guns N' Roses.
In March 1985, encouraged by their manager Raz Cue, he and his former L.A. Guns bandmate Tracii Guns formed Guns N' Roses by merging their respective bands Hollywood Rose and L.A. Guns with Stradlin, drummer Rob Gardner, and bassist Ole Beich.
The band attracted the attention of several major record labels, before signing with Geffen Records in March 1986.
The following December, they released the four-song EP "Live ?!*@ Like a Suicide" on the Geffen imprint UZI Suicide.
Guns N' Roses released their debut album Appetite for Destruction as of July 1987.
Later, Guns N' Roses released their debut album "Appetite for Destruction" in July 1987.
Fueled by the band's relentless touring and the mainstream success of the single "Sweet Child o' Mine"-Rose's tribute to his then-girlfriend Erin Everly-the the album rose to the No. 1 position on the Billboard 200 in August 1988, and again in February 1989.
In November 1988, Guns N' Roses released the stopgap album "G N' R Lies", which sold more than five million copies in the U.S. alone.
He found himself lauded as one of rock's most prominent frontmen.
Guns N' Roses returned to the studio to begin recording the full-length follow-up to Appetite for Destruction in 1990 and due to Steven Adler's struggle with drug addiction, he was fired the following July and replaced by Matt Sorum of The Cult.
Sorum and Reed played their first show with Guns N' Roses at Rock in Rio 2 in January 1991 and later, fired its long-time manager, Alan Niven, in May of that year.
In May 1991, still, without an album to promote, the band embarked on the two-and-a-half-year "Use Your Illusion Tour", which became known for its financial success and myriad controversial incidents that occurred during shows, including late starts, on-stage rantings, and even riots.
Guns N' Roses released Use Your Illusion I and Use Your Illusion II, which debuted at No. 2 and No. 1 respectively on the Billboard 200 in September 1991.
He then performed with Elton John at The Freddie Mercury Tribute Concert at Wembley Stadium singing Bohemian Rhapsody as a duet with Elton and also sang "We Will Rock You" on 20th April 1992.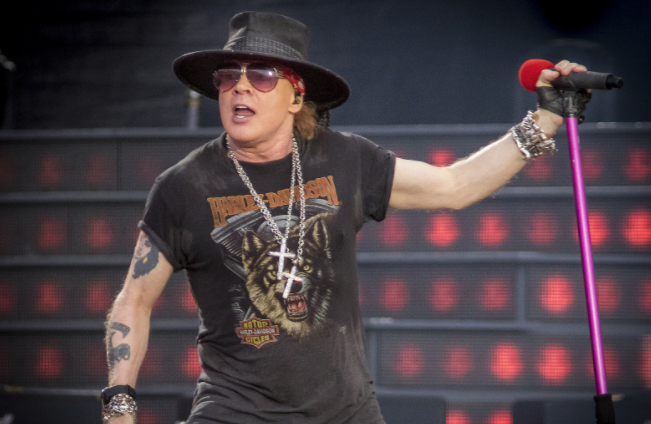 Source: @loudwire
Guns N' Roses played its final show of the Use Your Illusion Tour on 17th July 1993, at River Plate Stadium in Buenos Aires.
In November of that year, Guns N' Roses released "The Spaghetti Incident?", a cover album of mostly punk songs where he had included the hidden track "Look at Your Game, Girl", a song written by convicted murderer Charles Manson, which he intended as a personal message to his ex-girlfriend Stephanie Seymour.
As the stability of Guns N' Roses collapsed, Rose withdrew from public view but resurfaced with Guns N' Roses in January 2001 at Rock in Rio 3 to commence the decade-long Chinese Democracy Tour, though the majority of its scheduled concerts over the next two years did not take place.
After the tour was canceled by the promoter, he again withdrew from the public view and joined Slash and Duff McKagan in a lawsuit against Geffen Records in an unsuccessful attempt to block the release of the Greatest Hits compilation album where he lent his voice to the 2004 video game Grand Theft Auto: San Andreas, as the DJ for the radio station, K-DST.
He also did collaborate with his friend Sebastian Bach on his album "Angel Down".
In November 2008, Guns N' Roses released "Chinese Democracy" exclusively via the electronics retailer Best Buy.
In December 2009, Guns N' Roses embarked on another two-and-a-half-year of touring, including a headlining performance at Rock in Rio 4.
He was inducted into the Rock and Roll Hall of Fame in 2012.
He also joined his band in residencies at The Joint in Las Vegas in 2012 and 2014, as part of the Appetite for Democracy Tour celebrating the anniversaries of "Appetite for Destruction" and "Chinese Democracy".
After then, Rose and Slash reunited for the "Not in This Lifetime... Tour".
On 16th April 2016, Australian hard rock band AC/DC announced that he would be joining them and performing as the lead singer for the remainder of the band's Rock or Bust World Tour after long-time lead vocalist Brian Johnson had to stop touring due to hearing problems.
Not only this but also the reports indicated that guitarist Angus Young would be continuing the band with Rose as its official lead singer.
Axl Rose's Personal Life
Axl Rose is a married man. Regarding his personal life, at the beginning of 1986, he began dating model Erin Everly, the daughter of singer Don Everly of the Everly Brothers. He also wrote the song "Sweet Child o' Mine" for her, and Everly appeared in the accompanying music video. After that, on 28th April 1990, the duo married. Less than a month later, he first filed for divorce. The couple later reconciled, during which Everly became pregnant. She suffered a miscarriage in October 1990, which deeply affected Rose, who had wanted to start a family. Later, Everly left Rose the following November after an altercation; they annulled their marriage in January 1991. Everly filed a suit accusing Rose of physical and emotional abuse throughout their relationship in 1994 and the lawsuit was settled out of court. After that, he dated supermodel Stephanie Seymour. During their relationship, Seymour appeared in the music videos for "Don't Cry" and "November Rain". Model Stephanie Seymour and Axl got married in 1991. Rose fell deeply in love with her and became very attached to her three-year-old son Dylan. Though, later, Stephanie ditched him to marry a multimillion-dollar businessman. This left Rose heartbroken and devastated. At present, he seems to be single as there are no rumors about his relationship with anyone. He is focusing on his career at present rather than making a girlfriend or being in an affair. His sexual orientation is straight and he is not gay.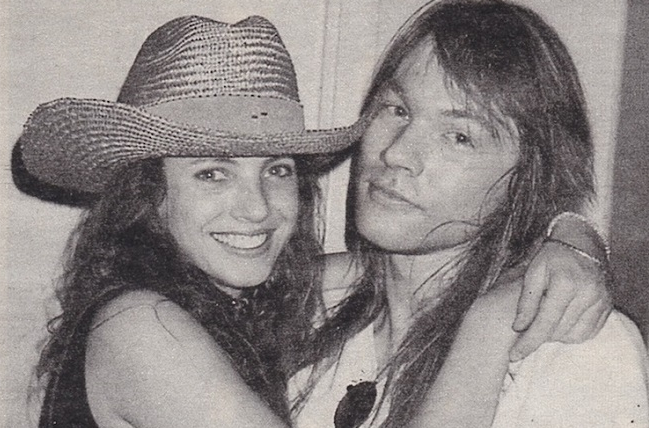 Source: @en.24smi.org
Axl Rose has been arrested more than 30 times for public drunkenness as well as several other offenses. He received a final warning from the police which prompted him to shift to Los Angeles in December 1982. In November 1992, he was sentenced and put on probation for 2 years for assault and property damage following his failure to perform at the Montreal's Olympic Stadium, which led to property damage of $400,000.
Recently, he has used Twitter to criticize various figures in the Trump administration, as well as other figures such as Apple CEO Tim Cook. On 7th May 2020, he used Twitter to criticize Treasury Secretary Steven Mnuchin for the Trump administration's handling of the COVID-19 pandemic, to which Mnuchin responded.
Axl Rose's Net Worth 2020
Axl Rose is a famous musician, singer, songwriter, record producer, and activist who is well-known for being the lead vocalist of the hard rock band Guns N' Roses. He was active in the local hard rock scene and played in a number of bands, including Rapidfire, Hollywood Rose and L.A. Guns. He worked odd jobs to make ends meet and even smoked cigarettes for a scientific study at UCLA for $8 per hour (adjusted for inflation that would be equivalent to $20 in 2019). He has made a huge amount of money from the music industry as he earned $20 million from his various endeavors between 2017 and 2018. The majority of his earnings came from touring after the band reunited for the "Not In This Lifetime Tour". The tour went on to generate more than $430 million worldwide. As of 2020, the net worth of Axl Rose is estimated to have $200 Million. He has done endorsement work for several brands such as Dr. Pepper (2008) and Budweiser. He is making a good amount of salary from his present work. His major source of earning is from singing careers such as album sales, hit songs, tours, concerts, tickets, and more. He owns a home in Malibu, California whereas he purchased the 4,333-square-foot residence for $3.6 million in 1992. As of today, he is living a lavish and luxurious lifestyle from the earnings he made.