About Anna Maxwell Martin
Award-winning British actress, Anna Maxwell Martin is famous for her portrayals of Esther Summerson in the BBC's 2005 adaptation of "Bleak House" and "N" in Channel 4's 2008 adaptation of "Poppy Shakespeare". She is also well recognized for her lead role in the BBC TV comedy "Motherland".
Anna Martin came to attention on the London stage playing the leading role of Lyra in the National Theatre's production of Philip Pullman's "His Dark Materials". She is the narrator of the CD version of "The Foreshadowing", a children's book about the First World War by Marcus Sedgwick, which was published in May 2006.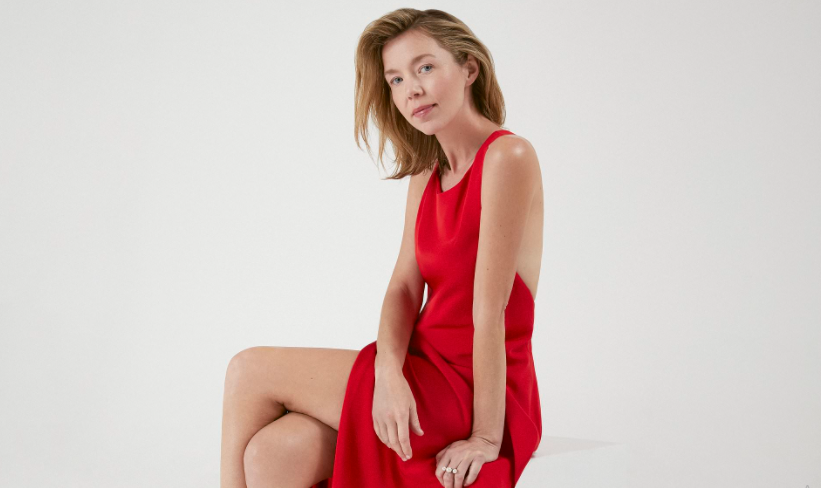 Source: @dailymail.co.uk
Early Life and Parents
Born in Beverley, Yorkshire, England, Anna Maxwell Martin's birth name is Anna Charlotte Martin. Anna's date of birth is 10th May 1977. Celebrating her birthday as of 2020, her present age is 43. She belongs to British nationality and she came from a British-White ethnic background which makes her the race of White. Zodiac sign by Taurus, Anna is mysterious and seductive, yet kind and collected. By religion, she is Christian.
Anna Maxwell Martin is the daughter of Rosalind and Ivan Martin; father and mother. By occupation, her father was managing director of a pharmaceutical company and her mother was a research scientist. Her mother gave up her job to bring up Anna and her elder brother Adam.
About his educational background, she achieved her education from Beverley High School and then studied history at Liverpool University, specializing in the First World War. Later, she joined the London Academy of Music and Dramatic Art (LAMDA) after completing her studies at Liverpool.
Anna Maxwell Martin Married Life Story
Married woman, Anna Maxwell Martin's husband/spouse's name was Roger Michell (South African film director) with whom she announced that the couple had separated as of April 2020. She gave birth to their two daughters named Nancy Michell and Maggie Michell. Her sexual orientation is straight. As of today, she is single.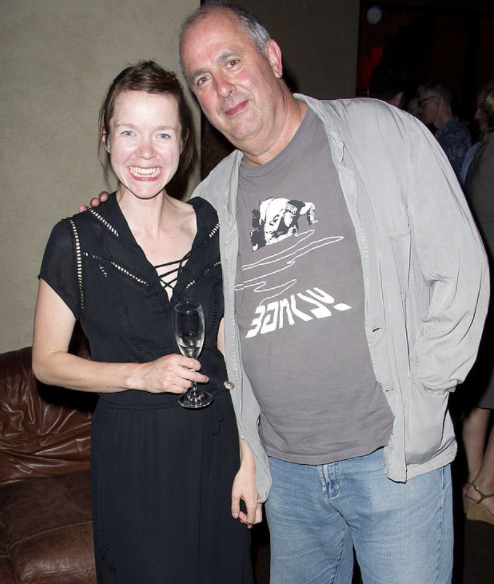 Source: @expressdigest
How much is Anna Maxwell Martin Worth?
Profession by actress, Anna Maxwell Martin's major source of wealth comes from acting career. As of 2021, the net worth of Anna is estimated to have between $1 Million - $5 Million. Whereas she has not mentioned anything about her salary details and career earnings. She is living a luxurious lifestyle as of now.
How tall is Anna Maxwell Martin?
Beautiful and charming actress, Anna Maxwell Martin's height is 5 ft 6 in or 1.68 m. Her well-maintained body weight is 55 Kg or 121 lbs. Her body type is slim whereas she has a pair of grey eye color and her hair color is brown.
Filmography
2002 - "Midsomer Murders", "Eddie Loves Mary"
2004 - "Enduring Love", "North & South"
2005 - "Doctor Who", "Bleak House"
2006 - "The Other Man", "The Wind in the Willows"
2007 - "I Really Hate My Job", "Becoming Jane"
2008 - "White Girl", "Poppy Shakespeare"
2009 - "Free Agents", "Freefall", "Moonshot"
2010 - "On Expenses"
2011 - "South Riding", "CBeebies Bedtime Stories", "The Night Watch"
2012 - "Accused"
2012–2014 - "The Bletchley Circle"
2013 - "Death Comes to Pemberley", "Alan Partridge: Alpha Papa", "Philomena"
2014 - "The Life of Rock with Brian Pern", "The Lost Honour of Christopher Jefferies"
2015 - "And Then There Were None", "Midwinter of the Spirit", "The Frankenstein Chronicles"
2016 - "Reg", "Chubby Funny", "Motherland"
2017 - "Tracey Ullman's Show"
2017- present - "Motherland"
2018 - "Urban Myths", "Mother's Day"
2019 - "Good Omens", "Ilkley"
2019 – present - "Line of Duty"
2019 - "The Personal History of David Copperfield"
2020 - "Code 404", "The Duke"
2021 - "Would I Lie To You?"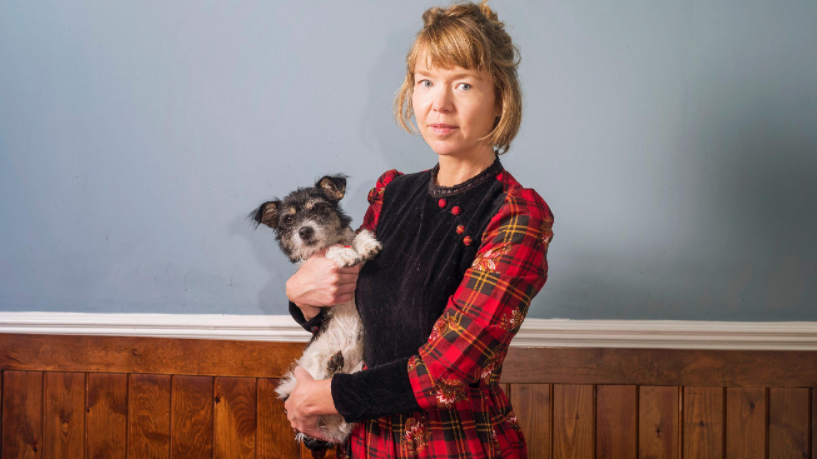 Source: @thetimes.co.uk
Radio Work
The Tall One as Samantha (BBC Radio 4, 1 to 5 September 2003)
The Raj Quartet as Daphne Manners (BBC Radio 4, 10 April to 5 June 2005)
The Ante-Natal Clinic as Ros (BBC Radio 4, 19 January 2006)
The Sea as Rose (BBC Radio 4, 15 April 2006)
Great Expectations as Estella (BBC Radio 4, 6 and 13 August 2006)
The Invention of Childhood as one of several readers (BBC Radio 4, 25 September to 3 November 2006)
Berlin – Soundz Decadent as herself (BBC Radio 2, 2 January 2007)
Crooked House as Sophia Leonides (BBC Radio 4, 8 to 29 February 2008)
Words and Music: The Soft Machine as one of two poetry readers (BBC Radio 3, 1 June 2008)
The Portrait of a Lady as Isabel Archer (BBC Radio 4, 13 to 27 July 2008)
Villette as Lucy Snowe (BBC Radio 4, 3 to 7 and 10 to 14 August 2009)
Au Pairs as Dorika (BBC Radio 4, 7 to 11 September 2009)
Chekhov's Seven and a Half Years as Olga in Three Sisters (BBC Radio 3, 24 January 2010)
The New Radio 2 Arts Show with Claudia Winkleman as herself (BBC Radio 2, 15 March 2010)
Words and Music: Malady as one of two readers (BBC Radio 3, 11 April 2010)
The Wings of the Dove as Milly Theale (BBC Radio 4, 1, 8 and 15 August 2010)
The White Devil as Vittoria (BBC Radio 3, 15 August 2010)
Faust as Gretchen (BBC Radio 3, 19 September 2010)
Juvenile Jane as the extract reader (BBC Radio 4, 23 November 2010)
Anna Maxwell Martin Audiobooks
Peet, Mal & Lesser, Anton (narrator) & Martin, Anna Maxwell (narrator) (December 2007). Tamar: A Novel of Espionage, Passion, and Betrayal. Walker Books Ltd.
Sedgwick, Marcus & Martin, Anna Maxwell (narrator) (May 2006). The Foreshadowing. Orion Publishing Group Limited.
Stage Work
The Little Foxes as Alexandra at the Donmar Warehouse (4 October 2001 to 24 November 2001)
The Lion, the Witch, and the Wardrobe as Lucy for the RSC at the Sadler's Wells Theatre (6 December 2001 to 26 January 2002)
The Coast of Utopia as Alexandra, Maria, and Tata at the Royal National Theatre (27 June 2002 to 23 November 2002)
The Lady of Larkspur Lotion (rehearsed reading) as Mrs. Hardwicke-Moore at the National Theatre (21 October 2002)
Hello from Bertha (rehearsed reading) as Goldie at the National Theatre (22 October 2002)
Collateral Damage II (poetry) at the National Theatre (14 March 2003)
Honor as Sophie at the Royal National Theatre (21 February 2003 to 13 May 2003)
Three Sisters as Irina at the Royal National Theatre (2 August 2003 to 18 October 2003)
His Dark Materials as Lyra at the Royal National Theatre (8 December 2003 to 27 March 2004)
Songs of Innocence and Experience (poetry) at the National Theatre (18 February 2004)
The Marriage of Heaven and Hell (Poetry) at the National Theatre (25 February 2004)
Will and Lyra as herself (interview) at the National Theatre (26 March 2004)
Dumb Show as Liz at the Royal Court Theatre (2 September to 16 October 2004)
After the Fire (rehearsed reading) at the National Theatre (7 March 2005)
The Black Glove (rehearsed reading) at the National Theatre (15 March 2005)
Snowbound (showcase) at the Royal National Theatre Studio (October 2005)
The Entertainer (rehearsed reading) as Jean at the Royal Court Theatre (16 January 2006)
Other Hands as Hayley at the Soho Theatre (15 February to 11 March 2006)
Cabaret as Sally Bowles at the Lyric Theatre (23 September 2006 to 31 March 2007)
The Female of the Species as Molly Rivers at the Vaudeville Theatre (10 July 2008 to 4 October 2008)
Top Girls (reading) as Pope Joan at the Royal Court Theatre (19 September 2008)
Pencil (10-minute play in the 24 Hour Plays Celebrity Gala) at the Old Vic (1 November 2009)
Measure for Measure as Isabella at the Almeida Theatre (12 February to 10 April 2010)
King Lear as Regan at the National Theatre (1 May to 2 July 2014)
Consent at the National Theatre (2017)
Awards and Achievements
Nominated for Olivier Award for Best Actress in 2005 for the role of Lyra in His Dark Materials (Clare Higgins won)
Third in BBC Drama Poll for Best Actress in 2006 for the role of Esther Summerson in Bleak House (Billie Piper won, Gillian Anderson second)
Nominated for Broadcasting Press Guild Award for Best Actress in 2006 for the role of Esther Summerson in Bleak House (Gillian Anderson won)
Won British Academy Television Award for Best Actress in 2006 for the role of Esther Summerson in Bleak House
Nominated for Royal Television Society Programme Award for Best Actor (Female) in 2009 for the role of N in Poppy Shakespeare (Andrea Riseborough won)
Won British Academy Television Award for Best Actress in 2009 for the role of N in Poppy Shakespeare
Nominated for British Academy Television Award for Best Actress in 2011 for the role of Sarah Burton in South Riding (Vicky McClure won)
Nominated for British Academy Television Award for Best Female Comedy Performance in 2018 for the role of Julia in Motherland (Daisy May Cooper won)