August Alsina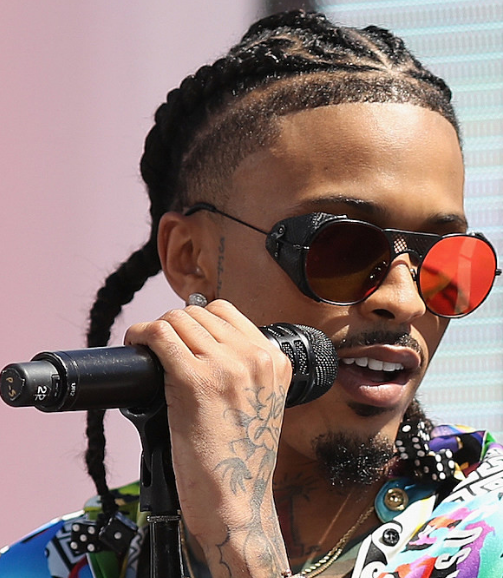 Full Name
August Alsina
Age
27 Years Old
Nick Name
Aug, Triple A
Gender
Male
Famous As
Record Producer
Birth Date
September 03, 1992
Birth Place
New Orleans, Louisiana, United States
View All
August Anthony Alsina Jr. famed as August Alsina is an American recording artist from New Orleans who is best known for his single 'I Luv This Shit' with Trinidad James. He released his studio album titled 'Testimony' on 15th April 2014.
August Alsina Hospitalized With Autoimmune Ailment After Losing Ability to Walk
R&B singer August Alsina was hospitalized after losing his ability to walk, apparently temporarily, according to an Instagram message he posted from a hospital bed. The ailment caused him to miss his scheduled appearance at the Essence Festival in New Orleans over the weekend. "Hi guys," he says in the post, sounding remarkably cheerful. "As you can probably tell I'm in the hospital. So, here's the stitch. I woke up one day and wasn't able to walk. I couldn't feel my legs and my doctor ended up admitting me into the hospital. "We're doing a bunch of tests and they're saying I have some nerve damage going on throughout my body," he continues. "It's like my immune system went on vacation. So, I'm just waiting on it to come back and we can get together and it can do what it does, man." He apologizes in the caption for having to cancel his performance at the Essence festival. "I'm a man down right now, & figured I should share.. that My auto immune disease is raging, but im fighting this thing & on my mission to shake back & beable to make it up to you! I got so much NEW NEW to share w/you!" In two subsequent posts, he appears singing. He has also said in the past that he suffers from an unspecified, hereditary autoimmune disease that attacks the liver.
Early Life of August Alsina
Alsina was born on 3rd September 1992 as August Anthony Alsina Jr. in the United States. As of 2018, his age is 26. He was born to parents, Sheila Alsina and August Alsina Sr. He has three brothers Melvin La'Branch III, Travis Labranch, and Jamal Labranch. His childhood was rough as both his father and stepfather battled crack cocaine addiction. Later, his mother moved him to Houston, Texas. Eventually, he was kicked out after he had disagreements with his mother. His brother Melvin La'Branch III, was shot and killed on August 31, 2010. August is of American nationality and he belongs to the African-American ethnic background. He attended Worthing High School.
Body Measurement of August Alsina
August Alsina is a very dashing recording artist. He has got a very charming smile on his face. Talking about his body measurement, he has a height of 5 feet 11½ inches (1.82 m). Additionally, he weighs around 75 kg. Furthermore, his hair and eye color is dark brown. He has a slim body build. There is no information revealed more than this. But we will try to add more soon. He has gained a lot of followers from his body features as well.
Career of August Alsina
Alsina initially released his mixtape 'The Product' in April 2012.
He then released a second mixtape titled 'The Product 2' in May 2013.
He released his EP 'Downtown: Life Under the Gun' on August 20, 2013.
After that, he has released several other mixtapes and albums.
He released his first album 'Testimony' in 2014 and his second album 'This Thing Called Life' was released in 2015.
His second album debuted at number 14 on the Billboard 200.
At present, he is currently working on his third studio album.
His music falls into the Alternative R&B category and his musical influences are Lyfe Jennings and Usher.
On 6th January 2017, he released the singles Drugs then on 1st June 2017, Lonely & then on 6th June 2017, Don't Matter was released for the album.
Net Worth of August Alsina
August Alsina is a very successful person and he has been paid a lot of fortune from his singing career. As of 2019, he has an estimated net worth of around $ 4 million but his exact salary has not been revealed yet but there is no doubt in the mind of his follower that he is earning a considerable amount of salary from his present work. There is no doubt that he is satisfied with his earnings.
Marital Status (Unmarried), Dating, Affairs
August Alsina is an unmarried person but he was previously involved in a relationship with model Analicia Chaves during April 2014. Additionally, he was also linked romantically with Nicki Minaj at one point in his career. August has also been linked with actress Regina Hall, Miracle Watts, and Jada Smith's mom, Adrienne Banfield-Jones. At present, August is believed to be single. He is mainly focusing on his career rather than sticking in a relationship.