Ben Sasse Biography
An American politician who is famous for serving as the junior United States Senator for Nebraska since 2015 is named for Ben Sasse. His political party is Republican. His initial career began by working as an associate consultant at the management consulting firm Boston Consulting Group from September 1994 until November 1995. In the year 2010, Ben was named the 15th president of Midland University in Fremont, Nebraska. In the year 2014, he successfully ran for a vacant seat in the U.S. Senate, defeating Democratic nominee David Domina by 65% to 31%. In the year 2020, Sasse was re-elected for a second term. Scroll more to know more about Ben Sasse's Full Biography, Interesting Facts, Untold Story, Personal Life & Affairs.
Recently in the news, Ben Sasse is directly blaming President Donald Trump for the storming of the Capitol by huge, angry crowds of pro-Trump protesters. Ben that the Capitol "was ransacked while the leader of the free world cowered behind his keyboard-tweeting against his Vice President for fulfilling the duties of his oath to the Constitution." Additionally, he said in a written statement, "Lies have consequences. This violence was the inevitable and ugly outcome of the President's addiction to constantly stoking division."

Ben Sasse is famous for being a politician. He is best known for serving as the junior United States Senator for Nebraska since 2015.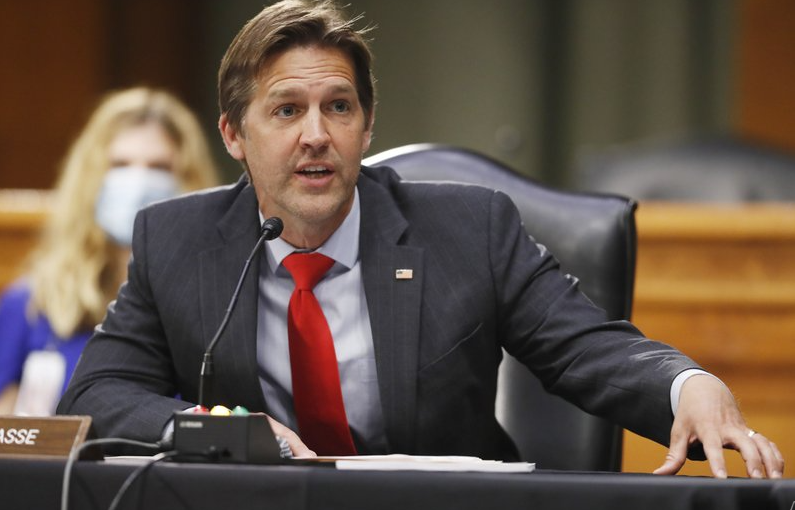 Source: @apnews
Ben Sasse was born with the birth name/full name of Benjamin Eric Sasse on 22nd February 1972 which makes his age 48 as of his birthday celebration in the year 2020. His place of birth is in Plainview, Nebraska, the USA. He was born to his parents; Gary Lynn Sasse (father) and Linda Sasse (mother). By profession, his father was a high school teacher and a football coach. His grandfather, Elmer Sasse, worked for Midland for 33 years, mainly as vice president of finance. He holds an American nationality and his ethnic background is American-White. His race is White. He was raised a Lutheran and baptized in the Lutheran Church-Missouri Synod. Thus, his religion is Christian. Aquarius is his Zodiac sign.
Concerning his education, he graduated from Fremont Senior High School, Fremont, Nebraska, in 1990 and was valedictorian of his class. In the year 1994, he graduated from Harvard University with a bachelor's degree in government. After that, he studied at the University of Oxford during the fall of 1992 on a junior year abroad program. Likewise, he achieved a Master of Arts in Liberal Studies from the Graduate Institute at St. John's College int he year 1998. He has also gained Master of Arts, Master of Philosophy, and Ph.D. degrees in history from Yale University.
Ben Sasse, being at the age of 48 still looks very young and handsome with a charming personality and attractive body features. He stands tall at the height of 5 ft 10 in and his balanced weight consists of 61 KG. He has a pair of brown eyes color and his hair color is brown. He has got a very glowing smile. His other body measurements such as chest size, waist size, biceps size, shoe size, and more have not been revealed yet.
Ben Sasse Political Career
Moving towards Ben's career, he worked as an associate consultant at the management consulting firm Boston Consulting Group starting from September 1994 until November 1995.
After that, he served as consultant/executive director for Christians United For Reformation (CURE) for the next year.
He served as chief of staff for the U.S. Department of Justice Office of Legal Policy in Washington, D.C. starting from January 2004 until a year. He also worked as a part-time assistant professor at the University of Texas at Austin during the time.
He also advised the U.S. Department of Homeland Security in Washington, D.C., on national security issues as a consultant from July to September 2005.
Additionally, he served as counselor to the secretary at the U.S. Department of Health and Human Services (HHS) in Washington, D.C. from December 2006 until December 2007.
Surprisingly, he was nominated by President George W. Bush to the post of assistant secretary for planning and evaluation in the U.S. Department of Health and Human Services in July 2007.
He then joined the University of Texas LBJ School of Public Affairs' Center for Politics and Governance as a fellow, before being appointed president of Midland University in October 2009.
After that, he was announced as the 15th president of Midland Lutheran College (now Midland University) in October 2009.
On 10th December 2010, he was placed as president. To run for U.S. Senate, he resigns his post at Midland and stepped down on 31st December 2014.
He then announced his candidacy for the United States Senate seat occupied by Republican Mike Johanns, who was not running for reelection in October 2013.
He won 92 of 93 counties and secured the Republican nomination with 109,829 votes or 49.4% of all votes cast; banker Sid Dinsdale came in second, with 49,829 votes (22.4%), followed by Osborn, with 46,850 votes (21.1%) on 13th May 2014.
After that, he won the general election for the U.S. Senate by defeating Democratic nominee David Domina with the vote of 64.4% to Domina's 31.5%.
On 3rd January 2015, he began office as a United States Senator. On 6th January 2015, he was sworn in.
He also defeated Democrats Chris Janicek in the year 2020, who won the Democratic primary, and Preston Love Jr., who had the support of the state Democratic party. Sasse received 62.7% of the vote.
He has been appointed to serve on the following committees in the 116th Congress:
Committee on Finance
Select Committee on Intelligence
Committee on Banking, Housing, and Urban Affairs
Subcommittee on Economic Policy
Subcommittee on National Security and International Trade and Finance, chairman
Subcommittee on Securities, Insurance, and Investment
Committee on the Judiciary
Beside this,
Ben delivered the commencement speech to his high school alma mater in which he attacked China over the COVID-19 pandemic.
In 2016, he stated that if Trump won the party's nomination, then he would vote neither for him nor for Democratic front-runner Hillary Clinton, but would probably "look for some third candidate-a conservative option, a Constitutionalist".
In January 2019, he was one of eleven Republican senators to vote to advance legislation intended to block President Trump's intent to lift sanctions against three Russian companies.
He came into conflict with Trump when Sasse referred to Trump's executive order authorizing stimulus after Congress failed to agree on a second COVID-19 relief package as "unconstitutional slop" in August 2020.
In an October 2020 campaign town hall event, he turned critical of Trump: "He mocks evangelicals behind closed doors. His family has treated the presidency like a business opportunity. He's flirted with white supremacists."
He also acknowledged Joe Biden's win in the 2020 presidential election and condemned Trump's efforts to overturn the election results.
Ben Sasse Books
As an author, Ben has published books which include; The Vanishing American Adult (2017) and Them: Why We Hate Each Other - and How to Heal (2018) ISBN 978-1-25019368-1. He has even co-edited the book Here We Stand!: A Call from Confessing Evangelicals for a Modern Reformation with theologian James Montgomery Boice.
Ben Sasse Wife, Melissa Sasse
Reflecting the marital status of Ben Sasse, he is a married man. He married his beautiful wife, Melissa Sasse. The couple is also blessed with three kids who were homeschooled. The married duo is enjoying their present life happily in Fremont, Nebraska. His sexual orientation is straight and he is not gay.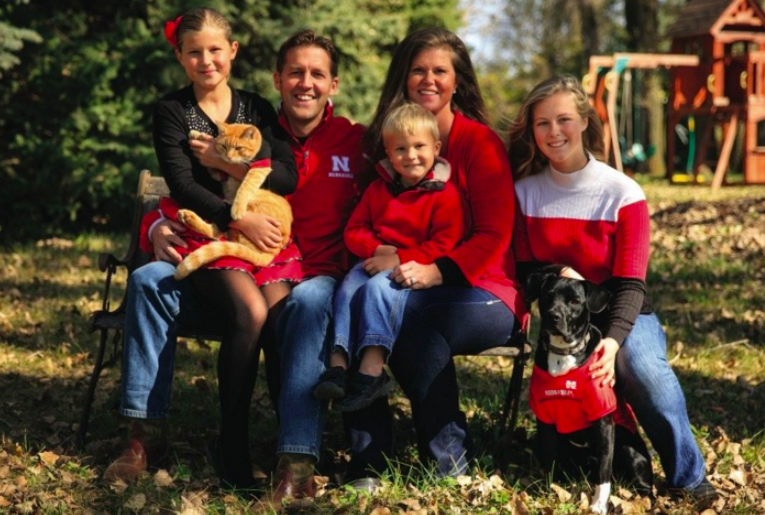 Source: @twitter
Ben Sasse Net Worth & Salary
Ben Sasse is a famous politician who is making a good amount of money from his profession. Moreover, he is also making a good amount of money being an author and a professional. Starting his career in 1994, he has achieved great success throughout his career. As of 2020, the net worth of Ben Sasse is estimated to have $6 million as per sources. Details about his salary and career earning have not been disclosed yet whereas his major source of wealth comes from a politician's career and he is satisfied with his earnings. As of today, he is living a luxurious lifestyle with his earnings.