Robert Nesta Marley was famed as Bob Marley was a Jamaican singer and songwriter. He was considered one of the pioneers of reggae and his musical career was marked by blending elements of reggae, ska, and rocksteady, as well as forging a smooth and distinctive vocal and songwriting style. He is also considered a global symbol of Jamaican culture and identity, and was controversial in his outspoken support for the legalization of marijuana, while he also advocated for Pan-Africanism. He was also ranked as one of the best-selling music artists of all-time, with estimated sales of more than 75 million records worldwide. He was posthumously honored by Jamaica soon after his death, as he was designated the nation's Order of Merit award.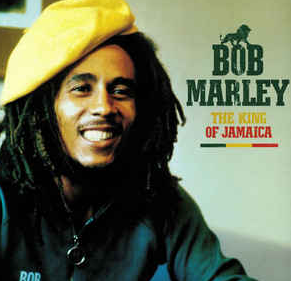 Source: @discogs.com
News Related To Bob Marley
Reggae legend Bob Marley would have turned 75 on February 6, 2020 and his estate is marking that in a special way. An animated video of one of his most famous songs has been released. The new video for "Redemption Song" was posted on the MARLEY75 site. "Redemption Song" was featured on Marley's final studio album, "Uprising," which was released in 1980.

Famous For
For being one of the most successful and popular reggae musicians.
For worldwide sales of his records and albums stand at over 75 million.
For being a global musical and cultural icon.
For his everlasting success and popularity of his singles such as Exodus, Waiting in Vain, Jamming, and One Love.
For the immense success of his studio album, Exodus, which remained on the British music charts for 56 consecutive weeks which was certified as 'Platinum' 8 times in Canada and as 'Gold' in the US and UK.
How Bob Marley died?
In July 1977, Marley was found to have a type of malignant melanoma under the nail of a toe. Despite his illness, he continued touring and was in the process of scheduling a world tour in 1980. His last concert occurred at the Stanley Theater (now called The Benedum Center For The Performing Arts) in Pittsburgh, Pennsylvania, on 23 September 1980. Just two days earlier he had collapsed during a jogging tour in Central Park and was brought to the hospital where he learned that his cancer had spread to his brain. The rest of the tour was canceled and Marley sought treatment at the Bavarian clinic of Josef Issels, where he received an alternative cancer treatment called Issels treatment partly based on avoidance of certain foods, drinks, and other substances. After eight months of effectively failing to treat his advancing cancer, Marley boarded a plane for his home in Jamaica. After landing in Miami, Florida, he was taken to the hospital for immediate medical attention. Bob Marley died on 11th May 1981 at Cedars of Lebanon Hospital in Miami (now University of Miami Hospital), aged 36. The spread of melanoma to his lungs and brain caused his death. His final words to his son Ziggy were "Money can't buy life." He received a state funeral in Jamaica on 21 May 1981, which combined elements of Ethiopian Orthodoxy and Rastafari tradition. He was buried in a chapel near his birthplace with his guitar.
What is the birthplace of Bob Marley?
Bob Marley was born with the real name of Robert Nesta Marley on 6th February 1945, in Nine Mile, British Jamaica, to Norval Sinclair Marley and Cedella Booker. At the time of Bob Marley's birth, Norval was working as a supervisor at a plantation and Cedella was a singer-songwriter. He pursued his education at the 'Stepney Primary and Junior High School,' located at the Saint Ann Parish in Jamaica. His father succumbed to heart failure when Bob was just ten years old. His mother went on later to marry Edward Booker, a civil servant from the United States, giving Marley two half-brothers: Richard and Anthony. In school, he had a friend named Neville Livingston (later known as Bunny Wailer), whose father Thadeus had a daughter named Pearl with Bob's mother Cedella. The two boys began collaborating on music and soon formed a band along with their friends, Beverley Kelso, Junior Braithwaite, and Peter Tosh. His nationality is British-Jamaican and his ethnicity is Mixed. In 1966, Bob Marley converted from Catholic to 'Rastafari' religious faith, inculcating the movement's rituals and culture into the reggae music he played.
How Bob Marley Pursued his Career in singing?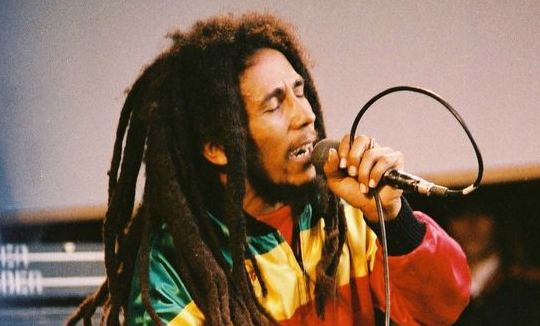 Source: @wsj.com
Firstly, Bob Marley recorded four songs, "Judge Not", "One Cup of Coffee", "Do You Still Love Me?" and "Terror", at Federal Studios for local music producer Leslie Kong in 1962.
In 1963, Bob Marley, Bunny Wailer, Peter Tosh, Junior Braithwaite, Beverley Kelso, and Cherry Smith were called the Teenagers and they later changed the name to the Wailing Rudeboys, then to the Wailing Wailers, at which point they were discovered by record producer Coxsone Dodd, and finally to the Wailers.
Their single "Simmer Down" for the Coxsone label became a Jamaican No. 1 in February 1964 selling an estimated 70,000 copies.
He then approached producer Leslie Kong, who was regarded as one of the major developers of the reggae sound.
Later, the album The Best of The Wailers was released, including tracks "Soul Shakedown Party," "Stop That Train," "Caution," "Go Tell It on the Mountain," "Soon Come," "Can't You See," "Soul Captives," "Cheer Up," "Back Out," and "Do It Twice".
Between 1968 and 1972, Bob and Rita Marley, Peter Tosh and Bunny Wailer re-cut some old tracks with JAD Records in Kingston and London in an attempt to commercialize the Wailers' sound.
He signed with CBS Records in London and embarked on a UK tour with soul singer Johnny Nash in 1972.
The Wailers' first album for Island, Catch a Fire, was released worldwide in April 1973, packaged like a rock record with a unique Zippo lighter lift-top.
It was followed later that year by the album Burnin' which included the song "I Shot the Sheriff".
His new backing band included brothers Carlton and Aston "Family Man" Barrett on drums and bass respectively, Junior Marvin and Al Anderson on lead guitar, Tyrone Downie and Earl "Wya" Lindo on keyboards, and Alvin "Seeco" Patterson on percussion.
In the year 1975, he had his international breakthrough with his first hit outside Jamaica, with a live version of "No Woman, No Cry", from the Live! album.
This was followed by his breakthrough album in the United States, Rastaman Vibration (1976), which reached the Top 50 of the Billboard Soul Charts.
Whilst in England, he recorded the albums Exodus and Kaya.
Exodus included four UK hit singles: "Exodus", "Waiting in Vain", "Jamming", and "One Love" (a rendition of Curtis Mayfield's hit, "People Get Ready").
During his time in London, he was arrested and received a conviction for possession of a small quantity of cannabis and later he returned to Jamaica and performed at another political concert, the One Love Peace Concert, again in an effort to calm warring parties.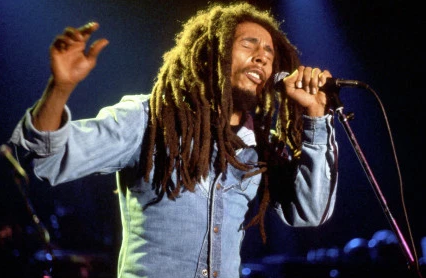 Source: @rollingstone.com
Under the name Bob Marley and the Wailers 11 albums were released, four live albums and seven studio albums.
The releases included Babylon by Bus, a double live album with 13 tracks, were released in 1978.
Survival, a defiant and politically charged album, was released in 1979.
Tracks such as "Zimbabwe", "Africa Unite", "Wake Up and Live", and "Survival" reflected Marley's support for the struggles of Africans.
In early 1980, he was invited to perform at the 17 April celebration of Zimbabwe's Independence Day.
Uprising (1980) was Bob His final studio album, and is one of his most religious productions; it includes "Redemption Song" and "Forever Loving Jah".
Confrontation, released posthumously in 1983, contained unreleased material recorded during Marley's lifetime, including the hit "Buffalo Soldier" and new mixes of singles previously only available in Jamaica.
Who was the wife of Bob Marley?
Bob Marley was a married person and he got married to Alpharita Constantia Anderson, commonly known as Rita, on 10th February 1966, in Kingston. The couple had three children, Cedella, Ziggy, and Stephen. He also had children from other relationships too. He also adopted the children Rita had borne from other affairs. In the year 1976, while on a free concert named 'Smile Jamaica,' which was organized by the Jamaican Prime Minister Michael Manley to dissolve warring political tensions, Marley, his wife, and manager Don Taylor were assaulted by gunmen in his house. His wife and manager sustained severe injuries, while Marley suffered minor wounds.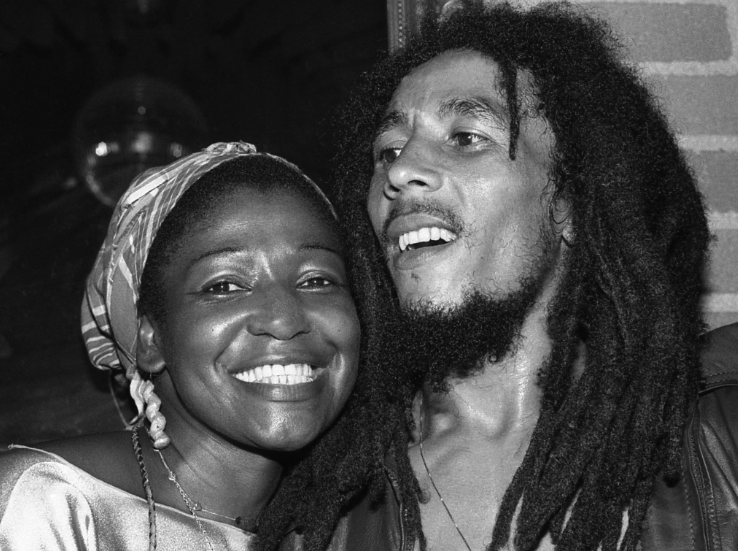 Source: @pinterst.com
What is the Net Worth of Bob Marley?
The net worth of this famous musician was believed to have $130 Million. He was said to be worth about $30 million when he died. As of now, his son Ziggy Marley has a net worth of $10 million dollars. In 2016, Forbes calculated that Marley's estate brought in twenty-one million dollars, making him the year's sixth-highest-earning "dead celebrity," and unauthorized sales of Marley music and merchandise have been estimated to generate more than half a billion dollars a year, though the estate disputes this. Under Jamaican law, Marley's widow, Rita, was entitled to 10% of her husband's $30 million estates and held a life estate in another 45%. Marley's 11 children (4 by his wife and 8 by other women) were entitled to equal shares in the other 45% as well as a remainder interest in Rita's life estate.
How tall was Bob Marley?
Bob Marley was a very charming singer with a slim body build. He was tall at the height of five feet seven inches. His balanced weight consists of 64 Kg. His eye color was dark brown and his hair color was black. His other body measurements have not been revealed yet.
Bob Marley's Awards & Honours
1976: Rolling Stone Band of the Year
June 1978: Awarded the Peace Medal of the Third World from the United Nations.
February 1981: Awarded the Jamaican Order of Merit, then the nation's third-highest honor.
March 1994: Inducted into the Rock and Roll Hall of Fame.
1999: Album of the Century for Exodus by Time Magazine.
February 2001: A star on the Hollywood Walk of Fame.
February 2001: Awarded Grammy Lifetime Achievement Award.
2004: Rolling Stone ranked him No. 11 on their list of the 100 Greatest Artists of All Time.
2004: Among the first inductees into the UK Music Hall of Fame
"One Love" named song of the millennium by BBC.
Voted as one of the greatest lyricists of all time by a BBC poll.
2006: A blue plaque was unveiled at his first UK residence in Ridgmount Gardens, London, dedicated to him by the Nubian Jak Community Trust and supported by Her Majesty's Foreign Office.
2010: Catch a Fire inducted into the Grammy Hall of Fame (Reggae Album).