Bray Wyatt was an American professional wrestler. He was famous for his tenure in WWE, where he performed under the ring name Bray Wyatt. He was a third-generation wrestling talent, with his family including his grandfather Blackjack Mulligan, father Mike Rotunda, and uncles Barry and Kendall Windham. In WWE, he began as Husky Harris and later transformed into Bray Wyatt, leading The Wyatt Family. Throughout his career, he became a three-time world champion, holding the WWE Championship once and the Universal Championship twice. He also claimed tag team titles and developed a unique dual persona, switching between a Mr. Rogers-esque character and the eerie, horror-themed Fiend. After a release in 2021, he returned in 2022 but faced health challenges, including contracting COVID-19, leading to his untimely passing from a heart attack in August 2023, following just one televised match during his second comeback.
Family Background
Born on May 23, 1987, as Windham Lawrence Rotunda, Bray Wyatt hailed from Brooksville, Florida, USA. He held American nationality and belonged to the American-White ethnic background. He was born to his father, Mike Rotunda, a retired professional wrestler, and his mother, Stephanie Rotunda. Wrestling ran in his blood, with uncles Barry Windham and Kendall Windham, also retired pro wrestlers, and a grandfather, Blackjack Mulligan, who was a prominent figure in the industry. Bray had a brother named Taylor Rotunda and a sister named Mika Rotunda.
For his education, Bray attended Hernando High School, where he achieved a state wrestling championship at 275 pounds in 2005, graduating the same year. In addition to wrestling, he played football as a defensive tackle and guard. Rotunda continued his football journey at the College of the Sequoias, earning All-American honors as an offensive guard. Later, he received a football scholarship to Troy University but left with 27 credit hours remaining to pursue his dream of becoming a professional wrestler.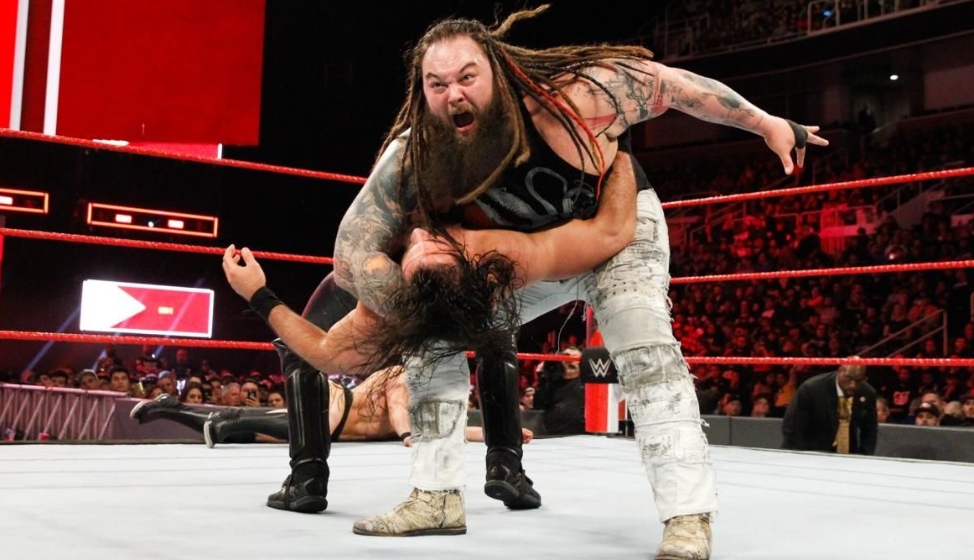 Bray Wyatt Wrestling Career
Bray Wyatt's wrestling journey commenced in April 2009 when he made his professional debut in Florida Championship Wrestling (FCW).
Initially known as Alex Rotundo, he later adopted the name Duke Rotundo.
Teaming up with his brother Bo, they achieved a significant milestone by winning the FCW Tag Team Championship in July 2009, defending the titles until November that same year when they were dethroned by the Dude Busters.
His career took a turn when he joined NXT under the name Husky Harris in June 2010, making his NXT debut in a tag team match alongside Cody Rhodes.
Despite his time in NXT, Wyatt continued to wrestle in FCW and even faced setbacks like elimination from NXT and failed attempts at joining The Nexus.
Returning to FCW after an incident with Randy Orton, he briefly adopted the persona of Axel Mulligan.
However, his breakthrough came when he debuted the character Bray Wyatt in April 2012, coinciding with WWE's rebranding of FCW into NXT Wrestling.
Wyatt's career in WWE continued to evolve with the formation of The Wyatt Family in November 2012, featuring Luke Harper and Erick Rowan.
They eventually became NXT Tag Team Champions in May 2013 and made their Raw debut in July 2013.
Daniel Bryan briefly joined the group, and they even cost John Cena a WWE World Heavyweight Championship match against Randy Orton.
This set the stage for memorable rivalries, including a showdown with Cena at WrestleMania XXX and Wyatt's first WWE Championship win in 2017.
Despite ups and downs, Wyatt's character transformations and storytelling prowess remained a captivating force in the world of professional wrestling.
In 2019, he reinvented himself as "The Fiend" and hosted the "Firefly Fun House" segments, introducing sinister puppets and delivering cryptic promos.
His return to WWE brought fresh intrigue, including a notable match against Finn Balor at SummerSlam.
In September 2022, WWE began teasing Bray Wyatt's return with "White Rabbit" by Jefferson Airplane at live events and hidden QR codes in Raw and SmackDown episodes.
At Extreme Rules on October 8, Wyatt returned with live-action Firefly Fun House characters.
He feuded with LA Knight, leading to a Pitch Black match at the Royal Rumble, which Wyatt won.
Afterward, he targeted Bobby Lashley but quietly disappeared from TV, rumored to be dealing with illness.
On August 24, 2023, it was tragically announced that Wyatt had unexpectedly passed away at the age of 36, with his Royal Rumble match being his final televised appearance.
He first appeared in the world of video games in WWE '12 as Husky Harris and then made subsequent appearances as Bray Wyatt in WWE 2K15, WWE 2K16, WWE 2K17, WWE 2K18, and WWE 2K19.
Additionally, The Fiend, his alternate persona, was offered as a pre-order bonus for WWE 2K20.
Most recently, Wyatt's current character has been made available as downloadable content in WWE 2K23.
Bray Wyatt Death
Bray Wyatt tragically passed away on August 24, 2023, due to a heart attack which was his death cause. He died at 36. WWE's Triple H announced his death on Twitter. Wyatt had been battling an undisclosed, life-threatening illness since February but was recently cleared for a WWE return. Sadly, it was later disclosed that COVID-19 had exacerbated an existing heart condition. Fellow wrestlers, such as The Rock, Mick Foley, and Matt Hardy, paid tribute on social media.
Awards and Achievements
CBS Sports
Comeback Wrestler of the Year (2019)
Florida Championship Wrestling
FCW Florida Tag Team Championship (2 times) – with Bo Rotundo
New York Post
Best Return (2022) – at Extreme Rules
Pro Wrestling Illustrated
Feud of the Year (2010) – The Nexus vs. WWE
Match of the Year (2014) vs. John Cena in a Last Man Standing match at Payback
Most Hated Wrestler of the Year (2010) – as part of The Nexus
Ranked No. 6 of the top 500 singles wrestlers in the PWI 500 in 2014
WrestleCrap
Gooker Award (2019) vs. Seth Rollins at Hell in a Cell
Wrestling Observer Newsletter
Best Gimmick (2013) as part of The Wyatt Family
Best Gimmick (2019) as "The Fiend"
Most Overrated (2020)
Worst Gimmick (2017) as Sister Abigail
Worst Gimmick (2020) as "The Fiend"
Worst Feud of the Year (2017) vs. Randy Orton
Worst Feud of the Year (2019) vs. Seth Rollins
Worst Feud of the Year (2020) vs. Braun Strowman
Worst Feud of the Year (2021) with Alexa Bliss vs. Randy Orton
Worst Worked Match of the Year (2014) vs. John Cena at Extreme Rules
Worst Worked Match of the Year (2017) vs. Randy Orton at WrestleMania 33
Worst Match of the Year (2019) vs. Seth Rollins at Hell in a Cell
Worst Match of the Year (2020) vs. Braun Strowman at The Horror Show at Extreme Rules
WWE
WWE Championship (1 time)
WWE Universal Championship (2 times)
WWE Raw Tag Team Championship (1 time) – with Matt Hardy
WWE SmackDown Tag Team Championship (1 time) – with Randy Orton and Luke Harper[a]
Tag Team Eliminator (2018) – with Matt Hardy
WWE Year-End Award for Male Wrestler of the Year (2019)
Bray Wyatt Wife
Bray Wyatt was a married man, having tied the knot with his beautiful wife, JoJo Offerman. Their relationship began in 2018, and together they had two children, a son named Knash Sixx Rotunda (born May 18, 2019), and a daughter named Hyrie (born May 28, 2020). Their love endured until his unfortunate passing in August 2023.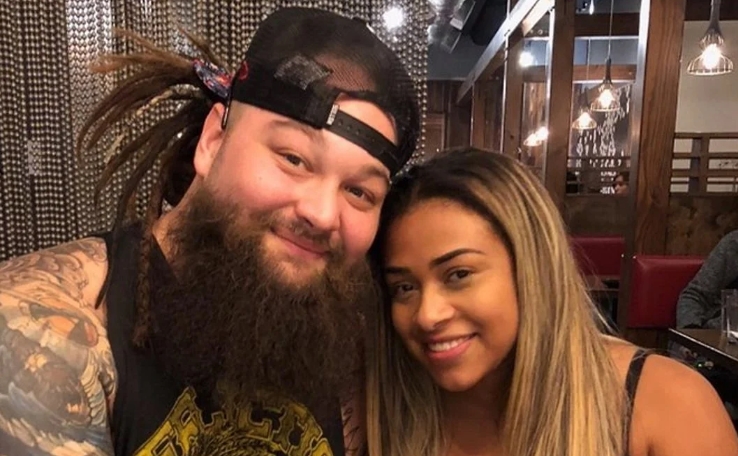 Prior to this, Bray Wyatt was previously married to Samantha in 2012, and they had two daughters together named Kendyl Rotunda and Cadyn Rotunda. However, their marriage ended acrimoniously in 2017.
Bray Wyatt Net Worth
Bray Wyatt, the professional wrestler, had amassed a net worth of $2 million at the time of his unfortunate passing in 2023. He consistently earned an annual income exceeding $500,000 from his successful wrestling career, which remained his primary source of wealth. He generated income through lucrative contracts with World Wrestling Entertainment (WWE) and other wrestling promotions, solidifying his status as a renowned figure in the wrestling world, adorned with multiple championship victories. Throughout his career, he remained affiliated with WWE, where he showcased his skills in a wide array of matches, marking a long and illustrious journey in the wrestling industry.
Bray Wyatt Tattoos
Bray Wyatt, the handsome wrestler, stood at the height of 6 feet 3 inches (1.91 meters). He had a body weight of 285 lbs (129 kg) with a muscular build. He had striking blue eyes and light brown hair. Some of his distinctive features included a bulky frame, a thick beard, and a multitude of tattoos adorning his torso and both arms, totaling 13 in all. Notably, he recently added a skull tattoo in black and red ink to his left hand, which he proudly shared on his official Twitter account with the caption, "Let's go to war." Additionally, he was known for his signature dreadlocked hair.