Carly Colon Biography
A Puerto Rican professional wrestler and actor, Carlos Edwin Colon Jr. is better known as Carly Colon. He is well recognized for his time with WWE under the ring name Carlito Caribbean Cool or simply Carlito. He came from a wrestling family the son of Carlos Colon Sr, who first introduced him to the sport. He made his professional wrestling debut in 1999. He became a 13-time Universal Heavyweight Champion for World Wrestling Council. Initially, he entered his debut match World Wrestling Council - WWC produced by his father. Later, he proved his brilliant strengths by winning the 17 Universal Heavyweight Championships. This victory was followed by the trophy of the WWC Puerto Rico Heavyweight Championship one time. Scroll down to read Carly's Biography, Facts, Family, Wiki, & more.
Famous For

Being a Puerto Rican professional wrestler and actor.
Being the son of retired professional wrestler and World Wrestling Council founder Carlos Colon Sr.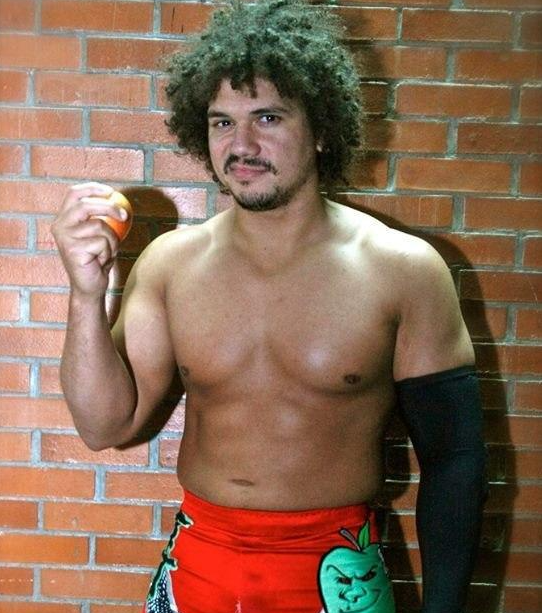 Source: @allwrestlingsuperstars
Early Life of Carly Colon

Carly Colon took birth on 21st February 1979 with the real name or full name of Carlos Edwin Colon Jr. in San Juan, Puerto Rico. He holds Puerto Rican nationality and his ethnicity is Puerto Rican-white ethnicity. He was retroactively granted Canadian citizenship following a series of amends to the Canadian nationality law on 18th April 2009. He is from the Catholic religion and his race is white. Carly Colon happily celebrates his birthday on the 21st February of every year and he has celebrated his 41st birthday as of 2020. Thus, he is 41 years old. His horoscope is Pisces as his birthdate. He is the son of retired professional wrestler and World Wrestling Council founder Carlos Colon Sr. (father) and his wife, Nancy (mother). Colon was the first of four siblings, a group that also includes fellow wrestlers Eddie and Stacy Colon, both of whom have performed in the World Wrestling Council. A second sister, Melissa, did not enter the wrestling business. He attended the Jesuit Colegio San Ignacio de Loyola between 1991 and 1997 from which he graduated. Unsatisfied with his physical conditioning, he began attending a gym as an 11-year-old.
Carly Colon Professional Wrestling Career

Carly Colon commenced his wrestling career as a cameraman in the World Wrestling Council in July 1999 however he made his in-ring debut in January 2000 by defeating Felix Tapia, a jobber and member of La Familia as he defeated Gonzalez to become the youngest wrestler to win the WWC Universal Heavyweight Championship on 29th January 2000.
He recovered the belt by defeating Hennig in a no-disqualification contest without a time limit on 25th November 2000 and participated in the television tapings of the X Wrestling Federation on 13th November 2001.
He defeated Gonzalez to win the Universal Heavyweight Championship on 1st December 2001, restarting the formula of bringing foreign wrestlers to challenge him as well as he defeated Vampiro to regain the Universal Heavyweight Championship.
Then, he teamed with his brother to defeat Thunder and Lightning and win the WWC World Tag Team Championship on 16th March 2002 whereas Colon lost the belt to Jose "Chicky Starr" Laureano, winning it back the following month to open 2003 and also he wrestled in two tryout matches for World Wrestling Entertainment.
He then signed a developmental contract with WWE, being assigned to Ohio Valley Wrestling on 2nd June 2003 where he performed under his nickname of "Carly" as he debuted by teaming with Luther Reigns and John Hennigan in a loss to Tank Toland, Johnny Jeter, and Matt Cappotelli on 5th July 2003.
Colon performed as a heel for the first time in his career by joining Bolin Services in February 2004 whereas he held on to the Universal Heavyweight Championship for two weeks on 20th December 2003, losing it to Abdullah the Butcher at WWC's Three Kings Weekend.
As well, he wrestled in dark matches for both the "RAW" and "SmackDown!" brands although he wrestled under the name, "Carlitos Colon" in a dark match United State Championship, this time losing to Sean Morley as well as made his debut as a heel on "SmackDown!" as "Carlito Caribbean Cool" on 7th October 2004 where he defeated John Cena for the United States Championship in his first match on the main roster by using a steel chain to knock out Cena.
Carlito made his pay-per-view debut at the 2004 Survivor Series and made his WrestleMania debut in a non-wrestling role at WrestleMania 21.
Also, he was drafted to the Raw brand in the 2005 WWE Draft Lottery, where he defeated Shelton Benjamin for the Intercontinental Championship in his debut match for the brand on the 20th June episode of "Raw" but then lost the Intercontinental title to Ric Flair at Unforgiven.
Colon was present at Lockout where he defeated Jon Heidenreich to become Universal Heavyweight Champion on 16th December 2007 but was stripped of the championship minutes later.
He requested his release from the WWE as he was unhappy with the direction of his character in late 2007 although he defeated Cody Rhodes to qualify for the Money in the Bank ladder match at WrestleMania XXIV he failed to win at the event.
Later, he re-debuted on the brand turning face, forming a tag team with his brother, Primo on 12th September as they defeated WWE Tag Team Champions Curt Hawkins and Zack Ryder in the match to gain their first victory as a team and both Carlito and Primo were drafted back to the Raw brand as part of the 2009 Supplemental Draft on 15th April 2009.
Carlito was announced as one of the eight WWE Pros for the first season of "WWE NXT" in February 2010 however he announced as a WWE Hall of Fame inductee as part of the 2014 class in March 2014 as well as he joined the other members of the family during the official induction ceremony on 6th April 2014. He was promoted to appear on the 4th January 2021 edition of RAW as part of the RAW Legends, but he couldn't appear due to problems with the flight.
Additionally, he defeated Shelton Benjamin to win the WWC Universal Heavyweight Championship at the Crossfire event on 27th November 2017 and made his first title defense against Banderas at WWC's last show of the year Lockout but, he lost the Universal Heavyweight Championship to Banderas, following interference from Shane Sewell on 8th January 2011.
He later returned to WWC first to join his brother and wrestled Gilbert Cruz and his cousin Orlando Colon on 28th October 2011, before successfully defending the Universal Heavyweight Championship against Masters the following night as he won a rematch on 11th November of the following year.
Carlito defeated TNT to win his first WWC Puerto Rico Heavyweight Championship on 19th July 2014 but lost the title against Gilbert on 10th October in the same year, and then he defeated Chicano to become the first contender to the Universal Heavyweight Championship on 9th January 2016.
His first home appearance of 2020 resulted in a loss to Gilbert, the main associate of the now-heel Eddie Colon as part of a stable known as The Dynasty even so he was selected as the challenger in the NWA World Heavyweight Championship on 29th February 2020.
Moreover, he made his debut in Lucha Libre USA's live shows, wrestling as "Carlitos" on 7th August 2010 as well as he made his debut for the Mexican promotion Lucha Libre AAA World Wide (AAA) billed as Carlito Caribbean Cool on 4th March 2011, defeating Decnnis, Jack Evans and Ozz in a four-way match to advance to the "Rey de Reyes" tournament finals at the Rey de Reyes pay-per-view.s
He then made his debut for the World Wrestling League as part of a tour of Mexico on 6th September 2013.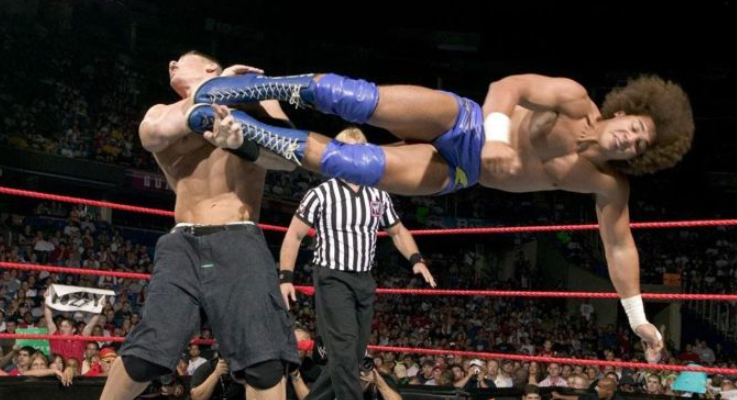 Source: @latestbollyholly
Carly Colon Awards and Championships

Big Time Wrestling
BTW Heavyweight Championship (1 time)
Family Wrestling Entertainment

FWE Heavyweight Championship (1 time)
First Wrestling Society

1WS World Heavyweight Championship (1 time)
Funking Conservatory
FC Television Championship (1 time)
Imperio Lucha Libre

Imperio World Championship (1 time, current)
Imperio World Championship Tournament (2017)
International Wrestling Association Florida

IWA Florida Heavyweight Championship (1 time)
Magnum Pro Wrestling
Magnum Heavyweight Championship (1 time)

Millennium Wrestling Federation
MWF Undisputed Championship (1 time)
Pro Wrestling Illustrated

PWI ranked him #27 of the 500 best singles wrestlers of the year in the PWI 500 in 2006
Pure Wrestling Association
PWA Elite Championship (1 time)
Qatar Pro Wrestling

QPW Tag Team Champion (1 time, current) - with Chris Masters
United Pro Wrestling

UPW Championship (1 time)
UPW Championship Tournament (2017)
Wrestling Alliance Revolution

WAR World Heavyweight Championship (1 time)
Personal Life of Carly Colon

Reflecting on Carly Colon's personal life, he is an unmarried guy. Whereas, regarding his relationship status, Colon is assumed to be possibly single. He has not been in any relationship yet. However, he was twice linked with Torrie Wilson and Trish Stratus during his WWE days. There were no rumors of any linked up with wrestling divas or any other celebrity in the past, not at present. He is living his life uptight and secretly away from media gossips and tantrums. Furthermore, talking about his sexual orientation, he is straight.
Carly Colon Net Worth

Moving towards Carly Colon's net worth, he has a worth of around $900,000 as of 2020. He also earns a fine amount of salary which is also in thousands of dollars per year. He has gained a handsome amount of money from his career as his major source of income is from his wrestling career. Besides, he also wrestled One Man Gang, who has involved a storyline where a $10,000 bounty was placed by La Familia to "end his career". He has not done any endorsement work yet.
Carly Colon Height, and Measurement

Carly Colon is a handsome and adaptable wrestler who stands at a perfect height of 5 ft 10 in (1.78 m) with a balanced body weight of around 220 lb (100 kg). He has unarguably accomplished a decent height career-wise. He is considered one of the hottest celebrities of the time. His eyes and hair are in dark brown color as his body build type is athletic. Enriched with the toned bicep and perfectly built, the wrestler, as well as the actor, don't hesitate to go shirtless.