About Chuck Todd; Journalist
''Chuck Todd'' is a famous American journalist who currently moderates NBC's ''Meet the Press''. He is a political director for NBC News and host for MSNBC on ''MTP Daily''. Before joining the team of the ''Meet the Press'', Todd was the senior White House correspondent of the network and the host of The Daily Rundown. He is also known by his nickname Chuck, who also works as an on-air political analyst for Nightly News with Lester Holt and Today. He is also an Adjunct Professor at Johns Hopkins University. Recent in the news, Chuck Todd elicits groans after comments about Donald Trump wearing face masks.
Famous For
Being an American television journalist
Being an on-air political analyst for ''Night News''.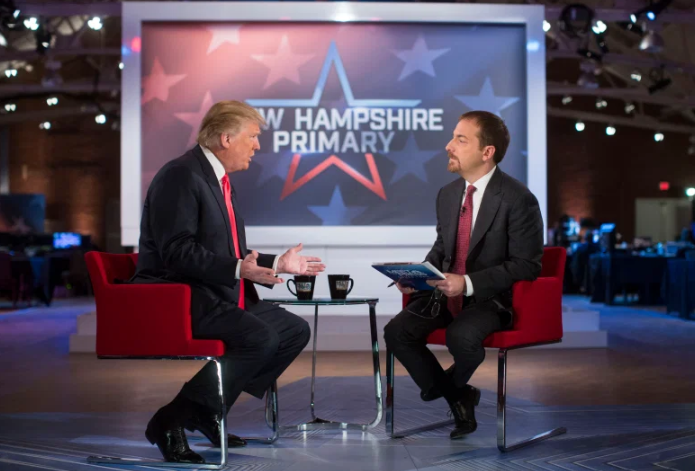 Source: @time.com
Early Life of Chuck Todd
Chuck was born on 8th April 1972, in Miami, Florida. Chuck Todd's full name or born name is ''Charles David Todd''. His birth nation is America while his nationality is American. Todd belongs to American-White ethnicity whereas his race is white. His star sign is Aries. Chuck celebrates his birthday on 8th April of every year and he had celebrated his 48th birthday as of 2020. He is the son of Lois Cheri (mother) and Stephen Randolph Todd (father). Chuck is Jewish on his mother's side and was raised Jewish. Todd is graduated from Miami Killian Senior High School in Kendall, an unincorporated suburban community in greater Miami. He attended George Washington University from 1990 to 1994. He declared a major in political science and a minor in music but did not earn a degree. Todd received an honorary Doctor of Humane Letters degree from Marymount University in recognition of his work in journalism.
Career of Chuck Todd
Chuck Todd earned practical political experience on initiative campaigns in Florida and various national campaigns based in Washington, D.C, before entering the world of political reporting and analysis.
He worked for the 1992 presidential campaign of Senator ''Tom Harkin'' (D-Iowa) and later Todd started working part-time at National Journal's ''The Hotline'' when he was in college.
Chuck worked for National Journal's The Hotline from 1992 until 12th March 2007, where he was editor-in-chief for six years.
Todd became a frequent guest on political discussion shows, such as Hardball with Chris Matthews and Inside Politics with Judy Woodruff.
In March 2007, ''Tim Russert'' brought Todd to NBC from The Hotline and became NBC News' political director.
In that role, he often provided on-air political analysis on political discussion shows, including Morning Joe, Hardball with Chris Matthews, Meet the Press, NBC Nightly News with Lester Holt, and The Rachel Maddow Show and blogged for MSNBC at "First Read."
In June 2008, after Tim's death, Chuck was a candidate to replace him as the host of NBC's Meet the Press, but David Gregory was ultimately selected for the job.
On 18th December 2008, NBC announced that Chuck Todd would succeed Gregory as NBC News Chief White House Correspondents, partnering with ''Savannah Guthrie'' on the news beat.
He was a focus of an August 2008 ''Los Angeles Times'' article paralleling his rise to the rise of cable news networks in coverage of U.S. politics.
As of October 2009, Chuck ranked right before ''Mike Wallace'' as number five.
He rose to number two as of 21st December 2011, but as of 9th January 2013, he fell to 90.
He became Co-host, with Savannah Guthrie, of ''The Daily Rundown'' on 11th January 2010 on MSNBC, airing weekday mornings from 9:00 a.m. to 10:00 a.m. ET.
NBC announced on 14th August 2014, that Chuck would take over as the host of Meet the Press beginning 7th September 2014.
Chuck interviewed ''Kellyanne Conway'' on 22nd January 2017 on Meet the Press, the day after ''White House Press Secretary Sean Spicer'' accused the media of deliberately under-reporting the crowd size at ''President Trump's inaugural ceremony''.
In March 2018, President Trump, insulted Todd calling him sleepy eyes and said, ''he is a sleeping son of a bitch, I will tell you''.
After that, he responded in a very subtle and sarcastic manner by tweeting, ''I bring my kids up to respect the office of the presidency and the president and I don't allow them to say anything negative, ever, about the president''.
Then in September, President Trump told Todd that he won the Fight Against Media.
On 26th and 27th June 2019, Chuck, along with Jose Diaz-Balart, Savannah Guthrie, Lester Holt, and Rachel Maddow, moderated the first pair of 2020 Democratic Party presidential debates.
Chuck Todd came under fire on 11th February 2020, after quoting a conservative columnist on air during his show about 2020 presidential candidate Bernie Sanders that compared Sanders and his supporters to Nazi Brownshirts.
Chuck is an adjunct professor at Johns Hopkins University and the author of The Stranger: Barack Obama in the White House which was published in 2014, the Chicago Tribune described the book as "richly sourced and deeply informed," while Publishers Weekly called it "an even-handed, concise, and thorough account."
Chuck Todd is also co-author, with Sheldon Gawiser, of How Barack Obama Won: A State-by-State Guide to the Historic 2008 Presidential Election, which was published in 2009.
He picks NFL football games for Tony Kornheiser on his podcast The Tony Kornheiser Show and every weak he is pitted against Reginald, a monkey who also picks NFL games.
MSNBC's Todd blasted by left for saying Trump 'has turned a corner' on masks.
MSNBC anchor Chuck Todd was slammed by the left for noting the evolution President Trump has had on wearing masks amid the coronavirus pandemic.
Personal Life of Chuck Todd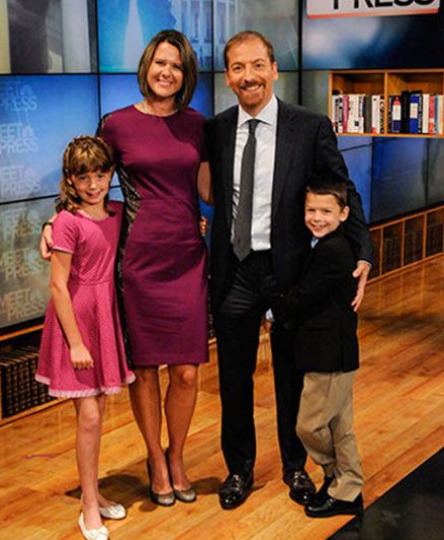 Source: @pinterest.com
Regarding his personal life, he is married with ''Kristian Denny'' who is a communication professional and Co-founder of Maverick Strategies and Mail, which provides direct mail and consulting services for Democratic candidates and progressive causes. Denny was the spokesperson for the successful U.S. Senate campaign of Senator Jim Webb in 2006. The couple resides in Arlington, Virginia with their two children. Chuck is a congregant in the Reform congregation of Temple Rodef Shalom in Falls Church, Virginia. Talking about his sexual orientation, he is a straight guy.
Net Worth Chuck Todd
Moving toward his net worth his job pays him a perfect salary of $750k per year and has accumulated an estimated net worth of $2 million. His key source of income is from Journalism. As of 2020, he will earn millions of dollars from his journalist career. He is satisfied and happy with his earnings.
Body Measurement of Chuck Todd
Talking about Todd's body measurement, he has got a good height of 5 feet and 2 inches. Todd keeps gaining and losing weight so his exact weight is not known. His hair color is brown and has mixed colored eyes, which are brownish-black. He is healthy, fit, and fine till now.