Ciryl Gane, known by his moniker "Bon Gamin," is a French professional mixed martial artist. He is famous for competing in the Heavyweight division of the Ultimate Fighting Championship (UFC). He boasts the title of a former Interim UFC Heavyweight Champion and commenced his professional fighting career in 2014. Gane's earlier stint included competing for TKO Major League MMA, where he held the Heavyweight Championship. As of July 4, 2023, he holds the #2 spot in the UFC heavyweight rankings, and his training is overseen by his coach Fernand Lopez.
Ciryl Gane Family Details
Ciryl Gane, born on April 12, 1990, hails from La Roche-sur-Yon, France, and proudly carries French nationality. His real name is Ciryl Jacky Gane, and he belongs to a mixed ethnicity, with Guadeloupean roots through his father. Celebrating his 33rd birthday in 2023, Gane was raised in a Christian family. His father, Romain Gane, had a career as both a bus driver and a footballer in the Division d'Honneur. During his youth, he showcased his sporting prowess by participating in football and basketball. Despite his athletic talents, Gane decided to pursue a career in sales at a furniture store, while also enrolling in a work-study program in Paris.
Ciryl Gane Career
Introduced to Muay Thai by a former classmate, Gane embarked on his professional journey in the combat sports world.
His impressive Muay Thai career included victories in bouts against formidable opponents like Jérémy Jeanne, Samih Bachar, Brice Guidon (via third-round knockout), Jonathan Gengoul (first-round knockout), and Bangaly Keita (third-round knockout).
He also faced the renowned multiple-time WBC Muaythai champion Yassine Boughanem at Duel 2, securing a victory by decision.
Transitioning to mixed martial arts (MMA) in 2018, Gane initially signed with the Canadian MMA promotion TKO, where he clinched the vacant TKO heavyweight championship in his debut fight against Bobby Sullivan.
He continued his success in MMA with wins over Adam Dyczka (second-round TKO) and Roggers Souza (first-round TKO).
Ciryl Gane's remarkable journey in the world of mixed martial arts began with his promotional debut on August 10, 2019, at UFC Fight Night: Shevchenko vs. Carmouche 2, where he triumphed in the first round against Raphael Pessoa.
His meteoric rise continued as he faced and conquered opponents like Don'Tale Mayes, Tanner Boser, Junior dos Santos, Jairzinho Rozenstruik, and Alexander Volkov in subsequent bouts, showcasing his dominance in the UFC.
One of his career-defining moments came on August 7, 2021, when he defeated Derrick Lewis at UFC 265 for the Interim UFC Heavyweight Championship, earning the Performance of the Night award.
While his winning streak was impressive, he faced a setback against Francis Ngannou on January 22, 2022, at UFC 270.
Nevertheless, Gane swiftly rebounded with a spectacular knockout victory over Tai Tuivasa on September 3, 2022, at UFC Fight Night 209, a performance that earned him the Fight of the Night honor.
He next faced Jon Jones for the vacant UFC Heavyweight Championship on March 4, 2023, at UFC 285. He lost via a guillotine choke submission in the first round.
Gane then faced Sergey Spivak on September 2, 2023, at UFC Fight Night 226. He won the fight via TKO in the second round. The win also earned Gane his third Performance of the Night bonus award.
Boasting a remarkable MMA record of 12 victories with only 2 losses in 14 matches, Gane consistently enthralls fans with his exceptional talents and unwavering determination inside the octagon.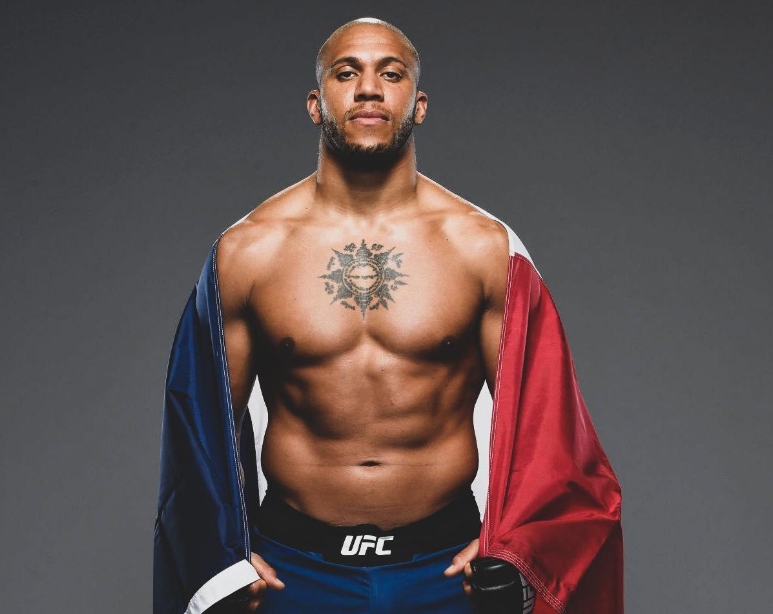 Ciryl Gane Awards and Achievements
Muay Thai
Académie Française de Muay Thai
AFMT National Title +91 kg (+201 lb) (One time)
One successful title defense
Mixed martial arts
Ultimate Fighting Championship
Interim UFC Heavyweight Championship (One time)
Performance of the Night (Three times) vs. Don'Tale Mayes, Derrick Lewis, and Sergey Spivak
Fight of the Night (One time) vs. Tai Tuivasa
Tied (Andrei Arlovski & Cain Velasquez) for second longest win streak in UFC Heavyweight division history (7)
TKO Major League MMA
TKO World Heavyweight Championship (One time)
Two successful title defenses
Sherdog
2021 Breakthrough Fighter of the Year
Ciryl Gane Salary
Ciryl Gane, a professional mixed martial artist, has amassed an estimated net worth of $2 million as of 2023, primarily derived from his successful MMA career. He is a prominent UFC heavyweight with career earnings totaling up to $1,473,500, and his average salary stands at approximately $750,000. In his recent bout against Jon 'Bones' Jones at UFC 285, despite losing the fight, Gane received a substantial paycheck of $782,000, consisting of a $750,000 base salary and $32,000 from sponsorship deals. Notably, when he won the interim UFC Heavyweight Championship, Gane earned a prize of $350,000 and an additional $50,000 as a Performance of the Night bonus. His highest earnings in a single fight came from his match against Francis Ngannou at UFC 270, where he took home a total of $542,000.
Additionally, Gane serves as the current social inclusion ambassador for the greater Paris authority and enjoys sponsorship deals with DFNS Sneakers and Apparel Care, with Gymking being the major supplier of his gym merchandise. Living a lavish lifestyle, he resides in an opulent residence in Nogent-sur-Marne, France, featuring a spacious lawn and a swimming pool. Gane's passion for vehicles is evident, as he owns both a luxurious Mercedes Benz G Class known for its robust off-road capabilities and lavish interior, and a Yamaha Tenere 700 motorcycle, a popular choice among adventure riders due to its versatile and rugged design.
Ciryl Gane Wife
Ciryl Gane is a married man, but he maintains a high level of privacy regarding his personal life, refraining from revealing his wife's name to the media, which remains a mystery. What is known is that Ciryl and his wife are parents to two daughters. In August 2021, the fighter shared a photo on his Instagram where he was seen holding a child, yet he deliberately kept the newborn's identity undisclosed. The family currently resides in Nogent-sur-Marne, situated in the eastern suburbs of Paris.
Ciryl Gane Hair
Ciryl Gane is an attractive fighter, standing tall at 6 feet 4 inches (193 cm) and maintaining a well-proportioned bodyweight of 248 pounds (112 kg; 17 stone 10 pounds). He boasts an impressive reach of 81 inches (206 cm) and sports tattoos on his chest and hands. With black eyes and a bald head, he pays significant attention to his physique through regular exercise, resulting in an athletic and muscular build.