About Cody Simpson
Cody Robert Simpson shortly named as Cody Simpson is a famous Australian singer, songwriter, dancer, and actor. Moreover, he is also a model. He began to record songs in his bedroom during the summer of 2009 on YouTube. Since then, he is active in the music industry. He released his debut single, "iYiYi" (which features American rapper Flo Rida), on 15th May 2010. In the year 2012, Cody released his first studio album "Paradise" under Atlantic Records. The album contains 10 singles making it a total length of 23:30 minutes. One of the single "Wish U Were Here" features Becky G. "So Listen" was released as a promotional single for the album, which features rapper T-Pain. He has also won the first season of an Australian show, "The Masked Singer Australia". He had portrayed the lead role of Dmitry in the Broadway musical Anastasia from November 2018 through April 2019. He is currently signed to the talent agency, "ICM Partners". He trained at the Miami Swimming Club under coach Ken Nixon and won two gold medals at the 2009 Queensland Swimming Championships. Moreover, he was a brand ambassador of the Build-A-Bear Workshop in 2012, brand ambassador for Teen Cancer America in 2013, and brand ambassador for the Home Grown campaign. His book "Prince Neptune" is set to release in April 2020. He has more than 7 million followers on Twitter and over 3.9 Million followers on Instagram. Recently, Cody Simpson and his girlfriend, Miley Cyrus called the relationship quits.
Cody Simpson is famous for being an Australian singer, songwriter, dancer, actor, and model. He is best known for singing various songs such as iYiYi (debut single), released in 2010, and for his debut EP album, "4U".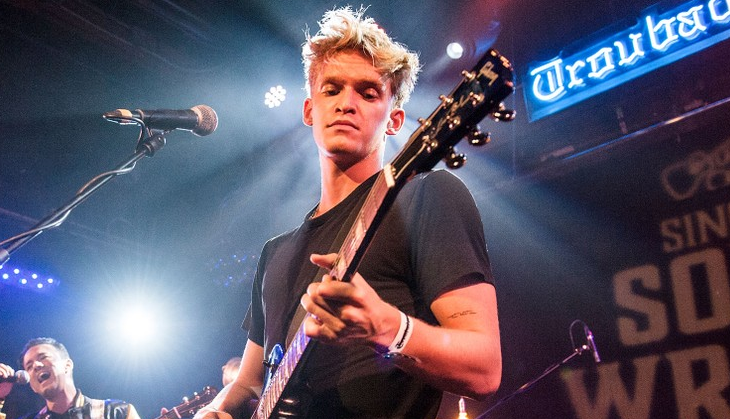 SourcE: @billboard
Cody Simpson was born on 11th January 1997, in Gold Coast, Queensland, Australia. His birth name/real name is Cody Robert Simpson. His nationality is Australian and he belongs to Australian-White ethnicity. Capricon is his zodiac sign and his religion is Christian. As of 2020, he celebrated his 23rd birthday. He was born to his parents; Brad Simpson (father) and Angie Simpson (mother). He was raised in his hometown along with his two siblings: a brother, Tom who is more into science and research, and a sister, Alli who is also a musician. His parents are very supportive as they now have been shifted to the US to support Cody's dream and passion. His mother, Angie worked as a volunteer at the swimming club. For his education, he attended All Saints Anglican School where he was a talented swimmer. He even had won two gold medals at the 2009 Queensland Swimming Championships. He was trained at the Miami Swimming Club under coach Ken Nixon. Prior to his professional career, he began to record songs in his bedroom during the summer of 2009 on YouTube, performing "I'm Yours" by Jason Mraz, "Cry Me a River" and "Senorita" by Justin Timberlake, "I Want You Back" by The Jackson 5, and his own songs, "One" and "Perfect". He was subsequently discovered on YouTube by Shawn Campbell.
Cody Simpson is a very hot and handsome singer with a tall height of 6 ft (1.83 m). His body weight consists of 73 Kg (161 lbs). He also has an eye-catching six-pack abs body with a body measurement of 39-14-32 inches. He has blue eyes with blonde hair color. Overall, he has got a perfect body build. He has tattoos on his body: left forearm of his record label representing the sun, water, and earth, a large anchor on his right hand, large sun below his right shoulder, 'Old man river' on his arm, skull, and crossbones inked on his chest, Elvis Presley thumb-sized drawing on his forearm.
Cody Simpson's Singing Career
Releasing his debut single, "iYiYi" (which features American rapper Flo Rida), on 15th May 2010, Cody Simpson rose to fame.
Similarly, the music video for Simpson's second single, "Summertime", was released on 20th September 2010.
He then shifted to LA to record his songs with Atlantic Records' Shawn Campbell in June 2010.
He then went on "Camplified 2010 Tour" from 5th July to 14th August 2010.
On 21st December 2010, his first EP album titled "4 U" was released which included five tracks.
He also recorded a remake of the song "I Want Candy" by The Strangeloves as the main theme song for the Easter-themed live-action/CGI-animated film "Hop".
On 9th April 2011, he started "Waiting 4U tour" alongside Greyson Chance.
On 20th September 2011, his second EP titled "Coast to Coast" was released by Atlantic Records.
After that, he released the single "On My Mind" on 23rd April 2011.
On 12th June 2012, he released his third EP titled "Preview to Paradise" containing four songs from his upcoming debut studio album, Paradise, which was released on 2nd October 2012.
On 16th July 2013, he released his second studio album, "Surfers Paradise" which is his first album to reach the top 10 on Billboard 200.
On 19th November 2013, he released an acoustic album called "The Acoustic Sessions", featuring the songs "Pretty Brown Eyes", "All Day", "La Da Dee", "Wish U Were Here", and a cover of "Please Come Home for Christmas" recorded acoustically.
He partnered with professional dancer Witney Carson on the 18th season of Dancing with the Stars on 4th March 2014. He was eliminated on Week 5 of the competition and finished in 9th place.
From 30th June 2014 to 14th July 2014, he did an acoustic tour through Europe with singer Jackson Harris.
He then released his third and first independent studio album, "Free" on 10th July 2015, after departing with Atlantic Records.
He also released his single from the album "Flower" and "New Problems".
In the year 2017, he formed his own band, "Cody Simpson and the Tide" with released debut single, "Waiting for the Tide".
Cody and the Tide released their debut EP titled "Wave One" in the year 2017.
In August 2018, the band released an "Underwater" music video song.
Later, the band split up in early 2019.
After that, his solo career began by releasing the song "Golden Thing" which he wrote for Miley Cyrus on 18th October 2019 which crossed over 1 million views on Spotify.
In the same year, he participated in The Masked Singer Australia, as the "Robot" and went on to win the show.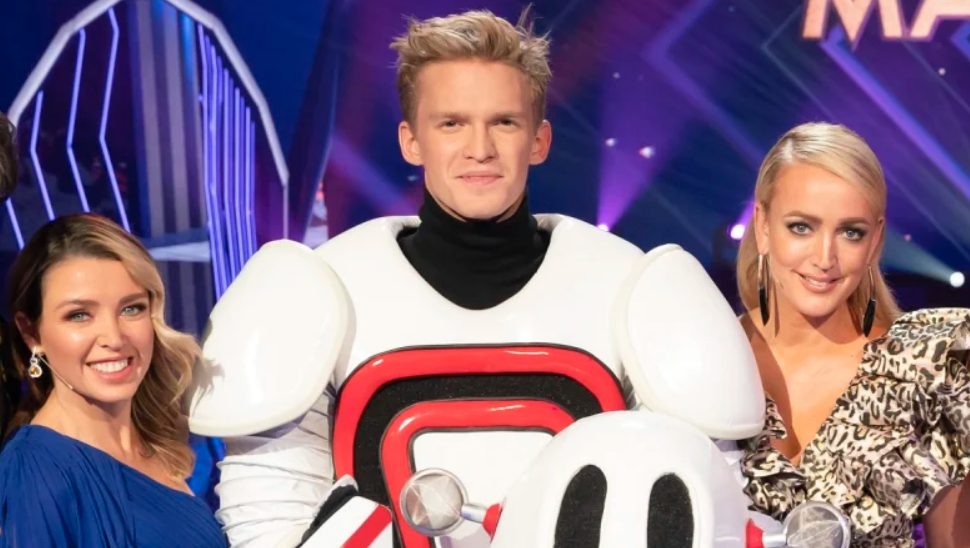 Source: @smh.com.au
He's set to release his upcoming full-length solo album which will cover the pop, rock, and urban songs in the year 2020.
Beside this,
Cody Simpson made his television debut by making a cameo in a sitcom "Instant Mom" in 2014.
He guest-starred on the American television sitcom Cougar Town, portraying Pete, a high school student in 2015.
In late 2017, Simpson was cast in the supporting role in Bret Easton Ellis' thriller film, The Smiley Face Killers opposite actor Crispin Glover.
In October 2018, he debuted on Theatre when he was cast in the Broadway musical Anastasia as the leading male character Dmitry, alongside John Bolton and Christy Altomare.
He is also a member of the University of Southern California (USC)'s Trojan Swim Elite team.
He even has released his autobiography titled "Welcome to Paradise: My Journey".
Awards and Achievements of Cody Simpson
Cody Simpson is an award-winning actor who has won many awards until now. He won the "Nickelodeon Australian Kids Choice Awards" for Fresh Aussie Musos in the year 2010. He also won Breakthrough of The Year for "Breakthrough Internet Sensation" the same year. In the yar 2013, he received the MTV Europe Movie Awards for the "Best Australian Act" and Young Hollywood Awards for Role Model. In the year 2015, he was awarded World Music Awards for "Worlds Best Male Artists". He also won GQ Men of the Year Awards and Huading Awards for International Sensation and International Male Artist in 2015.
Cody Simpson and Miley Cyrus BREAK-UP
Cody Simpson is not married yet and he is still to get married. Recently, Cody Simpson and his girlfriend, Miley Cyrus called the relationship quits. Cyrus seemingly teased the breakup on Instagram while promoting her self-directed video for her latest single, "Midnight Sky". The pop star captioned a photo earlier this week: "Forever and ever no more. The #MidnightSky is the road I'm taking … head up high in the clouds." The duo began their romance in October 2019. Simpson is four years younger than Cyrus. They were spotted in a grocery store in Los Angeles picking stuff and kissing each other. They used to hang out earlier too, however, the frequency and nature of their meeting had changed. Their romance blossomed after Miley's break-up with her short time girlfriend Kaitlynn Carter in September 2019. As of today, Cody Simpson seems to be single. His sexual orientation is straight.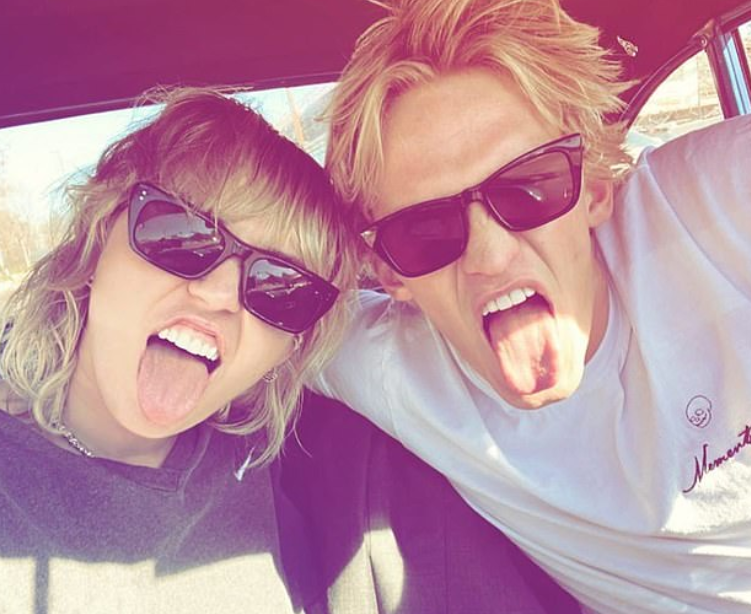 Source: @readsector
Previously, Cody Simpson dated Joanne Heraghty with whom he was in a relationship for two years. After that, Bella Thorne dated Cody in April 2011. They had some flirts on Twitter too and went for a movie date while attending the premiere "Mars needs Moms". They separated after dating a couple of months in June 2011. Kylie started dating Cody in October 2011 and later the pair split in 2012. He also dated the popular model, Gigi Hadid for two years starting from 2013. They had chemistry but they soon ended up their story in May 2014. It was also alleged that after their breakup, Hadid realized his relationship from Cody's song, "New Girls, New Problems". In July 2018, Cody was seen for the first time kissing model Clair Wuestenberg outside Blue Bottle Coffee. After that, they were seen multiple times showing PDA. However, the relationship ended soon, somewhere near the beginning of 2019.
Cody Simpson's Net Worth 2020
Cody Simpson is a very talented singer who has earned a huge amount of money from his career. As of 2020, the net worth of Cody Simpson is estimated to have $6 Million as per sources. He also earns a cool amount of money from his acting career. His major source of earning is from singing career through his several hit albums, singles, tour, concerts, and more. There is no doubt in the mind of his followers that he is receiving a considerable amount of salary from his earnings. Moreover, he was a brand ambassador of the "Build-A-Bear Workshop" in 2012 and after that, he became a brand ambassador for "Teen Cancer America" and "Home Grown campaign". He was also featured in "Stellar". In February 2020, he had appeared in Australia's new Bonds "WeGotsYou" campaign. He is signed with the talent agency ICM Partners. As of today, he is living a luxurious lifestyle from her earnings.