About Corey Lewandowski
An American political operative, lobbyist, political commentator, and author is named Corey Lewandowski. He was also a political commentator for One America News Network (OANN), Fox News, and CNN. He was also a campaign manager of Donald Trump's 2016 campaign for President of the United States from January 2015 to June 2016. Before joining Trump's campaign, he worked on several campaigns for Congressman. He has also worked for the conservative advocacy group Americans for Prosperity and was a lobbyist. Moreover, he also co-founded Avenue Strategies and left the firm in May 2017. Recently, it was reported that Lewandowski had contracted COVID-19 after attending an election night event at the White House on 12th November 2020. He hаd аlѕо ѕеrvеd іn thе роѕіtіоn оf а Ѕеаѕоnаl Маrіnе Раtrоl Оffісеr Тrаіnее fоr аbоut 3.5 уеаrѕ аnd еvеn соmрlеtеd hіѕ grаduаtіоn frоm thе Nеw Наmрѕhіrе раrt-tіmе Роlісе Оffісеr Асаdеmу.
Recently, Corey Lewandowski, an adviser to President Donald Trump's campaign, has tested positive for the coronavirus, he confirmed to CNN on Thursday. Lewandowski said he is feeling fine and will stay home as a precaution. He joins a growing list of individuals close to the President to have tested positive for the virus this week after attending campaign events in the lead-up to and days after the election. David Bossie, one of the President's political advisers, Housing and Urban Development Secretary Ben Carson, and White House political affairs director Brian Jack all tested positive for the coronavirus this week.

Corey Lewandowski is famous for being a political operative, lobbyist, political commentator, and author. He is best known for being a campaign manager of Donald Trump's 2016 campaign for President of the United States from January 2015 to June 2016.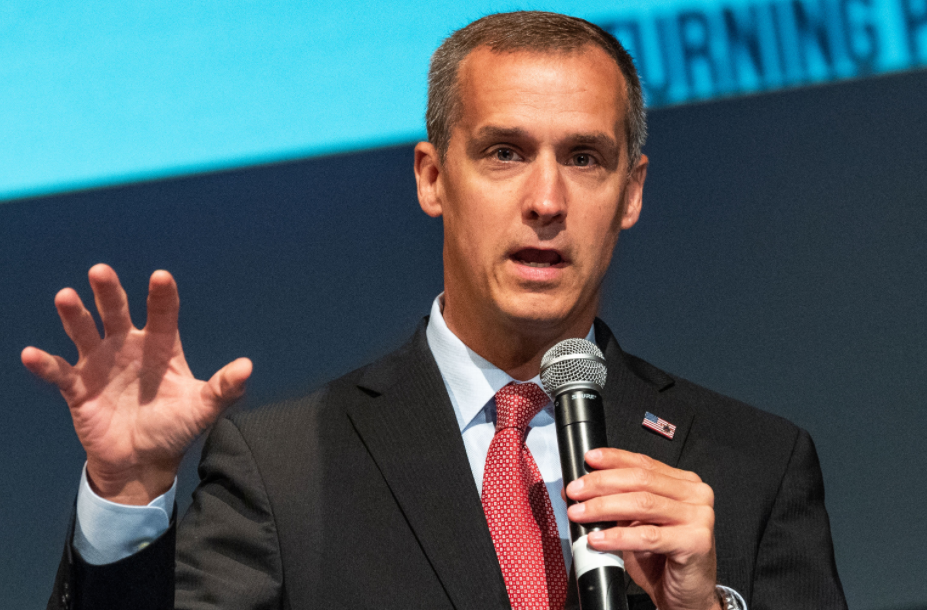 Source: cnbc
On 18th September 1973, Corey Lewandowski was born in Lowell, Massachusetts, the U.S. He holds an American nationality and his ethnic background is Mixed as he is of Polish and French-Canadian descent. His race is White. As of 2020, he celebrated his 47th birthday. As per his education, he graduated in 1991 from Lowell Catholic High School, a private, not-for-profit, college-preparatory school in Lowell. In the year 1995, he graduated from the University of Massachusetts Lowell with a B.A. in political science. He received a master's degree in political science from American University in Washington, DC, in the year 1997. Not only this but also he graduated from the New Hampshire police academy in the year 2006, and worked from the year 2006 until 2010 as a seasonal marine patrol officer trainee. His Zodiac sign is Virgo and his religion is roman catholic. Details regarding his parents and siblings have not been revealed yet. Only it is known that one of his grandfathers was a printer.
At the age of 47, Corey still looks very handsome. His body build is slim. He has a tall height of 1.67 m and his balanced weight consist of 75 kg. His other body measurements are still to get unfold yet.
Corey Lewandowski's Political Career
Corey ran for a seat in the Massachusetts House of Representatives as a write-in candidate in the Republican primary while he was an undergraduate student where he received 143 votes. After his graduation, he worked as an aide for Republican Massachusetts Congressman Peter G. Torkildsen from January 1996 to January 1997.
In 1997, he interned for Massachusetts State Senator Steven C. Panagiotakos, a Democrat. He also worked as an administrative assistant for Ohio Republican Bob Ney, a U.S. Congressman. He worked most of 2001 for the Republican National Committee as the Northeast legislative political director.
He was the campaign manager for the 2002 re-election campaign of U.S. Senator Robert C. Smith of New Hampshire.
He was executive director of the New England Seafood Producers Association from the year 2003 to the year 2004. He worked for Schwartz MSL, a strategic communication and engagement firm from the year 2004 to 2012.
He began working for Americans for Prosperity, a Koch brothers-backed advocacy group in the year 2008. He unsuccessfully ran for town treasurer of Windham, New Hampshire in the year 2012.
He first met Trump in April 2014 at a political event in New Hampshire.
He was invited to Trump Tower, where he accepted an offer from Trump to become campaign manager. His salary was $20,000 per month at that time.
After a win by Trump in New Hampshire on 9th February 2016, Trump acknowledged his role in the win by praising his ground game.
He was charged with one count of simple battery by the Jupiter Police Department and surrendered himself to the authorities on 29th March, after releasing a statement maintaining his innocence.
His influence within the Trump campaign was reported to be waning in April 2016. On 20th June 2016, Trump's campaign announced that it was parting ways with Lewandowski. He then joined President Trump in the Oval Office for a one-on-one meeting on 19th June 2017 and again met Trump on the same on 19th June 2017.
He was called to testify in front of the House Judiciary Committee in September 2019.
After leaving the Trump campaign, he was hired by the cable news network CNN as a political commentator. He received severance pay from the Trump campaign while working for CNN.
He defended Trump who had been criticized after tweeting a graphic that labeled Hillary Clinton the "most corrupt candidate" alongside a pile of cash and a six-pointed star evoking the Star of David in July 2016. He then resigned as a CNN commentator on 11th November 2016 amid speculations that he would play a role in the Trump administration.
Later, he appeared in an interview on Fox Business Network on 2nd October 2019.
Leaving CNN, he began working as a political commentator for the cable news television channel One America News Network (OANN).
He was fired from OANN on 31st July 2017, for appearing on news networks outside of OANN.
Lewandowski and Barry Bennet co-founded as equal partners a political consulting firm called "Avenue Strategies" on 21st December 2016. After five months on 4th May 2017, he left Avenue Strategies. After that, he incorporated Lewandowski Strategic Advisors in Delaware on 12th May 2017.
In December 2017, the memoir "Let Trump Be Trump", co-authored by Lewandowski and David Bossie, was published by Center Street.
He announced in a statement to New Hampshire ABC-affiliate WMUR that he was "very seriously" considering seeking the Republican nomination to oppose incumbent Democratic Senator Jeanne Shaheen in the 2020 United States Senate election in New Hampshire. He announced it on 1st August 2019.
At a Donald Trump 2020 presidential campaign rally in Manchester, New Hampshire on August 15, Trump praised him and encouraged him to enter the race.
He then announced he would not run for Senate in New Hampshire saying, "After much consideration, I have decided to forgo a campaign for the US Senate," in a tweet. He also said in the tweet, "I am certain I would have won".
He later attended Donald Trump's 2020 Election Day party at the White House.
On 12th November 2020, Bloomberg News reported that he had tested positive for COVID-19, as had several others who attended.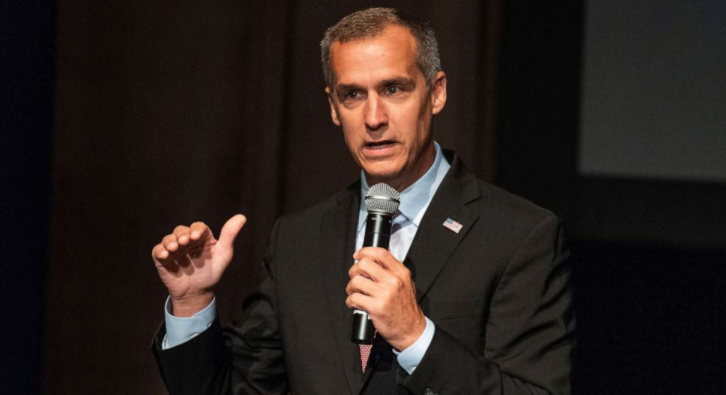 Source: @abc7news
Corey Lewandowski's Wife, Alison Hardy
Corey Lewandowski is a married man. He married his beautiful wife, Alison Hardy who was his long-time girlfriend. The duo met each other when Lewandowski was in ninth grade and Alison was in eighth grade. His wife initially married Brian Kinney. Unfortunately, Alison's spouse, Kinney was killed on 11th September 2001 after Al-Qaeda terrorists hijacked his flight, United Airlines 175, and flew it into the South Tower of the World Trade Center. In the year 2005, Lewandowski married Hardy. The duo is blessed with four kids/children and the couple is enjoying their life a lot in Windham, New Hampshire. His sexual orientation is straight and he is not gay.
Corey Lewandowski's Net Worth 2020
Corey Lewandowski is a famous political commentator who has accumulated a huge amount of money throughout his career. As of 2020, the net worth of Corey is estimated to have $4 Million as per sources. His salary is $20K per month. His major source of wealth comes from his political career and he is satisfied with it. His other source of wealth comes from book career as well as from endorsement deals and more. He is living a luxurious lifestyle from his career earnings.