Daniel Arnold Tidwell shortly named as Danny Tidwell was a famous dancer from the USA who is best known for being the runner-up on Fox's third season of So You Think You Can Dance (SYTYCD) in 2007. He had also performed the works of renowned choreographers, including Debbie Allen, William Forsythe, and Mia Michaels. He was Travis Wall's brother, a runner-up of the second season of So You Think You Can Dance. Tidwell was the Artistic Director of Movmnt Magazine and was a soloist dancer with Norwegian National Opera and Ballet in Oslo. He left this world on 6th March 2020 due to a car crash.
Source: @pinknews.co.uk
So You Think You Can Dance star Danny Tidwell dies, age 35
The dancer, who was known for his appearance on So You Think You Can Dance, died in a car accident on Friday (6 March). His brother, dancer, and choreographer, Travis Wall announced his passing on social media on Saturday morning. "Yesterday I lost a brother. And we all lost a gift. I'm not ready. But I never think I will be," he wrote. "Because I can't believe this is real. I can't believe you're gone. You were more than my brother. You were my inspiration. "I idolized you growing up. Wanted to dance just like you. Wanted to be you! I wish I could jump in your arms again like we used to when we were kids and onstage dancing. You are a legend. And I love you so much, Danny." Travis said they will all "remember the joy and passion you brought to everyone you came in contact with throughout your journey" and asked his followers to pray for his family during this difficult time. Danny competed on the third season of So You Think You Can Dance and placed runner-up. Debbie Allen, a judge on his season, called him a "dancing genius" and a "prince among paupers" in a tribute on Twitter.
Cause of Death of Danny Tidwell
On 6th March 2020, Danny Tidwell died due to injuries sustained in a car crash. He was 35 years old at the time of his death.
Early Life of Danny Tidwell
On 1st August 1984, Danny Tidwell was born as Daniel Arnold Tidwell. His birthplace was in Norfolk, Virginia, the USA. He was raised in nearby Virginia Beach. His early childhood was turbulent, and he sometimes got into trouble. His religion was Christian. He was American by nationality and his ethnicity was mixed. He started dancing at the age of eight in an after-school program for at-risk youth. He lived with his biological mother and two sisters until he was ten, before moving in with Wall; she officially took custody of Tidwell when he was twelve years old. He was the adopted brother of dancer Travis Wall.
Career of Danny Tidwell
Regarding his early career, he received high-level classical ballet training with Vladimir Djouloukhadze and Anatoli Kucheruk, at first to improve his jazz dance.
He then got an opportunity to perform the roles in Dreams and Pearl by Debbie Allen.
In the year 2002, he submitted his audition tape to participate in the prestigious, quadrennial USA International Ballet Competition (USA IBC).
Later, the tape passed to Kevin McKenzie and then he offers Tidwell a place in the ABT Studio Company.
He was promoted into their corps de ballet just before the ABT's 2003 season began at the Metropolitan Opera House in May 2003.
He was given soloist roles in Le Spectre de la Rose and the peasant pas de deux from Giselle.
He was also a company member of the ABT's 2003 production of the Swan Lake that was later broadcast on the program Great Performances: Dance in America and released on DVD.
He was featured as one of Dance Magazine's 25 to Watch (appearing on the cover) and Pointe Magazine's Top 10 VIP in the year 2005.
In 2005, Tidwell, along with publisher David Benaym, photographer Roger Moenks, and choreographer Lauren Adams, co-created Moving Still, a "life performance".
He joined Complexions Contemporary Ballet for a season under the direction of company founders Dwight Rhoden and Desmond Richardson in 2006.
He then served as the magazine's Artistic Advisor.
He also posed for the cover in the Spring 2008 issue along with former SYTYCD contestant Sabra Johnson.
After that, he joined Complexions Contemporary Ballet for a season under the direction of company founders Dwight Rhoden and Desmond Richardson in 2006.
The New York Times, in an article titled "So He Knows He Can Dance: A Prince Among Paupers", praised the technically talented Tidwell, and noted that "his unflinching poise and his chiseled, determined jaw" can be misread on television.
He was even selected as one of the top twenty, he was paired up with ballroom dancer, Anya Garnis.
After that, Tidwell and Garnis performed a Foxtrot routine choreographed by Jean-Marc Genereux.
Garnis was asked to leave the competition after being in the bottom of three, while Tidwell made it into the top ten, earning him a spot in the planned 2007 So You Think You Can Dance Tour.
He appeared on the February 2008 cover of movmnt magazine, with Sabra Johnson, as part of an article about "Keep It Real", the magazine's non-profit organization.
He along with many previous finalists of So You Think You Can Dance, performed during American Idol's second annual Idol Gives Back charity event in April 2008.
He had his Broadway debut as a castmember in Memphis in September 2009.
Beginning in September 2010, Danny Tidwell resided in Oslo.
He was hired as a soloist for Norway's National Ballet.
Personal Life of Danny Tindell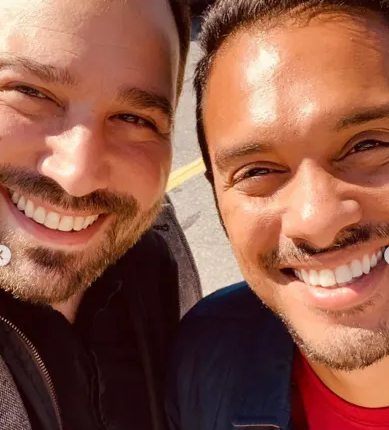 Source: @thehollywoodgossip.com
Talking about the personal life of Danny Tindell, he was a married person. He was married to David Benaym in May 2014. David Benaym is a journalist. He is gay by his sexual orientation. The duo was enjoying their life a lot prior to the death of Danny.
Net Worth of Danny Tindell
Danny Tidwell was a very famous dancer with a net worth of $460K. His salary has not been revealed by any sources yet but there is no doubt in the mind of his followers that he was earning a considerable amount of salary from his work prior to his death. His major source of earning was from his dancing career. He was satisfied with his earnings before his death.
Body Measurements of Danny Tindell
With an athletic body build, Danny Tindell stood at the tall height of 5 ft 10 in. His weight consisted of around 79 Kg. He was a very charming person with a glowing face. Moreover, he was a very handsome person attracting a lot of people towards him. Unfortunately, his body measurements such as biceps size, waist size and more have not been disclosed by any sources yet.