About Darren Till; MMA Fighter
Darren Till is an English mixed martial artist and former Muay Thai kickboxer and currently competing in the Middleweight division of the Ultimate Fighting Championship (UFC). On 30th May 2015, he made his Octagon debut. Till trains at Team Kaobon. Till also competed in the Welterweight division and once challenged for the UFC Welterweight Championship. As of 18th July, Darren is #5 in the UFC middleweight rankings. He began training in Muay Thai at the age of 12 and turned professional at the age of 15. He decided to train in MMA under Team Kaobon at the age of 17. Recently, he had faced Robert Whittaker on 26th July in which he lost against Robert.
Famous For
Being an English mixed martial artist and former Muay Thai kickboxer.
For being a professional UFC fighter.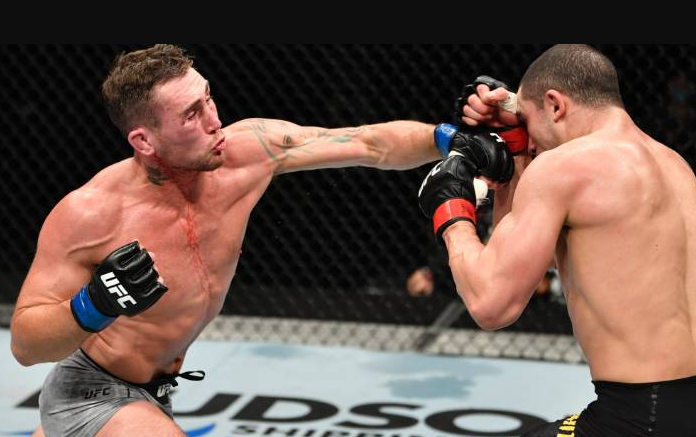 Source: @stuff.co.nz
Early Life of Darren Till
Darren Till was born on 24th December 1992 in Liverpool, England. His birth nation is the UK whereas nationality is British. He belongs to British-White ethnicity. His race is white and zodiac sign is Capricorn. He celebrates his birthday on 24th December of every year and he had celebrated his 27th birthday as of 2019. As a UFC fighter, Darren has not given details about his parents however, his sister's name is Caitlin.
Career of Darren Till
Till kick off his career in UFC by beginning training in Muay Thai at the age of 12 and turned professional at the age of 15 and made the decision to train in MMA under Team Kaobon at the age of 17.
He was involved in a fight at a party in August 2012 and was stabbed twice in the back, after confronting an enormous group of men. It was a near-death experience as the knife cut deep into his body, missing his primary artery by a millimeter.
After the incident, his then-coach ''Colin Heron'' advised him to go to Brazil to train with Kaobon's previous Luta Livre coach, Marcelo Brigadeiro, as living in Liverpool caused too much distraction in his life.
He moved to Brazil to pursue his MMA career and to teach Muay Thai.
Darren spent much of his former MMA career in Santa Catarina, Brazil, where he was part of the "Astra Fight Team".
He compiled an amateur record of 3-0 before turning professional, with a total of 11 fights in Brazil and one fight in Argentina. Prior to joining the UFC, Darren fought eight times in 2013 alone and his record was 12-0 with seven KO/TKO wins.
On 30th May 2015, he faced Brazilian Wendell de Oliveira Marques in his UFC debut on nine days' notice at UFC Fight Night 67. He knocked out Oliveira and secured his first UFC win.
Darren next faced Nicolas Dalby on 24th October 2015 at UFC Fight Night 76. After a back and forth fight, the bout was scored with a majority draw and both participants were awarded the ''Fight of the Night bonus''.
After a significant shoulder injury and various personal issues kept him out of action for an extended period, he returned to face Jessin Ayari on 28th May 2017 at UFC Fight Night 109.
Darren Till missed the non-title Welterweight limit of 171 pounds by 5 pounds and had to give 20 percent of his fight earnings to his opponent. He explained that he had missed weight for his long layoff from the competition and that his body had not responded as well to the weight cutting process as it had in the past.
On 1st August 2017, Darren Till announced that he had signed a new, five-fight deal with the UFC.
On 21st October 2017 at UFC Fight Night 118, he fights against Donald Cerrone and won the match. This dominant win earned him the ''Performance of the Night'' bonus award.
He faced former UFC Welterweight title challenger Stephen Thompson at UFC Fight Night 130 on 27th May 2018, which he won the fight. At the weigh-ins, Till weighed in at 174.5 pounds, 3.5 pounds over the Welterweight non-title fight limit of 171.
On 8th September 2018 at UFC 228, he was given the opportunity to face Tyron Woodley, challenging him for the UFC Welterweight championship. But he lost the fight via d'arce choke in the second round after being dropped by the champion.
Despite talks of a potential move up to Middleweight, he stayed at Welterweight and faced Jorge Masvidal on 16th March 2019 at UFC Fight Night 147. Darren lost the fight by knockout in the second round. Both participants were awarded a ''Fight of the Night'' bonus award.
On 26th August, it was announced Darren Till will return to the middleweight division, facing Kelvin Gastelum at UFC 244 on 2nd November. He won the fight via split decision.
On 26th July 2020 at UFC on ESPN, he faced Robert Whittaker but sadly lost the match.
''Israel Adesanya'' is still keen to defend his UFC middleweight title against Darren Till, despite Till's defeat to Robert Whittaker.
Till put up a brave and determined performance against former champion Whittaker in the supreme event of the ultimate card staged at UFC's Fight Island.
Till (18-3-1) has now lost three of his past four fights, but his performance against Whittaker is unlikely to hurt his stock too much.
The 27-year-old believes he showed he is at championship level and is keen to fight Whittaker again if he does not get the rematch with Adesanya next.
"There are a few fights there. If Rob doesn't get a title shot, I'd really enjoy going to New Zealand and fighting him again," Till said.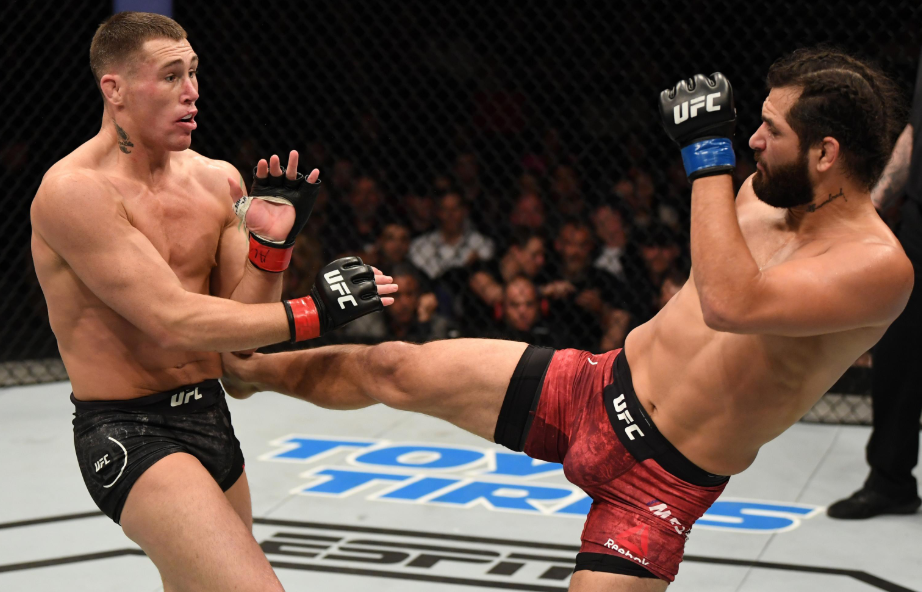 Source: @bleacherreport
Awards and Achievements of Darren Till
Ultimate Fighting Championship
Performance of the Night (One time) vs. Donald Cerrone
Fight of the Night (Two times) vs. Nicolas Dalby and Jorge Masvidal
2017 Breakthrough Fighter of the Year
2017 Rising Star of the Year
Controversies of Darren Till
Darren Till was involved in a fight at a party in August 2012 and was stabbed twice in the back, after confronting a group of men.
On 21st April 2019, it was revealed that Darren had been arrested in Tenerife, Canary Islands on 18th April after trashing a hotel room after he was asked to leave, and for also stealing a taxi cab while the driver was loading Till's luggage into the trunk. Till and four other involved individuals were sentenced for a crime of damage and unauthorized use of a vehicle and were fined approximately 10,000 pounds.
Personal Life of Darren Till
Moving towards Till's personal life, he is not a married guy. He is dating his girlfriend Cerrone. But Till has three daughters, Isabella (born 2014), Zara (born 2018), and Raya (born 2020). He was once involved in a stabbing incident that left him with two scars on his back. According to the 26-year-old Muay Thai stylist, he fought "multiple bouncers and patrons" at a club during a party in August 2012. Till wound up staying in the South American country for three and a half years, despite initial plans for a six-month stay. He is fluent in Portuguese. Talking about his sexual orientation, he is straight.
MMA Records
Professional record breakdown
22 matches 18 wins 3 losses
By knockout 10 1
By submission 2 1
By decision 6 1
Draws 1
Net Worth of Darren Till
Moving toward his net worth, he earns millions of dollars from his MMA career. Darren Till's net worth is around $1,00,000 to $1 million. As of 2020, Till's net worth is in millions of dollars. His source of income is from the MMA career. He had also a handsome amount of annual salary. He is satisfied with his earnings.
Body Measurement of Darren Till
Regarding his body measurement, handsome Till has a tall height of 6 feet or 183cm. His body weight is about 84 kg or 185 pounds. He has a tattoo on his left arm of the mother of his child for a birthday gift. He also has a tattoo on the right side of his neck with the name of his sister Caitlin. He is living a healthy, fit, and fine life.