About DeAndre Hopkins
An American wide receiver who is playing for the current team, Arizona Cardinals of the National Football League (NFL) is named for DeAndre Hopkins. He is also known as "Tuk". He began his football career since high school and then played college football at Clemson. As a true freshman at Clemson University, he led the Tigers in receptions. On 24th July 2013, he joined Houston Texans and penned a four-year deal for the price of 7.62 million dollars. His contract included a signing bonus of 3.93 million dollars. He had his NFL debut on 9th September 2013 as a member of the Houston Texans, he faced San Diego Chargers. Eventually, Houston won that game by 3 with the final score being 31-28. He is a four-time Pro Bowler and has also been named to four All-Pro teams. He made his first Pro Bowl in 2015. He was a first-team All-ACC selection in 2012 and was a second-team All-Pro in 2015. His shirt number is 10.
Recent in the news, DeAndre Hopkins and the Arizona Cardinals are closing in on a contract extension. Hopkins, who was traded from Houston to Arizona during the offseason, had three years remaining on his five-year, $81 million contracts. In terms of annual salary, Hopkins is currently tied for eighth among the league's highest-paid receivers, according to Over The Cap. Atlanta's Julio Jones, at $22 million annually, is currently the league's highest-paid receiver. He has made All-Pro each of the past three seasons. During his seven seasons in Houston, the former first-round pick caught 632 passes for 8,602 yards and 54 touchdowns. He also caught 104 of 150 targets for 1,165 yards and seven touchdowns while helping the Texans advance to the AFC divisional round. The Cardinals traded for Hopkins this offseason by sending running back David Johnson to the Texans, unloading his contract that includes a base salary of $10.2 million in 2020. Johnson is due a base salary of $8 million more in 2021.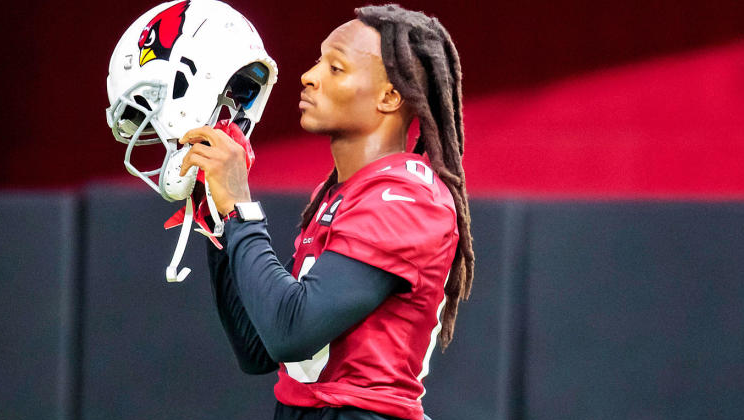 Source: @cbssports
DeAndre Hopkins is famous for being an American footballer. He is best-known for playing as a wide receiver for the Arizona Cardinals of the National Football League (NFL). He is also better known for being named the Tigers' MVP for the 1993 season and was known for his game-winning touchdown in the 1993 Peach Bowl, defeating Kentucky with seconds left.
DeAndre Hopkins was born on 6th June 1992 in Central, South Carolina with the birth name/real name of DeAndre Rashaun Hopkins. He holds an American nationality and his ethnicity is African-American. His race is black. His birth sign is Gemini and his religion is Christian. He was born to his parents; Harris Steve Hopkins (father) and Sabrina Greenlee (mother). Talking about his parent's profession, his father was a drug dealer who was killed in an accident when he was only 5 months old. His father died in a car accident on I-85. He was raised by his single mother with his siblings. He has two sisters and a brother, named Shanterria Cobb (Sister), Kesha Smith (Sister), Marcus Greenlee (Brother). In July 2002, his mother, Greenlee had a boiling concoction of lye and bleach thrown on her by Savannah Grant, age 24. She had caught her boyfriend having an affair with Grant. The attack resulted in the skin rapidly peeling off her neck, face, and back. Her boyfriend picked her up, placed her in his vehicle, and dropped her off at a nearby gas station. She suffered burns over 17 percent of her body. Her attacker was charged with assault and battery with intent to kill and received a 20-year sentence. Concerning his education, he went to D. W. Daniel High School in Central, South Carolina where he played for the football and basketball teams but also ran track. Upon his high school graduation, Hopkins joined Clemson University in 2010. As of 2020, he celebrated his 28th birthday.
DeAndre Hopkins, an athletic football wide receiver stands tall at the height of 6 ft 1 in or 1.85 in. He looks very handsome with a well-maintained body weight of 96 Kg or 212 lbs. He has got a charming smile with a glowing face being able to catch a lot of people's attention towards him. Overall, he has got a healthy body as of now. His eye color and hair color, both is black. His chest size is 49 in, waist size is 35.5 in and arms size is 16 in.
DeAndre Hopkins's Football Career
DeAndre Hopkins was active in football since his high school where he had 57 receptions for 1,266 yards and 18 touchdowns on offense and 28 interceptions and five touchdowns on defense for D.W. Daniel High School.
He played for the Clemson Tigers football team from 2010 to 2012 under head coach Dabo Swinney at Clemson University.
After that, he began his collegiate career with two receptions for 23 yards against North Texas in a win score 35-10 on 24th September 2010.
He had seven receptions for 124 yards and a touchdown in the final game of the regular season, the Palmetto Bowl against rival South Carolina.
Against Auburn, he had seven receptions for 83 yards and a touchdown in the victory in the season's third game in 2011.
He had nine receptions for 157 yards and a touchdown in the victory against North Carolina on 22nd October 2011.
He had 72 receptions for 978 yards and five touchdowns as a sophomore in the year 2011.
His 2012 season began with 13 receptions for 119 yards and a touchdown in a win over Auburn.
In the 2012 Chick-fil-A Bowl against LSU, he had 13 receptions for 191 receiving yards and two receiving touchdowns.
He left Clemson with a career record for receiving yards (3,020) and career touchdown grabs (27) with at least one score in each of the last 12 games.
He then decided to forgo his senior season at Clemson and enter the NFL Draft on 10th January 2013.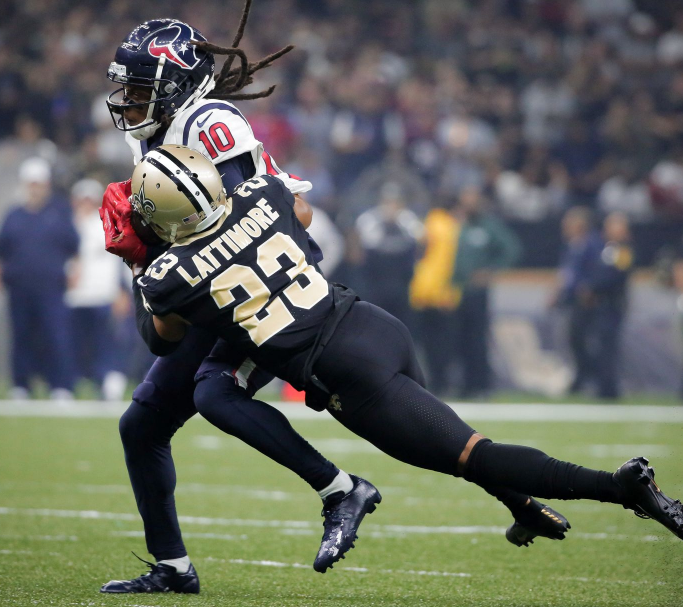 Source: @battleredblog
DeAndre Hopkins was selected by the Houston Texans in the first round (27th overall) of the 2013 NFL Draft in the 2013 season being the second wide receiver in franchise history to be drafted in the first round.
The Houston Texans signed him to a four-year, $7.62 million contract that included $6.18 million guaranteed and a signing bonus of $3.92 million on 24th July 2013.
He made his debut match against the San Diego Chargers where he made five receptions for 55-yard in the 31-28 victory.
He then caught a season-high seven passes for 117 receiving yards and scored his first career touchdown reception on a three-yard pass from quarterback Matt Schaub in the Texans' 30-24 overtime victory against the Tennessee Titans on 15th September 2013.
Moreover, he was named to the NFL All-Rookie Team for the 2013 season finishing the 2013 season with 52 receptions for 802 receiving yards and two touchdowns.
At the starting of the 2014 season, he caught four passes for 89-yards and scored a new career-long 76-yard touchdown on a pass by quarterback Ryan Fitzpatrick against Washington Redskins with the victory score of 17-6.
He then had six receptions for 116-yards during a 30-14 victory over the New York Giants on 21st September 2014.
He was the Houston Texans leading receiver in 2014, recording 76 receptions for 1,210 yards and six touchdowns in 16 games and 16 starts.
He started the Texans' 2015 season-opener against the Kansas City Chiefs and caught nine passes for 98-yards and two touchdowns as the Texans lost 27-20.
He finished the 2015 season with then-career highs in receptions (111), receiving yards (1,521), and touchdowns (11) being ranked 19th by his fellow players on the NFL Top 100 Players of 2016.
At the starting of the 2016 season, he was fined $6,076 for an equipment violation regarding improper cleats on his shoes on 15th September 2016.
Later, the Houston Texans signed him to a five-year, $81 million contract extension with $49 million guaranteed and a signing bonus of $7.5 million on 31st August 2017.
He caught the first NFL touchdown pass of quarterback and fellow Clemson Tiger Deshaun Watson's career during the season opener against Jaguars.
He was named as a First-Team All-Pro for the 2017 season and was ranked 13th by his fellow players on the NFL Top 100 Players of 2018.
He did not play later games in Week 17 due to a calf injury.

He recorded six catches for 110 yards and a touchdown in the 20-17 loss against the Tennessee Titans in Week 2 of the 2018 season.
He finished the 2018 season with a career-high 115 catches for a career-high 1,572 receiving yards and 11 touchdowns.
He had eight catches for 111 yards and two touchdowns in the 30-28 loss against the New Orleans Saints on Monday Night Football in the 2019 season-opener.
He caught 5 passes for 41 yards and threw for a pass that was intercepted by cornerback Ross Cockrell in the 16-10 loss against Carolina Panthers.
In the next game against the Oakland Raiders, he caught a season-high 11 passes for 109 receiving yards in the 27-24 victory.
Against the New England Patriots on Sunday Night Football, he caught five passes for 64 receiving yards and threw a six-yard touchdown pass to quarterback Deshaun Watson during the 28-22 win.
He caught seven passes for 120 receiving yards and a receiving touchdown during the 38-24 loss against Denver Broncos and finished the 2019 season with 104 receptions for 1,165 receiving yards and seven receiving touchdowns.
After then, the Texans traded DeAndre and a fourth-round pick in the 2020 NFL Draft to the Arizona Cardinals for running back David Johnson, a 2020 second-round pick, and a 2021 fourth-round pick.
Awards and Achievements of DeAndre Hopkins
4× Pro Bowl (2015, 2017-2019)
3× First-team All-Pro (2017-2019)
Second-team All-Pro (2015)
NFL receiving touchdowns leader (2017)
PFWA All-Rookie Team (2013)
First-team All-ACC (2012)
ACC champion (2011)
Who is DeAndre Hopkins's DATING?
Talking about his marital status, DeAndre Hopkins is not married yet and he is still to get married. As of today, he is assumed to be single. Because there are no rumors about him dating any women or having affairs recently. He is enjoying his present life happily without any disturbances. He is focusing his career as of now rather than being in a relationship. Regarding his sexual orientation, he is straight.
Previously, he has been in a number of relationships. He has dated Iggy Azalea. It was rumored that he was in an affair with a beautiful girl Jennifer Lemmons previously in 2013 but Jennifer denied it answered it is a fake. In 2015, he dated Colleen Crowley who is a professional model by profession. Not only this, but he has also dated Amina Blue. DeAndre Hopkins's girlfriend, Amina gave birth in April 2019. Unfortunately what we don't know is whether or not the baby is DeAndre's.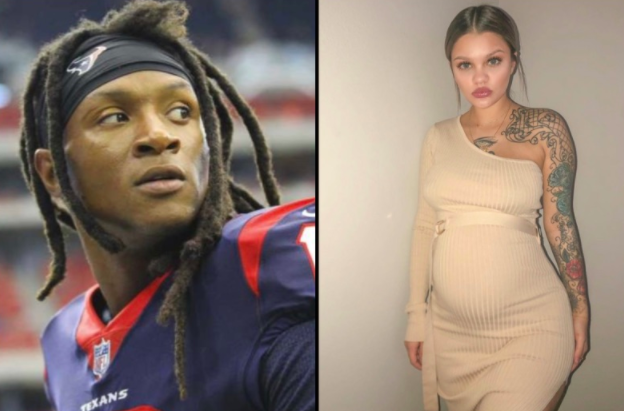 Source: @blacksportsonline
DeAndre Hopkins Net Worth 2020
DeAndre Hopkins is a football wide receiver. He has accumulated a huge amount of money from his career. As of 2020, the net worth of DeAndre is estimated to have $25 Million. He signed a massive $81 million contract extension in August 2017. The five-year deal included $49 million in guaranteed money, the most for any NFL wide receiver at the time. His salary is estimated to have $10 Million at present. His major source of earning is from his football career. As of today, he is satisfied with his earnings and he is living a luxurious lifestyle form his career. Regarding his brand endorsements, he has appeared in a TV commercial for "DraftKings".