About DeSean Jackson; American Footballer
DeSean Jackson is an American professional footballer who is currently playing for the Philadelphia Eagles of the National Football League (NFL). His playing position is wide receiver. Initially, he played college football for the University of California, Berkeley, where he was recognized as a consensus All-American. Later, he was drafted by the Philadelphia Eagles in the second round of the 2008 NFL Draft and has also played for the Washington Redskins and Tampa Bay Buccaneers. Jackson and a 2020 seventh-round selection were traded to the Eagles in exchange for a 2019 sixth-round compensatory selection (Pick #208, used to draft Scott Miller) on 13th March 2019. He was also featured on the cover of the PlayStation 2 version of NCAA Football 09. He took part and won a competition of Hole in the Wall in April 2011. On 6th July 2020, he posted an Instagram story featuring a quote falsely attributed to Adolf Hitler reading "because the white Jews [know] that the Negros are the real Children of Israel and to keep America secret the Jews will blackmail America. [Jews] will extort America, their plan for world domination won't work if the Negroes know who they were." He also posted several quotes from Louis Farrakhan on his Instagram account. Farrakhan has been labeled an anti-Semitic extremist by the Southern Poverty Law Center. Recently, Jackson is apologizing after sharing posts supporting anti-Semitism on his social media page. Jackson posted a video on Instagram Tuesday shortly after the Eagles released a statement saying they were disappointed" in the wide receiver. "I post a lot of things that are sent to me. I do not have hatred towards anyone," Jackson said. "I really didn't realize what this passage was saying. Hitler has caused terrible pain to Jewish people like the pain African-Americans have suffered. We should be together fighting anti-Semitism and racism. This was a mistake to post this and I truly apologize for posting it and sorry for any hurt I have caused." On 1st December 1986, DeSean Jackson was born in Los Angeles, California, the USA; his birthplace/hometown. His real name/birth name is DeSean William Jackson. He grew up in the Crenshaw neighborhood of Los Angeles. His nationality is American and he belongs to mixed ethnicity. He was born to his parents; Bill (father) and Gayle Jackson (mother). He also has a sibling; older brother namely Byron. His brother is a former San Jose State wide receiver who spent two seasons on the Kansas City Chiefs' practice squad. His father was hospitalized with pancreatic cancer during the Eagles run in the 2009 playoffs and died on May 14, 2009. His star sign is Sagittarius. His race is black and his religion is Christian. Talking about his education, he attended Long Beach Polytechnic High School and became one of the top wide receiver recruits in the nation. He was also named the 2004 Glenn Davis Award winner by the Los Angeles Times as Southern California's player of the year. After that, he attended the University of California. There he played for the California Golden Bears Football Team. Throughout his freshman season, Jackson picked up 38 receptions for 601 yards along with seven touchdowns, eclipsing the 100-yard mark three times. He earned first-team All-Pac-10 honors as both a punt returner and a wide receiver. He finished the 2007 season with 65 catches for 762 yards and scored six touchdowns as a receiver. At present, he is residing in Moorestown, New Jersey. As of 2019, he celebrated his 33rd birthday. Scroll down to read more about his full biography, girlfriend, career stats, current team, position, net worth, salary, age, facts, wiki, shirt/jersey, family details, height, and more.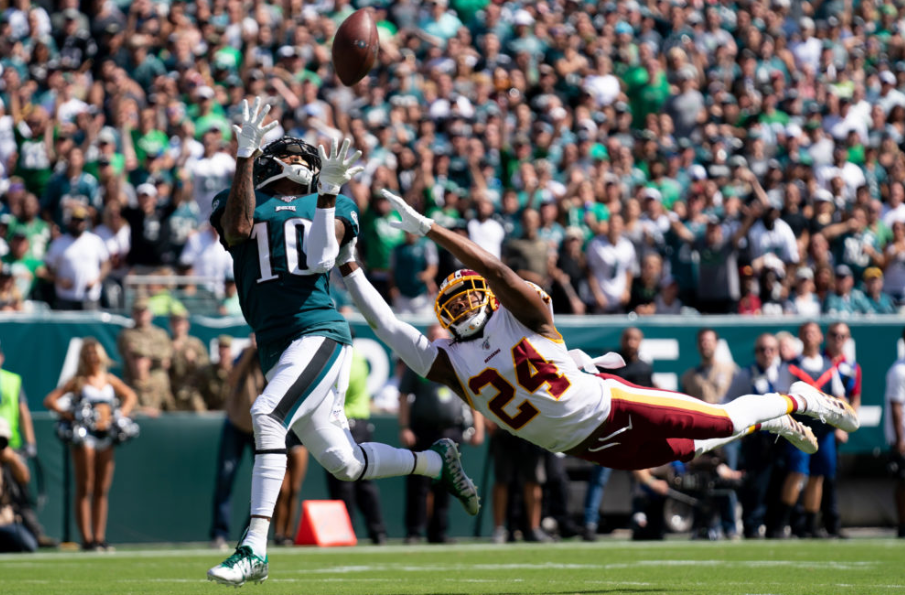 Source: @theathletic.co.uk
DeSean Jackson's Professional Career
After his high school and college career, he was picked by the Philadelphia Eagles with the 49th overall in the 2nd round of the 2008 NFL Draft on 26th April 2008.
On 20th July 2008, he signed a four-year contract with the team.
Due to injuries sustained by Reggie Brown and Kevin Curtis, he was the first rookie to start opening day for head coach Andy Reid.
He collected six catches for 106 yards in a 38-3 win over the St. Louis Rams on 7th September 2008.
During a Monday Night Football game against the Dallas Cowboys on September 15, he celebrated prematurely before running into the end zone by flipping the football behind him at the one-yard line.
On 28th September, he recorded his first offensive touchdown against the Chicago Bears.
He finished a successful rookie season with two receiving touchdowns and a team-leading 62 receptions.
He also led the NFL with 50 punt returns (an Eagles' rookie record and 3rd all-time) for 440 yards (third in the NFL, fifth ever by an Eagle, and an Eagles' rookie record).
He was named NFC Special Teams Player of the Week after his performance against Giants.
He ended the 2009 season as the Eagles' leading receiver with 1,167 yards.
He was selected to the Sporting News' All-Pro team as a punt returner for the 2009 season, averaging 15.2 yards per punt return in 2009 as the league leader.
He was carted off the field after he suffered a back injury during the second full team workout of training camp on July 31, but the injury was not serious.
He had 135 receiving yards and a 45-yard catch-and-run touchdown pass against Detroit Lions.
He ended the regular 2010 season as the team's leading receiver with 1,056 yards.
On 28th July 2011, he failed to report to Eagles' training camp at Lehigh University in Bethlehem, Pennsylvania as required in his contract where he faced fines of $30,000-a-day until he reported to camp.
He ended the 2011 season as the Eagles' leading receiver with 961 yards.
He also had the lowest total punt return yards of his career with 114 and did not return a punt for a touchdown during the 2011 season.
On 1st March 2012, he received the Eagles' franchise tag and he was re-signed to a five-year contract worth up to $51 million on March 14.
In 11 games, he had 45 receptions for 700 yards; his 77-yard touchdown catch against New Orleans was the longest by an Eagles player that season.
He began the 2013 season with 104 yards against Washington and followed this with career-bests in receptions yards (nine and 193) against San Diego.
On 28th March 2014, he was released by the Eagles and he left the Eagles with the franchise's 4th most receiving yards (6,117), 8th most receptions (356), 9th most receiving touchdowns (32), and tied for the 3rd most 100+ receiving-yard games (20).
On 2nd April 2014, he joined the Washington Redskins, agreeing on a reported three-year, $24 million contract with $16 million guaranteed.
He was also voted the 63rd best player (overall) in the league on the NFL Network's Top 100 Players of 2014, by his peers.
He ended the 2014 season with 56 receptions for a team-leading 1,169 and 6 touchdowns and led the NFL for the second time in his career with 20.9 yards per catch.
He ended the 2015 season with 30 catches for 528 yards (career lows) and 4 touchdowns.
He ended the year 2016 with 56 receptions for 1,005 yards and 4 touchdowns, leading the NFL for the third time with 17.9 yards per catch.
On 9th March 2017, he signed a three-year, $33.5 million contract with the Tampa Bay Buccaneers.
In his 2017 season, he recorded 50 receptions for 668 receiving yards and three receiving touchdowns.
On 9th September 2018, he caught five passes for 146 yards and two touchdowns in the season-opening 48-40 win over defending NFC South champions New Orleans Saints. The performance was his second career game with two receiving touchdowns (58 and 36 yards), despite leaving the game with a concussion.
Despite this "disappointing" end to the season, he still ended the 2018 season with enough receptions (41 for 774 yards) to qualify as the league-leader in yards-per-reception (18.9) for the fourth time in his career.
Jackson and a 2020 seventh-round selection were traded to the Eagles in exchange for a 2019 sixth-round compensatory selection (Pick #208, used to draft Scott Miller) on 13th March 2019.
He then made his return to the Eagles in Week 1 against another former team, the Washington Redskins where he caught 8 passes for 154 yards and 2 touchdowns as the Eagles won 32-27.
He underwent core-muscle surgery on November 5 and was subsequently placed on injured reserve.
DeSean Jackson's Awards and Achievements
Second-team All-Pro (2009)
3× Pro Bowl (2009, 2010, 2013)
2× First-team All-American (2006, 2007)
2× First-team All-Pac-10 (2006, 2007)
Pete Dawkins Trophy (2005)
Glenn Davis Award (2004)
Career NFL statistics as of 2019
Receptions:

598
Receiving yards:

10,420
Receiving touchdowns:

55
Return yards:

1,350
Return touchdowns:

4
DeSean Jackson is DATING Kayla Philips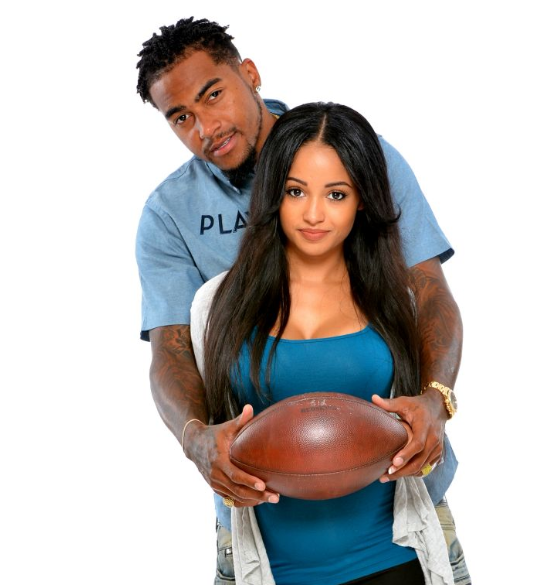 Source: @bet.com
DeSean Jackson is not married yet and he is still to get married. But he is not single as well. At present, she is in a relationship with Kayla Phillips. Kayla Phillips is a renowned American model and social media star. She rose to fame through her Vine channel 'imKaylaPhillips' which had more than 143K followers at the time the app was disabled. She also gained much popularity with her Instagram posts, and today has 807K dedicated fans on the photo and video sharing site. The duo first met in 2015 and started dating the same year. The couple welcomed their son, DeSean Jackson Jr., on 26th October 2015. And they have another one on the way. But their second childbirth news was not revealed yet. Besides this, Phillips also has another son, Tru, from her former relationship with her high school boyfriend Omyn Newkirk. Previously Phillips also dated Tyrod Taylor. At present, the bond between DeSean Jackson and Kayle is getting stronger with the passage of time. His sexual orientation is straight and he is not gay.
DeSean Jackson's Net Worth 2020
DeSean Jackson is an American professional footballer who has reached a great height in his career. As of 2020, the net worth of DeSean Jackson is estimated to be around $32 million. At present, he is under 3-year, $33.5 Million with the Tampa Bay Buccaneers, including $20,000,000 guaranteed, and an average annual salary of $11,166,667. As of 2019, he will make a base salary of $10 million. He has made the career earnings of about $69,259,586. At present, he is living a cool lifestyle from his earnings.