About Dianna Agron
Dianna Agron is an American actress and singer known for her role in the popular TV series "Glee". She started her career in musical theater and made her screen debut in 2006. She gained recognition for her recurring role in "Heroes" and her first leading role in 2007. In "Glee", she portrayed the complex character of Quinn Fabray and received critical acclaim, winning a SAG Award and earning nominations for various awards. She expanded her work into films, starring in projects such as "I Am Number Four", "The Family", and "Bare". She has also directed short films and music videos. In 2017, she began performing as a singer at the Café Carlyle in New York City. Throughout her career, Agron has appeared in films like "Novitiate", "Hollow in the Land", "Shiva Baby", and As "They Made Us". She acted in and directed a segment of the anthology film "Berlin, I Love You". In 2023, Agron starred in the film "Acidman" and the Hulu/Disney+ release "Clock". She is set to return to television in the upcoming Netflix series "The Chosen One", based on the comic series American Jesus. Agron is Jewish and has actively supported charitable causes, particularly advocating for LGBTQ+ rights and human rights.
Dianna Agron Early Life & Family
Dianna Agron, whose birth name is Dianna Elise Agron, was born on April 30, 1986, which makes her 37 years old as of 2023. She hails from Savannah, Georgia, USA, and holds American nationality with an American-White ethnic background. Agron's parents are Mary (née Barnes), a seamstress, and Ronald S. "Ron" Agron, a former general manager of Hyatt Hotels. Her father comes from a Jewish family, while her mother converted to Judaism before their marriage. She has a younger brother named Jason Agron, who is a photographer. Agron grew up in San Antonio, Texas, and Burlingame, California, where her family lived in various hotels due to her father's career. However, her mother made sure to emphasize that this lifestyle was not the norm. She identifies as Ashkenazi Jewish, with Russian Jewish ancestry tracing back to her father's family, who were Jewish immigrants from Novgorod-Seversky in Ukraine. Their original surname was Agronsky. As a Taurus, her zodiac sign, and practicing Judaism as her religion, Agron began dancing at the age of three, studying jazz, ballet, and later hip-hop. She frequently performed in local and school musical theater productions, showcasing her talent, such as her portrayal of Dorothy Gale in The Wizard of Oz at the age of eight.
In terms of her educational background, Dianna Agron received her elementary education at Hebrew School, where she also had her bat mitzvah. Subsequently, she enrolled at Burlingame Intermediate School for her middle school education, followed by attending Burlingame High School for her higher education, both of which are located in California, USA.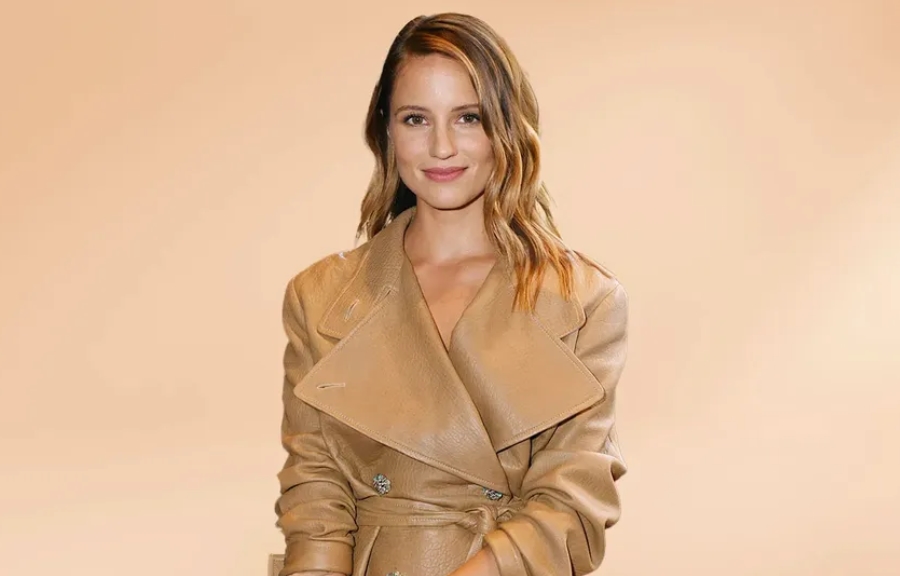 Dianna Agron Career
In 2005, Agron made the move to Los Angeles, attending a dance agency audition on the very same day. Opting for Los Angeles over New York due to its proximity to her family, she expressed her desire to be in musicals to the agency, but they sent her out for music video auditions instead.
Despite her initial hesitations about being in music videos, she agreed to appear in Robin Thicke's "Wanna Love You Girl" video, which ultimately did not include her footage.
With the assistance of her dance agency, she secured an acting agent and persistently pursued opportunities in musicals, despite being told they were outdated.
During this time, Agron broadened her film horizons and discovered the wider scope available for actors after watching movies like "2001" and "A Clockwork Orange" back-to-back.
From 2006 to 2008, she made appearances on various television series, including "Shark," "Close to Home," "Drake & Josh," "CSI: NY," and "Numbers."
Her first film role was an uncredited cheerleader appearance in the 2006 remake of "When a Stranger Calls."
Agron intentionally steered clear of horror films and nudity offers during her early career, choosing instead to star in comedy films like "Skid Marks," "Rushers," which won an audience award at the 2007 Method Fest, and the action-thriller film "T.K.O."
She also had a recurring role in the third season of "Veronica Mars" as Jenny Budosh.
During her early years in Los Angeles, Agron resided in the same building as Christina McDowell and Emma Stone, and socialized with other aspiring artists in the neighborhood, including Lindsay Lohan and Amanda Bynes, experiencing the occasional SWAT team raid in their building.
In 2007, she portrayed Harper, the main character, in the MTV series "It's a Mall World," directed by Milo Ventimiglia.
She also had a recurring role as Debbie Marshall, the captain of the cheerleading squad, in the second season of "Heroes."
Initially auditioning for the nice cheerleader role, Agron impressed producers with her portrayal of a mean character, which challenged her previous typecasting.
During the 2007-2008 writers' strike, she utilized her time to write a feature screenplay centered around a 28-year-old man navigating relationships and the expression of love, with aspirations to direct the film.
In 2009, she achieved her breakthrough as Quinn Fabray on the hit series "Glee". She won the role just days before filming started, as the producers were initially considering removing the character. However, Agron's audition impressed casting director Robert J. Ulrich, and her portrayal brought depth to the character.
She made her musical debut on the show, performing "I Say a Little Prayer."
During a summer hiatus from Glee, she wrote, directed, and starred in the comedy film A Fuchsia Elephant.
She also directed a music video and took on supporting roles in films like Burlesque and Bold Native.
Although she was considered for major film roles like Gwen Stacy in The Amazing Spider-Man and Lois Lane in Man of Steel, she ultimately missed out on those opportunities.
During the second season of "Glee", she was praised as one of the show's best actors but felt sidelined at times.
She delivered a standout performance in the duet of "I Feel Pretty" and "Unpretty" with Lea Michele, which was hailed as the best Glee cover.
Agron's portrayal of Quinn involved singing in a higher register that she found challenging but changed in the third season.
In 2011, she landed a breakthrough movie role as Sarah Hart in I Am Number Four.
Agron's experience on Glee was special to her, reflecting on the hard work and camaraderie of the cast and crew.
In the third season, she sang her first solo number since the first season and faced mixed reception for her character's storylines.
Despite the ups and downs, Agron embraced the challenges and enjoyed playing a constantly evolving character like Quinn.
Agron's performances as Quinn on Glee yielded several released singles and soundtrack features. Her songs, ranging from pop to easy listening and Motown, achieved chart success, with notable covers like "I Say a Little Prayer" and "You Keep Me Hangin' On" charting in the UK.
Despite some notable omissions from the soundtracks, Agron's covers received critical acclaim. As part of the Glee cast, Agron and her co-stars won awards and garnered Grammy nominations, becoming one of the most-charting acts in Billboard history.
In Glee's fourth season, Agron's appearances were reduced to guest star status as she chose to work on other projects. Her argument scene with Naya Rivera in the Thanksgiving episode received praise, and Agron expressed it as one of her favorites.
She then ventured into film, playing Belle Blake in Luc Besson's The Family and receiving positive reviews for her performance.
Agron appeared in music videos for The Killers and Sam Smith, showcasing her acting skills, and also directed music videos and short films.
While she returned for Glee's final season, Agron notably did not appear in certain episodes, including the tribute to Cory Monteith.
After her time on Glee, Agron chose to pursue independent film projects, seeking solace and creative control.
She played the lead role in the drama film "Bare", which explored a romantic relationship between two women and featured a nude scene.
Agron also made her theater debut in McQueen and performed the U.S. national anthem at Winfield House.
In 2017, she appeared in films such as Novitiate and Hollow in the Land, receiving praise for her performances.
Agron relocated to New York City in 2016 and took a break from working that year.
In September 2017, she began her singing career with a residency at the Café Carlyle in New York, expressing her desire to sing publicly again.
She performed songs originally sung by male artists, showcasing her preferred lower register and receiving positive reviews for her smooth and precise vocals.
Agron returned to the Carlyle in 2019 with a larger band, delivering a setlist tailored to her husky register and featuring songs by both male and female artists.
She directed a segment and played a puppeteer in the film Berlin, I Love You, which received mixed reviews, but Agron's performance was praised as one of the most effective in the anthology.
She mentioned the possibility of releasing an album, focusing on genres other than the pop music she performed on Glee.
Starting with the film "Shiva Baby" in 2020, she started gaining recognition for her performances in prominent independent films. These films, including "Shiva Baby," "The Laureate," and "As They Made Us," showcased Agron's versatility and received positive reviews.
In "Shiva Baby," Agron played Kim Beckett, delivering a depth to her character that was widely praised.
She also portrayed Laura Riding in "The Laureate," a historical biopic, and took on the lead role of Abigail in "As They Made Us," working alongside Dustin Hoffman and Candice Bergen. These roles explored themes of Jewish identity and father-daughter relationships, adding a new dimension to Agron's filmography.
In early 2022, Agron had her third residency at the Café Carlyle, where her charming commentary and connection with the audience were praised. She continued to showcase her husky voice and relaxed style, creating an atmosphere of levity and love.
Agron's film projects included the release of "Acidman," a two-hander film starring her and Thomas Haden Church, as well as the Hulu/Disney+ sci-fi horror film "Clock," where Agron played the lead role. Additionally, she made her return to television as part of the main cast of the upcoming Netflix series "The Chosen One," based on the Mark Millar comic series "American Jesus," set to premiere in 2024.
Dianna Agron Awards and Achievements
2010 American Music Awards: Favorite Soundtrack Album for "Glee: The Music, Volume 3 Showstoppers" (Glee cast) - Won
2010 Breakthrough of the Year Awards: Breakthrough Newcomer - Won
2010 Gay People's Choice Awards: Best Ensemble TV Cast for Glee - Won
2010 Gay People's Choice Awards: Favorite Music Duo or Group for Glee cast - Won
2010 Screen Actors Guild Awards: Outstanding Performance by an Ensemble in a Comedy Series for Glee - Won
2010 TV Land Awards: Future Classics for Glee - Won
2011 Giffoni Film Festival: Giffoni Experience Award - Won
2013 Napa Valley Film Festival: Rising Star Award (shared with Miles Teller) - Won
2021 The ReFrame Stamp: Narrative Feature for "Shiva Baby" - Won
2022 Apolo Awards: Best Ensemble Cast for "Shiva Baby" - Won
2022 Chlotrudis Society for Independent Films: Best Performance by an Ensemble Cast for "Shiva Baby" - Won
2022 Dallas International Film Festival: Best Narrative Feature for "Acidman" (as producer) - Won
Dianna Agron Net Worth
Dianna Agron, an American actress, and singer, has amassed a net worth of approximately $6 million as of 2023. Renowned in the film industry, she has garnered fame through her notable roles in both movies and television shows. Agron made her debut in the 2006 film When a Stranger Calls, portraying the character of a Cheerleader. However, she gained significant recognition for her portrayal of Quinn Fabray in the hit television series Glee. Agron's professional acting and singing career have contributed to her substantial earnings. With an estimated annual income of around $1 million, she has established herself as a prominent figure in the entertainment industry. The majority of her wealth stems from her successful ventures in movies, which have garnered significant worldwide revenue. In addition to her acting income, Agron has also earned a considerable amount from her singing career. Presently, she enjoys a luxurious lifestyle owing to her financial success. Dianna Agron has been involved in various brand endorsements throughout her career. Some notable brands she has endorsed include Ocean Pacific (OP), Montblanc, and Art Academy for Nintendo 3DS, among others. In recognition of her support for LGBTQ+ rights, Agron was appointed as the GLAAD Spirit Day Ambassador in 2012, highlighting her commitment to promoting inclusivity and acceptance.
Dianna Agron Dating & Boyfriend
Dianna Agron, the talented actress, is currently involved in a relationship with Harold Ancart, a Belgian painter, since 2021. In 2023, Ancart revealed that he and Agron share a home in New York City, and they have been happily together for two years. Their bond remains undisturbed, and they are embracing their present life with joy. Furthermore, the couple is planning to take their relationship to the next level by tying the knot in the near future. Her sexual orientation is straight.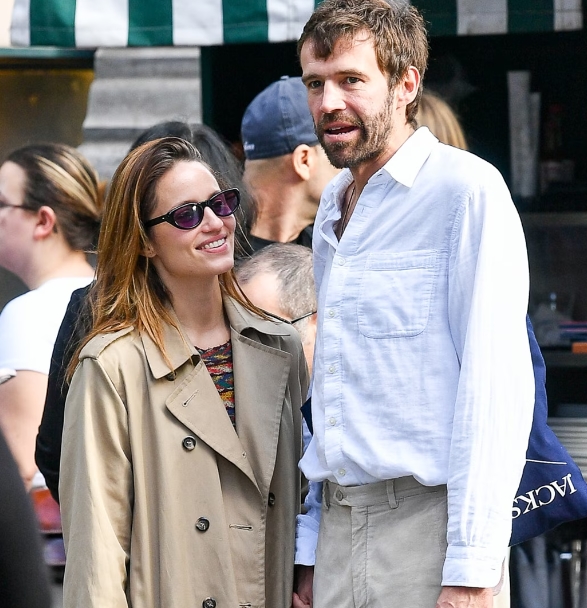 Dianna Agron has had a series of relationships in the past. While there were rumors about her involvement with footballer Tim Tebow and actor Chris Evans, those rumors were never confirmed. In 2008, she dated Dave Franco, and their relationship lasted for approximately two years. There were also rumors in 2009 suggesting that she had an affair with actor, writer, musician, and producer Adam Brody. In 2010, Agron began dating actor and model Alex Pettyfer, but their relationship was short-lived. Following her split from Pettyfer, she emotionally connected with Sebastian Stan in 2010, but they broke up in 2011. Agron then entered a relationship with director Henry Joost in 2012, which ended later that same year. She started dating English actor Christian Cooke in July 2012, but they called it quits in 2013. From July 2013 to January 2014, she dated Australian restaurateur Nick Mathers but ultimately ended the relationship. In April 2014, she began dating Australian actor Thomas Cocquerel, but their relationship lasted only a little over six months. There were rumors of a fling with actor Jack Street in December 2014 and an encounter with Australian actor Luke Bracey in February 2015. Agron was also rumored to have had an affair with English actor Nicholas Hoult during the summer of 2015. In July 2015, she started dating Winston Marshall, the banjoist of Mumford & Sons, and they got engaged later that year, eventually marrying in October 2016. However, they separated in 2019 and officially divorced in August 2020. Agron reportedly dated actor Bradley Cooper in 2022.
Dianna Agron Height & Weight
Dianna Agron, a stunning actress known for her role as Quinn Fabray on the Fox series Glee, possesses a slim build with a height of 5 ft 5½ in (166 cm) and a weight of 58 kg (128 pounds). While her natural hair color is dark brown, she has chosen to dye it blonde, complementing her hazel eyes. Agron's distinctive features, reminiscent of a cheerleader, have made her a perfect fit for various television series and movie roles. She maintains her fitness through dancing, cooking nutritious meals, and engaging in long walks and hikes. Her measurements of 34-28-35 in (86-71-89 cm) contribute to her alluring figure, and she typically wears a dress size of 6 (US) or 38 (EU) and a shoe size of 7 (US), 4.5 (UK), or 37.5 (EU). She has got a healthy body as of now.