Anthony Francis Fernandes Shortly named Tony Fernandes is an entrepreneur from Malaysia who is the founder of Tune Air Sdn. Bhd., who introduced the first budget no-frills airline, AirAsia, to Malaysians with the tagline "Now everyone can fly". He is also the majority shareholder of Queens Park Rangers Football Club. As of February 2014, Forbes Asia valued Fernandes' net worth at $650 million, ranking him at number 28 on the Forbes list of Malaysia's Richest. One of the interesting facts about Tony is that he does not speak Malay. Scroll for his lifestyle, early life background, wife, children, birthday, wiki and more.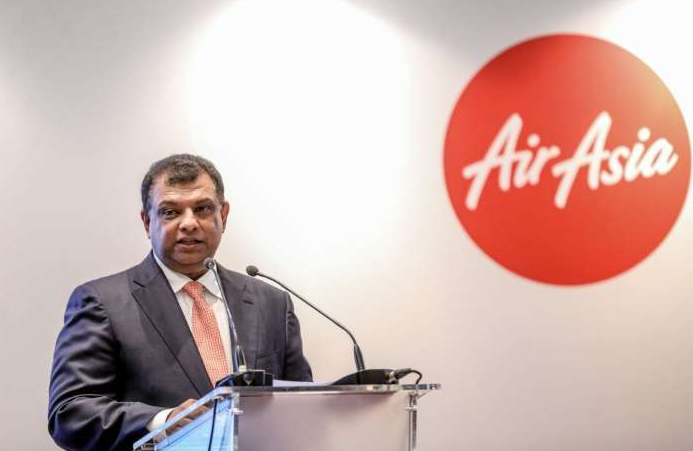 Source: @msn.com
News Related To Tony Fernandes (AirAsia)
AirAsia, AirAsiaX named among recipients of bribes by Airbus
Recently, two "executives" at budget airlines AirAsia and AirAsiaX have been mentioned in legal documents listing instances of bribery by Airbus to secure contracts through corrupt middlemen to sell its aircraft worldwide. The documents are part of a multi-billion dollar settlement reached with anti-graft authorities in Britain, France, and the US after the European planemaker admitted to "endemic levels of bribery across its international business", the paper said today. It said Airbus had handed over more than 30 million documents to investigators. In the settlement, Airbus agreed to pay nearly €1 billion (RM4.5 billion) in the UK, €2.1 billion (RM9.5 billion) in France and €530 million (RM2.4 billion) in the US.
Who are the Parents of Tony Fernandes?
In the year 1964 on 30th April, Anthony Francis Fernandes was born in Kuala Lumpur, Malaysia. Tony was born to an Indian father (originally from Goa) and a mother of mixed Indian (Tamil) and Asian-Portuguese (Kristang) descent who had been raised in Malacca, Malaysia. At a young age, he would follow his mother who sold Tupperware at Tupperware parties. He holds Malaysian Nationality and his ethnicity is Mixed.
Where did Tony Fernandes Achieve His Education?
Tony Fernandes was educated at The Alice Smith School in Kuala Lumpur. Starting at age 12, from 1976 to 1983, he studied at Epsom College boarding school in England. He matriculated to the London School of Economics and graduated with a degree in accounting.
How Old is Tony Fernandes?
Tony Fernandes celebrated his 55th birthday with his friends and he celebrated his birthday every year on 30th April.
How Tony Fernandes Became A Famous Businessman?
Tony Fernandes firstly began working with Virgin Atlantic as an auditor and became the financial controller for Richard Branson's Virgin Communications in London from 1987 to 1989 before he joined Warner Music International London as Senior Financial Analyst.
Later on, Tony was admitted as Associate Member of the Association of Chartered Certified Accountants (ACCA) in 1991 and became a Fellow Member in 1996 where he is currently a member of the Institute of Chartered Accountants in England and Wales (ICAEW).
Previously, he was a Warner Music executive in Malaysia and Vice President, ASEAN at Warner Music South East Asia from December 1999 to July 2001.
He also purchased AirAsia and became its chief executive in 2001 of September month.
How much did Tony Fernandes Bought AirAsia for?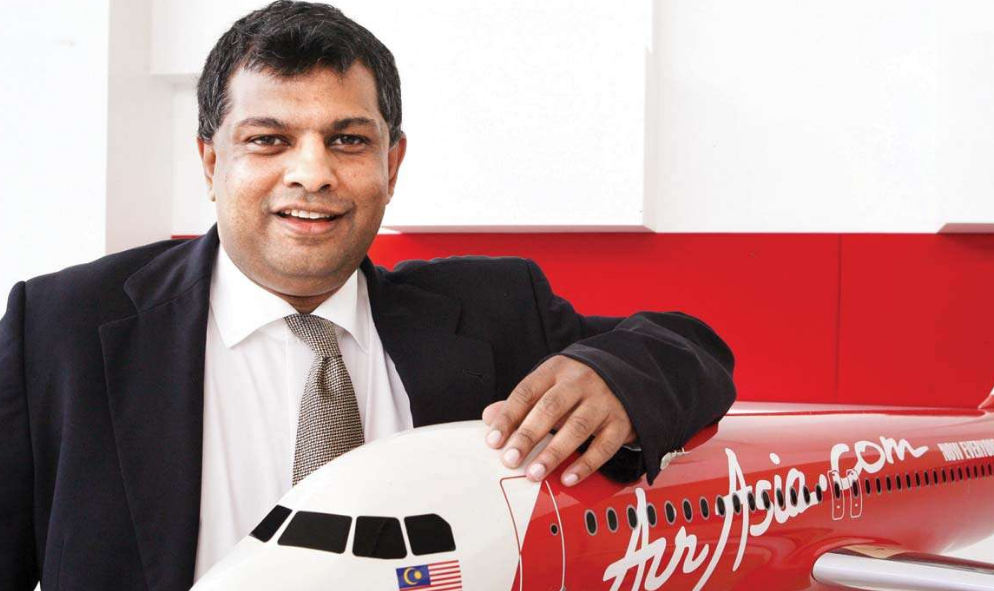 Source: @dnaindia.com
Through Datuk Pahamin A. Rejab, the former secretary-general of the Malaysian Domestic Trade and Consumer Affairs Ministry Fernandes came to meet with then Prime Minister, Tun Dr. Mahathir Mohamad in October 2001.
Mahathir advised Fernandes to buy an existing airline which was the heavily indebted subsidiary of the Malaysian government-owned conglomerate, DRB-Hicom at that time and Tony mortgaged his home and used his personal savings to acquire the company, comprising two Boeing 737-300 jet aircraft and debts of US$11 million (RM40 million), for one ringgit (about 26 US cents), and transformed it into an industry player.
Due to which AirAsia's debt was cleared.
Its initial public offering (IPO) in November 2004 was oversubscribed by 130 percent.
In Thailand and Indonesia, AirAsia holds a minority stake in the respective local companies.
In 2018 Fernandes announced that more low-cost carrier terminals would be developed and confirmed that while AirAsia needed new planes, he had not yet decided on an aircraft manufacturer and he also plans to expand include bidding on the operations and maintenance contract for Clark International Airport in the Philippines.
Talking about his other ventures,
Tony Fernandes started a hotel chain, Tune Hotels, based on the no frills concept which has properties in Britain, Australia, and the Far East.
He also served on the International Advisory Board of Global March to Jerusalem, which aims to "mobilize the international community in solidarity with Palestinians and to protect Jerusalem" in 2012 of March month.
He has hosted The Apprentice Asia, the Asian spin-off of the reality game show The Apprentice in 2013 and was named the head of Malaysia Stadium Corporation (MSC) by the Malaysian Youth and Sports Ministry in 2018.
He is the founder of the Caterham F1 Formula One team, which began racing in 2010 as Lotus Racing and raced in 2011 as Team Lotus.
On 27th April 2011, Fernandes announced that his company had purchased Caterham Cars.
With Whom Tony Fernandes Was Married to?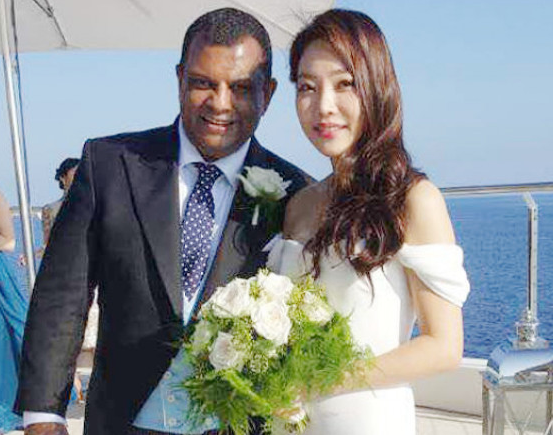 Source: @tabloidbintang.com
Tony Fernandes, a famous businessman was married to a South Korean actress whose name goes by Chloe. The duo married on 14th October 2017 at Hotel Cap Estel, in Eze on the French Riviera after having dated her for more than two years. As of now, the duo does not have a child either they have adopted any. They are planning to have a baby soon.
Talking about his previous relationship, he was married o Deborah Lee Bergstrom on 1 June 1994. They had a daughter and a son, Stephanie, and Stephen.
How much is Tony Fernandes's Net Worth as of 2020?
Tony Fernandes is a famous Malaysian Entrepreneur with the net worth of US Dollar 745 Million as of 2018. His net worth is US Dollar 650 Million as of 2014. Without a doubt, his net worth as of 2020 will be more than US Dollar 800 Million. As of now, his exact net worth is still being calculated. Being a famous entrepreneur, he does not required any salary. He is satisfied with whatever he is receiving and he is living a luxurious lifestyle from his earnings.
What is the Height and Weight of Tony Fernandes?
Tony Fernandes is still young and handsome being at the age of fifty-five. He has maintained his body a lot. His body build is average. He has a matching height with the body weight. Unfortunately, his present exact body details such as height, weight, biceps size, chest size and more are under review but we will let you know once we get information about his body details. Tony has got a healthy body at present.
Tony Fernandes: Honours And Awards
International Herald Tribune Award for the "Visionaries & Leadership Series", for his outstanding work in AirAsia
"Malaysian CEO of the Year 2003" in December 2003; so far awarded to only nine other recipients in the country, by American Express and Business Times. The award was an initiative to recognize entrepreneurial and managerial expertise and performance among leaders of Malaysian corporations.
Named the joint winner of the CEO of the Year 2003 award by American Express Corporate Services and Business Times
"Emerging Entrepreneur of the Year" in the Ernst & Young "Entrepreneur Of The Year Awards" in 2003
Made the list of Business Week's "25 Stars of Asia" in 2005
Malaysian Ernst & Young "Entrepreneur of the Year 2006"
"Excellence In Leadership - Asia Pacific Leadership Awards 2009"
2010 Forbes Asia businessman of the year
2011 No. 52 in FastCompany's Top 100 Most Creative People in Business
"Brand Builder of the Year" 2014 at the World Branding Awards, for his work in building the AirAsia brand
Honorary Doctorate in Management from University of Cambodia - (Dr.) (2017)
Honorary Doctorate from Cranfield University - (Dr.) (2018)
Commander of the National Order of the Legion of Honour (2017)
Commander of the Order of the British Empire (CBE) (2011)
Commander of the Order of Loyalty to the Crown of Malaysia (PSM) - Tan Sri (2011)