Amalaratna Zandile Dlamini professionally known as Doja Cat is a famous singer, rapper as well as songwriter from the USA. She got her stage name, "Doja Cat", from one of her cats and her favored strain of marijuana. She signed a joint record deal with RCA Records and Kemosabe Records at the age of 17 and subsequently released her debut extended play, "Purrr!", in 2014. She rose to fame with the release of the music video for her song "Mooo!" which went viral in the year 2018. In addition to this, she is known for creating music videos and songs that achieve widespread popularity online, specifically on social media apps like TikTok. She dropped her first album called "Amala" in March 2018. Her second studio album, Hot Pink (2019), reached the top 10 of the Billboard 200 after the remix for its single, "Say So", which featured rapper Nicki Minaj, topped the Billboard Hot 100 in 2020. Doja Cat has followers of more than 6 Million on her Instagram account under the name of @dojacat. Scroll down to get more information about her full biography, family details, songs, albums, birthday, wiki, net worth, facts, and many more.
Famous For
For her distinctive style of singing which has garnered her immense popularity on the social media circuit.
Being an American rapper for her series of singles, Purrr!, Go to Town, So High and Tia Tamera, Juicy and Mooo!.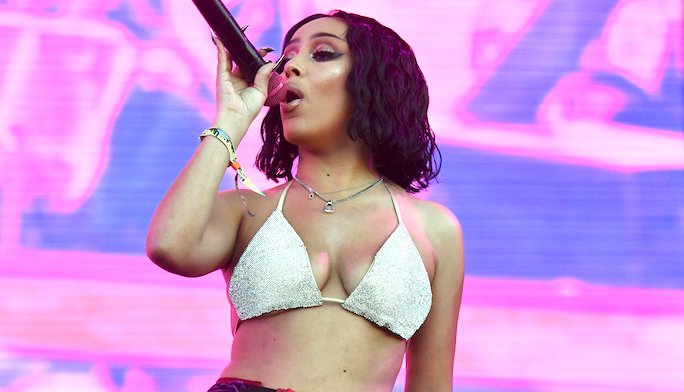 Source: @uproxx.com
Early Life of Doja Cat
Doja Cat was born on 21st October 1995 with the birth name/real name of Amalaratna Zandile Dlamini. Her birthplace is in Los Angeles, the USA. Her nationality is American and her ethnicity is mixed. She has South African ancestry on her father's side, while on her mother's side, she has American ancestry. Her religion is Judaism and her zodiac is Libra. She comes from an artistic family. Following her birth, Dlamini and her mother immediately moved to Rye, New York, where they lived for five years. She returned to Oak Park, California with her single mother, where she experienced a "sporty childhood", often skating and visiting Malibu for surf camps. Her father, Dumisani Dlamini is a South African actor, composer, and film producer best known for Sarafina!. Her Jewish-American mother, Deborah Elizabeth Sawyer is a painter, and her grandmother was an artist as well. She studied piano and danced as a child and teenager. Talking about his siblings, she has a brother. She dropped out of high school at age 16 while in junior year, and spent time downloading beats from YouTube to create her own music. As of 2019, she celebrated her 24th birthday.
Career of Doja Cat
After dropping out of high school, Doja Cat taught herself to use GarageBand.
Firstly, she uploads songs onto SoundCloud and quickly takes them down.
She then released her first-ever single "So High" in late 2012.
She got her stage name, "Doja Cat", from one of her cats and her favored strain of marijuana.
At age 17, Doja Cat signed to RCA Records with a joint venture deal with Dr. Luke's vanity label, Kemosabe Records, in the year 2014.
She signed to them in late 2013 but the deal was finalized in early 2014.
She then released her debut EP, "Purrr!".
She released the single "No Police" and began launching her music on YouTube and Soundcloud.
She also started collaborating with other artists, including Hellboy, Elliphant, Pregnant Boy, and Skoolie Escobar.
In mid-2015, OG Maco announced via Twitter that Doja Cat had signed to his label, OGG.
Following the reported signing, in late 2016, the two artists collaborated on "Monster" off of Maco's mixtape, Children of the Rage (2017).
On July 13th, 2017, she got featured on L8LOOMER's track "Right Side".
On February 1st, 2018, the singer came up with her single "Roll with Us".
On 9th March 2018, she released both "Candy" and "Go to Town".
She then released her full-length debut album "Amala" on 30th March 2018 and a deluxe repackage in 2019.
On 10th August 2018, she uploaded the completely self-produced music video "Mooo!" on YouTube.
She then released the single "Juicy" in August 2019 which debuted at number 83 on the US Billboard Hot 100, earning Doja Cat her first entry on the chart.
Juicy later peaked at number 45 on the same chart.
In the same year, she released her second studio album, "Hot Pink".
On 28th January 2020, her song "Say So" was sent to radio becoming the fifth single off of her album "Hot Pink". The song was originally released alongside the album in November 2019, but the song gained immense popularity through the video-sharing platform TikTok.
She performed the song on The Tonight Show Starring Jimmy Fallon on 26th February 2020.
On 25th March 2020, she is set to embark on the Hot Pink Tour, to promote her second studio album but it was postponed due to the COVID-19 pandemic. The tour was planned to include fifteen shows spanning across North America, including two Coachella performances.
In an interview with Nick Cannon on Power 106 in May 2020, Doja Cat announced that she would be releasing a new single (possibly titled "Niggas Ain't Shit") which she previously leaked while on Instagram live.
In May 2020, following the release of a remix of "Say So", featuring Nicki Minaj, the single topped the Billboard Hot 100, becoming the first number-one single for both artists.
On 21st May 2020, she was featured on a remix of Canadian singer The Weeknd's single "In Your Eyes" from his fourth studio album After Hours (2020).
American singer Ariana Grande stated in an interview that she is planning to release a song with Doja Cat which they recorded in early 2020.
Tours of Doja Cat
Purrr! Tour (2014)
Amala Spring Tour (2017-2018)
Amala Fall Tour (2018-2019)
Hot Pink Tour (2020; postponed due to COVID-19 pandemic)
Awards of Doja Cat
Doja Cat has not received any awards till now. We wish her all the best to achieve an award soon in the future.
Personal Life of Doja Cat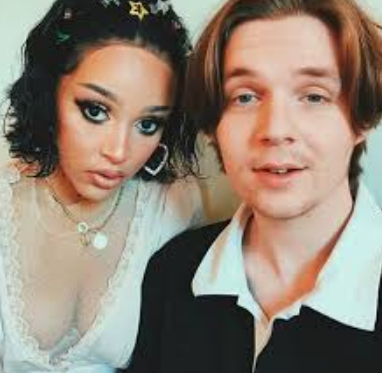 Source: @gramho.com
Doja Cat is not married yet and she is still to get married. Previously, she was dating her Johnny Utah, her long time boyfriend. They broke up in February 2020. Doja Cat confirmed that she had split from musician Johnny Utah in an Instagram Live video in Feb 2020. The couple started dating in 2019 and the break up appears to have been amicable. "Everything is ok. I unfollowed my ex-boyfriend and everything is ok. We have been cool," she said in the Instagram Live. "Nothing weird going on. No drama, or weird shit going on. Shit just didn't work out." Her sexual orientation is bisexual. She has stated that she "like[s] both [men and women]. I like d**k and I also like, um, I like people that I can have s*x with. You can kind of have s*x with anybody, right?" In May 2020, in response to accusations of internalized racism, Doja Cat stated that she identifies as a black woman and has pride in her South African roots.
Net Worth of Doja Cat
Doja Cat is an American singer, rapper, and songwriter. With her career as singing, she is making a decent amount of money. As per sources, her estimated net worth is believed to have $400k as of 2020. Whereas her exact salary and asset details is unknown. She has not done any endorsements until now. As of now, she is satisfied with her earnings and she is living a cool lifestyle.
Body Measurements of Doja Cat
Doja Cat is a very beautiful lady with Voluptuous body build. She stands a height of 5 feet 5 inches and her weight is around 55 Kg. She has a pair of black eyes and hair color. Her body measures 35-27-36 inches (breast-waist-hip). Overall, she has got a healthy body.