Esteban Andrada is an Argentine football goalkeeper who plays for Boca Juniors in the Argentine Primera Division. He is one of the best Goalkeeper in The world.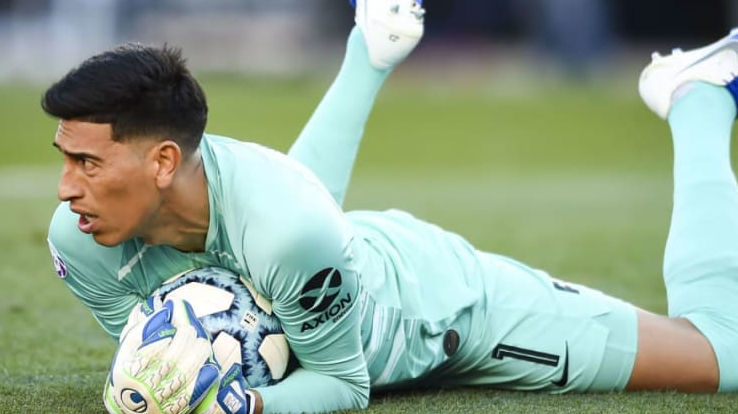 Source: @si.com
Famous For
He is best known for being a Soccer Player.
For his work as a goalkeeper on the Boca Juniors club.
He is also known for his work as a goalkeeper on several Argentina national teams as well.
Early Live of Esteban Andrada
Esteban Andrada was born on 26 January 1991 in Mendoza, Argentina as Esteban Maximiliano Andrada. He holds Argentine Nationality and is of Latino ethnicity. His birth sign is Aquarius. His Parents' name is Unknown. However, He was from a Middle-Class Family. He was raised in Mendoza by his parents. He was a football lover from his childhood. There is no Genuine information regarding his educational qualification. It seems that the player has given more priority to his football career rather than to his education.
Early Career of Esteban Andrada
He started his early career by playing at the junior team of San Martín, a Local football Club in his hometown Mendoza from 2005 to 2008. Then he joined Lanús FC in 2008 were played for the junior team till 2012.
Professional Career of Esteban Andrada
He started his professional career by playing at the senior team of Lanús FC from 2012 to 2018. Then joined another Argentine football club Arsenal de Sarandí in 2014 on a loan where he played for 1 year. On August 6, 2018, he was transferred to Boca Junior, one of the Top Club in Argentina.
He represented the Argentina U20s at the 2009 Toulon Tournament, 2011 South American Youth Championship, and the 2011 FIFA U-20 World Cup.
He also represented the Argentina U22 squad at the 2011 Pan Am tournament.
He made his debut for the Argentina national football team on 26 March 2019 in a friendly against Morocco, as a starter.
He was one of the three goalkeepers called up by manager Lionel Scaloni for the 2019 Copa América but withdrew from the squad on 14 June due to a knee injury. He was replaced by Juan Musso.
Ranking of Esteban Andrada
He is the third choice Goalkeeper of Argentina National Team. He is ranked as one of the best Goalkeepers in the Argentine Primera Division.
Trade and Transfer of Esteban Andrada
He is closely followed by three powerful teams from Europe.
The 28-year-old goalkeeper has a contract until June 2022, but there is a chance to emigrate since Atletico de Madrid, Juventus and Paris Saint Germain are following in the footsteps of the player.
Personal Life of Esteban Andrada
At the time of writing, Esteban Andrada is an unmarried man. There is no genuine information or rumors about his love life. Like many other celebrities, It seems that the player has also tried to keep his personal life private.
Net Worth of Esteban Andrada
As of 2020, the net worth of Esteban Andrada is estimated to be $1 Million - $5 Million and has a market value of €10 Million. He earns 2,500,000 Euros per year. Apart from earnings through football, certain endorsements also add to his net worth. His residence in Argentina also adds to his net worth.
Body Measurement of Esteban Andrada
Esteban Andrada is a tall and strong footballer with a height of six feet four inches with a bodyweight of 83 Kg. His other Body measurement will be added soon. His hair color and eye color both are black.