Earl Joseph "J. R." Smith III famed as J. R. Smith is an American professional basketball player. At present, he is a free agent. Previously, he played for the Cleveland Cavaliers of the National Basketball Association (NBA). He played high school basketball at New Jersey basketball powerhouse Saint Benedict's Preparatory School in Newark. He was selected in the first round of the 2004 NBA draft with the 18th overall pick by the New Orleans Hornets. He has also played for the Denver Nuggets and New York Knicks, as well as for the Zhejiang Golden Bulls of the Chinese Basketball Association. He also won an NBA championship with the Cavaliers in the year 2016. His jersey number is 5 for Cleveland Cavaliers, 5 for Denver Nuggets, and 8 for New York Knicks. Read on to get more information about his full biography, net worth, family details, contract, tattoo, career, stats, salary, birthday, wiki, facts, and many more.
What Happened to J. R. Smith?
Veteran NBA shooting guard J.R. Smith explained in a video posted to social media what happened during his apparent fight with a man who allegedly vandalized his car. Smith, 34, said on social media that he chased down a man who allegedly smashed his car windows during a protest in Los Angeles on Saturday. The former Cleveland Cavaliers guard said he chased down the man, who is white, and beat him up. Smith added that he parked his car in a residential area, not close to where the protests and looting were taking place. "I chased him down and whupped his a**," Smith said. Smith added that he only had a problem with the man who smashed his car. "This ain't no hate crime. I ain't got no problem with nobody who ain't got no problem with me. It's a problem with the motherf***ing system. That's it," he said.
What is J. R. Smith known for?
For his athletic abilities such as high vertical leap which allow him to dunk on opponents and to electrify the crowd.
For being a very inconsistent player who can either have a great night and wins a game single-handedly or be completely out of his real game, and place his team in a bad situation.
For becoming an NBA Champion with the Cleveland Cavaliers in 2016 after in the finals, they managed to beat Golden State Warriors in a total of 7 matches.
Source: @sportingnews.com
What is the Birthplace of J. R. Smith?
With the birthname/real name of Earl Joseph Smith III, he was born on 9th September 1985 in Freehold Borough, New Jersey; his birthplace/hometown. He was born to his parents; Earl Smith (father) and Ida Smith (mother). He is one of the six children. He grew up with three brothers and two sisters; Chris Smith (Younger Brother) (Professional Basketball player who plays in the NBA), Stephanie Smith (Sister), Dimitrius Smith (Brother). He belongs to American nationality and his ethnicity is Mixed. His race is Black. His horoscope is Virgo and his religion is unknown. As per his education, he attended Saint Benedict's Preparatory School and played high school basketball there. Later, he studied at Millstone Middle School and graduated in 1999. He moved on to Steinert High School and McCorristin Catholic High School before transferring to Lakewood High School. He signed a letter of intent to play college basketball with the North Carolina Tar Heels. He decided to forgo college and declare himself eligible for the NBA draft. He was selected eighteenth overall, in the first round of the 2004 NBA draft, by the New Orleans Hornets in one of nine players who were drafted that year out of high school. As of 2019, he celebrated his 34th birthday. His present age is 34.
What Team is J. R. Smith playing For?
New Orleans Hornet (2004-2006)
He was selected by the New Orleans Hornets with the 18th overall pick in the 2004 NBA draft.
He was named Western Conference Rookie of the Month three times (January, February, March) and participated in the 2005 NBA Slam Dunk Contest, finishing third.
He averaged 10.3 points in 76 games (56 starts) as a rookie, he averaged 7.7 points in 55 games (25 starts) in 2005-06.
He began the 2005-06 season as the starting shooting guard and ended it out of the rotation.
Denver Nuggets (2006-2011)

On 14th July 2006, he was traded to the Chicago Bulls in exchange for Tyson Chandler.
Six days later, he was traded again, this time to the Denver Nuggets in exchange for Howard Eisley and two second-round draft choices.
He served a 10-game NBA suspension from December 18 to January 8 following his involvement in the Knicks/Nuggets melee at New York's Madison Square Garden on December 16 in his first season in Denver.
He missed eight games between February 23 and March 11 while recovering from arthroscopic left knee surgery.
During the 2007-08 season, Smith established career highs for field goal percentage (.461) and 3-point percentage (.403).
During the 2008-09 season, he averaged 15.2 points over 81 games (18 starts), finishing second in voting for the NBA Sixth Man of the Year Award behind Jason Terry.
n February 2009, he participated in the NBA Slam Dunk Contest finishing third.
He scored a season-high 41 points against the Atlanta Hawks, becoming first NBA player ever to record multiple games of 10+ 3-pointers on 23rd December 2009 and finished the 2009-10 season averaging a then career-high 15.4 points per game.
In 2010-11, he averaged 12.3 points and 2.2 assists as the Nuggets' sixth man.
Zhejiang Golden Bulls (2011-2012)

During the 2011 NBA lockout, he signed with the Zhejiang Golden Bulls of the Chinese Basketball Association (CBA) in September 2011. His deal was estimated to be worth around $3 million, the highest in league history.
He scored a CBA career-high 60 points and 14 three-pointers in 18 attempts off the bench, during a 122-110 victory over the Qingdao Eagles.
He was also selected as a starter for the Southern Division All-Stars in the 2012 CBA All-Star Game, but did not play due to "personal reasons."
In 32 games for Zhejiang, he averaged 34.4 points, 7.4 rebounds, 4.1 assists, and 2.5 steals per game.
On February 1, 2012, he scored a season-high 60 points with 14 3-pointers in a 122-110 win over the Qingdao Eagles.
He had four 50+ point games during the season.
New York Knicks (2012-2015)

After that, he signed with the New York Knicks on 17th February 2012.
He appeared in 35 games for the Knicks to finish the regular season, before appearing in all five of the Knicks' postseason games.
In 2012-13, he averaged a career-high 18.1 points, 5.3 rebounds and 2.7 assists over 33.5 minutes in 80 games off the bench.
He earned Eastern Conference Player of the Week honors for the period ending March 31, after posting three consecutive 30-point efforts off the bench, becoming the first NBA player to accomplish the feat in over 23 years.
He was subsequently named the NBA Sixth Man of the Year, becoming just the third player in franchise history to win the award, joining Anthony Mason and John Starks.
He missed the first five games of the 2013-14 season for violating the NBA's anti-drug policy.
He recorded an NBA record 22 three-point attempts in a 102-91 loss to the Miami Heat.
Cleveland Cavaliers (2015-2019)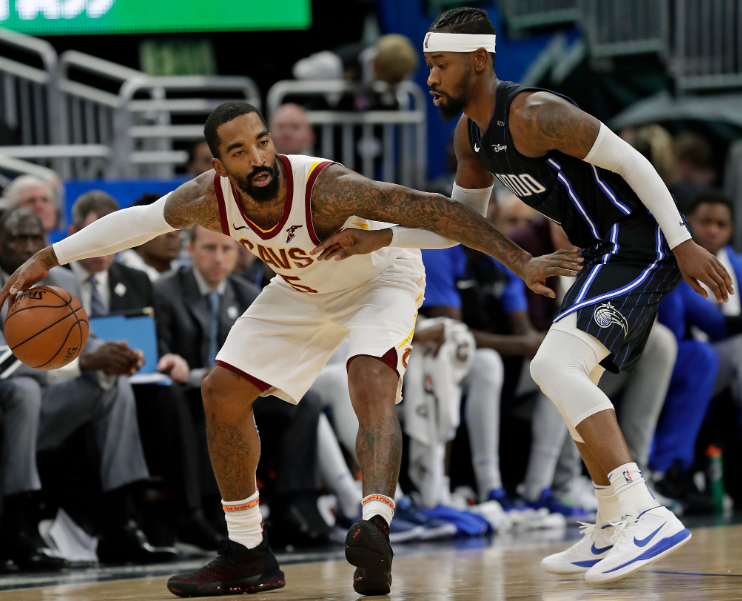 Source: @nytimes.com


On 5th January 2015, he was traded to the Cleveland Cavaliers in a three-team trade that also involved the Knicks and the Oklahoma City Thunder.
He made his debut after two days.
On 27th April 2015, he was suspended for the first two games of the Eastern Conference semi-finals after he swung his arm and made contact with the head of Celtics forward Jae Crowder in Game 4 of their first-round series against Boston.
The Cavaliers faced the Golden State Warriors in the 2015 NBA Finals, but they lost the series in six games.
On 2nd September 2015, he re-signed with the Cavaliers.
The Cavaliers went on to win the 2016 NBA championship.
He won his first NBA title. On 15th October 2016, he re-signed with the Cavaliers for a four-year contract.
After a contract stalemate that had consumed nearly the first three weeks of training camp, Smith and the Cavaliers reached an agreement on a four-year deal worth $57 million.
He finished the game with 8-of-17 from the field and 6-of-10 on 3s, passing Dale Ellis (1,719) for 14th on the career three-pointer list.
He struggled over the first 10 games of the 2017-18 season.
He got it going on November 7, scoring a season-high 20 points on 5-of-7 3-pointers in a 124-119 win over the Milwaukee Bucks, passing Rashard Lewis (1,787) for 14th place on the NBA's career 3-pointers made list.
On 2nd March 2018, he was suspended by the Cavaliers for one game for throwing a bowl of soup at an assistant coach.
He began 2018-19 with a 2-13 record after LeBron James left the team in free agency for the Lakers.
On 20th November 2018, the Cavaliers announced that Smith "will no longer be with the team as the organization works with JR and his representation regarding his future."
On 15th July 2019, he was waived by the Cavaliers.
Awards and Achievements of J. R. Smith
NBA champion (2016)
NBA Sixth Man of the Year (2013)
CBA scoring champion (2012)
CBA All-Star (2012)
McDonald's All-American Game Co-MVP (2004)
Second-team Parade All-American (2004)
Who is the Wife of J. R. Smith?
J. R. Smith is a married man. He is currently married to Jewel Harris in August 2016. After dating for several years the couple had a short break in their relationship but rekindled later in 2015. Smith proposed her for marriage in August 2015 and the ceremony was held a year later in August 2016. Together, they have three daughters; Demi, Peyton, and Dakota. He has one daughter from a previous relationship. Their second daughter together was born in January 2017, weighing one pound at birth. Former teammates Carmelo Anthony and Chris Paul are the godfathers of his first two daughters. His sexual orientation is straight.
What is J. R. Smith Salary?
J. R. Smith is an American professional basketball player. The well-known basketball player's net worth is estimated to be $20 million. He has a great number of luxurious cars including Ford Mustang Shelby GT500, Ferrari 458, Mercedes-Benz S550, Land Rover Range Rover, Mercedes-Benz G550 and Bentley Mulsanne. His salary is reported to be $14.72 million at present. He was also the highest-paid player in China with a contract of $3 million. Smith has the total NBA career earnings of $25 million. The additional source of earning is his sponsors. He has an endorsement deal with 50 Cent's energy drink signed in March 2013. He has been seen in TV adverts for Foot Locker, NBA, etc.
How tall is J. R. Smith? (Height)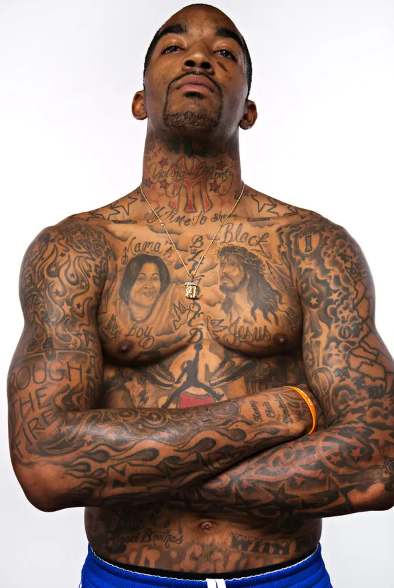 Source: @nytimes.com
With an athletic body build, he stands at a tall height of 1.98 m, and his weight consists of 100 kg. His eye color is black and hair color is black. His body measurements are 50-16.5-37 in (chest-arms-waist). Overall, he has a balanced and healthy body. His shoe size is 15 US. His body is coved with tattoos. He is known to have more than 70 tattoos.
Interesting Facts of J. R. Smith
Smith averaged 10.3 points, 2.0 rebounds, and 1.9 assists in his rookie season with the Hornets.
Smith played in the Chinese Basketball League for the Zhejiang Golden Bulls during the 2011 NBA lockout.
He won the NBA Sixth Man of the Year Award in 2013.
In May 2012, Smith was handcuffed by the police because he did not appear in court after being charged in 2011 for driving a motor-scooter without a valid license.