About Jennifer Granholm
A well-recognized politician, lawyer, educator, author, as well as a political commentator is named for Jennifer Granholm. She is a member of the Democratic Party. She was Attorney General of Michigan from 1999 to 2003 and the 47th governor of Michigan from 2003 to 2011. What's more, she was the first woman to serve as Michigan's governor. She was also hired as a CNN political contributor in January 2017. Back then, she defeated Republican John Smietanka, the 1994 nominee and former U.S. Attorney for the Western District of Michigan, by 52% to 48% and served from 1999 to 2003. She defeated Engler's Lieutenant Governor Dick Posthumus by 51% to 47% and became Michigan's first female governor on 1st January 2003. As an author, she had released a book "A Governor's Story: The Fight for Jobs and America's Future" in the year 2011. She became a naturalized US citizen in 1980 at the age of 21. Recently, it was reported on 15th December 2020 stating that president-elect Joe Biden would nominate Granholm to be Secretary of Energy.
Jennifer Granholm is a strong advocate for electric vehicles. She'll need an experienced deputy to handle nuclear weapons programs. President-elect Joe Biden is nominating Jennifer Granholm, the former governor of Michigan who has been a strong voice for zero-emissions vehicles, as secretary of energy, two people familiar with the process said Tuesday. At present, she is an adjunct professor of law at the University of California at Berkeley, has argued that the United States risks being left behind by other countries if it doesn't develop alternative energy technologies. Her pick is a clear sign that Biden wants the department to play an important role in combating climate change. Back then, she worked with Biden in Michigan a decade ago when he was overseeing the American Recovery and Reinvestment Act, and he credits her with helping to save the auto industry and the union jobs it supports, said a person familiar with the transition team's thinking who spoke on the condition of anonymity in order to be more candid.

Jennifer Granholm is famous for being a politician, lawyer, educator, author, and political commentator. She is best recognized for being the first woman to serve as Michigan's governor.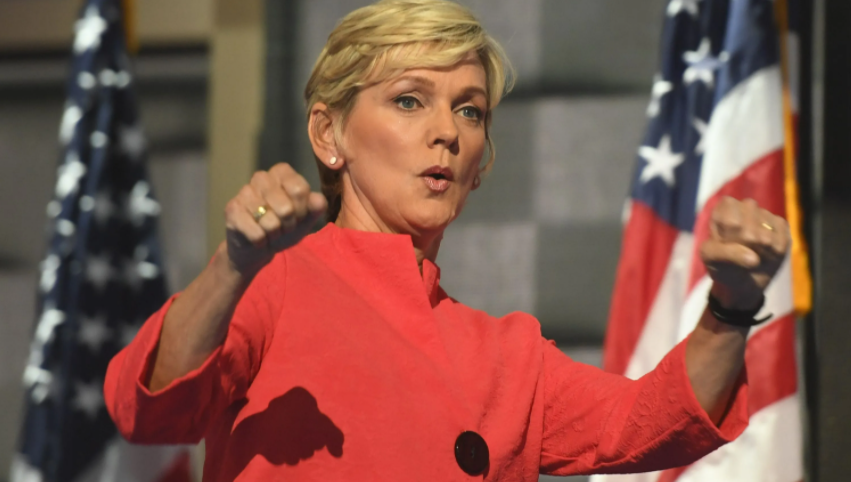 Source: @usatoday
Everything You Need To Know About Joe Biden
On 5th February 1959, Jennifer Granholm was born in Vancouver, British Columbia, Canada. She holds American-Canadian nationality and her ethnic background is Canadian-White. His race is White. As of 2020, she celebrated her 61st birthday. She was born to her parents; Shirley Alfreda (nee Dowden) (mother) and Victor Ivar Granholm, (father); both bank tellers. Her maternal grandparents came from Ireland and Newfoundland. Her paternal grandmother was an immigrant from Norway and her paternal grandfather, who immigrated to Canada in the 1930s, came from Robertsfors, Sweden, where his father was the mayor. Her family immigrated to California when she was four years old. She was raised in Anaheim, San Jose, and San Carlos (hometown). Aquarius is her Zodiac sign and her religion is Christian.
As per her education, she went to attend Ida Price Jr. High and Del Mar High School before graduating from San Carlos High School in 1977 and won the Miss San Carlos beauty pageant. During her teenage, she tried to start her career in the acting field but was unsuccessful. However, she appeared on "The Dating Game" in 1978. She has also done a job as a tour guide at Universal Studios and in customer service at the Los Angeles Times. She was also the first female tour guide at Marine World Africa USA in Redwood City, piloting boats with 25 tourists aboard. She became a naturalized U.S. citizen in the year 1980 when she was at the age of 21. She then enrolled at the University of California, Berkeley, the first person in her family to attend college. She graduated in 1984 with a B.A. in Political Science and French. She then earned a Juris Doctor degree at Harvard University, also with honors, in 1987. At Harvard Law School, Granholm served as Editor-in-Chief of the Harvard Civil Rights-Civil Liberties Law Review.
Jennifer Granholm is a very charming woman with average height and balanced body weight. She stands tall at the height of 5 ft 6 in. Her body build is slim. She has a very gorgeous smile with a glowing face. she has a fair skin complexion. Her other body measurements such as waist size, waist size, and more are still to get revealed yet. She has a healthy body at present. She had emergency surgery to fix a bowel obstruction that stemmed from a 1993 accident on 29th April 2008.
Jennifer Granholm's Political Career
Upon her graduation, Jennifer clerked for Judge Damon Keith from the year 1987 to 1988. She has also worked for the Michael Dukakis campaign for President in the 1988 election.
In the year 1991, she became an Assistant U.S. Attorney for the Eastern District of Michigan. She was even appointed to serve as Corporation Counsel for Wayne Country in the year 1995.
Jennifer entered the race for Attorney General Frank J. Kelley who chose not to run for a 10th term in the year 1998. Later, Frank J. Kelley was succeeded by her.
She later faced Republican John Smietanka in the general election. The race became bitter when John ran television ads that called Granholm an "inexperienced" and "dangerous" liberal. Despite this, she defeated John by 1,557,310 votes (52.09%) to 1,432,604 (47.91%).
On 3rd January 1999, she was sworn to the office becoming the first female Attorney General of Michigan who she served a single term until 2003.
She also announced a lawsuit against RVP Development, builders of the Arcadia Bluffs Golf Course in April 1999.
For the 2002 election, she faced a competitive primary against former U.S. Ambassador to Canada and former Governor James Blanchard and U.S. Representative and former House Minority Whip David E. Bonior.
Her campaign led to increased turnout amount women and later she won the Democratic primary with 499,129 votes (47.69%) to Bonior's 292,958 (27.99%) and Blanchard's 254,586 (24.32%).
She then gained control of the U.S. Senate and increased their hold on the U.S. House and also she won over Posthumus by 1,633,796 votes (51.42%) to 1,506,104 (47.40%).
On 1st January 2003, she was sworn in as the 47th Governor of the state of Michigan.
She was also a member of the National Governors Association, chairing its Health and Human Services Committee and co‑chairing its Health Care Task Force. Not only this, but she is also a former chair of the Midwestern Governors Association.
She made a significant number of budget cuts to deal with a $1.7 billion deficit (about 2% of the annual state budget) during her first year in office.
She was inducted into the "Michigan Women's Hall of Fame" on 28th October 2004.
She campaigned hard for Democratic nominee John Kerry during the 2004 presidential election in Michigan.
She ran for a second term in the 2006 election against Republican businessman and politician Dick DeVos.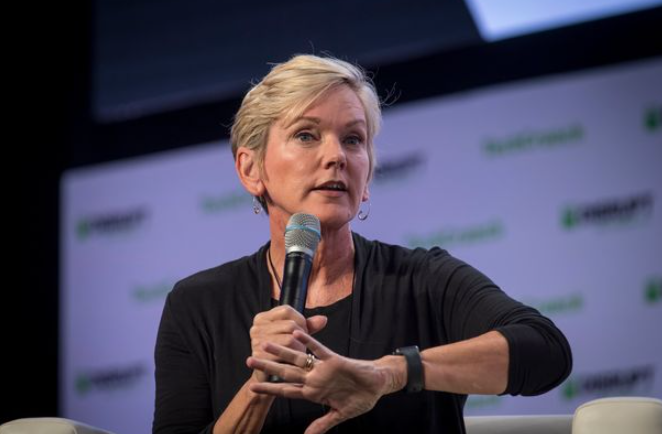 Source: @wsj.com
She won re-election, defeating DeVos resulting in 56 percent for Granholm, 42 percent for DeVos, and a little over one percent for minor-party candidates Gregory Creswell, Douglas Campbell, and Bhagwan Dashairya.
She proposed and signed into law the No Worker Left Behind Act to provide two years of free training or community college for unemployed and displaced workers in the year 2007.
She then signed a water technology partnership agreement with the Israeli government.
She also undertook the role of Republican vice presidential nominee Sarah Palin in a series of practice debates with Democratic vice presidential nominee Joe Biden in September 2008.
She then joined his economic advisory team with the election of Barack Obama.
On 1st January 2011, Governor Granholm's tenure ended when Republican Rick Snyder, who won the 2010 election, was sworn in.
After that, she began teaching a graduate course entitled "Governing in Tough Times" in the year 2011 as she is also a professor of law and public policy at the UC Berkeley Goldman School of Public Policy and UC Berkeley School of Law.
On 21st October 2010, she was made a Commander of the Royal Order of the Polar Star, First Class, by the King of Sweden "for her work in fostering relations between Michigan and Sweden to promote a clean energy economy".
She is also a senior research fellow at the Berkeley Energy and Climate Institute (BECI) Faculty and a project scientist at the Lawrence Berkeley National Laboratory.
She is also the regular contributor to NBC's Political talk show "Meet the Press".
As an author, she has also co-authored a book with her husband, "A Governor's Story: The Fight For Jobs and America's Economic Future" which was released in September 2011.
In October 2011, Current TV announced that she would be joining its new political primetime lineup as host of the new program "The War Room with Jennifer Granholm". Later, she announced that she was leaving the network in January 2013 due to the sale to AI Jazeera.
Back then, she stated that Hillary Clinton "is the strongest candidate out there should she decide to raise her hand" in regard to the upcoming 2016 Presidential Election.
She has twice been considered by President Obama as a potential Supreme Court candidate.
She then endorsed U.S. Representative Gary Peters, who defeated Republican nominee Terri Lynn Land in the general election.
It was speculated that her increased visibility from her senior role in the Clinton campaign indicated that she would be under consideration for a position in the U.S. Cabinet or Democratic National Committee leadership if Clinton had won the 2016 election.
Jennifer Granholm's Husband, Daniel Mulhern
Regarding Jennifer Granholm's marital status, she is a married woman. She married her handsome husband, Daniel Mulhern whom she met when she at Harvard. Daniel Mulhern is a theology graduate from Yale University. The duo got married in the year 1986 and they took each other's surname as their middle names. The couple is also blessed with three kids named Jack (son) and Kathryn, Cecelia (daughter). As of today, the couple is enjoying their present life happily without any disturbances. Her sexual orientation is straight.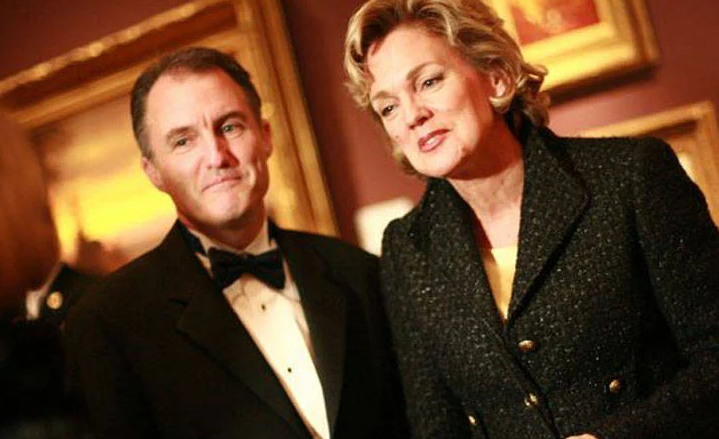 Source: @articlebio
Jennifer Granholm's Net Worth 2020
Jennifer Granholm is a famous politician, lawyer, educator, author, and political commentator whose net worth is estimated to have $1 Million as of 2020. Whereas her exact salary is still to get unfold yet as she has not mentioned anything about it but there is no doubt in the mind of her followers that she is making a good amount of money. Her estimated salary is between $10K-$80K. Her major source of wealth comes from her political career. She is living a cool lifestyle from her earnings she is making.