About Jennifer Hudson; Singer and Actress
An American singer as well as a famous actress is named for Jennifer Hudson who is also known by her nickname J.Hud. She rose to fame in 2004 as a finalist on the third season of "American Idol", placing seventh. She made her film debut as Effie White in "Dreamgirls" (2006). For the movie, she received an Academy Award, a Golden Globe Award, a BAFTA Award, and a Screen Actors Guild Award for Best Supporting Actress. Some of her other notable movies are Sex and the City (2008), The Secret Life of Bees (2008), and Black Nativity (2013). In 2015, she made her Broadway debut in the role of Shug Avery in "The Color Purple". She received her second Grammy Award for Best Musical Theater Album in 2017 as a cast member on "The Color Purple". She released her self-titled debut studio album in 2008, which was certified gold in the United States, sold over a million copies worldwide, and received a Grammy Award for Best R&B Album. Her subsequent studio albums, I Remember Me (2011) and JHUD (2014), saw continued commercial success in her singing career. Moreover, she has contributed as a coach on the UK and the US version of The Voice from 2017 up to 2019, becoming the first female coach to win the former. In March 2020, she collaborated with Bono, Will.i.am, and Yoshiki to create "#SING4LIFE", a song written and compiled remotely by the four musicians to lift spirits during the COVID-19 crisis. Jennifer Hudson is earning everyone's respect as Aretha Franklin in the new trailer for the upcoming biopic about the Queen of Soul. Released during the BET Awards, the trailer starts off with Hudson singing her iconic song "Respect" (which the film is coined after) with the word spelled out behind her in giant neon-style letters before clips of her rise to fame are shown. The long-awaited film follows Franklin's life from singing in her father's church to becoming one of the most legendary musicians of all time. Franklin, who died of pancreatic cancer at the age of 76, was a part of the film's production up until her death in 2018. She received 18 Grammy Awards and was nominated a total of 44 times during her prolific career. The film was originally scheduled to release in August but was pushed back due to the coronavirus pandemic. It will now have a limited release in the U.S. on Christmas Day, before a full wide release on January 15. Jennifer Hudson was born on 12th September 1981 in Chicago, Illinois, the USA. Her birth name/full name/real name is Jennifer Kate Hudson. Her nationality is American and her ethnicity is American-Black. Her race is Black. She was born to her parents; Samuel Simpson (father) and Darnell Donnerson (mother). She is the third and youngest child. She also has three siblings; Julia Simpson and Dinah Simpson (sisters) and Jason Simpson (brother). Her religion is Baptist and her zodiac sign is Virgo. As of 2019, she celebrated her 38th birthday. She grew up singing in the church choir. She was graduated from Dunbar Vocational High School in Chicago, Illinois in 1999. After that, she enrolled herself at Langston University in Langston, Oklahoma. But, due to homesickness and unsuitable weather conditions, she left college and took admission into Kennedy-King College in Chicago. Scroll down to know more information regarding her full biography which includes her family details, career, personal life, net worth, salary, birthday, wiki, facts, age, height, and many more.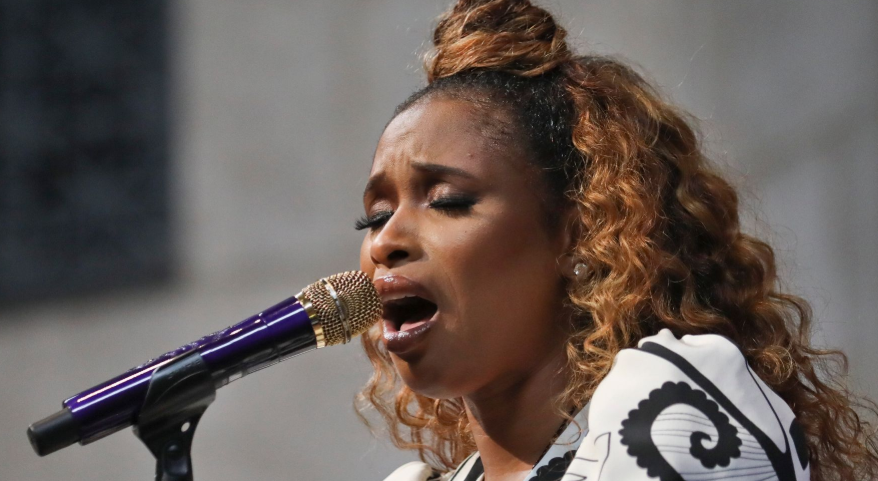 Source: @southasiansnews.com
Jennifer Hudson's Singing and Acting Career
Jennifer Hudson signed her first recording contract in January 2002, with Righteous Records which is a Chicago-based independent record label.
She was released from her five-year contract with Righteous Records so that she could appear on "American Idol" in the year 2004.
After that, she auditioned for the third season of American Idol in Atlanta commenting that she had been singing on Disney Cruise Lines (aboard the Disney Wonder) for the past few months (as one of the Muses from Hercules); and contestant judge Randy Jackson said, "We're expecting more than a cruise ship performance from you."
She received the highest number of votes in the "Top 9" after her performance of Elton John's "Circle of Life" on 6th April 2004, but two weeks later she was eliminated during the "Top 7" show after performing Barry Manilow's, "Weekend in New England."
In May 2010, the Los Angeles Times claimed Jennifer Hudson to be the third greatest Idol contestant in the history of the show, placing behind season one winner Kelly Clarkson and season four winner Carrie Underwood.
She debuted with the 2006 musical drama film "Dreamgirls" for her role as Effie White. The film won a whopping 29 awards and 6 nominations. She won the Golden Globe Award as Best Actress in a Supporting Role and she has been named Best Supporting Actress by the Broadcast Film Critics Association and also by the Screen Actors Guild.
On 11th February 2007, the 60th British Academy Film Awards were held in London, but she was not there to accept her BAFTA Award for Best Actress in a Supporting Role.
On 25th February 2007, she won the Academy Award for Best Supporting Actress for her role in the film.
During her acceptance speech, Hudson said: "Oh, my God, I have to just take this moment in. I cannot believe this. Look what God can do. I didn't think I was going to win. [...] If my grandmother was here to see me now. She was my biggest inspiration."
She next appeared in "Sex and the City" in May 2008 which is an American romantic comedy, directed by Michael Patrick King. The film premiered in London on 15th May 2008 and released on 30th May 2009.
In October 2008, Hudson made her third film appearance in "The Secret Life of Bees" as Rosaleen, the mother figure of Lily Owens. The film opened on October 17, 2008, and grossed over $37 million at the box office.
She starred as Kathy Archenault in Fragments, a film based on the novel by Roy Freirich, with Dakota Fanning and Forest Whitaker in the year 2009 which was released on 4th August 2009.
In the year 2010, she started filming the biopic film "Winnie Mandela".
Her debut single, "Spotlight" was released on 10th June 2008, and became her first top 40 hit peaking at number 24 on the Billboard Hot 100 and became a top 20 hit in the United Kingdom and Turkey.
Her debut studio album, "Jennifer Hudson", was released on 30th September 2008, on Arista and was written by Ne-Yo, who co-produced along with Stargate.
It turned out to be a huge hit and debuted at No. 2 on the US Billboard 200.
Having sold 217,000 copies within the first week itself, it also earned her several awards such as the NAACP Image Award for Outstanding New Artist.
She has performed the song, "All Dressed in Love" for the Sex and the City soundtrack, which was released on 27th May 2008.
She performed the national anthem at the 2008 Democratic National Convention.
After the release of "If This Isn't Love", the single eventually peaked at number 63 on the Billboard Hot 100 and number 37 on the UK Singles Chart.
The third single was then rescheduled as "Giving Myself" and was released on June 2, 2009, to the US.
Her debut album garnered Hudson three nominations at the 2009 Grammy Awards; Best Female R&B Vocal Performance for "Spotlight", Best R&B Performance by a Duo or Group with Vocals for "I'm His Only Woman" with Fantasia Barrino, and Best R&B Album for 'Jennifer Hudson'.
She made her first public appearance since the murders when she sang the Star-Spangled Banner at Super Bowl XLIII in February 2009.
She also toured the United States with Robin Thicke in the year 2009.
She sang "Will You Be There" at the Michael Jackson memorial service in July 2009 and also she recorded "Neither One of Us (Wants to Be the First to Say Goodbye)" for American Idol Season 3: Greatest Soul Classics.
She is featured on Ne-Yo's second album, "Because of You", on the track, "Leaving Tonight".
On 22nd January 2010, she appeared on the telethon "Hope for Haiti Now: A Global Benefit for Earthquake Relief", performing the Beatles' "Let it Be".
She also recorded the song "One Shining Moment" for the 2010 NCAA Men's Division I Basketball Tournament.
In the year 2010, she became the spokesperson for Weight Watchers.
She appeared on The Oprah Winfrey Show and revealed she had lost a total of 80 pounds (weight loss) on 10th February 2011.
Her 2012 autobiography, "I Got This: How I Changed My Ways and Lost What Weighed Me Down", detailed her weight loss.
Her second album "I Remember Me" was released on 22nd March 2011 debuting at No. 2 on the US Billboard 200. It also sold 165,000 copies in its first week itself and earned mostly positive reviews.
She played a nun in the Farrelly brothers film "The Three Stooges" (2012).
She starred in the coming of age drama "The Inevitable Defeat of Mister & Pete" in October 2013.
She appears alongside Amy Adams in the drama "Lullaby".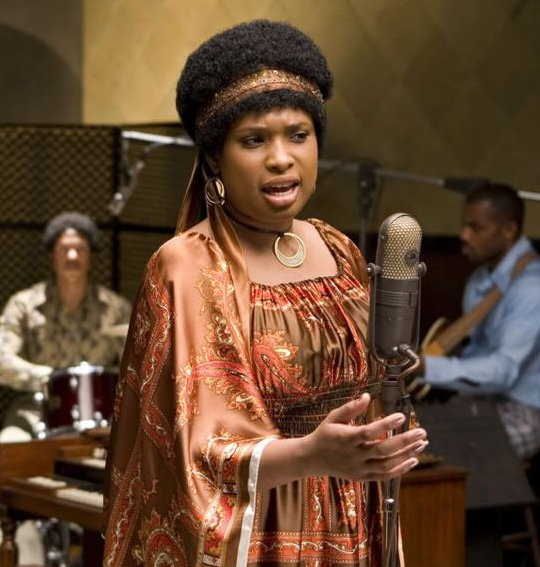 Source: @pinterest.com
On 13th November 2013, she was awarded the 2,512th star of the Hollywood Walk of Fame.
On 23rd September 2014, she released her third album "JHUD" on which she had worked with several songwriters and producers. It debuted at No. 2 on the US Top R&B/Hip-Hop Albums chart and sold 165,000 copies within the first week.
She guest-starred as Michelle White, a minor semi-recurring character in the first season of "Empire" in 2015.
She made her Broadway debut as Shug Avery in the Broadway revival of "The Color Purple" in 2015.
She later picked up her second career Grammy for Best Musical Theater Album (2017) for her work on "The Color Purple".
She performed Prince's "Purple Rain," on the BET Awards as well in June 2016.
she made her appearance in the 2015 movie "Chi-Raq", which was directed and produced by Spike Lee which became a commercial success and received positive reviews from critics as well. It also earned Hudson a nomination for the 47th NAACP Image Awards for Outstanding Actress in a Motion Picture.
She then released "Remember Me" on 3rd March 2017, as the lead single from her upcoming fourth album.
On 12th December 2017, she released another new song, "Burden Down". The same day, Hudson performed it live for the first time on the semi-final result night of The Voice, a music video for the single was also released.
She starred as singer Courtney Clarke alongside Adam Sandler in the Netflix film "Sandy Wexler", which premiered in April 2017.
In early 2017, she debuted in "The Voice" franchise as a coach on the sixth season of "The Voice UK".
She also joined the American version of "The Voice" as a coach for its thirteenth season.
In 2018, she was cast as the Cats character Grizabella in the film adaptation.
In March 2020, she collaborated with Bono, Will.i.am, and Yoshiki to create "#SING4LIFE", a song written and compiled remotely by the four musicians to lift spirits during the COVID-19 crisis.
Awards and Achievements of Jennifer Hudson
Her debut film "Dreamgirls" earned her numerous awards which included the Academy Award for Best Performance by an Actress in a Supporting Role, the Golden Globe Award for Best Supporting Actress-Motion Picture, and a Satellite Award for Best Supporting Actress. She has won several other awards as well, which includes a "Grammy" for her debut album titled "Jennifer Hudson".
Jennifer Hudson SPLIT with David Otunga (Ex)
Jennifer Hudson is not married yet and he is still to get married. Initially, she met James Peyton as a teenager. The duo started dating in 1999 and continued their relationship for eight years until 2007. For a very short time in 2007 (primarily in the 4th quarter of 2007), Jennifer and American football safety, Kerry Rhodes dated each other. After that, she met David Otunga, a Harvard Law graduate, and a professional WWE wrestler. The couple got engaged on 12th September 2008 and on 10th August 2009, the couple welcomed their first baby named Daniel Otunga Jr. Later, the duo separated in November 2017 and have been on the fight for the custody of their son Daniel. At present, she is living a single life without any disturbances. Her sexual orientation is straight.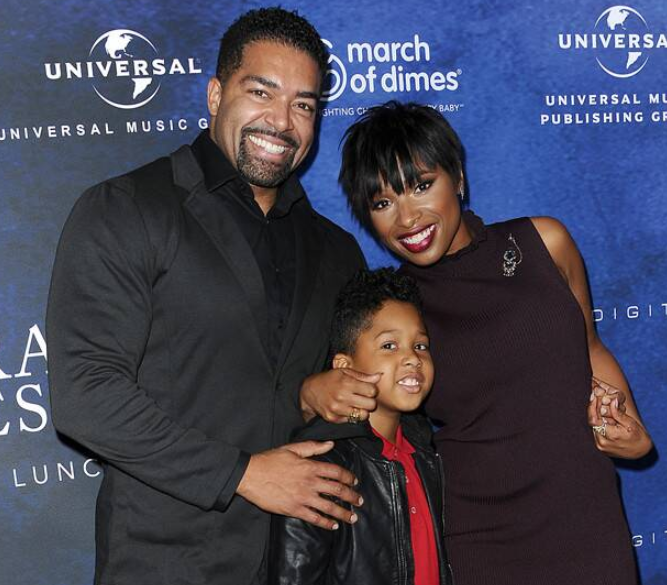 Source: @eonline.com
Her 57-year-old mother Darnell Donerson and 29-year-old brother Jason were found shot to death inside the Chicago home Donerson shared with Hudson's older sister, Julia on 24th October 2008. Police charged William Balfour, Julia's estranged 27-year-old husband, with three counts of first-degree murder and one count of a home invasion. Convicted on all seven counts against him, in July 2012, he was sentenced to three life sentences without the possibility of parole; served consecutively, followed by an additional 120 years for his other convictions.
Jennifer Hudson's Net Worth 2020
Jennifer Hudson is an American singer and actress. She has earned a lot of money from her acting career since her first film debut in the award-winning "Dreamgirls" in the year 2006. As of 2020, the net worth of Jennifer Hudson is believed to have $25 million as per sources. Whereas her estimated salary said to be $3,410,000. Her main source of income has been her earnings from her contribution to the world of movies and television entertainment. She has also earned a hefty income by selling her three music albums. She is the brand ambassador of "Weight Watchers" (2010). She has appeared in a television commercial about Weight Watchers' "Point Plus" (in 2012), Weight Watchers' "Because it works!" (in 2011), and Weight Watchers 360 (in 2013) along with Jessica Simpson. appeared in print ads of whymilk.com's "Milk Mustache". She is living a luxurious lifestyle from his earnings.