About Paul Walker
Paul Walker was a famous American actor who was best known for his role as Brian O'Conner in the franchise film, "The Fast and the Furious". He made his film debut in 1986 with the horror-comedy film "Monster in the Closet" for his role as "Professor" Bennett. He made his first TV show appearance in anthology series in "CBS Schoolbreak Special" for his role as Dill in the year 1984. He came to limelight in the early 1990s after his appearance in the television soap opera, "The Young and the Restless". He was a brown belt holder in the Brazilian Jiu-Jitsu. After his death, he was awarded a black belt by his mentor Ricardo "Franjinha" Miller. In the year 2006, he was included on the board of directors of The Billfish Foundation, which is a non-profit foundation dedicated to the billfish conservation. He was the founder of Reach Out Worldwide charity that worked towards providing assistance in areas devastated by natural disasters. He died at 3:30 p.m. PST (approx) on November 30, 2013, when he was sitting in his friend Roger Rodas's red 2005 Porsche Carrera GT going at a speed to 72 km/h. He had left a charity event and the speeding car hit the lamppost and trees on Hercules Street which resulted in a vehicle burst. He died when he was filming "Furious 7" (2017) and the song, "See You Again" was commissioned for the film's soundtrack as a tribute to Walker.
Paul Walker's daughter, Meadow, is commemorating what would have been the late actor's 47th birthday by sharing a photo on Instagram. Meadow Walker, who works as a model posted an image on her Instagram account Saturday of her and her father when she was young. She accompanied the photo with a very simple caption. She wrote, "The moment I realized we are twins. happy birthday to the most beautiful soul". She along with Vin Diesel and other Fast and Furious alums, paid tribute to him. Paul Walker died in November 2013 at age 40 in a car crash. The accident happened a few weeks after Meadow turned 15. Walker and friend Roger Rodas were killed when their 2005 Porsche Carrera GT slammed into a pole and burst into flames. Walker's daughter, Meadow also keeps her father's memory alive on the Paul Walker Foundation Instagram page.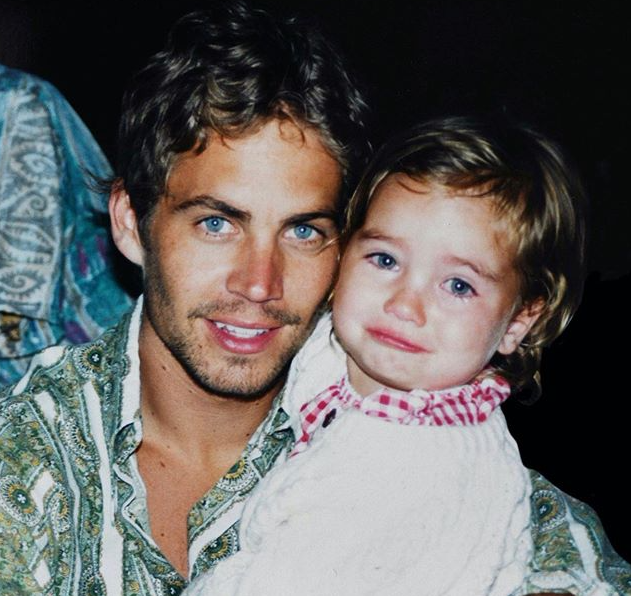 Source: @instagram.com/meadowwalker
Paul Walker is famous for being a famous Actor. He is best known for playing in six movies of "The Fast and the Furious" franchise until his death.
Paul Walker was born on 12th September 1973, in Glendale, California, the USA with the birth name of Paul William Walker IV. His nationality was American and he belonged to White ethnicity. His race is American-White. He was of English, with some German, Swiss, and Irish ancestry. Virgo was his zodiac sign and his religion was Christian. He was born to his parents, Cheryl Crabtree Walker (mother), Fashion Model, and Paul William Walker III (father), Sewer Contractor, and amateur boxer. Even his paternal grandfather had a boxing career as "'Irish' Billy Walker". He was raided along with his five siblings: two brothers; Cody Walker and Caleb Walker, and two sisters; Ashlie Walker and Amie Walker. Talking about his education, he attended high school in the San Fernando Valley, and after then he got graduated from Sun Valley's Village Christian School in 1991. After his graduation, he attended several community colleges in Southern California, majoring in marine biology. He lastly celebrated his 40th birthday.
The charming actor, Paul Walker was a very handsome actor. He had got a tall height of 6 ft 2 in or 1.89 m with a bodyweight of 70 Kg or 154 lbs at the time of his death. He maintained his body a lot and his body build was athletic. His body measurements were chest size 43 in, waist size 34 in, and bicep size 15 in. His hair color was light brown and his eye color was deep blue. He had got his daughter Meadow Walker's name tattooed along with Hawaiian state flower on his right wrist.
Paul Walker's Cause of Death
On 30th November 2013, Paul Walker left this world due to a car accident on Hercules Street near Kelly Johnson Parkway in Valencia, Santa Clarita, California. At around 3:30 p.m. PST, Walker and his financial advisor, Roger Rodas, left an event for Walker's charity Reach Out Worldwide for victims of Typhoon Haiyan(Yolanda), in Walker's Porsche Carrera GT. In a 45 mph (72 km/h) speed zone on Hercules Street, Valencia, California, the car crashed into a concrete lamp post and two trees and burst into flames. With the deadly car-accident, he died from the combined effects of trauma and burns and Rodas died of multiple trauma. Both of their bodies were burned beyond recognition. After investigation, it was found that the age of the tires of the car was the primary reason for the crash. Numerous friends and movie stars posted tributes to Walker on social media. His body was cremated and his ashes were buried in a non-denominational ceremony at Forest Lawn Memorial Park. His life was later chronicled in the documentary "I Am Paul Walker", which was released on 11th August 2018.
Paul Walker's Acting Career
Initially, Paul Walker's modeled in a TV commercial for 'Pampers' when he was only two.
After that, he appeared in another commercial 'Showbiz Pizza' in the year 1984.
He then appeared in the teen anthology series CBS 'Schoolbreak Special'.
After that, he appeared in two episodes of the fantasy drama "Highway to Heaven" between 1984 and 1986, and secured his first leading role in 1987, appearing as Jeremy Beatty in the sitcom "Throb".
Since then, he has featured on sitcoms in the early 1990s, with guest roles in "Charles in Charge, Who's the Boss?", and the shortlived "What a Dummy".
Not only this, but he also portrayed Brandon Collins on the soap opera "The Young and the Restless" in the year 1993.
His final television role was
on "Touched by an Angel" but he then appeared as contestants on a 1988 episode of the game show "I'm Telling!" with her sister.
After then, he started acting in the film where he made his film debut as Professor Bennett in the horror/comedy film, "Monster in the Closet"(1986).
In 1987, he starred The Retaliator (retroactively subtitled Programmed to Kill), a science fiction film.
He then starred in "Tammy and the T-Rex" in the year 1994.
His first feature film was "Meet the Deedles" in the year 1998.
He then appeared in Pleasantville (1998), Varsity Blues (1999), She's All That (1999), The Skulls (2000).
His breakthrough role arrived when he starred opposite Vin Diesel in the action film "The Fast and the Furious" in the year 2001. He also reprised his role as Brian O'Conner in the 2003 sequel "2 Fast 2 Furious".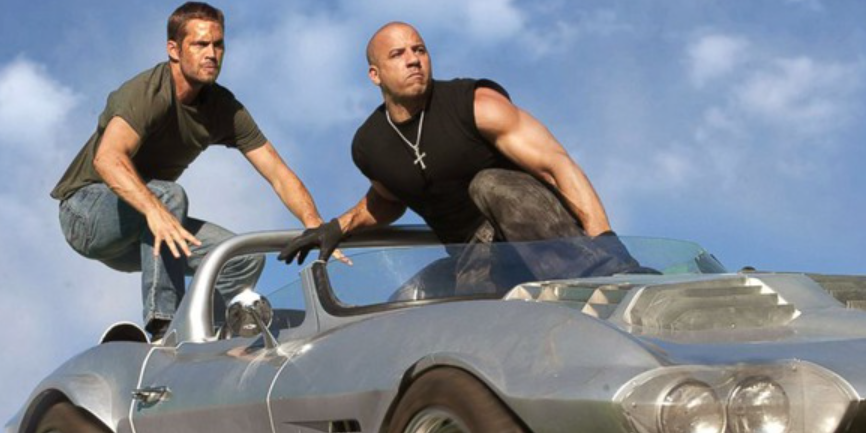 Source: @cinemablend
and leading him to reprise his role in the sequel "2 Fast 2 Furious" in 2003.
In the year 2005, he appeared in the action film, "Into the Blue" opposite Jessica Alba.
Walker then starred in the action thriller, "Running Scared" (2006), "Flags of Our Fathers", Walt Disney Pictures' "Eight Below" (2006), "The Lazarus Project" (2008), and "Takers" (2010).
In the year 2009, he returned to "The Fast and the Furious franchise", reprising his role.
He again reprised his role in The Fast and the Furious series, "Fast Five" (2011), and again in "Fast & Furious 6" (2013).
After his death in 2013, four films starring Walker were posthumously released; the thriller film Hours (2013), the action film Brick Mansions (2014), itself a remake of the French film District 13 (2004).
He also acted as executive producer on the film Pawn Shop Chronicles (2013), while Furious 7, originally slated for release in 2014, was pushed back to recreate Walker's likeness.
He was also set to play 'Agent 47' in the video game adaptation "Hitman: Agent 47", but died before production began.
Paul Walker's Personal Life
Paul Walker was an unmarried man as he had not married anyone till his death. But he has been in numerous relationships. Talking about his dating life, he first dated actress Denise Richards in 1993. They went closer after working together in the comedy film Tammy and the T-Rex (1994). After then, he began his relationship with Rebecca McBrain who was reportedly the only serious love of Paul's life. She also gave birth to his daughter Meadow in 1998. But as Paul later confessed, he was young and naive and repeatedly cheated on his girlfriend. Due to this, Rebecca decided to walk away from him. After that, he was reported to have had a short-lived affair with the actress and singer Christina Milian for around a year. He also started going out with Bliss Ellis after meeting her on the sets of Varsity Blues, in which she had a minor role. After that, he dated Aubrianna Atwell in 2003 after meeting her through friends at the Hollywood Canteen. He also dated Jasmine Pilchard-Gosnell in the year 2006. Jasmine was one of the reasons that Paul's daughter Meadow decided to move closer to her father. She had almost become a stepmother to Meadow. The duo had got engaged in 2008. When she heard the news of Paul's death, she collapsed due to shock. Paul Walker loved her daughter so much but their togetherness didn't last long as he passed away just 2 years after they were united. On 7th April 2020, his daughter, Meadow posted a private video of her wishing her dad a happy birthday in memory of his beloved late-dad. Since her father's death, Meadow Walker has continued his good works with the Paul Walker Foundation. His sexual orientation was straight.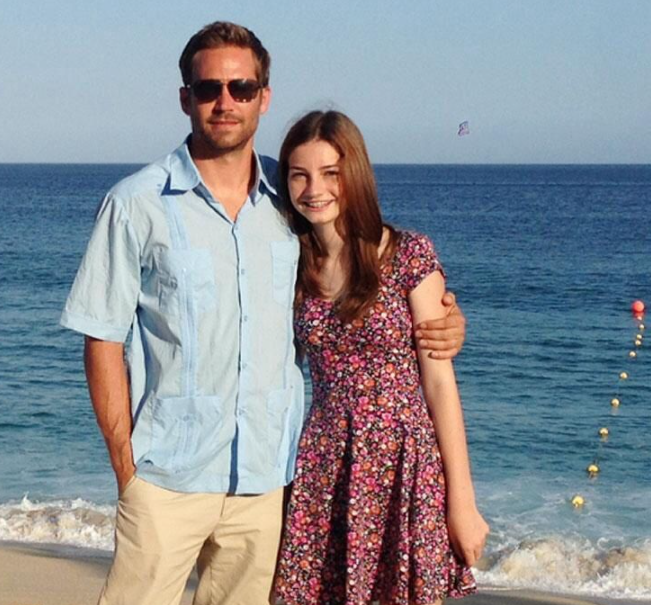 Source: @pinterest
Paul Walker's Net Worth 2020
A very talented and successful actor, Paul Walker's net worth is estimated to have $25 Million at the time of his death. He had collected a huge amount of money from the film industry. His major source of wealth comes to form several hit movies and franchises. His salary has not been revealed yet by any sources yet. Prior to his death, he was enjoying a luxurious lifestyle in an араrtmеnt іn Ѕаntа Ваrbаra, Саlіfоrnіа worth $1.4 mіllіоn аnd аn еѕtаtе іn Саrреntаrіа, Саlіfоrnіа. Additionally, he also hаd а fеw lаnd аnd іѕlаnd іn Іndоnеѕіа. He was a car enthusiast and had a collection of cars more than thirty. He had also put on for auction and was sold over $2.3 million. All proceeds from the auction went into a trust for Meadow. His car was sponsored by Etnies, Brembo Brakes, Ohlins, Volk, OS Giken, Hankook, Gintani, and Reach Out Worldwide. As of January 2020, twenty-one vehicles owned by Walker were sold for a combined $2.33 million during spirited bidding at an annual car auction in Arizona.