Joan Jett Biography
An American rock singer, songwriter, composer, musician, record producer, and actress, Joan Marie Larkin is better known as Joan Jett who is well recognized for her work as the frontwoman of her band Joan Jett & the Blackhearts. She is considered the Queen of Rock 'n' Roll for hits such as "I Love Rock 'N' Roll." Her other notable hit songs include "Bad Reputation", "Crimson and Clover", "Do You Wanna Touch Me (Oh Yeah)", "Light of Day", "I Hate Myself for Loving You" and "Dirty Deeds". She quit guitar lessons when she was 14 years old because she did not want to learn folk songs. Her band recorded a cover of "Crimson and Clover" and gained fame for their 1980 debut album, "Bad Reputation". She is also known for earlier founding and performing with "The Runaways", which recorded and released the hit song "Cherry Bomb". Recently, Joan Jett, Billy Idol has joined Miley Cyrus for super bowl tailgate. Scroll down to read Joan's Full Biography, Personal Life, Untold Story, Birthday, Sexuality, Interesting Facts, Wiki, Age, Net Worth, Parents & Family Life.
Famous For
Being an American rock singer, songwriter, composer, musician, record producer, and actress.
For her work as the frontwoman of her band Joan Jett & the Blackhearts.
For earlier founding and performing with the Runaways, which recorded and released the hit song "Cherry Bomb".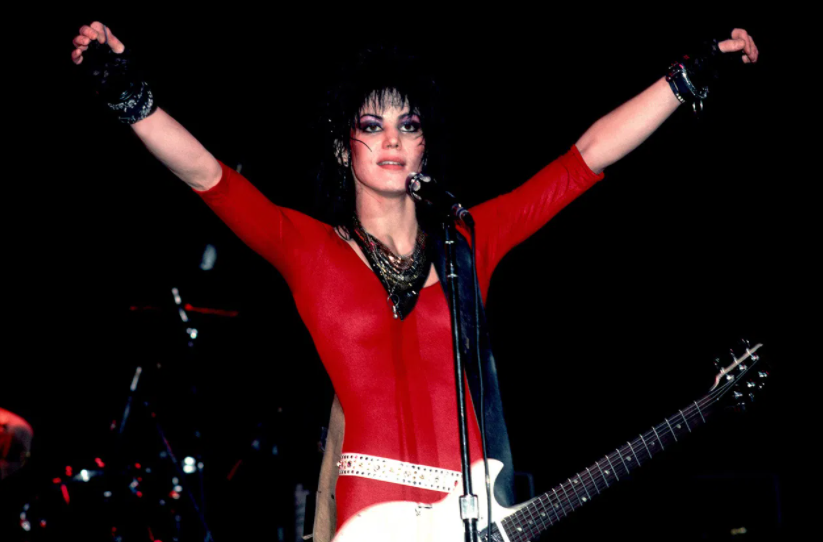 Source: @decider
Joan Jett Early Life

On 22nd September 1958, Joan Jett took birth with the Zodiac sign of Virgo in Wynnewood, Pennsylvania, the U.S. (hometown/birthplace). She is of American nationality and she belongs to mixed ethnicity as she has Irish, English, and Scottish ancestry. Likewise, her religion is Christian and her race is white. Her full name or real name, Joan Marie Larkin which was given by her father James Larkin, who was an insurance salesman, and mother Dorothy Larkin, who was a secretary. She has two younger siblings, James Albert Larkin (brother) and Anne Elizabeth Larkin (sister). Her parents divorced and she changed her name to Joan Jett because she thought it had more of a rock-star sound than her birth name. She was educated at Randolph Junior High and Wheaton High School. As of 2020, she celebrated her 62nd birthday and will be celebrating her 63rd birthday as of 22nd September 2021.
Joan Jett Career
The Runaways
Joan Jett began her career becoming the founding member of 'the Runaways' which recorded three albums, with "Live in Japan" becoming one of the biggest-selling imports in US and UK history whereas "The Runaways", a movie about Jett's band, was released in 2010.
The band then released two more albums with Jett handling the lead vocals: "Waitin' for the Night" and "And Now... The Runaways". Altogether, they produced five albums from 1975 until they disbanded in the spring of 1979, however, Jett produced the Germs' only album, "(GI)".
Solo Career
Joan started her solo career in England in 1979 where she recorded the 1993 compilation album "Flashback" whereas Jett was eventually used in another project, an underground film called "DuBeat-Eo" which was not commercially released.
Jett's self-titled solo debut was released by Ariola Records in Europe on 17th May 1980, but the album was rejected by 23 major labels, she and Laguna released it independently on their new Blackheart Records label, which they started with Laguna's daughter's college savings.
Joan Jett & the Blackhearts

Blackhearts was formed by Jett and she placed an ad in the "LA Weekly" though Jett and Laguna used their personal savings to press copies of the "Joan Jett" album and set up their own system of distribution.
Jett signed to her new label, Boardwalk Records, and re-released the Joan Jett album as "Bad Reputation", the Blackhearts recorded a new album entitled "I Love Rock 'n Roll for the label" after a year of touring and recording.
He released "Album" (1983) and "Glorious Results of a Misspent Youth" (1984) as well as she launched "Good Music" in 1986.
Joan & the Blackhearts became the first rock band to perform a series of shows at the Lunt-Fontanne Theatre on Broadway, she also ext release, "Up Your Alley" in 1988, well she also co-wrote the song "House of Fire", which appeared on Alice Cooper's 1989 album "Trash".
The band also had a song on the "Days of Thunder" soundtrack, "Long Live the Night" in 1990, written by Jett with Randy Cantor and Michael Caruso.
She launched "Notorious" in 1991 as well as Jett and Laguna released "Flashback" in 1993, though she has featured on the "We Will Fall: The Iggy Pop Tribute" album in 1997.
She is also a guest artist on Marky Ramone and the Intruders' 1999 album "The Answer to Your Problems?", Jett and Laguna produced the album No Apologies by the pop-punk band the Eyeliners in 2004.
Later, Jett and Laguna signed punk rockers the Vacancies and produced their second album in 2005, "A Beat Missing or a Silence Added" (reaching the top 20 in CMJ Music Charts), and their third album in 2007, "Tantrum".
She then released her album "Sinner" in June 2006, she was also an executive producer for the film "The Runaways" and also Jett, along with the Blackhearts, released the album "Unvarnished" on 30th September 2013.
Also, she was the executive producer of the film "Undateable John", which was released in 2014, however, Jett, along with the Blackhearts, will join Motley Crue and Def Leppard on The Stadium Tour as an opening act along with Poison in 2021.
Additionally, Joan Jett and Billy Idol have recently joined Miley Cyrus for super bowl tailgate.
"This is my first show in about a year, and I couldn't imagine a better way to do this than in Tampa, surrounded by health care heroes," she told the audience.
Moreover, she has provided the voice of Camille in "Kipo and the Age of Wonderbeasts" in 2020.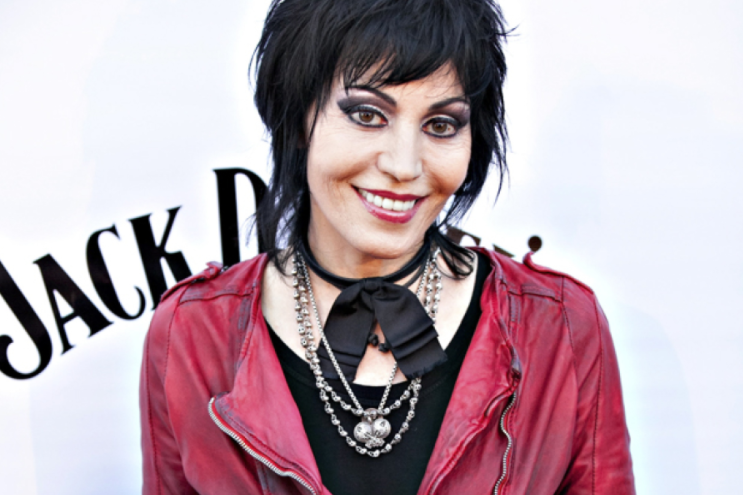 Source: @rollingstone
Film, stage, and television appearances

Joan kicks off her film by performing "Bad Reputation" with the Blackhearts at the Ritz in New York City in the 1981 live concert film "Urgh! A Music War" as she made her acting debut in 1987 in the Paul Schrader film "Light of Day".
She has seen in the first-season episode of TV's "Highlander: The Series" in 1992 as well as starred on the sitcom "Ellen" in 1997.
She starred as Columbia in the Broadway production of "The Rocky Horror Show" in 2000, she also appeared on "Walker, Texas Ranger" as an ex-CIA agent turned assassin in the following year.
Analogously, she has appeared in numerous films and series such as "By Hook or by Crook", "Godly Boyish", "Big Driver", and many others.
Besides acting, she has provided the voice for the character Sunshine Justice in an episode of "Steven Universe" and she was the subject of a documentary, "Bad Reputation", which was released in theaters and streaming on 28th September 2018.
Joan Jett Awards and honors

Long Island Music Hall of Fame (Class of 2006).
Rolling Stone 100 greatest guitarists of all time (No. 87).
Gibson manufactured a signature model of her Melody Maker, a white double cutaway with a zebra humbucker and "kill" toggle switch.
2012 Nanci Alexander Activist Award for her work on behalf of animal welfare.
2013 named and awarded West Hollywood's Rock Legend.
2014 AP Icon Award
2014 Golden God Award
Rock and Roll Hall of Fame inductee (Class of 2015)
Joan Jett Personal Life

Joan Jett is an unmarried woman, whereas, regarding her relationship status, she is not dating anyone as of now. But previously, she was in a relationship with John Lydon (1978), Chuck Zito (2001), Stephanie Adams (2003), Jenna Jameson (2006), Carmen Electra (2006-2007). Talking about her sexual orientation, she has refused to either confirm or deny rumors that she is lesbian or bisexual. In a 1994 interview with Out magazine she said, "I'm not saying no, I'm not saying yes, I'm saying believe what you want. Assume away go ahead." In 2006, she also addressed the rumors that she is an open lesbian by saying, "I never made any kind of statement about my personal life on any level. I never made any proclamations. So I don't know where people are getting that from." Currently, she is residing in Long Beach, New York, the USA.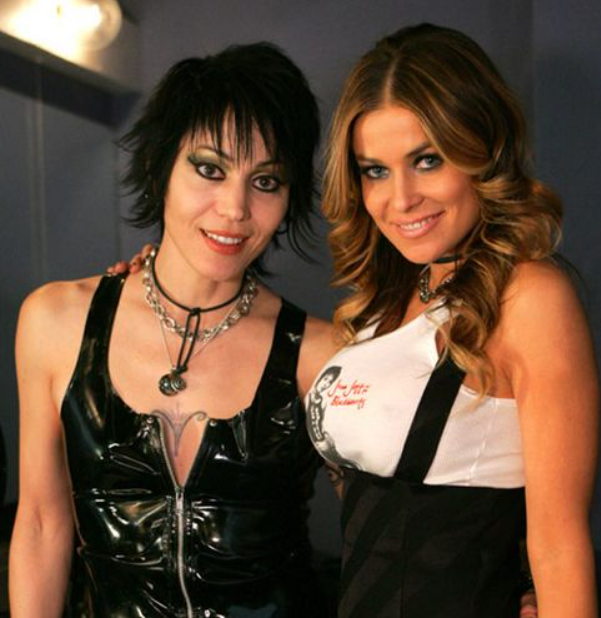 Source: @pinterest
Joan Jett Net Worth

Joan Jett is a famous and versatile American rock singer, songwriter, composer, musician, record producer, as well as an actress who has gained a considerable amount of money from her career or profession. Her net worth is around $10 million as of 2021. As her exact amount of salary has not been disclosed yet, we can be sure that her salary is also in millions of dollars per year. Her major source of income is from her music career. Jett also has done endorsement work for several brands like American Chopper, Same Bad Attitude (2006), HP TouchSmart PC (2008), Mary Tyler Moore Show (2001), No Price Charming Required for Mass. Mutual Financial Group (2001), and many others. She is living a luxurious lifestyle.
Joan Jett Body Measurement

5 ft 5 in or 165 cm tall musician Joan Jett has a bodyweight of around 56 kg or 123.5 lbs. Her thin eyebrows, front bangs short choppy jet black hair, emo look, deep husky voice, have attracted a lot of people towards her. Jett has black hair and lights brown eyes color. As her body build type Mesomorph, her body measurement is 34-33-24 inches. Moreover, she has made some tattoos on her body.