John "John-John" Alexender Florence professionally known as John John Florence is an American professional surfer, actor, producer, businessman, & director. He is famous for his work in films and TV shows such as "View From Blue Moon", "Done: John John Florence", "Distance Between Dreams", "Paradigm Lost", "Pipe", "Tokyo Rising", and many more. He is best recognized for wining the Surfer Poll 2013 Movies of the Year Award for his role in "Done" and Surfer Poll 2013 Short of the Year Awar.
As a surfer, John John Florence started surfing at the age of 2 and he was surfing on his own by the age of five. He competes in the Vans Triple Crown of Surfing which he became the youngest surfer ever. Then he joins the World Surf League where he has ranked 34th in 2011, 4th in 2012, 10th in 2013, 3rd in 2014, and 14th in 2015. He won back-to-back world titles on the 2016 World surf League, 2017 World Surf League Men's Championship Tour, and the Pipe Masters 2020 beating Brazilian surfer Gabriel Medina in the finals. He has performed at the 2014 Billabong Pro Teahupoo. In 2013, he changed sponsors, joining Hurley International. He is now sponsored by: Stance, Futures, Nixon, Dakine, Clif Bar, Electric, Yeti, and Pyzel surfboards. He has his clothing brand named "Florence Marine X" which focused on surfing gears, T-shirts, Ski boards. He qualified to represent the USA surfing team for the 2020 Tokyo Summer Olympics that is currently being held from 23 July to 8 August 2021 in Tokyo, Japan.
On 26 july 2021, John John Florence took to the air in their third round of Olympic surfing competition at Japan's Tsurigakawa Beach on Monday but ended abruptly when the two-time world surfing champion lost a heat against teammate K. Andino, who won 14.83-11.50.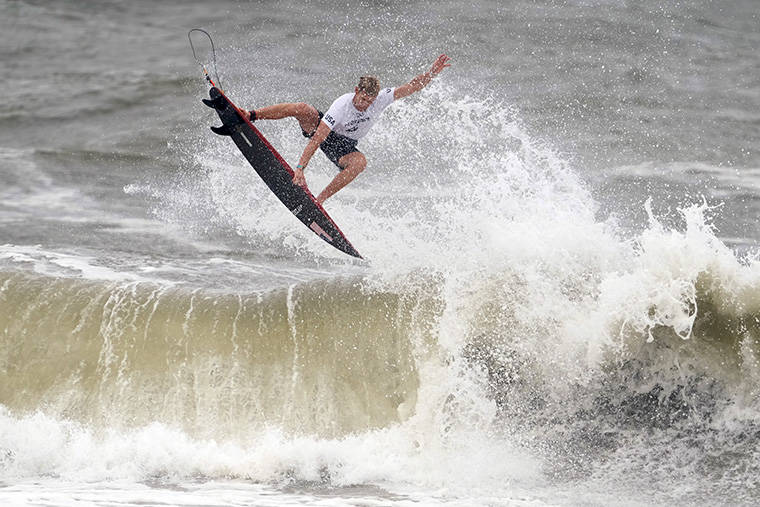 Early Life
On 18 October 1992, John John Florence was born in Honolulu, Hawaii, the United States with the birth name of John Alexander Florence. He was named after John F. Kennedy, Jr., who was dubbed "John-John" by the media while his father was president. He holds American nationality and belongs to American-White ethnic background. His race is white. He celebrated his 28 birthday as of 2020 which is his present age. His zodiac sign is Libra and his religion is Christian.
John John Florence took birth to his mother, Alexandra Florence, who is a professional surfer herself, and his father, John Sr. Florences. He has three siblings: Ivan Florence, Tal Florence, and Nathan Florence, who compete on the Big Wave World Tour after qualifying in 2018.
Regarding John John Florence's education, he went to Kahuku High School, which has a history of producing brilliant surfers.

Personal Life
John John Florence is currently in a relationship with an Australian model Lauryn Cribb. He got engaged to longtime girlfriend Lauryn Cribb in 2019. She signed to the Honolulu City Club founded by Melanie Tjoeng, and her Instagram features her work with different brands. The couple lives together in Hawaii. He is straight by sexuality.
Moreover, Lauryn Cribb also sold womenswear online over "depop.com" and her profile featured clothing items like one-pieces, bikinis, swimsuits, bags, and heels that ranged anywhere from $50 to $250. She entertained 30.4K followers over Instagram @lauryncribb and 50 followers on Twitter @lauryncribb as of 2021.

Net Worth
John John Florence is one of the most popular professional surfers, who has an estimated net worth of $15 million as of 2021. In 2018, he earned $5 million from endorsement and he signed a five-year contract with Hurley worth $30 million competitions in 2018, which made him the highest-paid surfer in the world. His major sources of income come from his acting, producing, directing, surfer, and businessman. He earns more than $5 million in the normal year from his surfing career. Additionally, the endorsements grant him an annual income of around $3.2 million. He has been done endorsements like Hurley, Dakine, Nixon, Pyzel Surfboards, Stance, and Futures. He has a huge car collection "R1T All-Electric Truck". He is living a cool lifestyle at present.

Body Measurement
John John Florence stands at the height of 6 feet 1 inch (185 cm). He has an average body builds with a balanced body weight of around 84 Kg (185 Ibs). He has a pair of beautiful green eyes color and his hair color is blonde. He suffered a broken back while riding a wave at Banzai Pipeline in 2011. He has also had a broken wrist, broken leg, broken arm, and ankle ligament tear.

Movies
2013- "Done"
2013- "Departure Delayed, Free to Roam, Begin Again, Again, And Again"
2015- "View from a Blue Moon"
2016- "Let's Be Frank", "Distance Between Dream"
2014- "Beyond Sight: The Derek Rebelo Story"
2017- "Paradigm Lost"
2016- "Twelve"
2008- "The Life"
2012- "Bending Colors"
2009- "Highwater"

TV shows
2015- "Dear Suburbia"
2018- "100 Foot Surfing Days"
2017- "O Melhor do Mundial de surfe 2016"
2014- "Uprising"
2015- "Best of International Ocean Film Tour: VOl.2"
2018- "Distance Between Dream"
2016- "Surfing Presents: Du Ciel"
2020- "Crossings"
Tokyo Rising

Awards
Won five Amateur Awards
Won the 2003 1st NSSA Nationals Open Mini Grom
Won the 2005 1st NSSA National Open Boy's
Won the 2005 NSSA Open Boys
Won the Explorer Menehune Champion
Won the 2017 WSL Championship
Won the 2016 WSL Champion
Won the Prestigious surfer Poll Awards (2014-2015)
Won the Volcom Pipe Pro an astonishing 4 times
Won the Vans World Cup of Surfing (2011, and 2013)
Won the Quiksilver Pro France in 2014
Won the 2015 Volcom Pipe Pro
Won the Eddie Quiksilver Big Wave Invitational
Won the Meo Rip Curl Pro in Portugal securing the WSL World Championship title
Won the title Andy Irons in 2004
Won the Pipe Masters 2020

Surfing result
Victories
Event (WCT Wins)
2021- Billabong Pipeline Masters
2019- Margaret River Pro
2019- Rip Curl Pro
2017- Drug Aware Margaret River Pro
2016- MEO Rip Curl Pro Portugal
2016- Oi Rio Pro
2014- Quiksilver Pro France
2012- Billabong Rio Pro

Event (WQS Wins)
2016- Hawaiian Pro
2015- Volcom Pipe Pro
2013- Volcom Pipe Pro
2012- Volcom Pipe Pro
2012- Telstra Drug Aware Pro
2011- Van's World Cup
2011- Volcom Pipe Pro

WSL World Championship Tour
Ranked #34th in 2011
Ranked #4th in 2012
Ranked #10th in 2013
Ranked #3rd in 2014
Ranked #14th in 2015
Ranked #1st in 2016
Ranked #1st in 2017
Ranked #35th in 2018
Ranked #5th in 2019