John Joseph Lydon famed as John Lydon is an English singer, songwriter as well as a musician. He is also known by his stage name "Johnny Rotten". John Lydon is best known as the lead singer of the late-1970s British punk band the "Sex Pistols", which lasted from 1975 until 1978, and again for various revivals during the 1990s and 2000s. He is also the lead singer of the post-punk band "Public Image Ltd" (PiL), which he founded and fronted from 1978 until 1993, and again since 2009. Because of their controversial lyrics and disrepute at the time, they are regarded as one of the most influential acts in the history of popular music. The band produced eight albums and a string of singles, including "Public Image", "Death Disco", and "Rise", before they went on hiatus in 1993, reforming in 2009. Moreover, he has also hosted television shows in the UK, the US, and Belgium, which appeared on I'm a Celebrity ... Get Me Out of Here! in the UK, appeared in advertisements on UK television promoting Dairy Crest, a brand of British butter, written two autobiographies, and produced some solo musical work, such as the album "Psycho's Path" (1997). In 2002, he was named among the 100 Greatest Britons following a UK-wide vote. He reveals that due to his wife's Alzheimer's diagnosis, he is a 'Full-Time Carer'. "That person I love is still there every minute of every day and that is my life," the punk rock icon said of Nora Foster. "For me, the real person is still there," Lydon said of his wife, 78. "That person I love is still there every minute of every day and that is my life. It's unfortunate that she forgets things, well, don't we all?". "I suppose her condition is one of like a permanent hangover for her," he continued. "It gets worse and worse, bits of the brain store less and less memory, and then suddenly some bits completely vanish." Scroll down to know full biography about John Lydon including his birthday, wiki, facts, family details, songs, tour, albums, wife, children, height, and more.
Famous For
Being an English singer, songwriter, and musician.
Being the lead singer of the late-1970s British punk band the Sex Pistols, and the lead singer of post-punk band Public Image Ltd (PiL).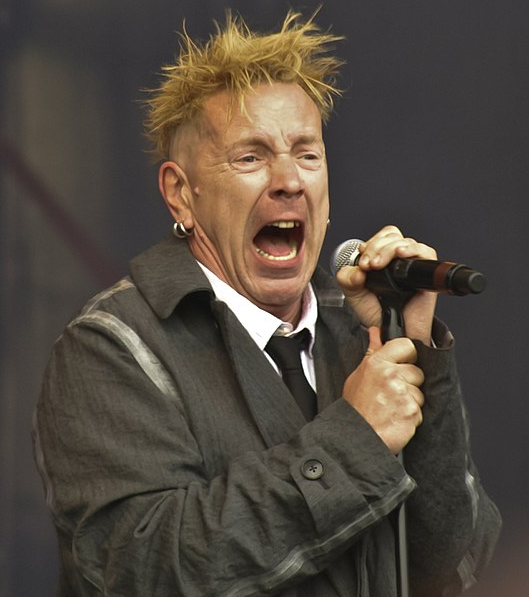 Source: @commons.wikimedia.org
John Lydon's Early Life
On 31st January 1956, John Lydon was born with the birth name/real name of John Joseph Lydon. His birthplace is in Holloway, London, England. He was born to his parents; Christopher Lydon (father) and Eileen Lydia (mother). His parents were working-class emigrants from Ireland who moved into a two-room Victorian flat in Benwell Road, in the Holloway area of north London. He spent summer holidays in his mother's native County Cork, where he suffered name-calling for having an English accent, a prejudice he claims he still receives today even though he travels under an Irish passport. Lydon, the eldest of four brothers, had to look after his siblings due to his mother's regular illnesses. Describing himself as a "very shy" and "very retiring" kid who was "nervous as hell", he hated going to school, where he would get caned as punishment and where he "had several embarrassing incidents ... I would shit my pants and be too scared to ask the teacher to leave the class. I'd sit there in a pants load of poo all day long." At the age of seven, he contracted spinal meningitis and spent a year in St Ann's Hospital in Haringey, London. He disliked his secondary school, the St William of York Roman Catholic School in Islington, where initially he was bullied, but at fourteen or fifteen he "broke out of the mold" and began to fight back at what he saw as the oppressive nature of the school teachers, who he felt instigated and encouraged the children to all be the same and be "anti-anyone-who-doesn't-quite-fit-the-mold." Following the completion of his O-levels at school, he got into a row with his father, who disliked Lydon's long hair, and so, agreeing to get it cut, the teenager not only had it cut but in an act of rebellion, he dyed it bright green. With his father often away, employed variously on building sites or oil rigs, he got his first job at aged ten as a minicab dispatcher, something he kept up for a year while the family was in financial difficulty. His nationality is English and his ethnicity is Mixed. His race is White. His Zodiac sign is Aquarius and his religion is Roman Catholic. As of 2020, he celebrated his 64th birthday.
John Lydon's Career (Songs, Albums, Bands)
While he was in his teens he started developing a passion for rock bands like Hawkwind, Captain Beefheart, Alice Cooper, and Iggy and the Stooges bands which his mother also used to like.
In the year 1975, he joined the newly formed band called "Sex Pistols" as a band's frontman.
In 1977, the band released "God Save the Queen" during the week of Queen Elizabeth II's Silver Jubilee.
In 1977, the Sex Pistols released their only and highly influential studio album "Never Mind the Bollocks, Here's the Sex Pistols".
The Sex Pistols' disintegration was documented in Julian Temple's satirical pseudo-biographical film, "The Great Rock 'n' Roll Swindle".
In the year 1978, he formed his own band called Public Image Limited (PiL) which was there for fourteen years and he was the only consistent member of that band.
PiL released eight studio albums between 1978 and 1992.
Their album includes; Public Image: First Issue (1978), Metal Box (1979), Paris au Printemps (1980), Album (1986), and 9 (1989).
Wobble left and Lydon and Levene made The Flowers of Romance (1981).
It followed by This Is What You Want... This Is What You Get (1984) featuring Martin Atkins on drums (he had also appeared on Metal Box and The Flowers of Romance); it featured their biggest hit, "This Is Not a Love Song", which hit No. 5 in the UK Singles Chart in 1983.
In the year 1983, he co-starred with Harvey Keitel in the film "Copkiller", also released as "Corrupt and The Order of Death".
He had a small role in the 2000 film "The Independent".
Lydon, McGeoch, and Dias wrote the song "Criminal" for the film "Point Break".
After this album, in 1993, he put PiL on indefinite hiatus.
He has released more than twenty discographies.
Apart from Music he also wrote Three Books; Rotten: No Irish, No Blacks, No Dogs, Punk Chaos to Couture, and Anger Is An Energy: My Life Uncensored.
In 1997 Lydon released a solo album on Virgin Records called "Psycho's Path".
He has recorded a second solo album but it has not been released, except for one song that appeared on "The Best of British £1 Notes".
In November 1997, he appeared on "Judge Judy" fighting a suit filed by his former tour drummer Robert Williams for breach of contract, assault, and battery.
In January 2004, Lydon appeared on the British reality television program "I'm a Celebrity ... Get Me Out of Here!", which took place in Australia.
Although Lydon spent years denying that the Sex Pistols would ever perform together again, the band re-united (with Matlock returning on bass) in the 1990s, and continues to perform occasionally.
n 2002, the year of Queen Elizabeth's Golden Jubilee, the Sex Pistols reformed again to play the Crystal Palace National Sports Centre in London.
In 2006, the Rock and Roll Hall of Fame inducted the Sex Pistols, but the band refused to attend the ceremony or acknowledge the induction, complaining that they had been asked for large sums of money to attend.
In 2010, he played with Public Image Ltd in Tel Aviv, Israel despite protests.
During an April 2013 tour of Australia, Lydon was involved in a television interview for "The Project" that resulted in a publicized controversy, as he was labeled "a flat out, sexist, misogynist pig" by one of the panelists on the Australian program.
He was cast to play the role of King Herod for the North American arena tour of Andrew Lloyd Webber's rock opera "Jesus Christ Superstar".
A compilation of Lydon's lyrics, "Mr. Rotten's Songbook", was published in 2017.
John Lydon's Books

His Books include:
Lydon, John (1993). Rotten: No Irish, No Blacks, No Dogs. Hodder & Stoughton
With Andrew Bolton. Punk: Chaos to Couture Yale University Press
Lydon, John (2014). Anger Is an Energy: My Life Uncensored. Simon & Schuster
John Lydon's Awards and Achievements

John Lydon is a very talented singer and he has reached a great height in his career. Regarding his awards, he has won the NME Award.
John Lydon's Wife (Nora Forster)
John Lydon is a married man. He was married to his beautiful wife, Nora Forster who he described as the beautiful thing he has ever seen. Nora is a publishing heiress from Germany. The duo married in the year 1979. Nora is well educated, humorous character and dressed magnificently. He was the stepfather of Forster's daughter Ari Up, who had been the lead singer in the post-punk band The Slits until her death in 2010 due to breast cancer. In 2000, Lydon and Nora became legal guardians of Ari's twin teenaged boys; as Lydon explained "[Ari] let them run free. In 2010, they became guardians of Ari's third child, Wilton. Lydon and Forster primarily live in Venice, California where they have resided since the early 1980s, but keep a residence in London. In 2018, he revealed that Forster was in the mid-stages of Alzheimer's Disease. "The idea of losing Nora is unbearable," Lydon said in his 2014 Guardian interview. "If one of us goes before the other it will be murder for the survivor. She is older than me but women live longer, so we should die at exactly the same time. That would be perfect." He revealed that he's been acting as his wife's full-time caretaker since her condition has worsened. The two are currently quarantined in their Venice, Calif., home during the coronavirus pandemic, with Lydon explaining with characteristic bluntness that he doesn't "need to go out and socialize with buttholes." His sexual orientation is straight.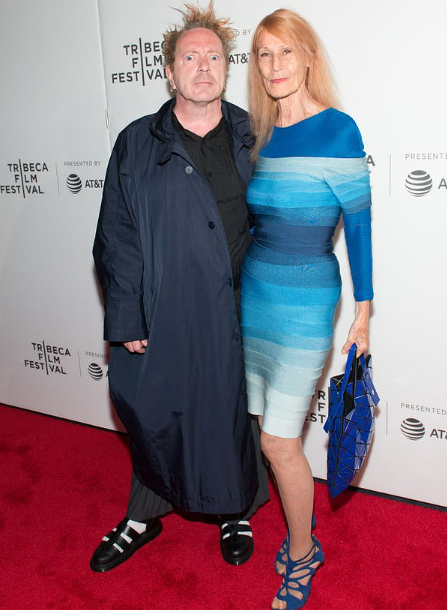 Source: @trendswide.com
John Lydon's Net Worth
John Lydon is a successful singer and he is one of the highest net worth punk performers. He has also hosted many television programs and radio shows over the years including shows on VH1. He always found peace and joy in PiL as that is a platform where he discovered himself and his talents which he is never going to leave. As of 2020, the net worth and salary of John Lydon are unknown. He is satisfied with his earnings at present. Information about his cars and house is unknown.
John Lydon's Body Measurements
John Lydon is a very handsome person. He maintained his body a lot. With an athletic body build, he stands at the tall height of 173 cm or 5 ft 8 in. His balanced weight consists of 75 KG. His other body measurements include chest size-42 in, waist size-32 in, bicep size-15 in. His hair color and eye color, both are black. Overall, he has got a healthy body with a charming smile. He explained the origin of his stage name, Johnny Rotten, in a Daily Telegraph feature interview in 2007: he was given the name in the mid-1970s when his lack of oral hygiene led to his teeth turning green. One version says the name came from the Sex Pistols' guitarist Steve Jones, who saw Lydon's teeth and exclaimed, "You're rotten, you are!".