About Jorge Gonzalez
An Argentine basketball player, Jorge Gonzalez was a professional wrestler and actor too. He was well known for his appearances in World Championship Wrestling under the ring name "El Gigante" between 1989 and 1992 and in the World Wrestling Federation under the ring name "Giant Gonzalez" in 1993. He stood at 6'4" by the time he was 14 years old and eventually topped out at 7'6". He starred on the series "Baywatch" as a sideshow giant in 1993. He has also appeared in many other films and series such as Swamp Thing, Thunder in Paradise, Hercules in the Underworld, Baywatch, and moreover. As well, he has also won the Worst Feud of the Year in 1993. But sadly, he passed away on 22nd September 2010 at the age of 44.
Cause of Death

Jorge was one of the famous as well as a victorious Argentine basketball player, professional wrestler, and an actor too. But sadly, he died in his early stage of life on 22nd September 2010 at the age of 44 in his hometown of San Martin, Argentina due to complications from diabetes and severe heart issues. In addition, in October 2009, he was also confined to a wheelchair, and also had to use a dialysis machine due to his failing kidneys. May God give him the peace that he seeks.
Famous For

Being an Argentine basketball player, professional wrestler, and an actor too.
For his appearances in World Championship Wrestling under the ring name "El Gigante" between 1989 and 1992 and in the World Wrestling Federation under the ring name "Giant Gonzalez" in 1993.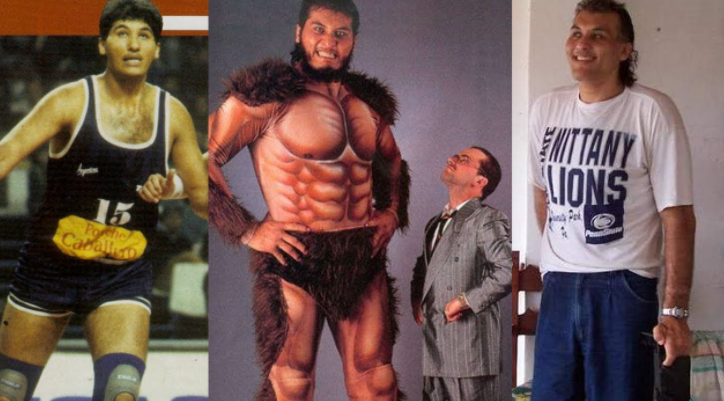 Source: @youtube
Early Life of Jorge Gonzalez

On 31st January 1966, Jorge Gonzalez was born in El Colorado, Formosa, Argentina. His nationality was Argentine whereas he was from Argentine-white ethnicity. Analogously, he was from Christianity religion. Aquarius was his star sign though white was his race. He used to celebrate his birthday on 31st January of every year. He was the son of Felipe Gonzalez (father) whereas his mother's name is unknown. Additionally, as a professional Argentine basketball player, professional wrestler, and actor, he has not shared much about his educations qualifications.
Career of Jorge Gonzalez

Jorge Gonzalez commenced his basketball career from the youths of Hindu Club de Resistencia at the age of 16 as well as signed for Sport Club Canadense.
Furthermore, coach Leon Najnudel included Jorge in the Argentine national team that took part in the 1985 South American Basketball Championship (bronze medal) and the 1988 Tournament of the Americas (5th place), where he attracted the attention of the Atlanta Hawks' scouts.
After then, he took part in the 1988 NBA draft where he became the first Argentine players drafted in the NBA but Jorge was unable to adapt to the physical demands of NBA basketball, partly due to a serious knee injury.
Professional wrestling career
Jorge started his wrestling career when owner Ted Turner offered him a job as a professional wrestler in World Championship Wrestling (WCW). As well on 19th May 1990, he was introduced to fans as El Gigante at the pay-per-view Capital Combat.
He feuded with Ric Flair for the WCW World Heavyweight Championship, participated in a Chamber of Horrors match in 1991 as well as participated in a feud with Sid Vicious and The One Man Gang.
Before signing with the World Wrestling Federation (WWF) in 1993, he also had a cross-promotional stint in the New Japan Pro Wrestling (NJPW) promotion.
He was set to make a return to the company at their 1995 pay-per-view Halloween Havoc as the role of "The Yeti"
World Wrestling Federation
During his time in WWF, he competed as Giant Gonzalez and was introduced at the Royal Rumble in January 1993, where he eliminated Wippleman's nemesis The Undertaker. But at WrestleMania IX, Gonzalez lost to The Undertaker by disqualification after he knocked out the Undertaker using chloroform.
In addition, on the 4th October episode of "Monday Night Raw" in a 20-man battle royal match for the Intercontinental Championship was his last appearance in WWF. But he was first eliminated by "Macho Man" Randy Savage, Diesel, Bastion Booger, 1-2-3 Kid, Marty Jannetty, Adam Bomb, and Bam Bam Bigelow before the match started. Whereas on 7th October 1993, WWF announced that he left the company after his WWF contract had expired.
After that, he wrestled in the Japanese promotions NJPW and WAR (Wrestle and Romance) until his retirement from wrestling though his last match was on 8th February 1995, when he lost to The Great Muta.
Then, he wrestled his final match, teaming with Koji Kitao in a loss to Shinja and Typhoon by countout on 8th December 1995.
Furthermore, he retired from professional wrestling due to serious health issues and returned home to Argentina in December 1995.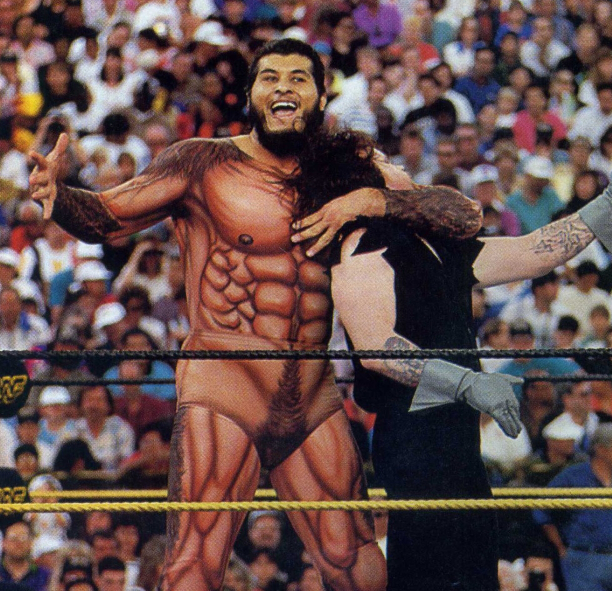 Source: @teddyfeed
Acting Career
He was seen n a 1993 episode of "Baywatch" as the role of Manny as well as made a short appearance in "Hercules in the Underworld" as Eryx the Boxer in 1994.
Similarly, he had roles in the 1993 and 1994 "Thunder in Paradise" double-episode turned movies.
Awards and Achievements of Jorge Gonzalez

Pro Wrestling Illustrated
PWI ranked him No. 112 of the 500 best singles wrestlers in the PWI 500 in 1991
PWI ranked him No. 498 of the top 500 singles wrestlers of the PWI Years in 1993
Wrestling Observer Newsletter
Worst Feud of the Year (1993) vs. The Undertaker
Personal Life of Jorge Gonzalez

Reflecting on Jorge Gonzalez's personal life, he was a married guy and has also one step-daughter. Of course, he was stunning, he was popular and irresistible, and so it's quite natural to have followers everywhere. He was as handsome in his real life as he appears in his pictures. He used to strictly kept his personal and professional life separate. He was basically leading a blissful family life and therefore it was far less likely for him to divorce his partner for any reason. He also used to share a beautiful relationship with his wife and therefore they were less likely to separate in the future ahead. Furthermore, talking about his sexual orientation, he was straight.
Net Worth of Jorge Gonzalez

Moving towards Jorge Gonzalez's net worth, his net worth was around $1 million dollars whereas he has also a handsome amount of salary too which was around thousands of dollars per year. He was among those few individuals that have such a wide range of experience and remains true to whatever he embarks on to. He has reached great heights in his career already. He has also a long road ahead of him and he definitely held all the potential to make it big in the industry. He was sincere in his work. But, he was doing all the hard works in order to build a secure financial status for himself and his family. Throughout his career, Jorge has achieved huge fame and success. In addition, his main source of income was from acting, wrestling, and basketball career.
Body Measurement of Jorge Gonzalez

The very handsome Jorge Gonzalez has a great personality. He has got a standard height of 8 feet or 244cm and a convincing appearance. He had the perfect body combined with good looks. He could carry off any look with great simplicity. His sensible thoughts with a good sense of humor greatly attract his spectators to their TV screen. Whereas, his body weight was around 209 kg though his body build type was athletic. His usual exercise schedule has guided him to be in great body posture with appropriate body measurements. In addition, his hair color was black whereas his eyes were dark brown.