About Jorge Mateo (Baseball Player)
'Jorge Mateo' is a Dominican professional baseball shortstop in 'San Diego Padres'. Mateo was born on 23rd June 1995. He is also a former top prospect with New York Yankees, who signed Jorge as a non-drafted free agent at 17 of the 'Dominican Republic'. Mateo is 267 hitter in eight minor league seasons. He is also the best speed of all minor league players, ahead of Phillies outfielder 'Roman Quinn'. Mateo is also known as one of the richest Baseball Player who was born in Santo Domingo.
Famous For
For being a professional baseball player.
Being named as 'All-Star Future Games' (2019).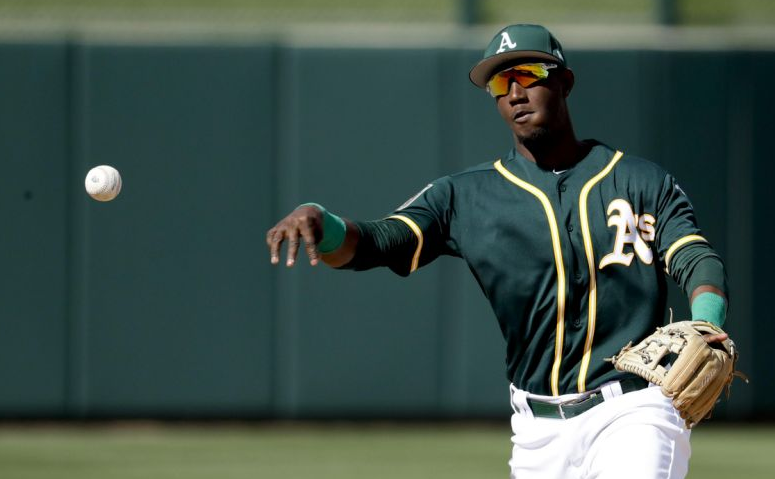 Source: @currently.att.yahoo.com
Early Life of Jorge Mateo
Professional baseballer Mateo was born in 'Santo Domingo Oeste'. The birth name of Jorge Mateo is 'Jorge Luis Mateo'. He uses to celebrate his birthday every year of 23rd June, and he had celebrated his 25th birthday up to the date. As a professional baseballer, he has not given details about his parents on different social media. The nationality of Jorge is the 'Dominican Republic' and his ethnicity is Mixed. His race color is black. Whereas, Zodiac sign of Jorge is 'Cancer' who is founded as a creative and emotional understanding.
Career of Jorge Mateo
In January 2012, he signed with 'New York Yankees' as an international free agent receiving a $250,000 signing bonus.
Mateo had played for the 'Dominican Summer League Yankees' 1 in 2013 by compiling a 287 batting average with seven home runs.
In 2014, he had compiled 26 RBIs in 64 games, and the 'Gulf Coast Yankees' by slashing 276, 354, 397 in 15 games.
While playing for the 'Charleston RiverDogs' and the 'Tampa Yankees', Mateo posted a combined 278 batting average with two home runs, 11 triples, 40 RBIs, and 82 stolen bases in 117 total games between both clubs in 2015.
He had received a non-roster invitation to spring training in 2016.
Mateo had also spent the season back with Tampa, and was named to appear in 'All-Star Future Games'.
Due to violating the team's code of conduct policy, he was suspended for two weeks and could not participate in the Futures Game in 2016, July 6.
In late June, he began 2017 with Tampa and was promoted to the 'Trenton Thunder'. 'Yankees traded Mateo' along with 'Dustin Fowler' and 'James Kaprielian' to the 'Oakland Athletics' in exchange for Sonny Gray on July 31, 2017.
Mateo finished the season in 'Midland RockHounds' which was assigned by Oakland.
In April 2018, 'Baseball America' named Mateo as having the best speed of all minor league players, ahead of Phillies outfielder 'Roman Quinn'.
In 2019, he opened the season with the 'Las Vegas Aviators'.
He had also led the minor league in triples, with 14 in 2019.
'Oakland Athletics' traded him to the 'San Diego Padres' for a 'Player To Be Named Later' on 30th June 2020.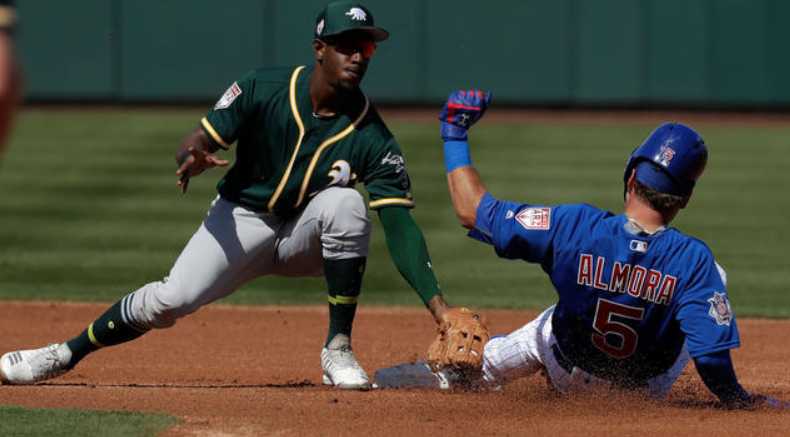 Source: @nbcsports.com
Awards won by Jorge Mateo
'MLB Organization All-Star' Award (2015), (2016), (2019)
'FSL Player of the Week' Award (08/17/2015)
'Baseball America Double-A All-Star' Award (2017)
'EAS Player of the Week' Award (07/02/2017)
'PCL Mid-Season All-Star' Award (2019)
Personal Life of Jorge Mateo
Baseballer Jorge Luis Mateo is not married yet but he has not mentioned in all the different social media about his personal life like about his girlfriend, etc. In the coming time, hope he will give details about his personal life. And other more are also unknown. His sexual orientation is straight.
Net Worth of Jorge Mateo
Richest baseballer of 'Santo Domingo' Jorge has the net worth of about $1 million to $5 million (approx.) in 2020. His net worth was $100,000-$1 million in 2019. And surely, his income will be increased in the coming time. But the salary of Jorge is unknown. His source of income is from Baseball game which is his main profession.
Body Measurements of Jorge Mateo
As his race color is black, he is very handsome and attractive too. The height of handsome baseballer Mateo is about 1.83 m. His weight is 192 lbs or 87 KG. Up to the date, the size of different body measures is unknown but he is healthy till now. Hope his health will be fit and fine in the future too.