Justin Kluivert is a Dutch professional footballer. He is famous for his playing position as a left winger or forward. He is best known for playing for Premier League club Bournemouth and the Netherlands National Football Team. Born into a football lineage, with his father being former Dutch international football player Patrick Kluivert and his grandfather being former Surinamese football player Kenneth Kluivert, Justin's journey began at Ajax, where he rose through the youth ranks. Subsequently, in 2018, he made a notable move to the Italian side Roma for €18.75 million. Alongside his club career, he has also represented the Netherlands at the international level, initially in youth teams from 2013, before making his senior debut in 2018.
Justin Kluivertin Family Details
Born on May 5, 1999, Justin Kluivertin hails from Zaandam, Netherlands. He holds Dutch nationality and belongs to a mixed ethnicity. The son of former Dutch international football star Patrick Kluivert and Angela van Hulten, he's also the grandson of former Surinamese football player Kenneth Kluivert, adding to his diverse heritage. Additionally, he has Curaçaoan roots through his paternal grandmother. Justin is part of a football-loving family, with four brothers, including his sibling Ruben Kluivert, currently making his mark at FC Utrecht. As of 2023, he celebrated his 24th birthday.
Justin Kluivertin Football Career
Ajax
Justin Kluivertin began his career with AFC Ajax's youth program and signed his first professional contract with Ajax.
He debuted in the Eerste Divisie with Jong Ajax in September 2016, played in the 2016–17 UEFA Youth League, and scored his first Eredivisie goal in March 2017.
He also featured in the 2016–17 UEFA Europa League, including being an unused substitute in the final. On 26 November 2017, Kluivert achieved a hat-trick in a 5–1 victory over Roda JC.
Roma
On June 12, 2018, Justin Kluivert joined Italian club Roma in a transfer worth €18.75 million, initiated by a call from Roma legend Francesco Totti to his father.
He became the fifth Dutch player in Roma's history. Kluivert donned the number 34 shirt in honor of his friend Abdelhak Nouri, who wore it at Ajax and tragically suffered a career-ending cardiac arrhythmia attack in 2017.
Notably, he became the youngest Roma player to score in the UEFA Champions League, dedicating his first goal to Nouri on October 3, 2018.
He also scored his first Serie A goal on December 16, 2018.
In the 2019–20 season, he changed his shirt number to 99, signifying his birth year.
Loan to RB Leipzig, Nice and Valencia
On October 5, 2020, he joined Bundesliga's RB Leipzig for a season, scoring his first Bundesliga goal against Bayern Munich on December 5, 2020, and contributing to a win against Manchester United in the 2020–21 UEFA Champions League on December 8, 2020.
Subsequently, he made a loan move to French Ligue 1 club Nice on July 20, 2021, with an option to buy.
On September 1, 2022, he signed a loan deal with Spanish club Valencia for the 2022–23 season after a failed attempt to transfer to Fulham due to a denied work permit.
AFC Bournemouth
AFC Bournemouth unveiled their acquisition of Kluivert on June 23, 2023, without disclosing the transfer fee.
He marked his debut for the team on August 12, entering the field as a substitute during a Premier League match against West Ham United, which ended in a 1-1 draw.
International career
In the 2016 Under 17 Euros in Azerbaijan, Kluivert played consistently as the Netherlands reached the semi-finals.
His senior international journey began when he received his first call-up to Ronald Koeman's Netherlands national football team in March 2018.
He made his senior debut on March 26, coming on as a substitute for the final 12 minutes in a 3-0 victory over European champions Portugal at the Stade de Genève.
Justin Kluivert Awards and Achievements
Ajax
UEFA Europa League runner-up: 2016–17
Nice
Coupe de France runner-up: 2021–22
Individual
AFC Ajax Talent of the Future (Sjaak Swart Award): 2016–17
Justin Kluivert Net Worth In 2023
Justin Kluivert is a highly skilled footballer. As of 2023, his estimated net worth stands at approximately $2 million, primarily derived from his successful football career. For the 2023-2024 season, he is making an annual salary of £4,160,000. In a notable move, he transferred to the Italian club Roma on 12 June 2018, with a transfer fee of €18.75 million. His market value as of 13th June 2023 is valued at €14 million. Kluivert is content with his earnings and enjoys a comfortable lifestyle.
Justin Kluivert Girlfriend
Justin Kluivert is currently in a relationship, and his girlfriend's name remains undisclosed. Unfortunately, she was a victim of a home invasion during Kluivert's absence as he was preparing for a match in the Balearics, with the attackers making off with possessions valued at around €200k (£174k). The incident resulted in minor injuries to Kluivert's girlfriend. The couple, though, continues to lead a content life despite the robbery.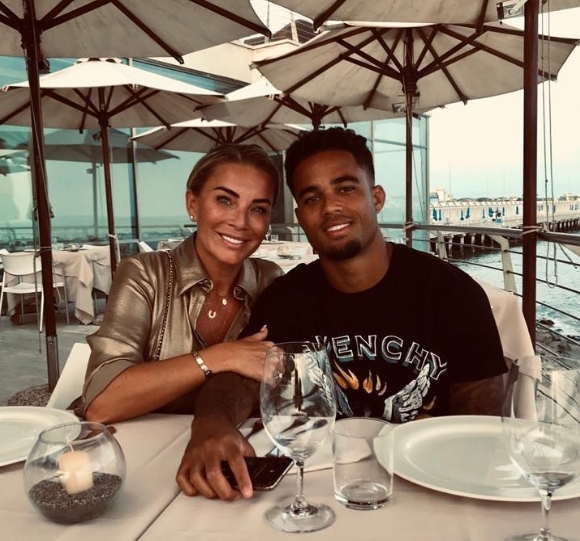 Justin Kluivert Tattoos Meaning
Justin Kluivert is a handsome footballer with a tall standing height of 1.72 meters and a body weight of 67 kilograms. His body type is athletic. His distinct features include dark brown eyes and black hair, complementing his overall attractive appearance. Kluivert is dedicated to maintaining his body by hitting the gym frequently. He is very conscious about his food intake.
Altogether, he has inked 22 tattoos on his body. Justin Bieber's tattoos narrate a compelling tale of his life and beliefs. From the Christian-inspired portrait on his left forearm and his jersey number, 99, symbolizing his soccer career, to honoring his mother with "Angela" on his rib cage, these tattoos provide glimpses into his personal journey and faith. His body art also includes symbols like a clock and compass, representing guidance, a bull skull denoting strength, and a butterfly symbolizing new beginnings.
Justin's inked Chinese letters and crosses reflect his spirituality, while a flying eagle and a portrait of Jesus Christ emphasize power and religious devotion. A phoenix signifies rebirth, and names like "Patrick" and his siblings' names showcase familial ties. He carries a lion for strength, Roman numerals for personal milestones, and a rose for love. Three crosses symbolize his Amsterdam roots, and "CLEAN HEARTS WIN" embodies his belief in the power of pure intentions.