About Kyle Allen
Kyle Allen is an American football quarterback who is playing for the current team, Carolina Panthers of the National Football League (NFL). He played high school football at Desert Mountain, where he was among the top players of his class. He was undrafted in the 2018 NFL Draft and was later signed by the Panthers. He made his NFL debut against the Atlanta Falcons on 23rd December 2018. He also played college football for Texas A&M University and the University of Houston. He was traded to Washington in 2020 and took over as the team's starter after Dwayne Haskins was benched a month into the season.
Recent in the news, Washington Football Team QB, Kyle Allen dislocates ankle. Allen dislocated the ankle and suffered a small fracture in Washington's 23-20 loss to the New York Giants. Rivera would only say after the game that Allen dislocated the ankle but needed to speak more with the trainers. Allen's injury occurred on Washington's third possession of the game. Peppers blitzed on the first-down play from the Giants' 31-yard line and leg-whipped Allen, hitting him in the left leg. Peppers was called for a 15-yard penalty on the play. Allen was on the field for several minutes and had to be lifted off the ground, with his lower left leg in an air cast, and onto the cart. Teammates almost immediately gathered around Allen; one after another walked over to him before the cart arrived. He acknowledged the crowd as he left the field on the cart, raising his arm as they stood and applauded. Allen will undergo an MRI Monday to determine the severity and to see if he'll need surgery. That will let Washington know how long he'll be sidelined.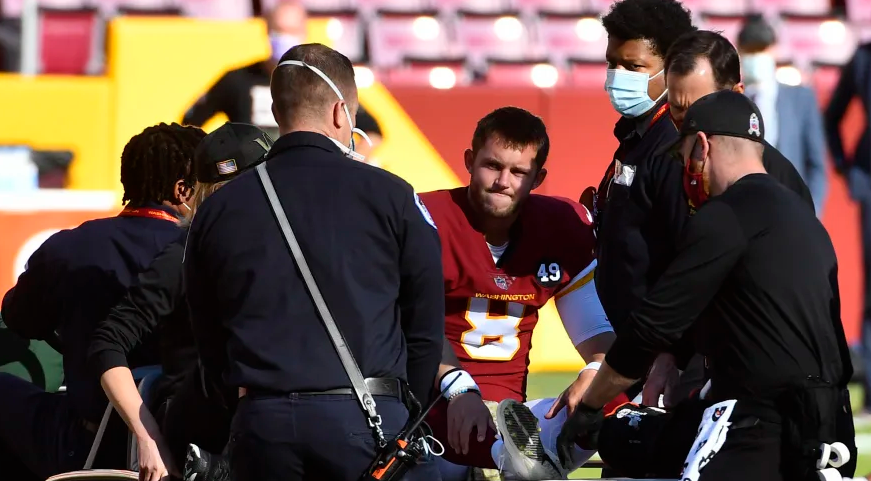 Source: @yardbarker
Kyle Allen is famous for being the football quarterback for the Carolina Panthers of the NFL. He is best known for winning MVP at Texas A&M in the year 2014.
On 8th March 1996, Kyle Allen was born in Scottsdale, Arizona, the USA. He holds an American nationality and his ethnicity is American-White. His race is White. He was born to his parents Joanna Allen (mother) and Mike Allen (father). Pisces is his Zodiac sign and his religion is Christian. As of 2020, he celebrated his 24th birthday. Concerning his education, he attended Desert Mountain High School in Scottsdale, Arizona. Regarding his high school career, he passed over 8,000 yards and 86 passing touchdowns. For his impressive performance in high school, Rivals.com rated him as a five-star recruit and ranked him as the best pro-style quarterback and seventh-best player overall in his class. He also played for the West team in the 2014 US Army All-American Bowl, where he completed 12 of 18 passes. He also set an Army Bowl record with 183 passing yards. After graduating from high school, he received offers from several universities including Alabama, Arizona, Arizona State, Boise State, California, Colorado State, Duke, North Carolina, Notre Dame, Ohio State, Oklahoma State, Ole Miss, Tennessee, UCLA, West Virginia, and Wisconsin. But he committed to play at Texas A&M University.
With an athletic body build, Kyle Allen stands tall at a height of 1.91 m or 6 ft and 3 in. He has a balanced bodyweight of 210 lbs or 95 kg. His other body measurements such as chest size, waist size, biceps size, and more are still to get revealed yet. He frequently does exercise to keep himself fit and fine. During his career, he had several injuries. Recently, he suffered a dislocated ankle in the Week 9 game of 2020 against the New York Giants.
Kyle Allen's Football Career
Kyle Allen began his college career as a true freshman in the year 2014 where he competed with Kenny Hill but lost with him for the starting quarterback position.
The team, Aggies lost three straight games and he then won the starting quarterback position.
He made his team debut for Aggies on 14th September 2014, where he threw 12/16 completions for 122-yards, 2 touchdowns, and an interception.
He finished his freshman season with a 3-2 record posting 118.192 pass completions, 1,322 passing yards, 16 touchdowns, and 7 interceptions. He also won the bowl and its MVP award.
He was positioned to be the starter for the Aggies in 2015.
He was named the starting quarterback against Arizona State on 24th August with competition from incoming freshman Kyler Murray.
Against Alabama, he said he suffered an AC sprain in his throwing shoulder but told the coaching staff he was well enough to face Ole Miss.
He played his last game with the Aggies on 28th November 2015, completing 15/28 passes for 161-yards and a touchdown in a 7-19 loss to LSU.
He finished his sophomore year by completing 160/283 passes for 2,210 yards, 17 touchdowns, and 7 interceptions.
He then ended his Aggies career with 278 completions in 475 attempts, 3,532 passing yards, 33 passing touchdowns, and 14 interceptions in 20 games.
He announced on 5th January 2016 stating that he intended to transfer to the University of Houston.
He began classes at Houston on January 19 but was not eligible to play for the Cougars during the 2016 season due to NCAA transfer guidelines that require transfers to sit out an entire year.
He began the 2017 season as the starting quarterback for the Houston Cougars. His first game was a 19-16 victory by the Cougars over the Arizona Wildcats on 9th September 2017.
He then announced his decision to forgo his final year of eligibility and declare for the 2018 NFL Draft on 11th January 2018.
The Carolina Panthers signed him as an undrafted free agent on 28th April 2018. Later, the Panthers waived him on 1st September 2018 but signed him to the practice squad on the following day. The Panthers released him on 10th September 2018.
The Panther re-signed him to their practice squad on 30th October 2018. The Panthers then promoted him to the active roster on 20th December 2018. He was named the backup quarterback to Taylor Heinicke.
He made his NFL debut against the Atlanta Falcons on 23rd December 2018 after the starting quarterback suffered an injury during the game.
He made his first NFL start in the last game of the season against the New Orleans Saints but suffered an injury early in the fourth quarter.
He then made his first start of the 2019 season in Week 3 against the Arizona Cardinals due to a foot injury by Cam Newton. He threw for 261 yards, four touchdowns, and no interceptions as the Panthers won 38-20.
Against the Houston Texans, he went 24-of-34 for 232 passing yards in the 16-10 victory.
Against the San Francisco 49ers in Week 8, he threw for 158 yards and three interceptions as the Panthers lost 51-13.
He finished with 325 passing yards and four interceptions as the Panthers lost 29-3 against the Atlanta Falcons.
In Week 17 against the New Orleans Saints, he entered the game during the second quarter after Grier left the game due to a foot injury where he threw for 295 yards and an interception in the 42-10 loss.
In total during the 2019 season, he appeared in 13 games and recorded 3,322 passing yards, 17 touchdowns, and 16 interceptions.
He was traded to the Washington Football Team for a fifth-round pick in the 2020 NFL Draft on 24th March 2020.
Against the Rams, he ran for a touchdown before missing the rest of the game after suffering a helmet-to-helmet hit by Jalen Ramsey in the second quarter.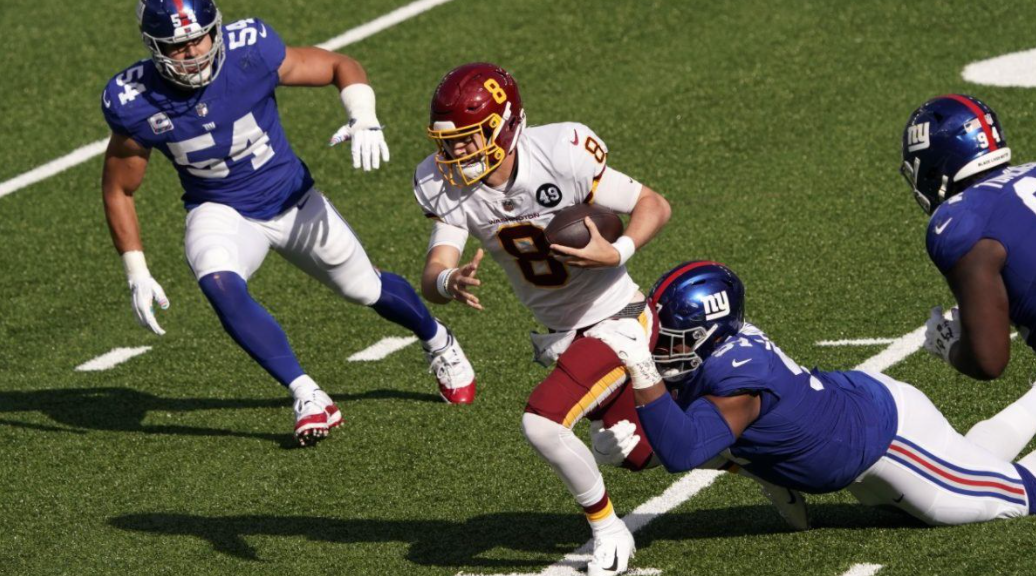 Source: @onlinegambling
Career Stats as of Week 8, 2020
TD-INT:

23-17
Passing yards:

4,136
Percentage:

63
Passer rating:

97.5
Kyle Allen's Girlfriend, Summer Juraszek
Kyle Allen is unmarried yet but he is not single as well. At present, he is in a relationship with his beautiful girlfriend, Summer Juraszek. The couple frequently shares their images on their social media accounts. Their bond is going stronger with the passage of time. His sexual orientation is straight and he is not gay. There are no further details about his past dating.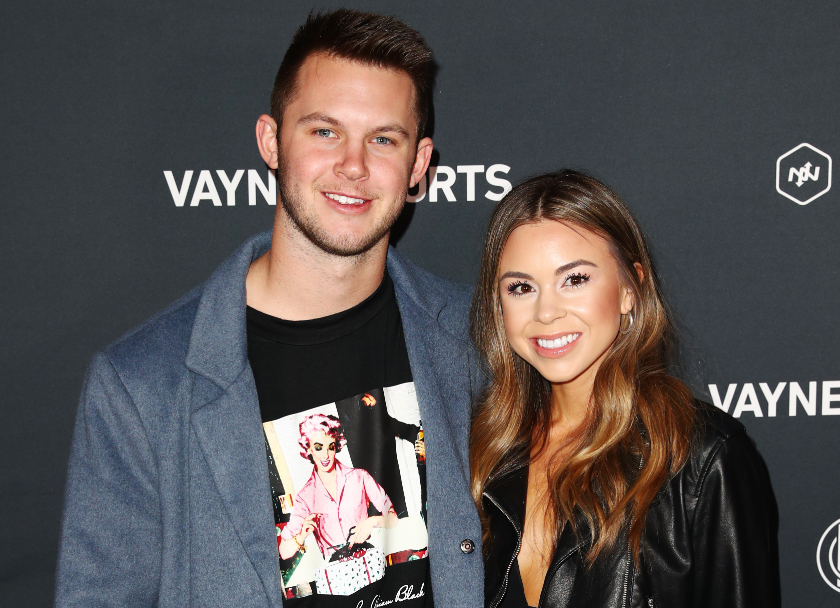 Source: @cheatsheet
Kyle Allen's Net Worth 2020
Kyle Allen is a successful and talented footballer whose major source of wealth comes from a football career. He is currently signed to the NFL team, Carolina Panthers. As of 2020, his yearly salary is $525,000 whereas his cash payout is $675,000. His career earning is $615,271 as per sources. Whereas the net worth of Kyle Allen is estimated to have $500 Thousand as of 2020. As of now, he is living a luxurious lifestyle.